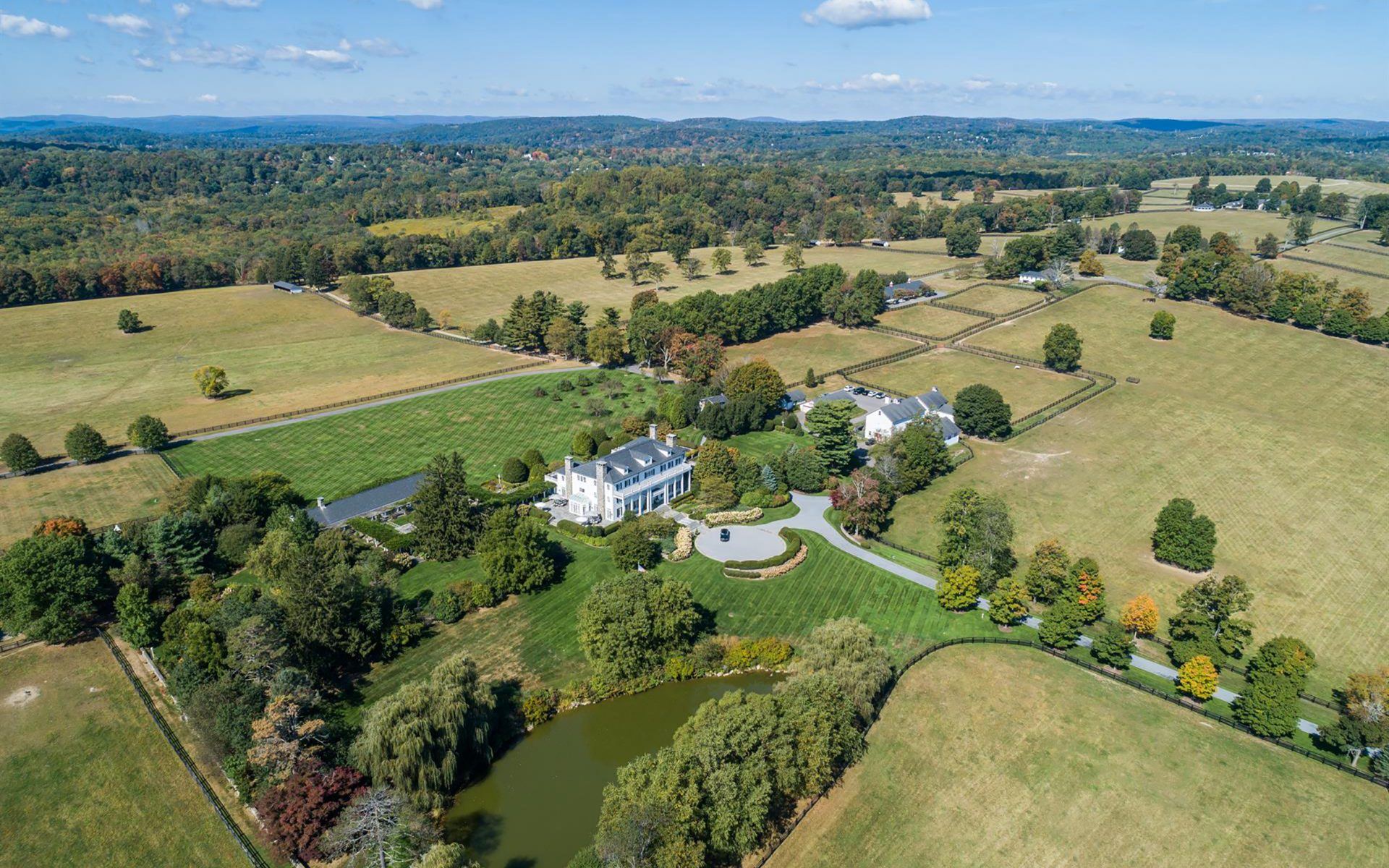 Calvin Klein Cofounder's New York Estate Hits the Market for $100 Million
Barry K. Schwartz's 740-acre Stonewall Farm is the largest property in Westchester County
Even before social distancing, the appeal of Barry K. Schwartz's 740-acre Stonewall Farm was easy to see. Anchored by a 24,000-square-foot mansion equipped with 30 rooms and 13 baths, the sprawling compound is now on the market with Christie's for a head-spinning $100 million. The Calvin Klein cofounder purchased the original 673-acre equestrian property in New York's Westchester County in 1979 and has added 18 contiguous parcels since then. The spread now includes a 40-stall barn, round pens, paddocks, a turf racetrack, a 4,000-square-foot poolhouse, eight staff residences, and formal French gardens designed by landscape genius Ed Hollander.
The Colonial-style main residence was devised some 20 years ago, when Schwartz and his wife, Sheryl, wanted to replace the estate's existing "small and gawky" dwelling and tapped New York–based architect Rebecca Rasmussen to craft a classic Kentucky-style horse farm. "The Schwartzes wanted a more traditional house on the outside," their interior designer, Kelly Hoppen, told Architectural Digest in June 2005. "But inside they wanted it to be eclectic."
Recommended: 5 Homes Where Famous Artists Once Lived for Sale
London-based Hoppen is known for her East-meets-West aesthetic, and among the home's notable elements are custom shoji screens, Jacques Adnet chandeliers, a library with hand-stitched leather floors, and an indoor Japanese garden that is designed to inspire Zen.
Take a tour of the stunning property below.
Kathleen Coumou of Christie's International Real Estate and Andrew Emery of Christie's International Real Estate Westechester | Hudson Valley have the listing.
Next Post