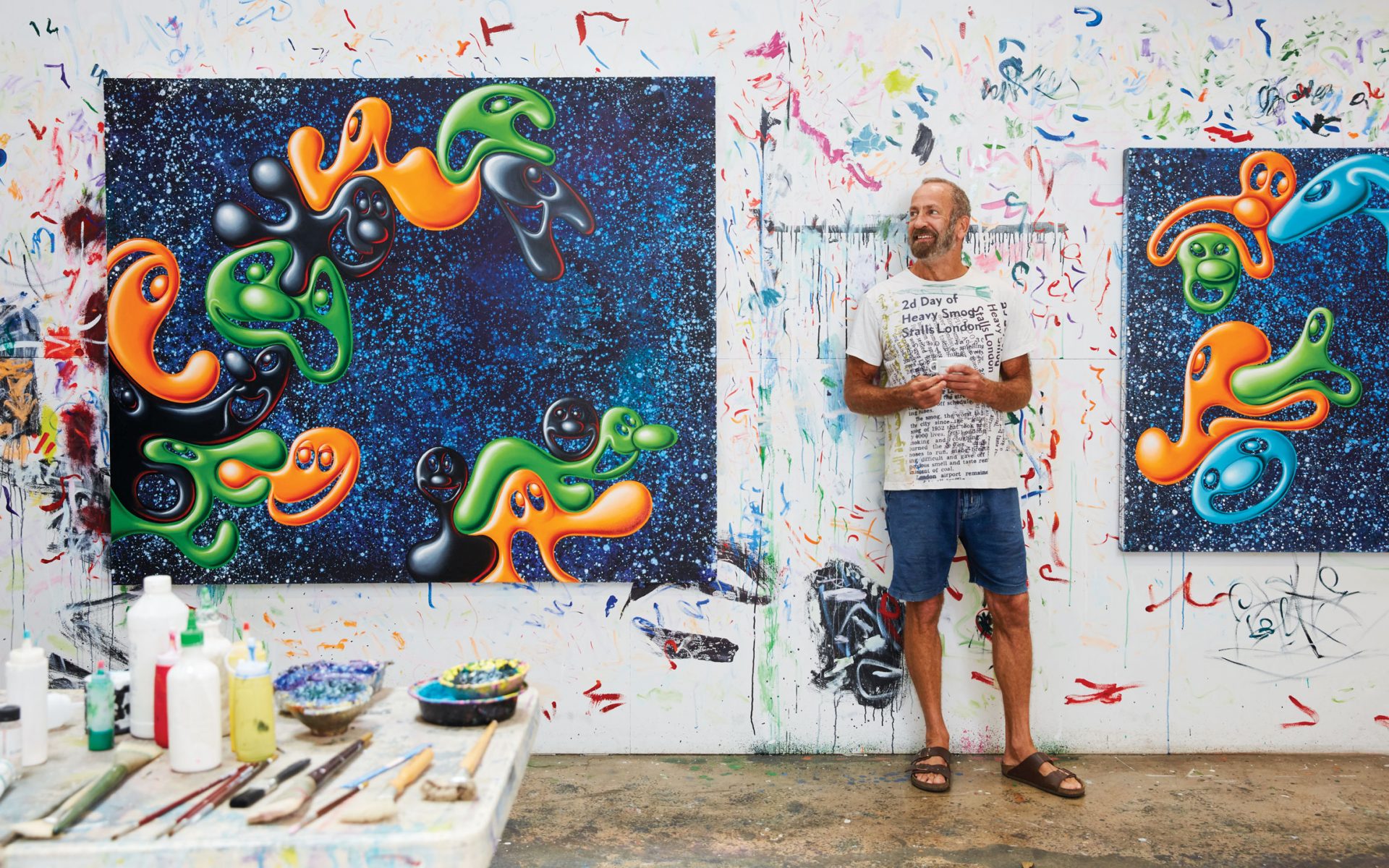 We Visit Kenny Scharf's Awe-Inspiring New Studio as He Readies for the Spotlight
The L.A. artist known for work that spans painting, sculpture, fashion and performance has several exhibitions opening this fall
Though he's exchanged the all-night parties for all-day painting sessions and opted for commissioned murals instead of furtive graffiti runs, Kenny Scharf is in the midst of a major career moment. In terms of the demand for his work and the fervor of his political activism, this newfound spotlight rivals the go-go 1980s, when he first came on the New York scene, which included Keith Haring and Jean-Michel Basquiat.
In the past year alone, Scharf has created public artworks in Copenhagen and Cannes, sprayed his graffiti "Karbombz!" on countless Angeleno hybrids and Danish Christiania bikes, headlined the Museum of Modern Art's exhibition "Club 57: Film, Performance, and Art in the East Village, 1978–1983," and staged solo gallery shows at Jeffrey Deitch in New York and Leila Heller's Dubai outpost. All while relocating his longtime L.A. studio from Culver City to an airy new perch in nearby Inglewood that's perfect for rendering his often-large-scale, vividly hued, cartoonish tableaux, which reference everything from Color Field painting and space-age fantasy to climate change.
Click here to view more photos of the studio.
"I don't stop—seven days a week, ten hours a day, for the past two months," says Scharf, who maintains his athletic endurance thanks to a devoted Ashtanga yoga practice. "I'll be 60 this year. Sometimes I show work at these street-art shows, and all these young kids have ten assistants and take a week. I don't have that kind of time. I go in by myself and bang it out in two days."
Dressed in his customary tie-dyed T-shirt, shorts, and sandals, Scharf is finishing one of a dozen new versions of his iconic "Blobs in Space" paintings as part of a major commission for a private collector, while also preparing for solo shows this fall at the David Klein Gallery in Detroit, Galerie Enrico Navarra in Paris, and the Lotte Museum of Art in Seoul. He's even working on a new series of golden charm fetishes—based on his "Tikitotmoniki Totems"—and playing the role of devoted grandfather to a four- and a six-year-old. "I don't complain," he says of the breakneck pace. "But it's not going to continue like this forever. I'll collapse."
Recommended: Christina Quarles's Magnetic Paintings Are a Hit at 'Made in L.A.'
Scharf's Inglewood building—previously a Mode O'Day boutique and later an illegal marijuana-growing facility—is just a 15-minute commute from his home. The double-height, street-level space serves as his painting studio, while the mezzanine is used for his sculptural works. This upper level—under bow-truss wooden ceilings, whose planks were hewn from early-20th-century billboards—is where the artist creates pieces for his "Space Trash" series.
"It's fantastic, I love it," says Scharf, pointing to a white wall with wipe marks from a mural-size "Sloppy Style" painting he showed at Deitch. "I couldn't have done that giant painting in my old studio—before, I had to rent a space to do something like that." Drippy iterations of his famous blobs, these newer works blend influences from Abstract Expressionism, stain painting, and Pop Art with some of Scharf's early obsessions, including NASA, Barbarella, and 2001: A Space Odyssey.
Click here to view more photos of the studio.
"The feeling of creating these works is very gratifying and what I need at this moment," says the artist, who plans to exhibit them in his Detroit and Paris gallery shows alongside some of his ongoing series of "TV Bax" sculptures, which he makes by painting the plastic backings of old tube televisions.
"I've been working with found objects—often household electronics and appliances—for fortysomething years, and it occurred to me a couple years ago that I should turn the TV backs into refined oil paintings and make them precious. They end up becoming very masklike, almost a combination of tribal and robotic."
If his recent inclusion in multiple American museum shows and the upcoming Korean exhibition are any indication, it appears that the art world is embracing the seriousness of Scharf's artistic cosmology, even if it has been a little slow for his taste.
"On a personal level, life is great. I'm healthy, I have grandkids, a home, a garden, a career," says the artist. "But I don't sleep at night because I'm worried about the world." He notes that there has always been a dark undercurrent in his work, including dire predictions of impending environmental disasters. "Maybe it didn't seem that way to a lot of people, because they focused on the fun, and that's fine," says Scharf. "But all the environmental effects from the plastic and oil that they warned us about in the '70s are coming true—and still nothing is being done."
Click here to view more photos of the studio.
A version of this article first appeared in print in our 2018 Fall Issue under the headline Space Odyssey. Subscribe to the magazine.
Next Post