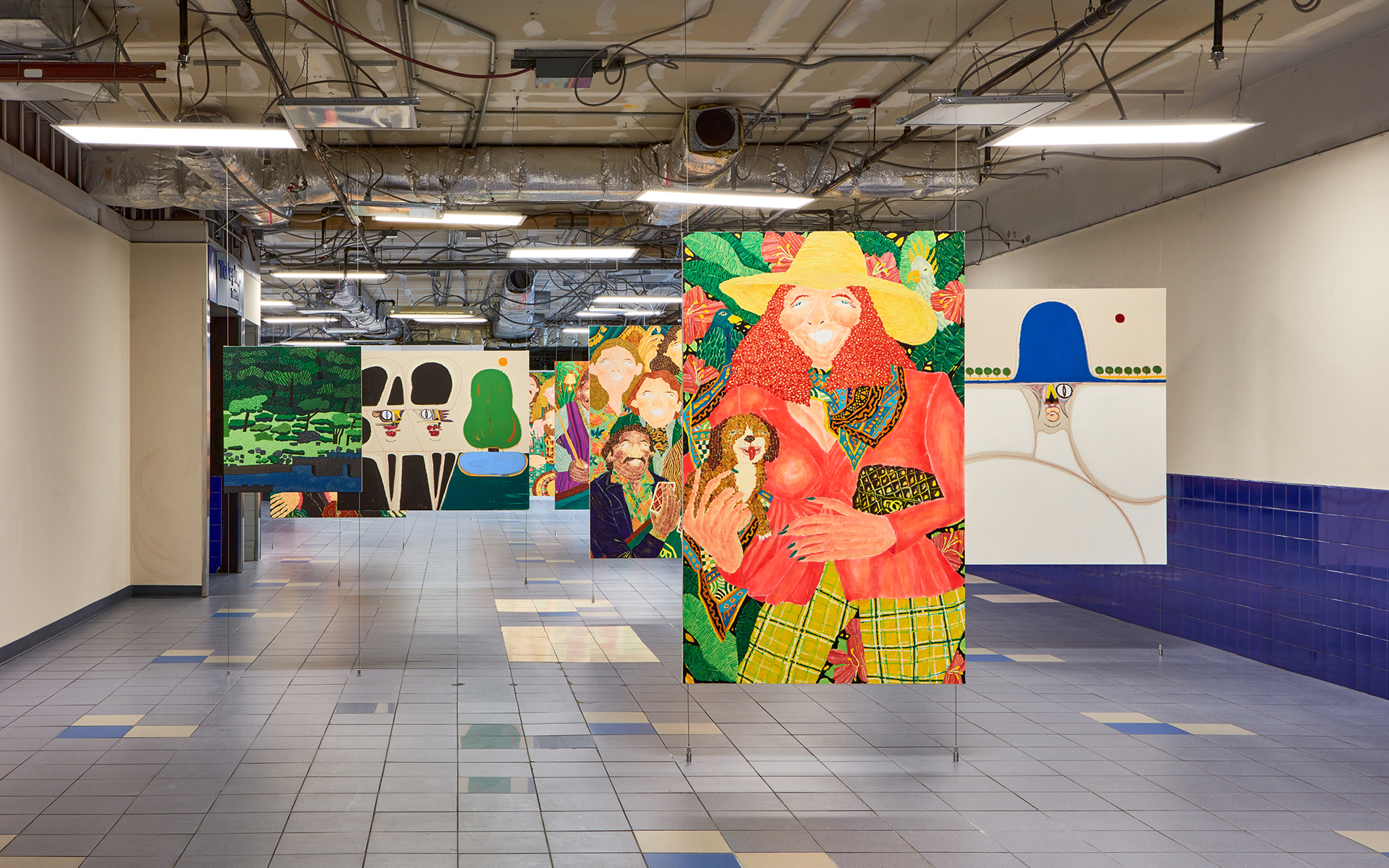 New York's Bortolami Gallery Just Opened a Must-See Exhibition in Las Vegas
Artists Susumu Kamijo, Jonas Wood, and Koichi Sato have installed works in a defunct Greyhound bus station
When Susumu Kamijo, Jonas Wood, and Koichi Sato first met more than 20 years ago, the artists' friendship sparked over their shared love of gambling, so now, they figured there was no better place to show their work together for the first time than Las Vegas.
"Koichi Sato, Susumu Kamijo, Jonas Wood / Las Vegas" is the latest in New York gallery Bortolami's Artist / City program, where an artist chooses a venue in a locale that corresponds to their work and sets up an exhibition for longer than a typical gallery show, avoiding the rush of the typical five-week-long cycle. "The Artist / City initiative reflects our interest in artistic experimentation outside the ordinary gallery setting," explains Bortolami gallery owner, Stefania Bortolami. "We look forward to bringing the latest edition of the initiative to Las Vegas and showcasing Koichi, Susumu, and Jonas's unique artistic perspectives on American culture."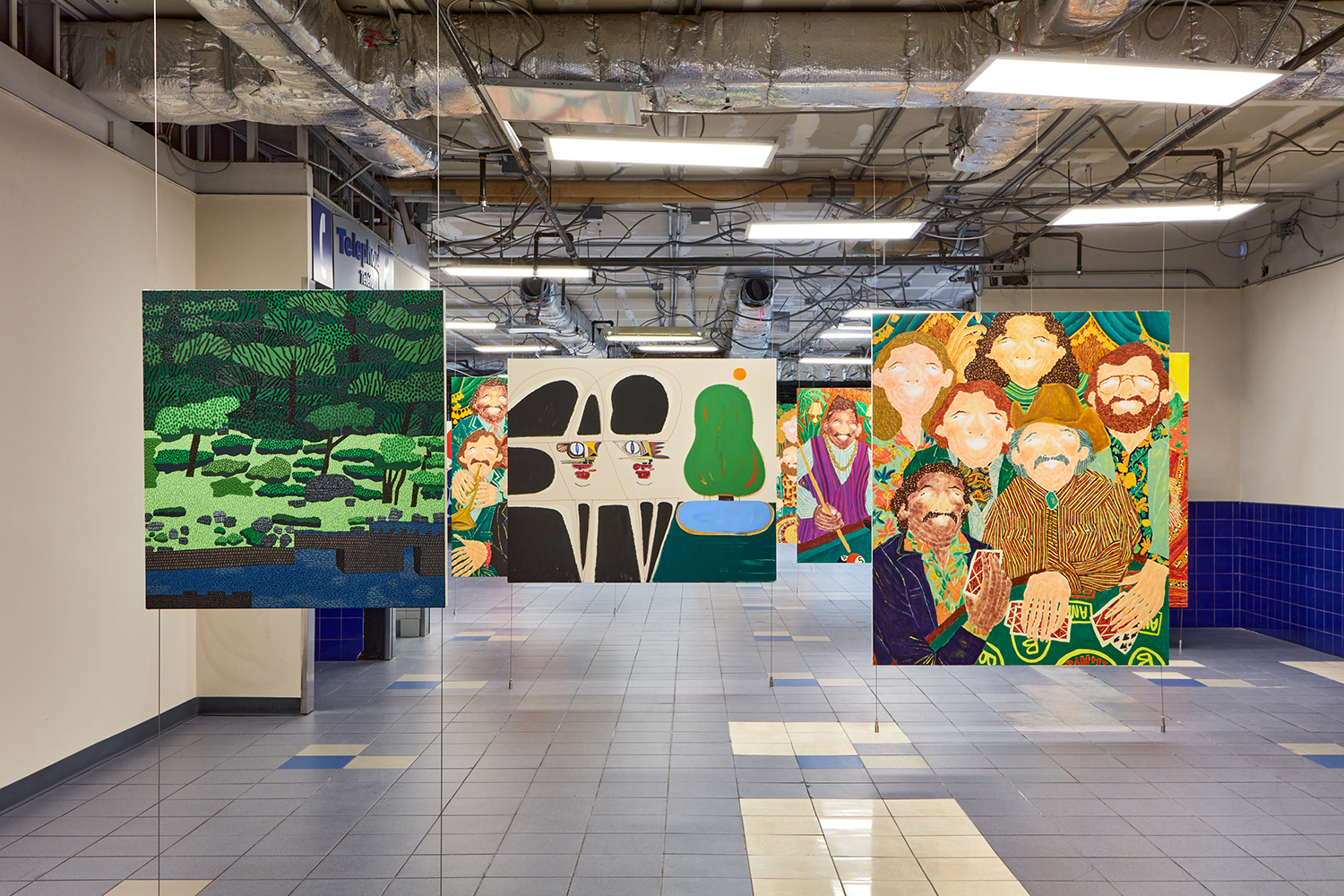 Past iterations of Artist / City include Paul Pfeiffer organizing a group show inside the Watergate Office Building in Washington, D.C. and Eric Wesley taking over a former Taco Bell outside of St. Louis. Here in Sin City, the paintings hang from the ceiling of a former Greyhound station for the next three months. A bus station is also a site of direct exchange and departure, a starting point for exploration as much as a way home. It's also an observation deck for cultures outside of one's own: While Sato and Kamijo grew up in Japan and look to depict American culture, sensibilities, and celebrities from the America of their adolescence, American artist Wood depicts a tranquil, abstracted Japanese garden in the work for this project.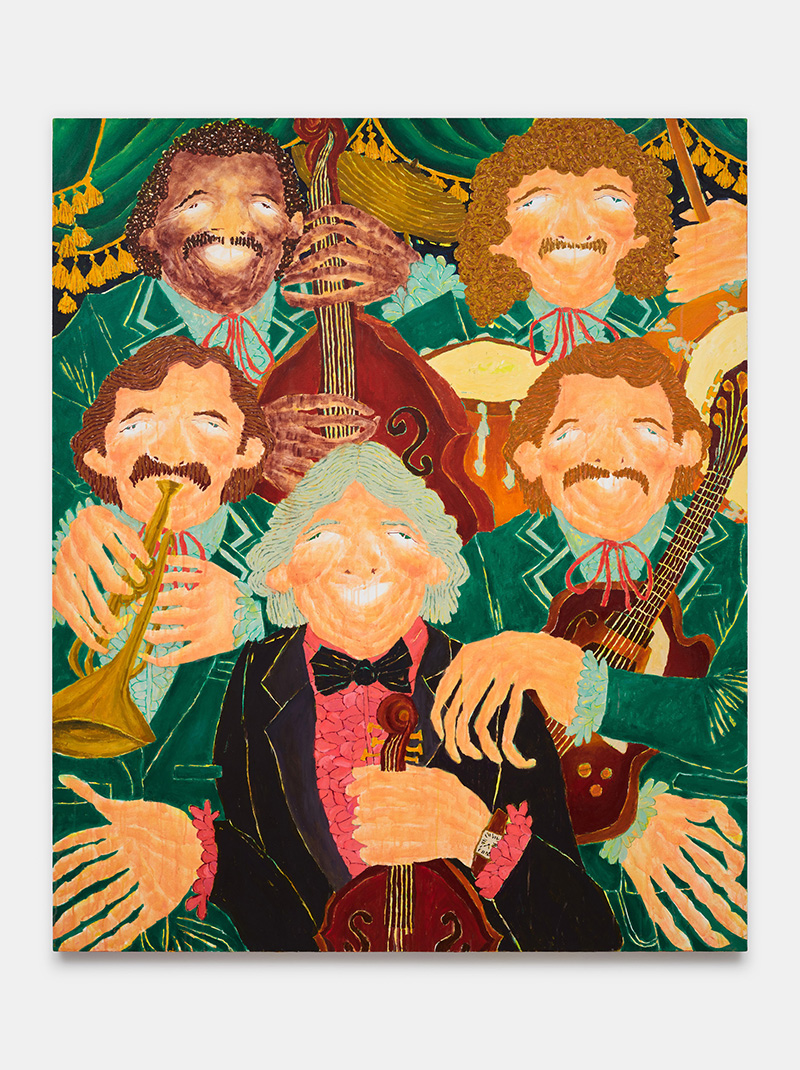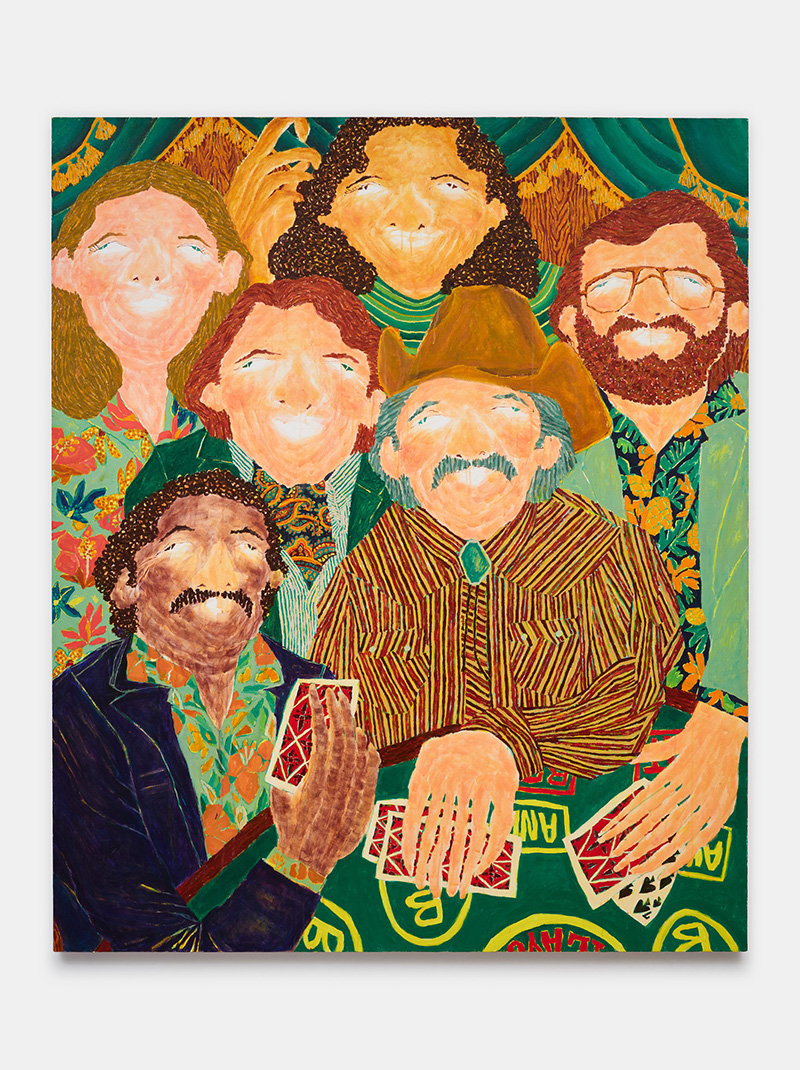 Sato's warm, lively scenes evoke the feelings of hope and possibility, sensibilities which might bring someone to come to town and roll the dice. The ear-to-ear smiles his fictional figures in works such as Astral Traveling, gap between reality and expectation, and Band of Gold (all works 2022) wear their expressions openly and eagerly. Both the solo and group portraits have all the figures facing the viewer directly, as if posing for a group photo, which the self-taught artist paints in the Sumi-e ink method, resulting in semi-transparent layers through quick, clipped brushstrokes.
The diverse groups of gamblers in Phases of Reality and Beginning of the End cheerfully pause their games at the casino table to sit for their group portraits, while individuals like piano man and Smily, Lonely happy person, who are not gambling, look up from their activities, happy to see us. Based in New York since the 1990s, the Japanese artist reflects a diverse, buoyant America in his paintings, circles of friends sharing in the fun depicted in his childhood, rendered in the somewhat dated details of his characters' style, such as the '70s handlebar mustaches and hats they sport.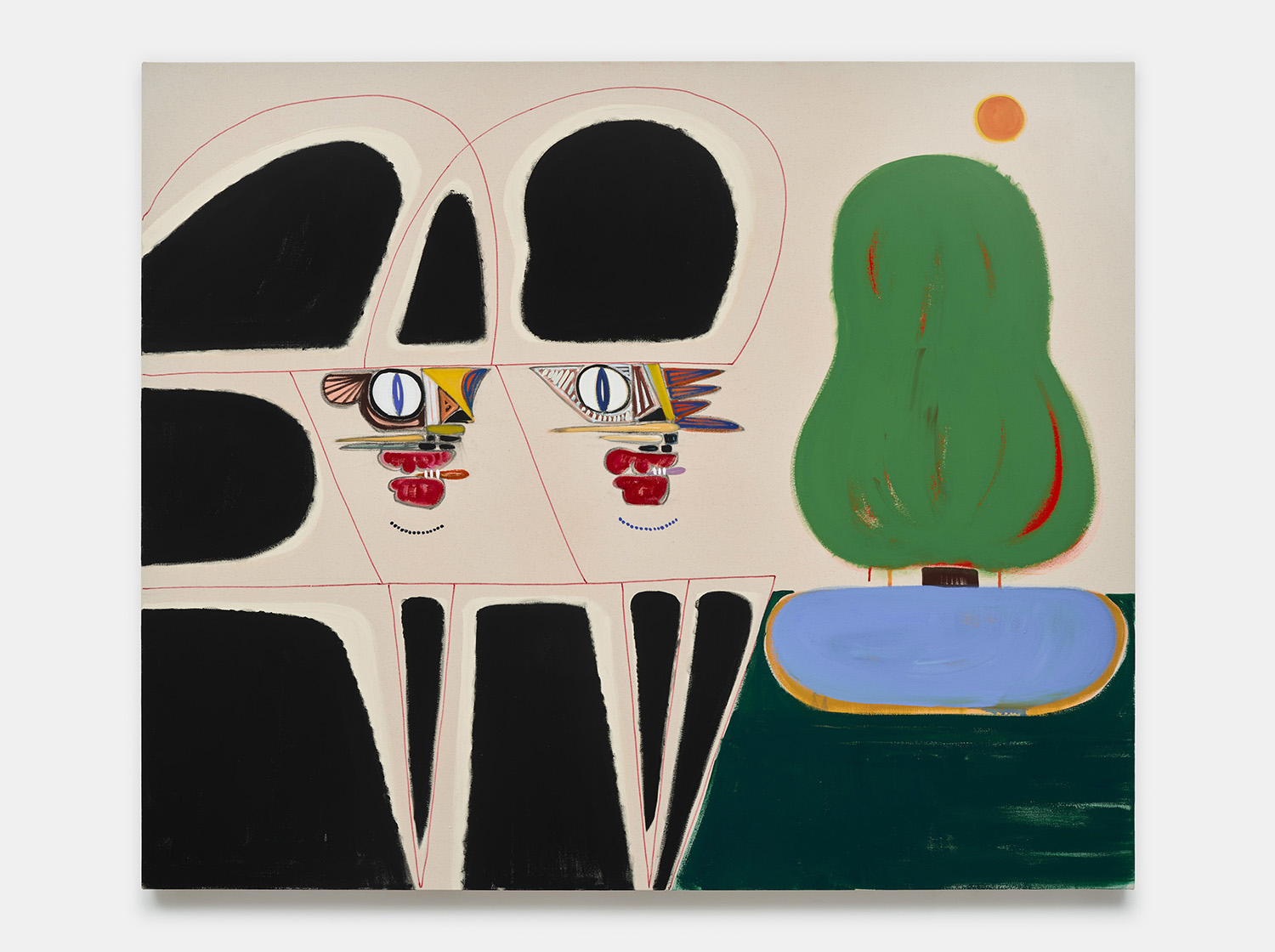 Susumu Kamijo takes a radically different approach to showing loved ones in his works: the subject of each painting has been almost completely abstracted. Hard Shell, for example, has a figure bent over, head in his hands, painted a deep blue that viewers can presume represents his feelings. A cloud of stress hangs over him, expressed in a chain of deep red spheres radiating from the subject's head and building up behind him, is somewhat offset by the neat row of palm trees and half-circle filled with water that is floating behind his other shoulder, in something of a graphic thought bubble transporting him out of his present moment. The poodles he has been painting since 2014 are seen in Cubist-like forms of features amid a maze of opaque forms and bulbous trees.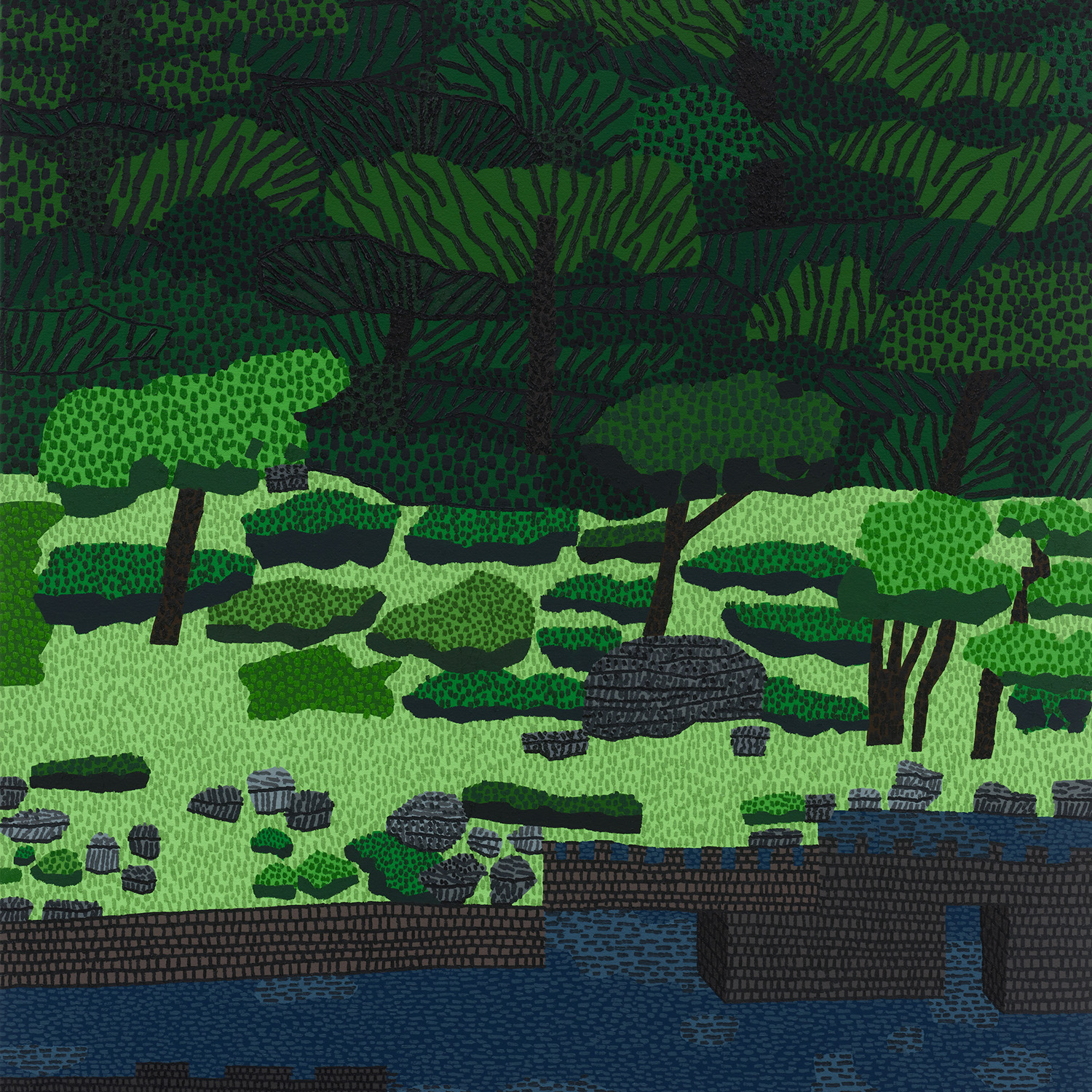 Jonas Wood presents a meta view of a serene Japanese garden. Small Japanese Garden with Brick Wall, his painting of the soothing landscape done in his signature flat, two-dimensional technique, shows up again in Interior with Japanese Landscapes, a painting of a plain white wall adorned by the painting, and echoes once again in Japanese Landscape Interior #1, a smaller drawing depicting the same scene. The artist often paints flora and fauna; here, the greenery is one layer further removed from nature by pulling itself one layer deeper into itself with every new work that evolves from the previous one.
Offering a rare green space between casino scenes, the trio make space for both long shots and open perspectives.
"Koichi Sato, Susumu Kamijo, Jonas Wood / Las Vegas" is on view through March 4, 2023.
Next Post