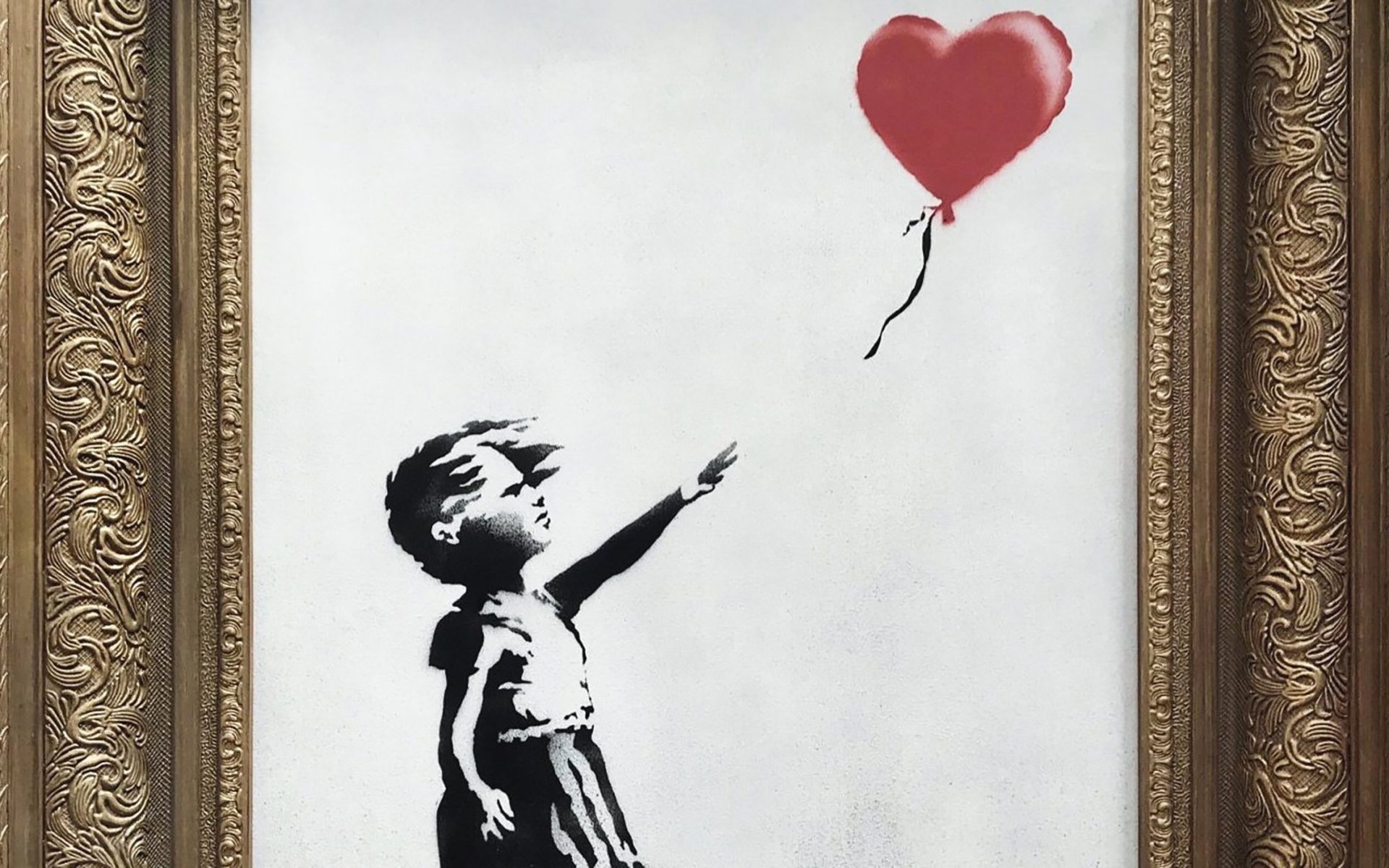 Banksy Says 'Girl with Balloon' Stunt Was a Misfire
The artist released a video stating that he had intended the work to shred completely, not just partially
Just as the buzz around his now-infamous stunt at Sotheby's on October 5 was beginning to die down, Banksy has taken to YouTube to suggest that he had intended for Girl with Balloon to be shredded completely.
In a nearly three-minute video posted to the site yesterday, the mischievous street artist shows what's implied to be a practice run of the shredding in which the painting, or a copy, is completely destroyed, with a caption prefacing the clip that says, "In rehearsals it worked every time."
The video, which Banksy aptly titled Shred the Love, also shows a man in a hoodie installing a shredder into the frame and clips of the painting at various points on the evening of the sale. At one point a man who appears to work at Sotheby's is seen standing in front of the work, telling an onlooker that the artist himself had put the frame on. He then plays a long clip of the auction of the painting in full, cutting to a close-up of someone pushing a switch on a remote just after the sale was finalized. Then an alarm goes off and the piece begins to shred, but a jam in the machine prevents the work from being turned entirely into shreds.
The client who bought the painting for $1.4 million has announced that she intends to keep the work. Pest Control, Banksy's official authentication body, issued a new authentication certificate and gave the work a new name, Love Is in the Bin.
Recommended: Get a Rare Glimpse of the Royal Family's Private Rooms at Buckingham Palace
In a post on Instagram linking to the video, Banksy put to rest several rumors surrounding his stunt, saying, "Some people think it didn't really shred. It did. Some people think the auction house were in on it, they weren't."
The director of Sotheby's contemporary art in Europe, Alex Branczik, said much the same in an interview with The Art Newspaper.
"Pest Control said very clearly: The frame is integral to the art work, which it was, just not in the sort of way that we thought. We also had a third-party conservator look at the work," he said. "The accusation that we were somehow negligent in the way this was catalogued does not stand up. We did everything. Going forward, are we going to question a frame like this? Absolutely."
Next Post