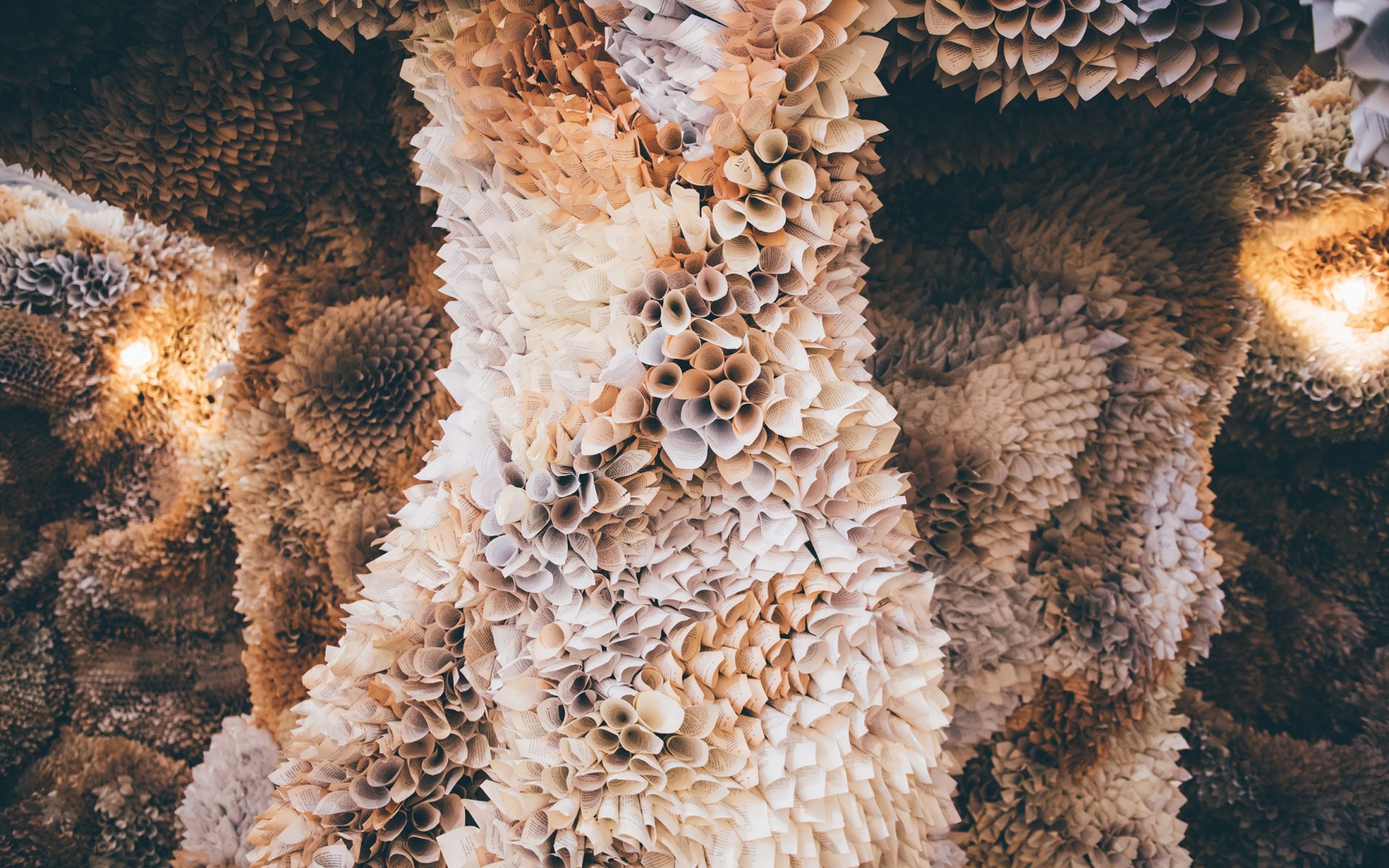 6 Booths Not to Miss at Art on Paper
Dedicated entirely to paper-based works, the annual fair creates a singular experience downtown
Art on Paper, a fair devoted entirely to paper-based works, has returned to downtown New York. Running through March 10, the 2019 edition of the fair features 85 galleries all representing the top modern and contemporary artists working in the medium. The specific focus of Art on Paper often leads to unique, memorable moments that set it apart from the vast array of other Armory Week events, and this year is no exception. Samuelle Green's otherworldly installation Manifestation 4—stationed so that it's visible as soon as visitors enter the fair—is sure to make a lasting impression.
Below, Galerie highlights six booths that are not to be missed.
1. Lynn Savarese Photography
It's not immediately clear what you're looking at when you first set eyes on Lynn Savarese's In Plane View. Is it an aerial photograph? Is it a close-up of some velvety textile? The answer is surprisingly simple—it's a photo of ordinary, albeit spectacularly colored, tree bark in Central Park. It's a humbling reminder that natural beauty abounds.
Recommended: In the Studio with Artist Raúl de Nieves Ahead of His First Museum Show
2. Richard Levy Gallery
A vibrant yet foreboding work by Jason DeMarte hangs against a wall-size print of the same image. The effect is striking and, beyond making the booth stand out among its white-walled fellows, caused somewhat of a traffic jam as people gathered to snap a photo in front of it.
3. Jerald Melberg Gallery
The late artist Roland Poska's large-scale works, made of just pigment and cotton, are a recurring presence throughout the fair. Clusters of Poska's sculptures dot the fair's aisles, but the uniqueness of the material feels fresh each time you see it.
4. Childs Gallery
Among Childs Gallery's offerings are two mesmerizing pieces by American artist Joan Hall, whose work can be seen later this year as part of the European Cultural Centre's exhibition "Personal Structures," presented at the 2019 Venice Biennale. Both pieces reflect Hall's passion for the ocean and aim to initiate a conversation about global warming.
5. Nancy Hoffman Gallery
A series of charcoal sketches by artist Nicolas Africano hang on an outer wall of Nancy Hoffman Gallery's booth. They could easily be overlooked, for there are plenty of far flashier works all around them, but these quiet pieces have a vivacity and intensity that demand one's attention. They offer a moment of repose among what is otherwise a bold and vibrant show.
6. Electric Works
Covering nearly every inch of the back wall of the Electric Works booth are works by American author Dave Eggers, each featuring slightly bewildered-looking animals or humans, all accompanied by a witticism. The offerings range from a sketch of a small monkey surrounded by the words "Still Has Not Forgiven Jill Stein" to a drawing of a little girl that says "Future Embezzler." It's definitely the booth most likely illicit a laugh.
Art on Paper runs March 8–10 at Pier 36 in New York.
Next Post