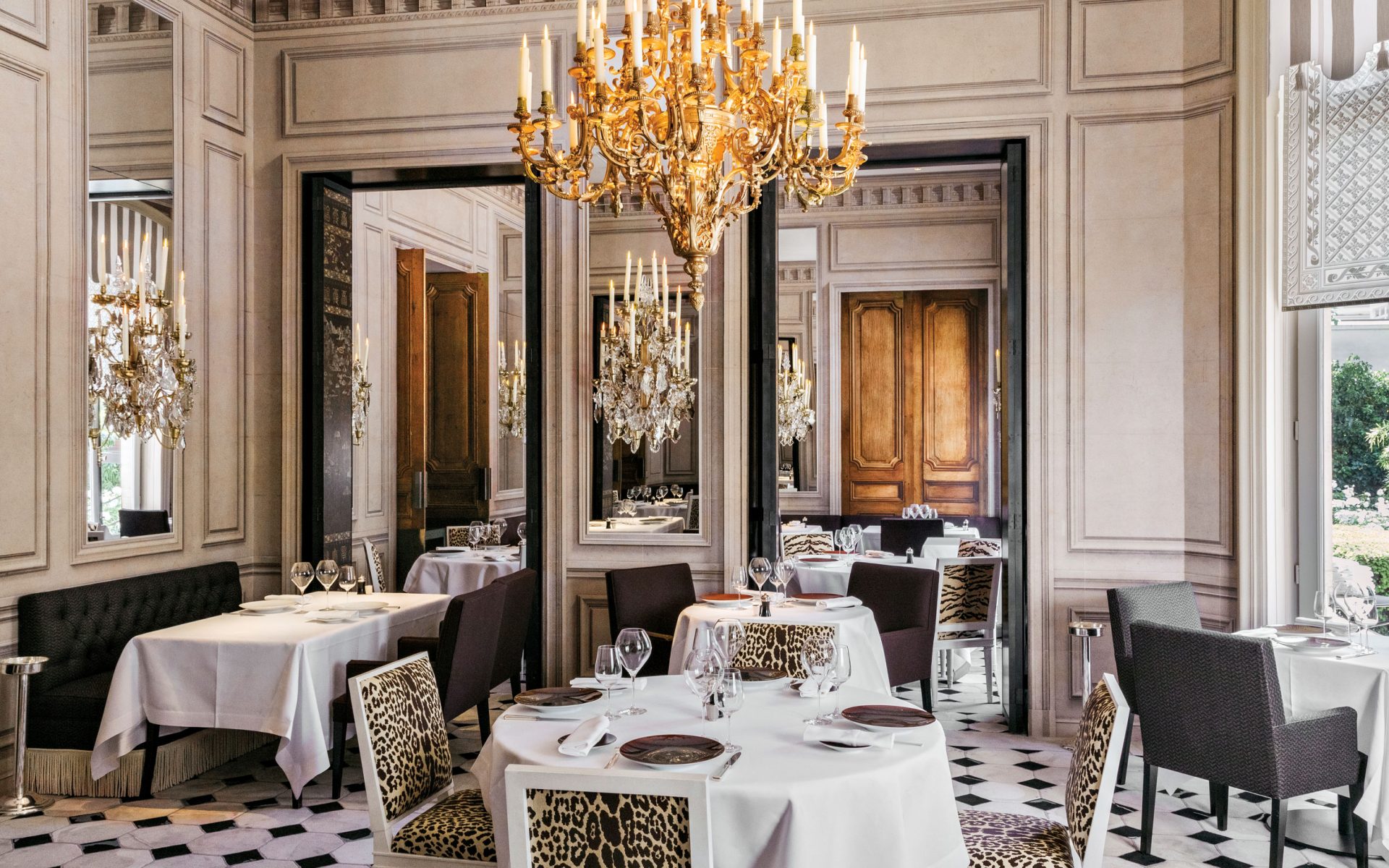 Why Apicius Is the Must-Get Reservation in Paris Right Now
With a new menu by Mathieu Pacaud and interiors by François-Joseph Graf, the hot spot makes its grand return to the Paris food scene
In the heart of Paris, there's a secret garden with a neatly trimmed emerald lawn and gravel terrace that's shaded by centuries-old chestnut trees. This tranquil bower is just a few minutes from the traffic of the Champs-Élysées, and it surrounds the magnificent Hôtel de Talhouët-Roy, a Louis XV–style limestone mansion built in 1860 for the Marquis Auguste de Talhouët-Roy on the site of the former stables of the Comte d'Artois, the brother of Louis XVI.
The elegant salons on the ground floor have just been given a sumptuous but witty makeover by French interior architect François-Joseph Graf, who's well-known for the grand siècle–inspired interiors of the legendary Hotel La Mirande, in Avignon, and the elegant Michelin-star restaurant L'Ambroisie, on the Place des Vosges. Happily, these beautiful rooms are open to the public as the location of the restaurant Apicius, which was recently taken over by a young chef, Mathieu Pacaud, the son of L'Ambroisie chef Bernard Pacaud, and his business partner, Laurent de Gourcuff, one of the most dynamic restaurateurs in Paris, who runs such modish addresses as Castel, Monsieur Bleu, and Loulou.
Recommended: 9 of the Most Beautiful Restaurants in Paris
"François-Joseph Graf has flawless taste," says Pacaud, explaining why he commissioned the designer to redo the restaurant, a favorite power table of the Paris political and business worlds that also attracts many celebrities and guests with particled names. (The "de" or "du" in a French person's name is the telltale sign of aristocracy.) "Of course, Monsieur Graf also designed L'Ambroisie, and the elegance of the decor he created there is parfaitement intemporel [perfectly timeless]."
Recommended: Designer Alvise Orsini Crafts a Stunning Art-Filled Penthouse in Paris
To signal the new, more relaxed atmosphere at Apicius, Graf respected the 18th-century decorative motifs but made them subtly playful through the use of trompe l'oeil, including fitted carpets that reprise the octagonal-and-diamond stone tile pattern common to the period, opulent gilded crystal chandeliers with amber bulbs hung from the high ceilings, leopard- and tiger-print chairs, and lots of mirrors.
But table settings of minimalist lead-gray glazed Jaune de Chrome porcelain are decidedly modern and nod to the menu updates made at Apicius, away from polite classical French cooking toward a cuisine that is light, fresh, and ingredient-driven. "My cooking is all about my produce," Pacaud says. "It'sabout tradition gently modernized with a little bit of creativity."
Though Pacaud regularly revises the menu, delectable examples of his worldly but profoundly Gallic highbrow comfort food include a suave salad of grilled and raw summer squash; John Dory with caponata; and a puff pastry filled with black truffles and foie gras, entitled "homage à Bernard Pacaud," his father. Young pastry chef Jérôme Chaucesse (formerly of Le Crillon) does stunningly delicate desserts, including a deconstructed clafouti of black cherries. Marcus Gavius Apicius, a Roman gourmet who is assumed to have penned one of the ancient world's first cookbooks and for whom the restaurant is named, would surely love this place.
A version of this article first appeared in print in our 2018 Fall Issue under the headline In Good Taste. Subscribe to the magazine.
Next Post