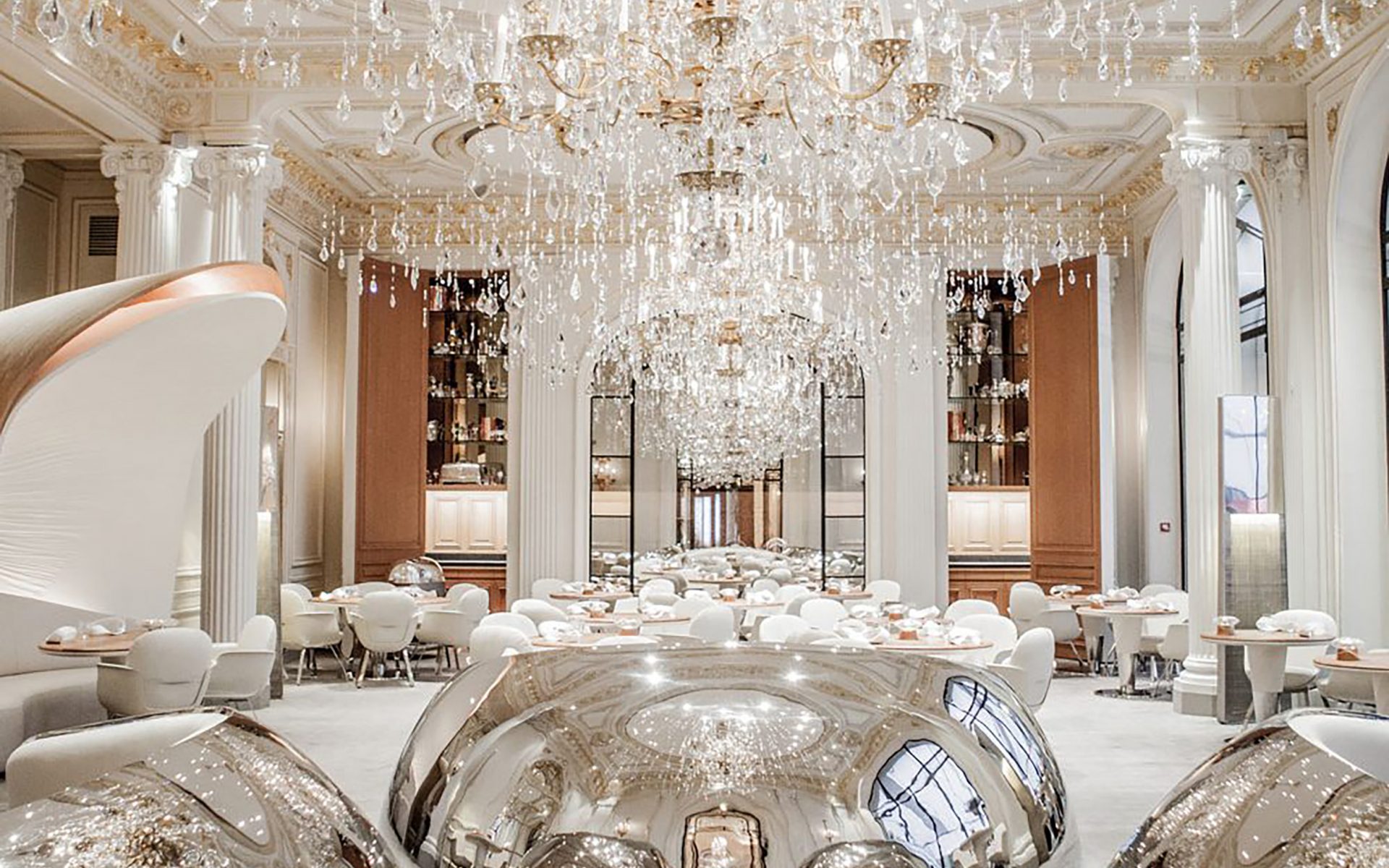 9 of the Most Beautiful Restaurants in Paris
These delightful dining destinations are reason enough to book a trip to the City of Light
While Paris is known for many things, there are two that are at the forefront of our minds: beautiful buildings and delicious food. Luckily there are stunning restaurants all across the city where you can enjoy both refined decor and a delectable meal. From an ornate grand siècle–inspired dining room to a modern gem in one of city's only skyscrapers, here are nine of the most beautiful restaurants in Paris.
1. Alain Ducasse au Plaza Athénée
Designers Patrick Jouin and Sanjit Manku have created a practically surreal experience at Alain Ducasse's signature three-Michelin-starred restaurant at the Hotel Plaza Athénée. The space is a lesson in curves, light, and reflectivity—three curvaceous chrome banquettes reflect a massive crystal chandelier that spreads across the ceiling. But here you'll also find the power of natural materials, like oak tabletops left uncovered during service. Head to the back of the restaurant to see a cabinet of curiosities housing vintage kitchenware, some from Ducasse's personal collection.
2. Le Clarence
For a trip back in time, visit Le Clarence. The two-Michelin-starred restaurant at the 19th-century townhouse-turned-hotel was purchased by Prince Robert of Luxembourg for his company, the French wine giant Domaine Clarence Dillon. The royal himself enlivened the space with grand siècle decor, emulating his ornate Bordeaux estate.
Recommended: Travel Through the French Riviera, in Pictures
3. Kong
This Japanese restaurant and lounge sits atop a classic Haussmann-style building, but its two floors are anything but traditional. Philippe Starck redesigned the restaurant in 2013, a decade after it opened, filling the space with abstract patterns, neon colors, and lucite furniture. His daughter, Ara Starck, provided the ceiling mural for the top level, which features floor-to-ceiling windows overlooking the Seine. As the restaurant describes on its website, Kong is a "UFO that landed on the rooftops of Paris."
4. Le Gabriel
Located inside the luxurious La Réserve hotel, two-Michelin-starred restaurant Le Gabriel, like the rest of the property, was designed by Jacques Garcia. He looked to the style of Napoleon III for inspiration, which is quite fitting, as the hotel exists inside a home originally designed for Napoleon's half brother, the Duke of Morny, in 1854. Around a century later, designer Pierre Cardin moved in, before the property was sold to hotelier Michel Reybier.
5. Le Train Bleu
Built for the 1900 World's Fair, the Gare de Lyon is a palatial train terminal designed to show off the city's ingenuity. Its grand Le Train Bleu restaurant, lavishly decorated in Belle Époque style, was built to greet the (hungry) visitors traveling to the fair. Throughout the restaurant are original murals of different regions of France.
Recommended: 10 Museum Restaurants Worth Their Own Trip
6. Le Meurice Alain Ducasse
For this two-Michelin-starred restaurant at Le Meurice, Philippe Starck took inspiration from the Salon de la Paix at the Château de Versailles. The elegant room features crystal chandeliers, elaborate frescoes, plenty of marble, and antique mirrors. But there's also a contemporary spin, here—note the Eero Saarinen Tulip chairs (reproduced by Knoll) and the water-themed Murano glass sculptures by Aristide Najean.
7. Pink Mamma
This vibrant restaurant decorated by Martin Brudnizki spans multiple floors, and each one has its own flower-inspired look. On the top, you'll find a greenhouse-like space with vines hanging from the rafters, and on the bottom, there's an all-red speakeasy with brass accents. Between them there's everything from a timbered antipasti bar to a tiled space in all shades of green.
8. Le Ciel de Paris
Paris is certainly not known for its tall buildings (save the Eiffel Tower, of course), but if you look out onto the city, you'll likely notice there is at least one skyscraper protruding from the earth—the Tour Montparnasse, which reaches 689 feet. On its 56th floor is the restaurant Le Ciel de Paris, designed by Noé Duchaufour-Lawrance, which offers quite a view of the city. The orange-and-gray space takes on a futuristic look with round mirrors on the ceiling and resin and fiberglass furnishings.
Recommended: La Monnaie de Paris: The Historic Mint Becomes a Cultural Hot Spot
9. Monsieur Bleu Paris
French architect Joseph Dirand looked to two styles for the interior of this restaurant at the Palais de Tokyo: Art Deco glamour and Adolf Loos's minimalism. Low-set banquettes and Eero Saarinen chairs in shades of green and gray dot the refined gray-and-white-walled space. As for the "monsieur bleu" in the name of the restaurant? It's a nod to Yves Klein, the master of the hue (though you won't actually find his color anywhere here).
Next Post