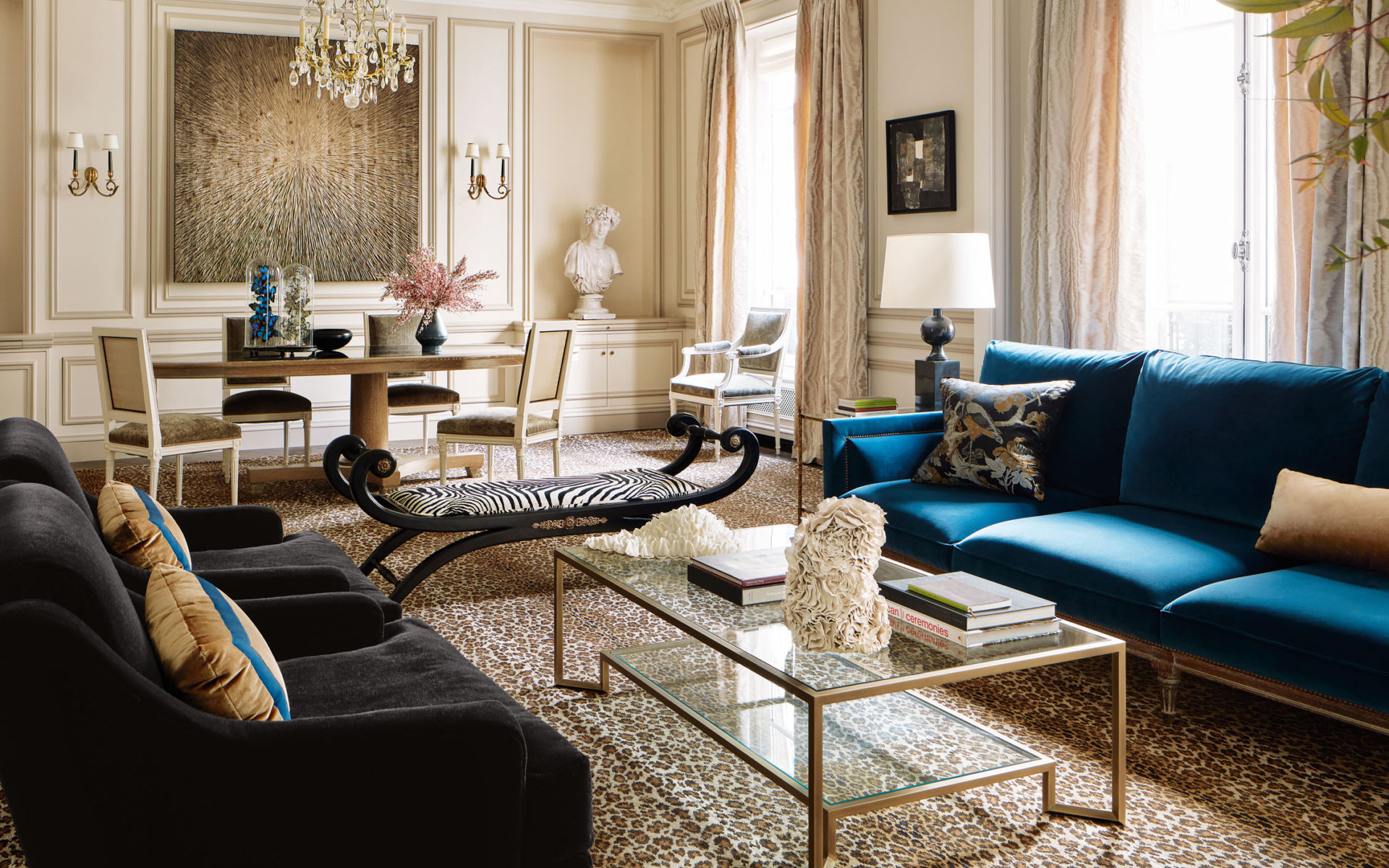 Laurent Champeau and Kelli Wilde Fashion a Perfect Paris Retreat
The design duo channel French design-legend Madeleine Castaing for their latest project
Madeleine Castaing, the supremely original and influential 20th-century French decorator, has been something of a theme lately for Paris designers Kelli Wilde and Laurent Champeau. For one thing, the Franco-American partners—who are married—are currently renovating Castaing's former residence in the Saint-Germain-des-Prés district for a client. But the legendary tastemaker also looms large in another Champeau & Wilde project, a pied-à-terre for a Chicago couple nearby on the Quai Voltaire.
Known for her friendships with artists such as Chaïm Soutine and Jean Cocteau, writer Henry Miller, and prominent socialite Francine Weisweiller, Castaing possessed a romantic sensibility, marked by a taste for 19th-century eclecticism—favoring quirky, poetic pieces over things deemed important—and a love of atmospheric color and pattern. Famously, she decreed that every interior should have at least a dash of leopard print. For their Chicago clients, Wilde and Champeau took Castaing's advice and ran with it.
The centerpiece of the American couple's 1,500-square-foot, two-bedroom apartment is the gracefully proportioned space that contains the living and dining areas. With nearly floor-to-ceiling casement windows overlooking an inner courtyard, the room features elegant ceiling moldings and overdoors, quintessentially French details that proved irresistible to the clients. Champeau, who handles all of the firm's architectural work, clad the walls in classic paneling that has simple picture-frame moldings, while Wilde spearheaded the mix of bespoke and vintage furnishings. Castaing's influence can be detected in the pale-pink moiré-pattern curtains and in the sitting area's zebra-print-cushioned bench with floridly scrolling arms—a Castaing design. But her spirit is felt most in the room's coup de théâtre: a 16-by-23-foot leopard-pattern carpet that Wilde and Champeau stretched virtually wall to wall, as Castaing did at her country house.
"It unifies the whole room," Champeau says of the rug, which was specially woven in Belgium and had to be craned in through a bedroom window, due to its size and weight. Notes Wilde, "The carpet stays within the overall register of the apartment but adds something a little bit more funky."
Champeau and Wilde, who worked together for years under interior designer Tino Zervudachi before setting up their own practice in 2011, tend to act as complementary forces: his preferred style being rigorous and classically French and hers a bit looser and more playful. "What we do works by contrast," says Champeau. "When it's too matchy-matchy, too attendu, it loses interest."
This project is one of a number of Paris pieds-à-terre the duo has done for American clients. Initially these owners had imagined acquiring something very modest. "Just a place to keep some clothes and a few bags," as the woman puts it. But when she and her longtime partner found this apartment, with its 10.5-foot ceilings, great natural light, and perfect tranquillity (despite being slap bang in the heart of the city), they couldn't pass it up.
Tailoring the residence to the couple's needs, Champeau and Wilde made a few structural changes. Most notably, they transformed a third bedroom into a spacious bath with an adjoining walk-in closet. They also cleverly installed a pocket door in the guest bath so that the toilet can be partitioned off and used independently as a powder room. And Champeau added a number of new architectural details, all very much in keeping with French tradition. A prime example is the entry hall's cabochon floor, to which he gave a twist by replacing the usual black marble dots with coffee-colored ones.
The furnishings retain a distinctly Parisian feel throughout. The Louis XVI–style dining chairs recall the work of the venerable interiors firm Maison Jansen, while a pair of lamps in the master bedroom are made from the same black Portoro marble as the façade of Cartier's iconic boutique on rue de la Paix. And there's another Castaing carpet, featuring a dense leafy pattern, in the guest bedroom.
On the walls, Champeau and Wilde hung mainly modern works, including abstract collages created by the French painter Francis Montanier in the 1960s and '70s. Certain items were sourced by the clients themselves, such as the carved-wood panel by Austrian artist Alfred Haberpointner that presides arrestingly over the dining area. And in a more traditional vein, they also provided a trio of old maps (the woman's father has been a cartography enthusiast since boyhood), one of which is an 1817 plan of Paris, with engravings of the city's major sights around its border.
"We wanted to create an ambience that respected what this place would have been like in the 19th century, while making it our own," says the woman, who fell in love with Paris on her first visit at the age of 14 and long dreamed of returning to live there one day. "There's a romance to all of this that never goes away." 
Click here to view more photos of the home.
Next Post