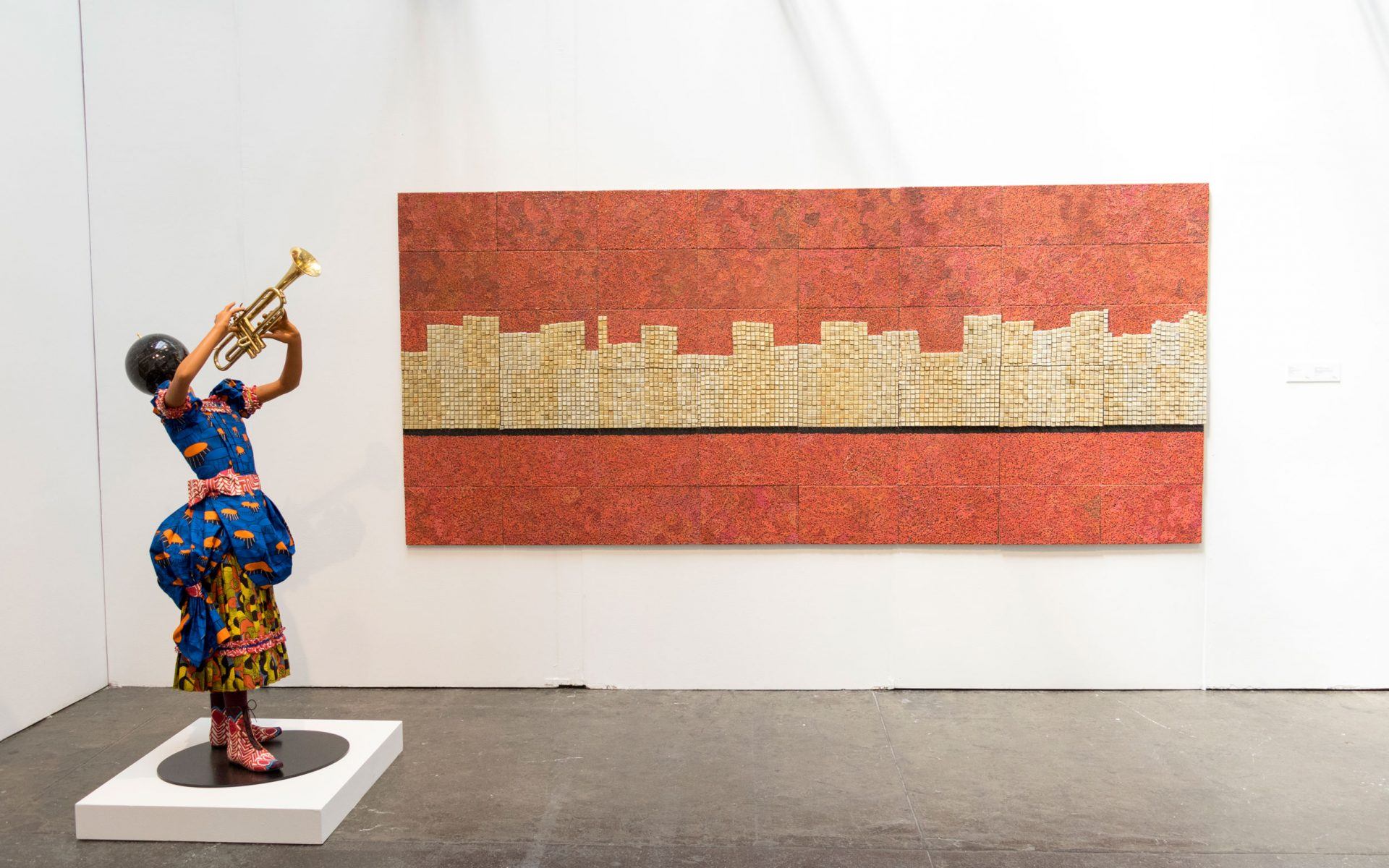 The 1-54 African Art Fair Reflects the Region's Rising Profile
The New York edition celebrates its fifth year at a new Manhattan location
For its fifth anniversary, the 1-54 Contemporary African Art Fair brings together 24 galleries from Ghana to London at Industria in the West Village. After years of being hosted at Pioneer Works in Brooklyn, the fair moves to a new location just blocks away from the Whitney Museum, reflecting the growing international interest in African art.
"The growth and popularity of the fair is a real testament to the shift away from Euro-centric, art-historical narratives," founding director of 1-54 Touria El Glaoui said in a statement ahead of the fair's VIP preview on Thursday, May 2.
The title of the fair, which was founded in London before branching off into New York and Marrakech, is a nod to the idea of one unified continent with 54 countries. After the maddening pace of Frieze on Randall's Island the day before (that fair features a whopping 191 galleries), the relaxed atmosphere of this boutique fair was a welcome shift. And there were many discoveries to be made.
Recommended: 9 Standout Artists to See at Frieze New York 2019
We started on the second floor, lured up a concrete ramp by a suite of works by Kyle Meyer at New York's Yossi Milo gallery. Created by weaving archival prints and acrylic paint, the pieces address Swahili's hypermasculine culture by depicting his subjects in ornate head wraps traditionally meant for women.
Inside the main room is a dazzling riot of color, pattern, and material with 70 works from both Africa and the African diaspora, including Côte d'Ivoire, Ethiopia, France, Ghana, Kenya, Martinique, Morocco, Nigeria, Portugal, South Africa, Turkey, the United Kingdom, and more galleries and artists from the United States than usual.
Paris's Magnin-A presents a star-studded booth, including a bold 2018 painting by Cheri Samba, one of the continent's most well-known contemporary artists, with pieces included in the collections of the Centre Pompidou and MoMA. Samba's fantastical paintings, which reflect his training as a cartoon and billboard artist, address social and political issues of the day.
The booth also features a grouping of intricately crafted imagined buildings by Bodys Isek Kingelez, a sculptor from the Democratic Republic of Congo, who recently wowed visitors with his utopian metropolis at the MoMA exhibition "City Dreams." Also on view here is a beautiful suite of historic black-and-white photographs by the late Malick Sidibé.
Upcycled materials are prevalent in many of the booths. New York's James Cohan Gallery, which is also showing at Frieze, went for a dual presentation of works by London-based talent Yinka Shonibare and Elias Sime, who is known for creating striking sculptural assemblages with a range of found objects from thread and mud to Soviet-era transistors. "It's a big year for Sime," says Jane Cohan, noting that the artist's first major museum survey will take place in the fall at the Ruth and Elmer Wellin Museum of Art at Hamilton College.
Recommended: Inside Yinka Shonibare's East London Studio
Other great examples of recycling can be found in the work of Ferdinand Kokou Makouvia, whose eye-catching sculpture made out of upcycled wood, copper, and steel is on view at Galerie Anne de Villepoix. There's also Ivorian artist Armand Boua, whose layered tar-and-acrylic compositions on found cardboard depict street children in his hometown of Abidjan.
There were also a lot of new names. Ghana's Gallery 1957 (founded by collector Marwan Zakhem) presents a cobalt-blue booth with abstract canvases by emerging talents Thameur Mejri and Durban painter Cameron Platter. Named after the year in which Ghana gained independence, the gallery has done much to bolster the Ghanian art market since opening its doors three years ago.
Other noteworthy young talents include Devon Shimoyama at De Buck gallery and Richard Mudariki at Barnard Gallery, whose works riff on classic compositions from European art history, resetting the drama in a South African context, and Slimen El Kamel, who creates psychedelic canvases inspired by folklore and poetry, on view at Sulger Buel gallery.
1-54 is on view through Sunday, May 5, at Industria in the West Village, 775 Washington Street.
Next Post