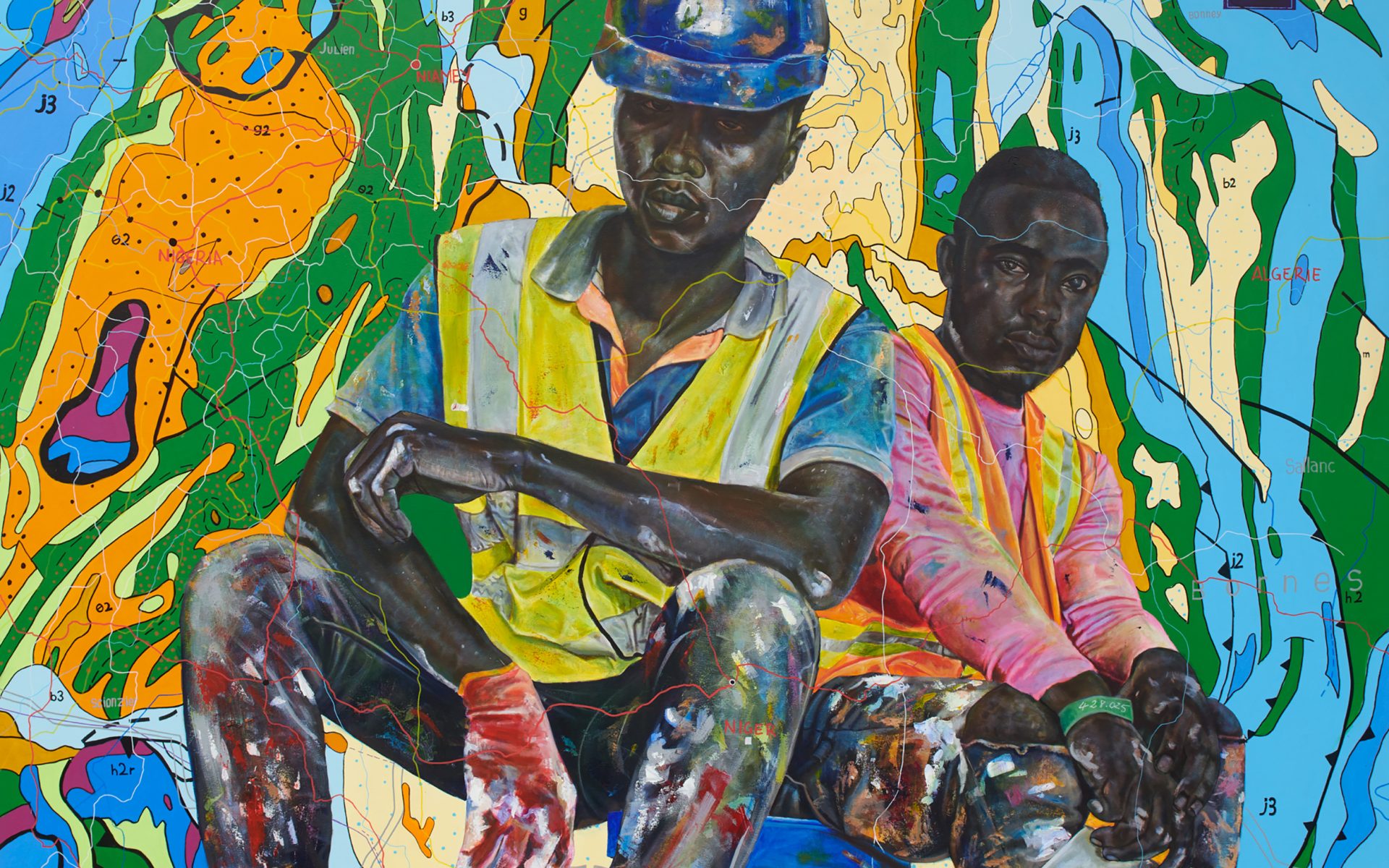 1-54 Contemporary African Art Fair Announces Exhibitors for 2019 New York Edition
The fair will feature 24 galleries from 16 countries at its new West Village location
For its fifth edition in New York, the 1-54 Contemporary African Art Fair will feature 24 galleries and over 65 international artists. Running concurrently with Frieze, May 3–5, the fair will experience a sharp increase from the roughly 45 artists it presented last year. This year's roster includes Derrick Adams, Kyle Meyer, and Lebohang Kganye. Of the two dozen galleries, which represent 16 countries, including Ethiopia, South Africa, Senegal, Morocco, Nigeria, the U.K., and the U.S., 11 are exhibiting at 1-54 New York for the first time.
The fair announced in September that it would be relocating from Pioneer Works in Brooklyn to Industria, a spacious photo studio and venue located in Manhattan's West Village. The new location sets the fair closer to New York's mainstream gallery scene and collector base, and puts it just two blocks north of the Whitney Museum of American Art.
"The fair's move to the West Village makes 1-54 New York more accessible to collectors and clients, and places contemporary African art and artists right where they belong—in the middle of things," New York gallerist James Cohen said in a statement.
Recommended: The Shed Announces Opening Date and Additional Programming
As in past years, 1-54 will be accompanied by 1-54 Forum, a series of lectures, keynotes, discussions, and other events curated by Zimbabwean art collective Black Chalk & Co. A detailed program is slated for release in April.
The full list of participating galleries and artists is as follows:
50 Golborne (London)
Addis Fine Art (Addis Ababa, Ethiopia)
AFRONOVA GALLERY (Johannesburg, South Africa)
Barnard Gallery (Cape Town, South Africa)
Circle Art Gallery (Nairobi, Kenya)
Danziger Gallery (New York)
De Buck Gallery (New York/Antwerp, Belgium/Saint Paul de Vence, France)
Espace d'art contemporain 14n 61w (Fort-de-France, Martinique)
Galerie Anne de Villepoix (Paris)
Galerie Cécile Fakhoury (Abidjan, Cote d'Ivoire/Dakar, Senegal)
Gallery 1957 (Accra, Ghana)
Jack Bell Gallery (London)
James Cohan (New York)
L'Agence à Paris (Paris)
Loft Art Gallery (Casablanca, Morocco)
MAGNIN-A (Paris)
October Gallery (London)
Perve Galeria (Lisbon, Portugal)
Retro Africa (Abuja, Nigeria)
Richard Tattinger Gallery (New York)
Sulger-Buel Gallery (London)
The Pill Contemporary (Istanbul, Turkey)
Ubuntu Art Gallery (Cairo)
Yossi Milo Gallery (New York)
List of represented artists and country of birth:
Hayam AbdelBaky (Egypt)
Tyna Adebowale (Nigeria)
Aboudia (Côte d'Ivoire)
Derrick Adams (United States)
Laeïla Adjovi (Benin)
Sahar AlAmir (Egypt)
Malala Andrianavidrazana (Madagascar)
Ranti Bam (Nigeria)
Raphaël Barontini (France)
Nathalie Boutté (France)
Dallila Dalléas Bouzar (Algeria)
Robert Charlotte (Martinique)
Joana Choumali (Côte d'Ivoire)
Soly Cissé (Senegal)
Jean Ulrick Désert (Haiti)
Aliou Diack (Senegal)
Omar Victor Diop (Senegal)
Godfried Donkor (Ghana)
Slimen El Kamel (Tunisia)
Mutaz Elemam (Sudan)
Modupeola Fadugba (Togo)
Beya Gille Gacha (Cameroon)
Ómò Oba Adetomiwa A. Gbadebo (Nigeria)
François-Xavier Gbré (France)
Frances Goodman (South Africa)
Eric van Hove (Algeria)
Pieter Hugo (South Africa)
Eddy Kamuanga Ilunga (Democratic Republic of Congo)
Seydou Keita (Mali)
Lebohang Kgnaye (South Africa)
Phumzile Khanyile (South Africa)
Lawrence Lemaoana (South Africa)
John Liebenberg (South Africa)
Franck Lundangi (Angola)
Seydou Keíta (Mali)
Bodys Isek Kingelez (Democratic Republic of Congo)
Jean David Knot (Cameroon)
Jems Koko-Bi (Côte d'Ivoire)
Ferdinand Kokou Makouvia (Togo)
Siwa Mbogoza (South Africa)
Marie-Claire Messouma Manlanbien (France)
Senzeni Marasela (South Africa)
Jorge Mayet (Cuba)
Thameur Mejri (Tunisia)
Kyle Meyer (United States)
Richard Mudariki (South Africa)
Henry Mzili Mujunga (Uganda)
Rashaad Newsome (United States)
Boris Nzebo (Cameroon)
Wura-Natasha Ogunji (Nigeria)
J.D. 'Okhai Ojeikere (Nigeria)
Adjani Okpu-Egbe (Cameroon)
Adjaratou Ouedraogo (Burkina Faso)
Alexis Peskine (France)
Marielle Plaisir (France)
Cameron Platter (South Africa)
Tajh Rust (United States)
Cheri Samba (Democratic Republic of Congo)
Sory Sanlé (Burkina Faso)
Ernesto Shikhani (Mozambique)
Devan Shimoyama (United States)
Kura Shumali (Democratic Republic of Congo)
Malick Sidibé (Mali)
Elias Sime (Ethiopia)
Yoan Sorin (France)
Nirit Takele (Ethiopia)
Henri Abraham Univers (France)
LR Vandy (United Kingdom)
Zinkpè (Benin)
Next Post