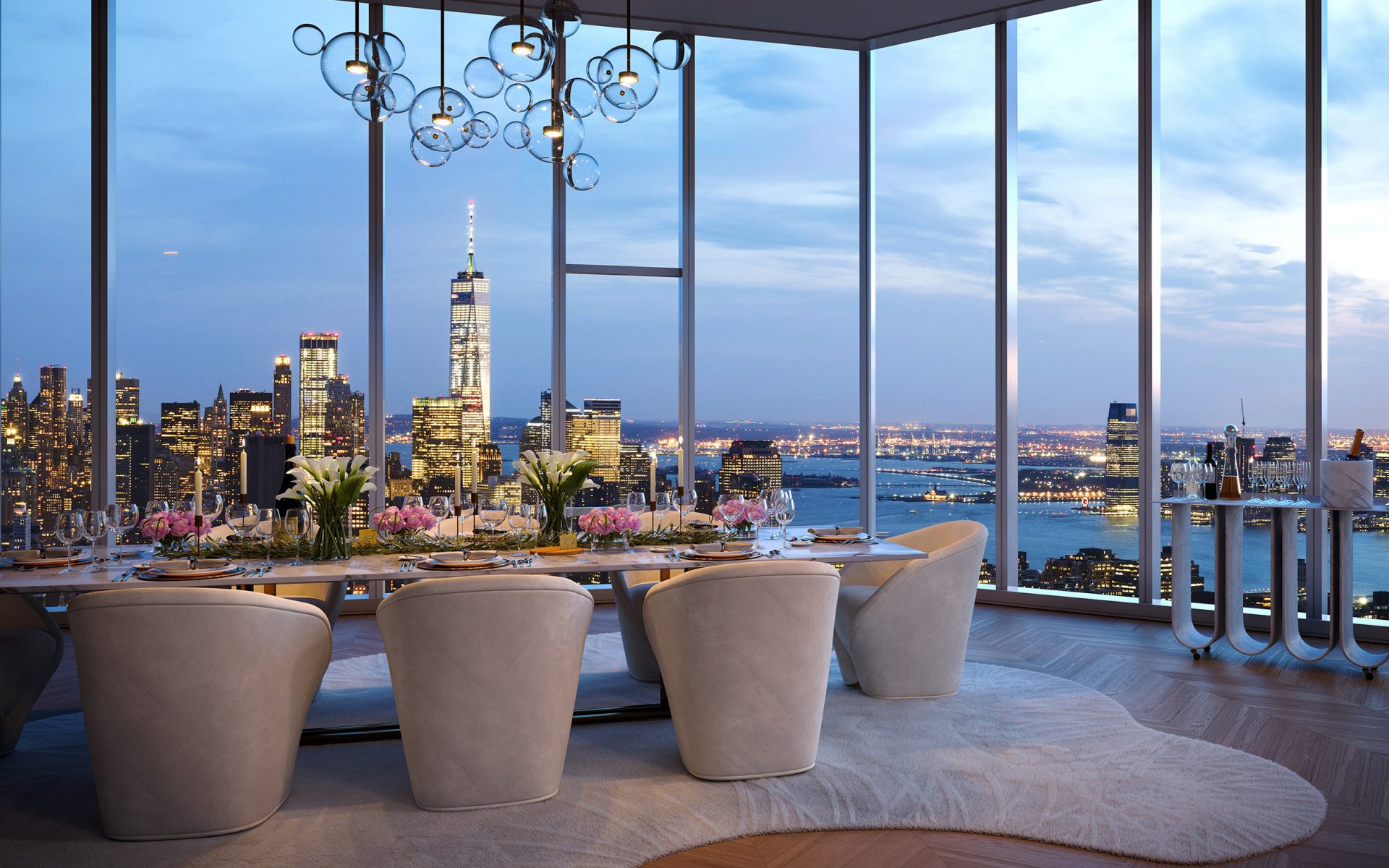 The 9 Most Expensive Penthouses in New York City
Including the five-story crown of the landmark Woolworth Building
In Manhattan, the penthouse has come to serve as an indicator of wealth and power, a symbol of its owner's almost-mythic level of lavish living. These opulent aeries first began to appear in the 1920s, coinciding with the historic rise of the skyscraper. As buildings crept higher and higher, the ultrawealthy traded in their townhouses in favor of top-floor abodes, where light and city vistas were abundant. Thanks to a host of new developments, New York now boasts some of the most over-the-top penthouses imaginable, many created by the world's best architects and designers. See below for a peek inside the highest-priced listings currently on the market.
1. 172 Madison Avenue | $98 Million
Spread across the top five floors of 172 Madison, a new Karl Fischer–designed tower next to the Empire State Building, this stunning penthouse by ODA weighs in at nearly 20,000 square feet and features 11 bedrooms and 14 baths. In addition to the triple-heigh living room, perks include a private rooftop pool and more than 3,500 square feet of outdoor terraces.
The unit is listed with Raphael Sitruk and Efraim Tessler of Keller Williams. 
2. Woolworth Tower Residences | $79 Million
Among New York's most iconic skyscrapers, the 58-story Woolworth Building stands out for its romantic interpretation of Gothic ideals, with terra-cotta gargoyles, flying buttresses, and, of course, an elegant verdigris crown. Spread across five floors, the entire pyramidal cap (dubbed "The Pinnacle") is now available as a private residence for the first time, making it the city's priciest active listing. The 9,700-square-foot aerie is being marketed as a raw space or, as broker Stan Ponte puts it, "designer-ready," while its exterior has recently been painstakingly restored.
The unit is listed with Stan Ponte and Joshua Judge of Sotheby's International Realty.
3. Madison Square Park Tower | $77.7 Million
Soaring over 750 feet above Madison Square Park, this 13,000-square-foot triplex is located within Kohn Pedersen Fox's latest skyscraper, located on East 22nd Street and Park Avenue South. Although it is delivered as a raw space, designers Thomas Juul-Hansen, Lee F. Mindel of SheltonMindel, and Ryan Korban have each contributed an interiors scheme that gives buyers a taste of the unit's potential. In addition, the sale comes with two studio apartments elsewhere in the building.
The unit is listed with Fredrik Eklund, John Gomes, Noble Black, and Ryan Stenta of Douglas Elliman.
Recommended: The 7 Most Expensive Homes for Sale at the Plaza
4. The Sherry Netherland | $67 Million
Completed in 1927 as an upscale hotel, the Sherry-Netherland has long telegraphed Upper East Side opulence and Old New York from its location directly on Central Park and with features like the private dining club Doubles. Boasting sweeping views, this full-floor residence is accessed by three private elevators and contains seven bedrooms as well as three expansive terraces.
The unit is listed with Richard J. Steinberg, Istvan Ritz, Alexander Mignogna, and Lauren Keegan of Douglas Elliman. 
5. 53W53 | $63.815 Million
Located in midtown a few blocks south of Central Park, Jean Nouvel's striking residential tower above the Museum of Modern Art is rapidly nearing completion. Perched on the 76th and 77th floors, this four-bedroom duplex is spread across nearly 8,000 square feet.
The unit is listed with Corcoran.
Recommended: 5 Luxury Condos Nestled Next to the World's Top Museums
6. 212 Fifth Avenue | $62.8 Million
Located on the northwest corner of Madison Square Park, this five-bedroom penthouse crowns 212 Fifth Avenue, a neo-Gothic masterpiece built in 1912. With over 10,000 square feet of interior space (and 5,700 square feet of terraces), the residence boasts such luxuries as a grand ballroom and an observatory that opens onto a sprawling rooftop garden.
The unit is listed with Brad Ingalls, Mara Flash Blum, Nikki Field, and Kevin B. Brown of Sotheby's International Realty. 
7. 421 Broome Street | $59.9 Million
Occupying the top four floors of a cast-iron SoHo landmark, this four-bedroom abode dates to 1873 and recently underwent a total overhaul by AML Architecture along with the firm Roman and Williams. The 8,000-square-foot residence now comes equipped with 4,000 square feet of outdoor space that even includes a spa.
This unit is listed with Fredrik Eklund, Noble Black, and Eric Becker of Douglas Elliman.
8. 520 W. 28th Street | $58.5 Million
Thanks to its swooping space-age design, Zaha Hadid's only completed New York building never fails to cause a pedestrian traffic jam on the High Line. Inside, the 11,100-square-foot triplex is linked by a sculptural spiral staircase and offers breathtaking views of the Empire State Building. And if proximity to the High Line isn't enough, the seven-bedroom condo even comes with its own 3,900-square-foot roof terrace that's perfect for a private garden.
The unit is listed with Charlie Attias of Corcoran.
Recommended: A $50 Million Penthouse Designed by Zaha Hadid Comes to Market
9. 111 W. 57th Street | $57 Million
Set to become New York's second-tallest residential building, SHoP Architects' 111 W. 57th Street is currently under construction two blocks south of Central Park along a strip known as Billionaires' Row. With interiors thoughtfully designed by Studio Sofield, the 7,100-square-foot duplex comes with five bedrooms, 14-foot ceilings, a private elevator, and luxurious finishes like Crystallo quartzite, gray onyx, and white Macauba stone.
The unit is listed with Amy Williamson, Shari Scharfer-Rollins, Holly Parker and J. Roger Erickson of Douglas Elliman. 
Next Post