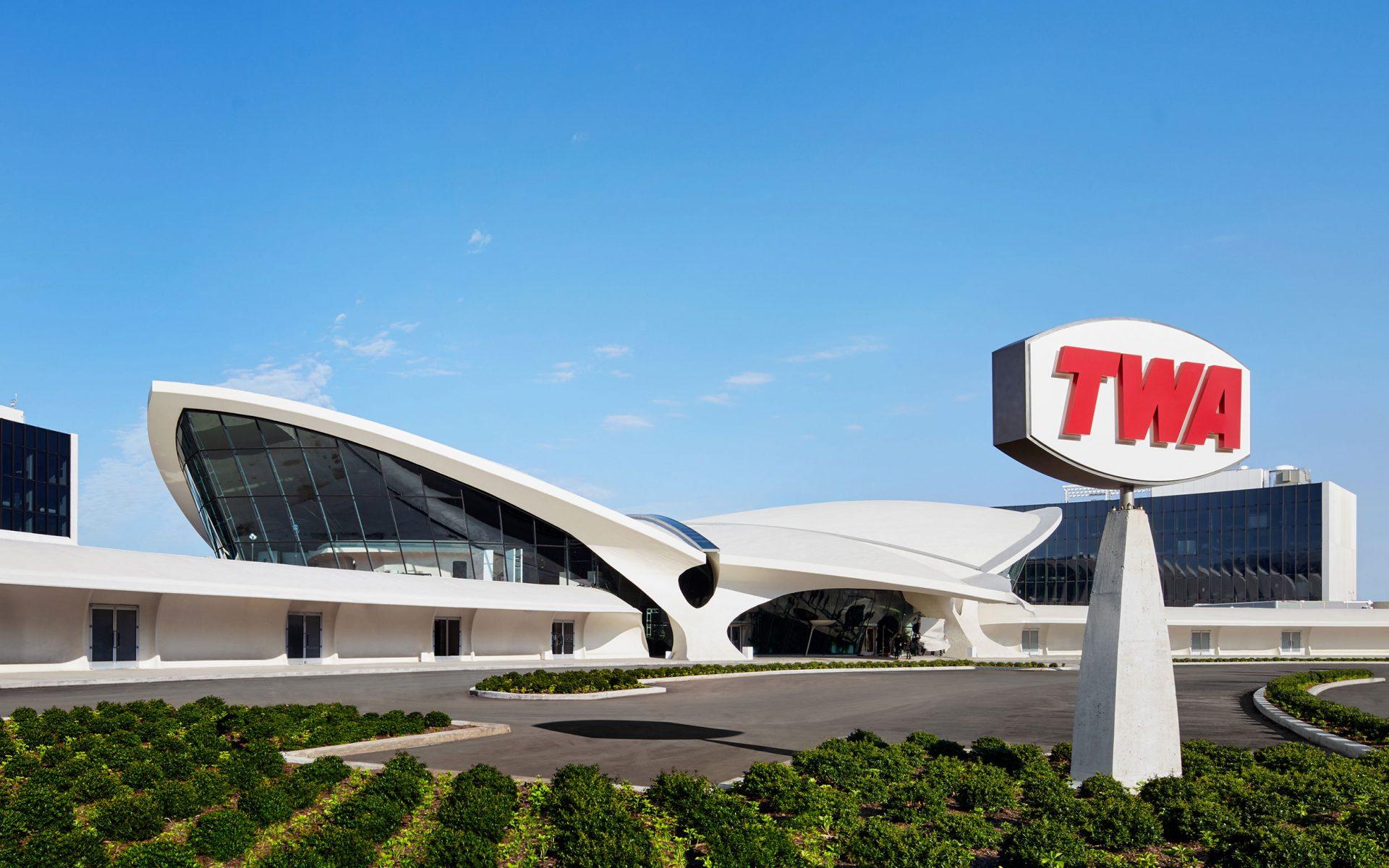 Tour Eero Saarinen's Restored TWA Flight Center, Now a Luxury Hotel
Nearly 57 years after it opened, the New York landmark has been gloriously reborn
Nearly 57 years after it first opened and roughly 18 since it was unceremoniously abandoned, Eero Saarinen's landmark TWA Flight Center has been reborn as the centerpiece of a luxury hotel complex.
A ribbon-cutting ceremony on Wednesday, May 15, attended by Governor Andrew Cuomo, heralded the latest chapter for the space-age terminal—now christened the TWA Hotel—which is the sole overnight accommodation at New York's John F. Kennedy Airport. The 512-key hotel is organized around Saarinen's 1962 neo-Futurist icon, a thin-shell concrete structure designed to look like a bird in flight; the structure was designated a New York City Landmark in 1994.
After TWA was acquired by American Airlines in 2001, control of the 200,000-square-foot edifice was handed to the Port Authority of New York and New Jersey, which barred public access to the vacant terminal.
Several attempts at reviving the landmark and its showstopping Sunken Lounge—an airy, seductive space lined with red carpet and equipped with soaring staircases—fell through, including a proposal from famed hotelier André Balazs (The Standard, Chiltern Firehouse). Ultimately, developer Tyler Morse's plan to restore the icon and add a pair of low-lying wings containing guest rooms was given the green light in 2014.
Recommended: See the Connaught Hotel's Art-Filled Townhouse Curated by Gagosian
"Saarinen's cathedral to aviation has always looked toward the future," said Morse, who is the CEO and managing partner of MCR and Morse Development, in a statement. "We restored and reimagined his landmark with the same care that he devoted to his design. No detail went overlooked—from the millwork by Amish artisans to the custom font inspired by Saarinen's own sketches to the one-of-a-kind manhole covers."
A design team led by Beyer Blinder Belle Architects (which worked on renovating the Empire State Building and Grand Central Terminal) also included Lubrano Ciavarra Architects, Stonehill Taylor, and INC Architecture & Design.
Among the host of retro features are split-flap departure boards that were custom made in Italy by Solari di Udine, a Lockheed Constellation propeller plane named Connie that doubles as a cocktail lounge, and Phaidon-curated reading room with midcentury furnishings from Herman Miller. There are also more than 50,000 square feet of special event space (including a ballroom), museum-quality exhibitions devoted to the jet age, and a stunning rooftop pool overlooking the runway.
The Sunken Lounge, however, is clearly the property's Instagram-magnet. For proof, look no further than Louis Vuitton's artistic director Nicolas Ghesquière, who staged the fashion house's 2020 cruise fashion show in the restored space just days before it officially opened. (Attendees included Cate Blanchett, Emma Stone, and Julianne Moore.) The Gerber Group will operate the area's cocktail bar in addition to the rooftop pool and propeller plane lounge.
Recommended: Discover the Museum-Worthy Art Collection at Bermuda's Hamilton Princess & Beach Club
Another notable aspect of the hotel is its ultraquiet guest rooms, which boast windows that are 4.5 inches  thick—the world's second thickest after the U.S. Embassy in London—which are designed to cancel out runway noise. In a bid to maximize capacity and cater to the hotel's transient clientele, Morse is offering the rooms in four-hour blocks, in addition to the standard overnight stay.
"The opening of the TWA Hotel at JFK creates an architectural gem as well as a symbolic step forward in Governor Cuomo's vision to transform JFK into a world-class, 21st-century gateway," says Rick Cotton, executive director of the Port Authority. "The preservation and conversion of this world-renowned landmark offers a one-of-a-kind destination for international visitors and New Yorkers alike. As we celebrate this one milestone, we look forward to many more, as this is just the beginning of JFK's transformation into an entire airport that's as welcoming, impressive, and iconic as this beautiful new hotel."
See below for more photos.
Next Post