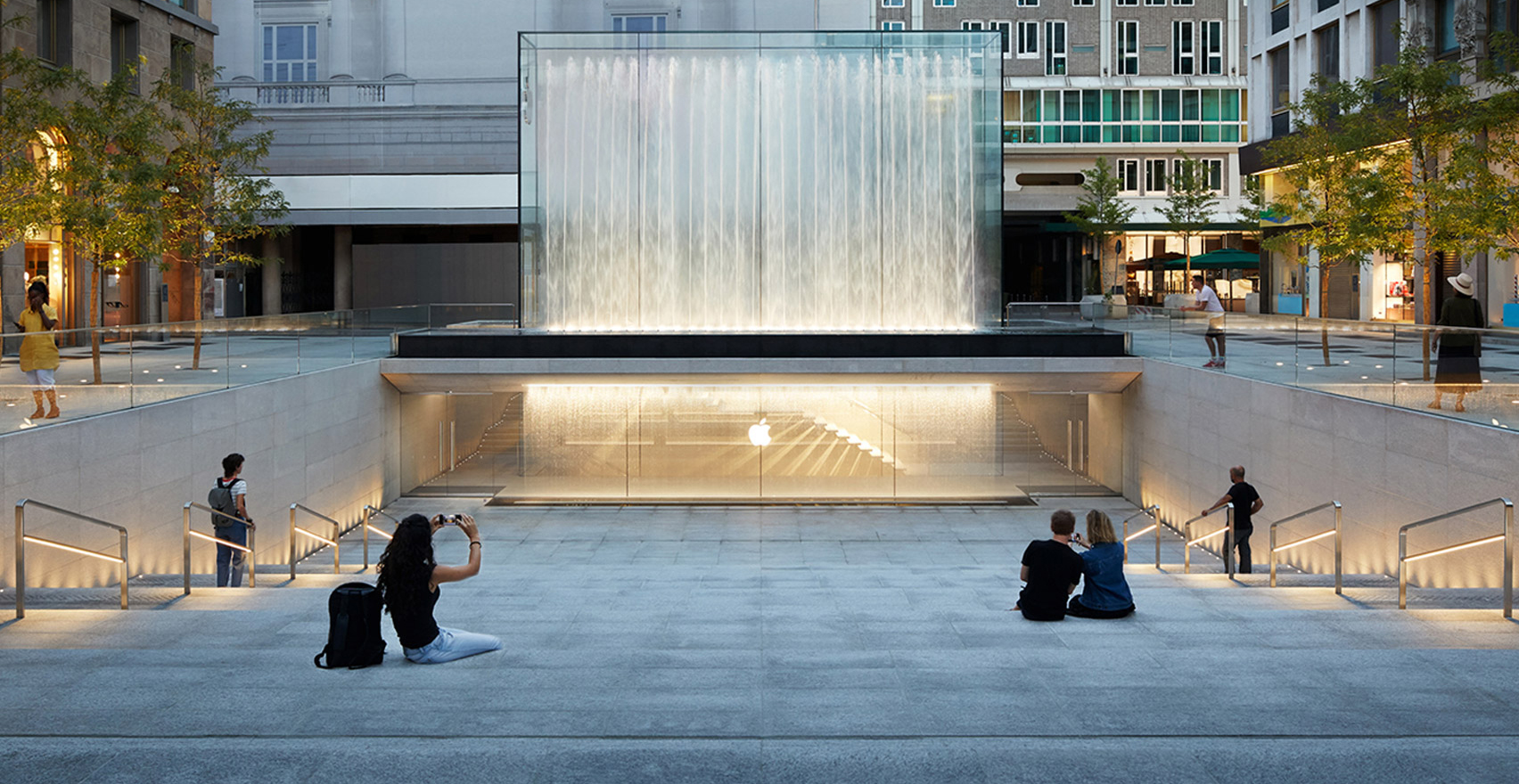 11 Breathtaking Apple Stores Around the World
These aren't just retail spaces—they're destinations
Across the globe, a trip to the Apple Store is as much about the experience as it is about the shopping, if not more so. Take one step inside, and you're bound to be enchanted by swirling glass staircases and sleek decor, an aesthetic honed thanks to the tech giant's collaboration with Pritzker Prize–winning architect Sir Norman Foster, of Foster + Partners, who designed most of the stores on our list.
But they're not all modern: Some of these spaces occupy centuries-old landmarks and feature historic columns, balustrades, and—in one instance—a 275-foot-long celestial mural. Regardless of setting, each location seamlessly captures the essence of the city around it. Read on for 11 breathtaking examples.
1. Piazza Liberty, Milan
A modern spin on the traditional piazzas that dot the fashion capital, Apple's newest store is also the brand's first flagship in Italy. Encased in glass, a 26-foot waterfall provides a striking entrance to the shop, which is lined both inside and out with Beola Grigia stone, a popular granite quarried in Lombardy.
2. Cotai Central, Macau
Light from inside Apple's newly opened Macau shop permeates the glass-stone composite façade—the first exterior of its kind—emulating the gentle glow of a paper lantern.
Recommended: Architect Zaha Hadid's Macau Hotel Makes Dramatic Debut
3. Kurfürstendamm, Berlin
The first Apple store to open in Berlin is located within a magnificently renovated historic building. Braced with an Ionic colonnade and arched windows, the Roman-style architecture maintains classical austerity.
4. Grand Central Terminal, New York
Though the New York City's "Big Apple" moniker predates the name of the tech giant by a long shot, there's something charming in the fact that the unmistakable logo is among the initial sights to greet first-timers to the city. The station is famed for the 275-foot-long celestial mural that graces its vaulted ceiling.
Recommended: 10 of the Most Beautiful Train Stations Around the World
5. Sanlitun, Beijing
Set in the Village at Sanlitun, Apple's Beijing flagship is a unique construction, to say the least. The mist-colored façade bridges a new glass structure with one of old brick, the unforgettable Apple logo overlooking a plaza.
6. Zorlu Center, Istanbul
Set into the ground, this innovative space (known as the "Glass Lantern") harnesses natural light and is framed by a placid pool of water.
7. Covent Garden, London
Recessed behind a stately arcade, Apple's Covent Garden location fits seamlessly into London's posh shopping and entertainment district.
8. Carousel du Louvre, Paris
Apple's signature interior—minimalist and pure—exists in striking contrast to the celebrated art museum's centuries-old architecture.
9. 12 rue Halévy, Paris
The cobblestone-lined streets of Paris provide an exquisite backdrop for this store, its interior boasting wrought-iron balustrades and even a glass atrium that showers the space in natural light.
10. Williamsburg, Brooklyn
Eschewing its predilection for luxe minimalism, Apple styled its first Brooklyn location after the borough's ever-popular industrial-hip vibe.
11. Pudong District, Shanghai
The cylindrical form of the Shanghai store continues with a plunge underground, where it gives way to an expansive retail space.
Next Post