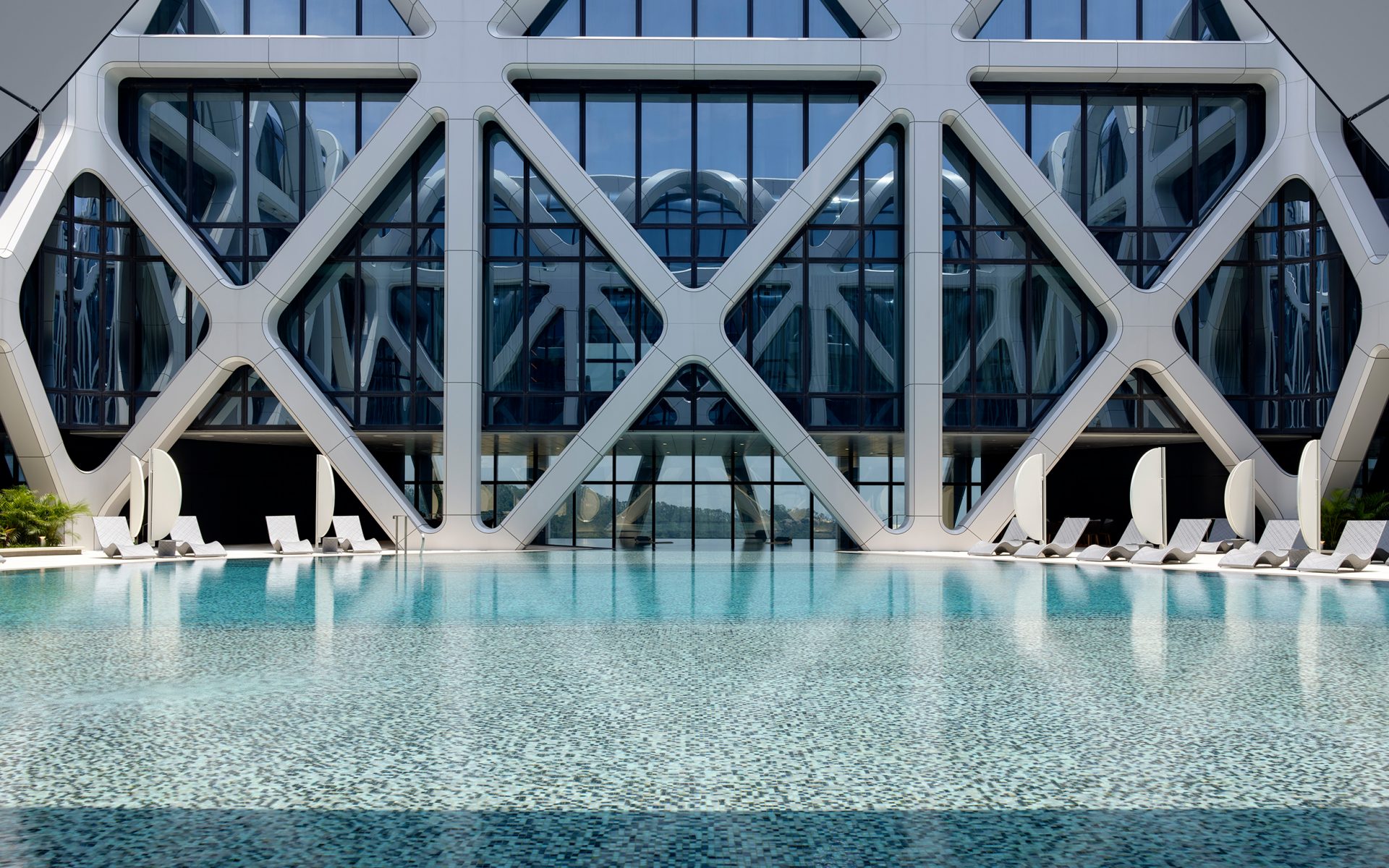 Architect Zaha Hadid's Macau Hotel Makes Dramatic Debut
The 772-key property was one of the last projects designed by the late architect
One of the last projects designed by the Pritzker Prize-winning architect Zaha Hadid before she died in 2016 recently made a dramatic debut in Macau, the Chinese gambling mecca known for its eclectic architecture.
Dubbed Morpheus, the 772-key property occupies the last remaining parcel of the City of Dreams resort, a sprawling complex comprising four hotels with multiple casinos and entertainment venues.
While the building's rectangular footprint was dictated by space constraints, its sculptural form, which features a series of irregular voids through the center, was inspired by the Chinese tradition of jade carving.
"The design is intriguing, as it makes no reference to traditional architectural typologies," Viviana Muscettola, ZHA's project director said in a statement. "Macau's buildings have previously referenced architecture styles from around the world. Morpheus has evolved from its unique environment and site conditions as a new architecture expressly of this city."
Notably, the 40-story building also features the world's first free-form exoskeleton. Composed of structural steel and coated in aluminum, this feat of engineering means that fewer internal support walls and columns were needed, giving more space for guest rooms and amenities.
Recommended: Sri Lanka's Newest Luxury Hotel Imitates Nature
"The tower's exposed exoskeleton reinforces the dynamism of the design," said the architects. "Expressive and powerful, this external structure optimizes the interior layouts and envelops the building, further defining its formal composition and establishing relationships with the new Cotai strip."
Linked to the surrounding resort complex, Morpheus's lobby welcomes guests with its 115-foot atrium, which features a strikingly sculpted marble reception area and bar, plus other kaleidoscopic design elements that reveal a dazzling interplay between light and shadow. Upstairs, a series of sky bridges on the 21st and 30th floors are home to eateries by Alain Ducasse and Pierre Hermé, as well as bold sculptures by artists including KAWS.
On the top floor, a trio of "pool villas" encompass 5,500 square feet each, taking up nearly the entire level. Like the rest of the hotel's guest rooms, the extravagant suites were decorated by California-based, Macau-born designer Peter Remedios. What sets them apart, however, are lavish in-room amenities: Each come equipped with an indoor plunge pool, workout room, cinema, private library, walk-in closets, and butler service. And if that wasn't enough, the rooftop includes a stunning pool deck, perfect for cooling off in Macau's humid subtropical climate.
It's a stirring work by a visionary architect who left us well before her time.
Next Post