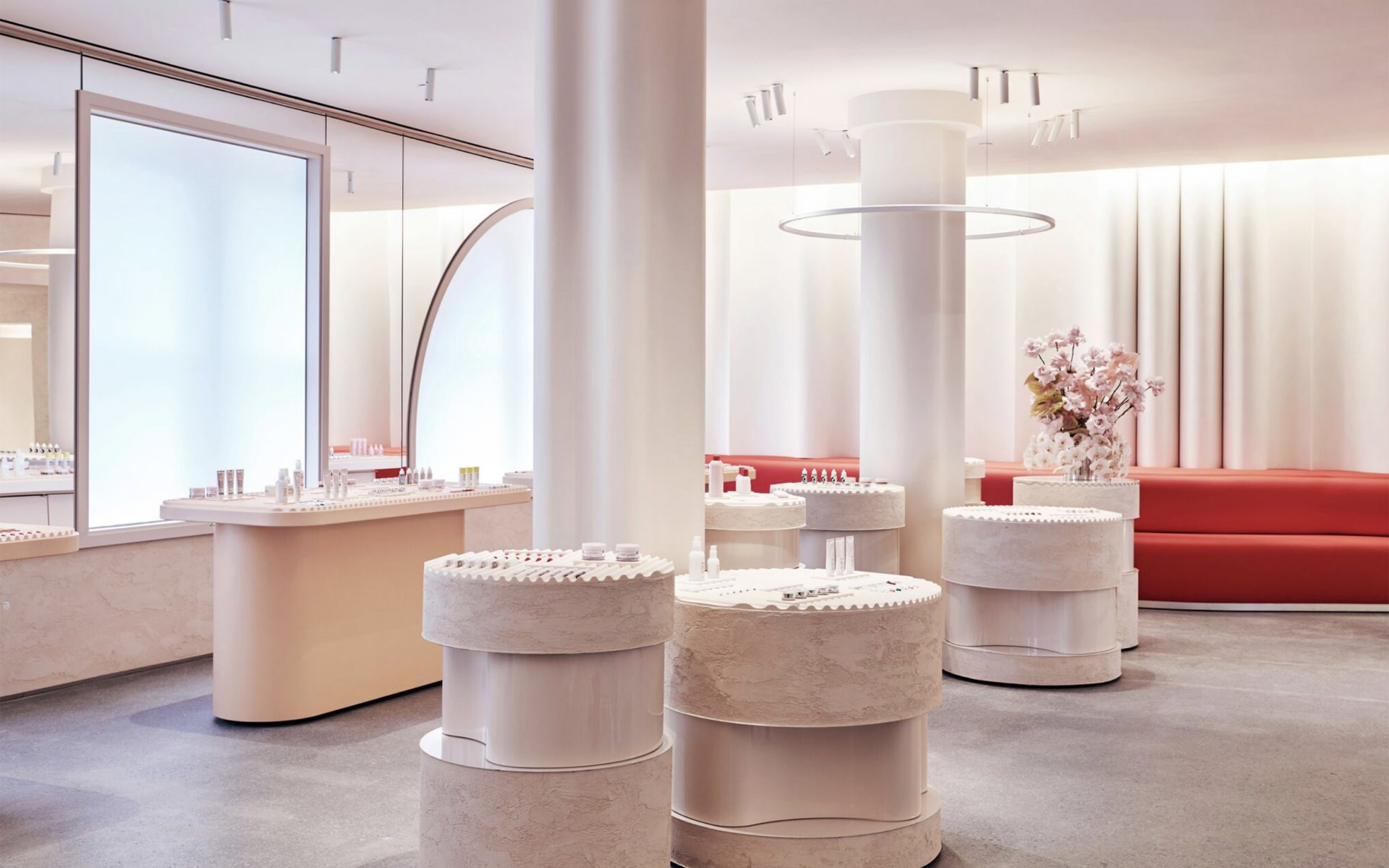 10 of Most Beautiful Wellness Spaces in New York
From makeup to meditation, these heavenly spots offer an urban oasis from the moment you step inside
1. Glossier
Tasked with creating an "adult Disneyland" vibe for Glossier's two-story beauty flagship, the designers at Gachot Studios delivered with a serene space washed in the pale, dusty pink hue—now known as Millennial pink—the the brand is famous for. Mixed with generous amounts of sunlight from the large-scale second floor windows and skylights, plus a scene-stealing entryway staircase, the atelier fully recognizes Glossier founder Emily Weiss's dreamland where playing is encouraged and a beautiful setting is a non-negotiable.
2. Serge Normant at John Frieda
A haircut or color at this three-story, 8,000-square-foot restored 19th-century townhouse is an experience in self-care. Adding to the ambience is a custom, one-of-a-kind mural by pop-art illustrator Donald "Drawbertson" Robertson that scales a full 18-foot wall. Normant and his famous clientele are rendered in the artist's signature style of unexpected bright color and graphic outlines.
3. Spa de La Mer at the Baccarat Hotel
When an iconic French crystal purveyor and one of the world's most renowned skincare brands join forces, the resulting spa will undoubtedly be one of the city's most beautiful. Exclusive and small, the oasis features four treatment rooms and a 55-foot black-and-white marble tiled swimming pool with canopied daybeds and a whirlpool, designed by Gilles & Boissier. Each treatment room features a large-scale abstract mural of sea kelp, the magic ingredient in La Mer's proprietary (and super secretive) Miracle Broth.
4. The Well
Enter the next frontier of self-care: The Well, a 13,000-square-foot, membership-only wellness club. This anti-doctor's office, designed by Rose Ink Workshop's Liubasha Rose, offers holistic services from nutrition to acupuncture, with a greenhouse-inspired restaurant filled with tropical plants and jewel-toned walls. Neutral palette treatment spaces, a Scandinavian-esque library, and meditation spaces embedded with healing crystals readily bring together good vibes and great design.
5. Paintbox
Offering a curated collection of seasonal nail art, this space greets guests with an equally chic ambiance of calming hues, leafy bird of paradise plants, deep leather cushions, and marble countertops. Designed by Fran Hickman, the suite elevates the everyday Manhattan manicure into a delightful experience.
6. Atelier Beauté Chanel: Beauty Workshop by Chanel
Featuring ultra sophisticated stations for skincare and makeup Chanel's Atelier Beauté on Wooster Street invites visitors to experiment with swaths of the brand's vivid eye pots and lipsticks. An moody midnight-blue room with romantic starry lights houses the house's cult-favorite scents, each artfully displayed in sculptural porcelain testers.
7. Shibui Spa at the Greenwich Hotel
Nestled within The Greenwich Hotel, the onsen-style spa is an homage to traditional Japanese bath houses, and designer Mikio Shinagawa sourced materials—and craftsman—-directly from the motherland. The pool is aglow with moody lanterns and wood from a 250-year old farmhouse, and traditional Japanese details centered on natural elements are sprinkled throughout, highlighting the attention and care given to the space over its two-year construction.
8. Guerlain Spa at the Plaza Hotel
Tucked away in the Plaza Hotel, the Guerlain Spa, designed by Veronique Capmeil, touts an expansive living wall filled with tropical plants while serene white orchids welcome guests. The array of different foliage is a reflection of "the brand's commitment to biodiversity," says spa director Jennifer Kirby.
9. The Spa at The Mandarin Oriental
Overlooking Central Park, the 14,500 square foot spa, designed by BBGM and Hirsch Bedner Associates (HBA), offers an "Oriental East meets East Coast" aesthetic, says HBA senior project designer Sandra Cortner. The 36th floor lap pool is the perfect spot to catch sunset views over the Hudson River.
10. Inscape
Gentle sounds and ambient lighting greet you at the meditation destination, established by Khajak Keledjian, the founder of the luxury fashion retailer Intermix. With architect Winka Dubbeldam of Archi-Tectonics, the duo unveiled a deliberately sparse 5,000-square-foot space designed to soothe, calm, and inspire mindfulness via two main meditation rooms, the Dome and the Alcove. Rotating installation art infuses the location with "4th-century monasteries, the mood in the temple at Burning Man, and the feeling you get when you look at the infinite horizon line," says Keledjian.
Next Post