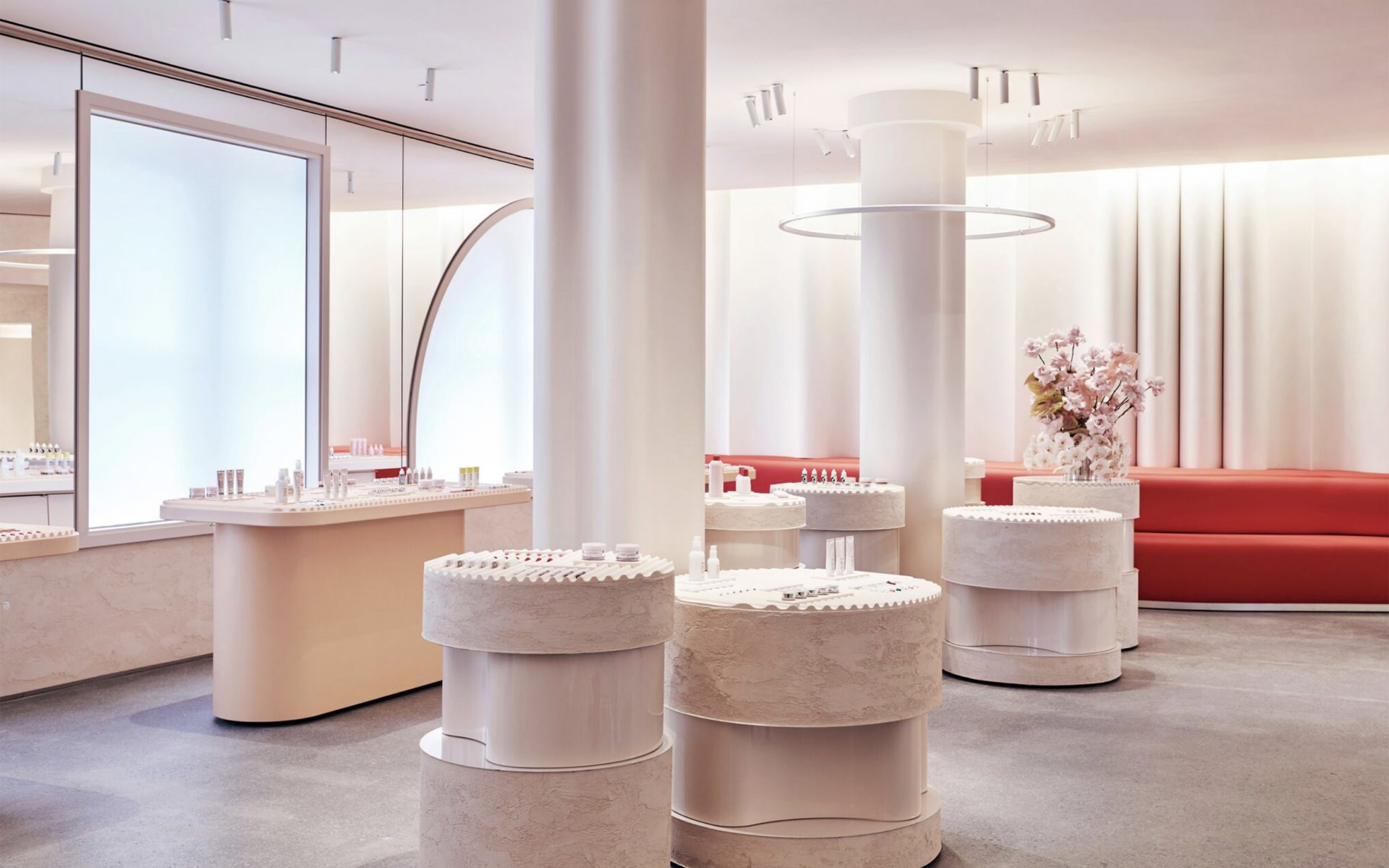 Fit for a Millennial's Dream, Glossier's Seductive Flagship Opens in New York
The fast-rising beauty brand's SoHo shop features luxe touches like pink-tinged curved plaster walls and red quartz stairs
Glossier, the millennial favorite beauty brand known for signature products like Boy Brow and Balm Dotcom, is opening a flagship in the heart of SoHo.
Designed by Gachot Studios and P.R.O., the 5,500-square-foot store will revolve around the touch and feel of the brand in real life.
"Transformative, interactive, and honest are the words that defined the design direction, but we found a way to be a little naughty and push the envelope," Christine Gachot said in a statement. "We introduced a complex, curved plaster detail—a finish that is barely achievable in high-end residential construction—running from the entry and up into the stair portal. At first, my partner, John, thought I was crazy, but they had a ringer on the construction team, and what was initially unachievable became a labor of love. We used color to highlight the brand experience, mirrors to provoke participation within the space, and millwork shapes that encouraged shared experience and community."
Customers enter through a curved entryway finished in a soft-hued plaster and a burgundy-and-red quartz pebble floor that begins at the front door and runs up to the store's second floor. A concierge-style pickup counter welcomes customers into the showroom, while the open gallery beyond is filled with playful testing tables done in unique forms to encourage exploration. The Wet Bar, where guests can apply and test all products, and the rotating "top shelf" display are both set in a large mirrored cube, a subtle nod to the iconic Glossier packaging.
Recommended: A $50 Million Penthouse Designed by Zaha Hadid Comes to Market
Tucked behind the main area will be an experiential room, which will become home to new product launches and special installations. The third floor houses the Glossier retail operation, where the team will package and deliver orders by way of a custom conveyer belt that connects through the floor directly to the pickup counter down below.
See below for a peek inside the dreamy new space.
The Glossier flagship store opens Thursday, November 8, at 123 Lafayette Street.
Next Post