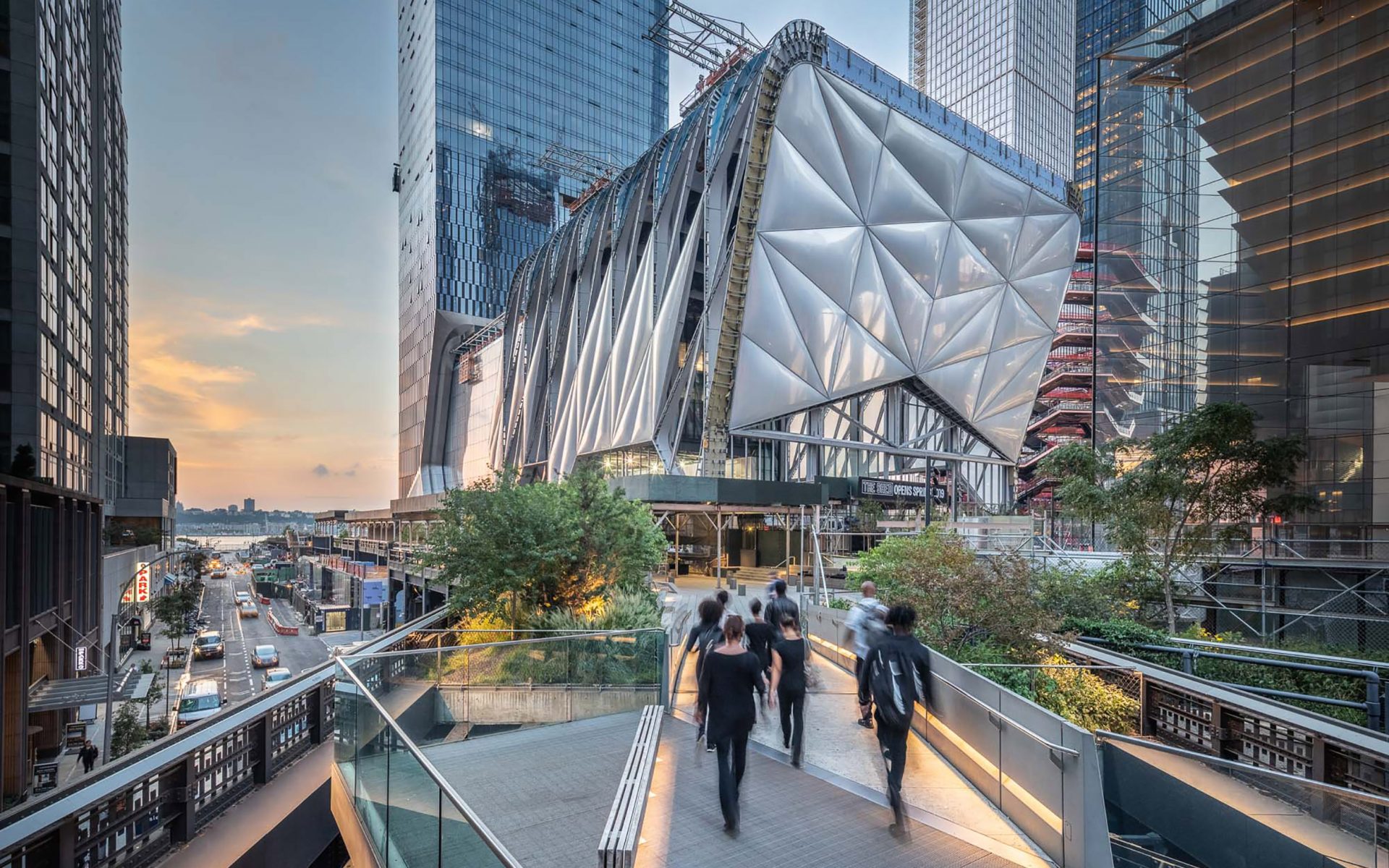 The Shed Announces Opening Date and Additional Programming
The much-anticipated new arts space in New York's Hudson Yards will kick off its inaugural season this April
The Shed, the highly anticipated new nonprofit cultural organization located within New York's burgeoning Hudson Yards complex, announced today that it will launch its opening season on April 5. Artistic director and CEO Alex Poots also revealed that The Shed's innovative, movable building, located on Manhattan's West 30th Street between 10th and 11th Avenues, has been named The Bloomberg Building after former mayor and businessman Michael R. Bloomberg, a major supporter of the project.
"Nearly 15 years ago, Mayor Mike Bloomberg had the vision to embark on a complete transformation of Manhattan's west side, and he had the foresight to know the Hudson Yards area needed a cultural anchor to ensure a vibrant and accessible future," Daniel L. Doctoroff, Chairman of The Shed's Board of Directors, said in a statement. "The Shed is key to that vision. In honor of Mike Bloomberg's extraordinary leadership in nurturing the project, The Shed's Board of Directors is proud to name our remarkable home The Bloomberg Building."
The Shed also announced a gift of $27.5 million from Jonathan M. Tisch, vice chairman of its board of directors, and his wife, Lizzie Tisch. Their gift supports the building's construction and includes a $10 million challenge grant to a newly formed Commissioning Fund, an initiative that will support the creation of new work at The Shed. In honor of the Tisches' gift, two major spaces on the building's top level—a 9,500-square-foot skylit event and artist rehearsal space, and a lab for artistic development and experimentation—have been named The Lizzie and Jonathan Tisch Skylights and The Tisch Lab.
Recommended: 11 Amazing Art Spaces Opening in 2019
To date, The Shed has raised $488 million toward its capital campaign goal of $550 million, which includes building costs, organizational start-up expenses, and a fund to support the creation of new work at the center.
In addition to the previously announced programming for the inaugural season, Poots introduced four new commissions for the spring and summer including an original production called PowerPlay by multimedia artist Latasha Alcindor, the debut of a new documentary by Yanina Valdivieso and Vanessa Bergonzoli focusing on the work of artist Beatriz González, an exhibition of new works by artists Tony Cokes and Oscar Murillo in one shared space, a new performance from street dance pioneer Reggie 'Regg Roc' Gray, and a one-night-only lecture with filmmaker Boots Riley about art and civil disobedience.
Previously revealed was Soundtrack of America, a five-night concert series celebrating the unrivaled impact of African American music conceived by celebrated filmmaker Steve McQueen, that will open The Shed on April 5.
Tickets for the first half of the inaugural season (April through August 2019) will go on sale to the public on February 6. Additional commissions for the second half of the 2019 opening season will be announced later this year.
Next Post