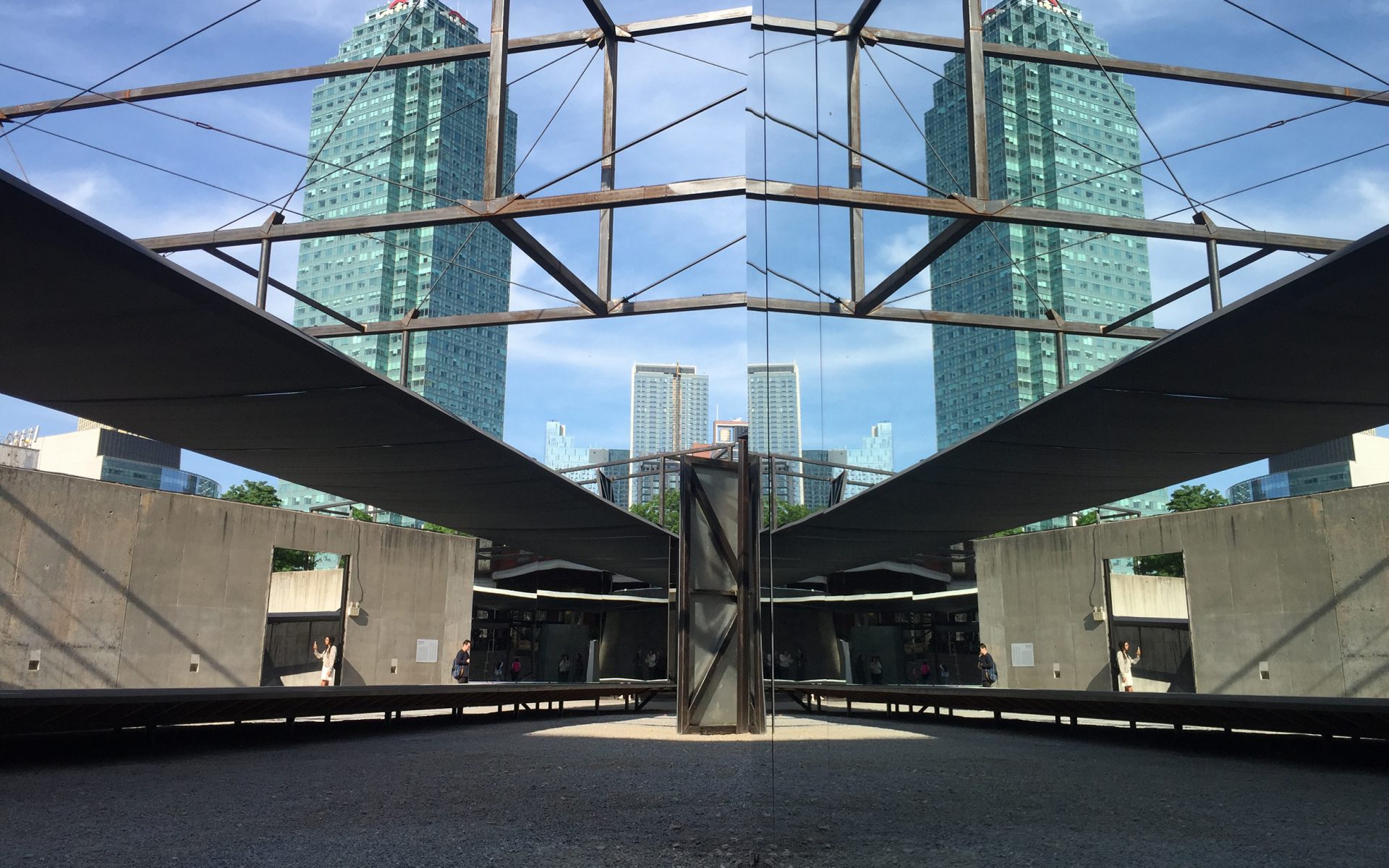 Young Architects Transform MoMA PS1 With Canopies, Catwalks, and Mirrors
The winners of the 19th annual Young Architects Program have created an environment that refutes the museum's walls
For this year's edition of the Young Architects Program (YAP), Queens art space MoMA PS1 selected Minneapolis architectural duo Dream the Combine to turn their proposed "kinetic environment" into a temporary real-life installation. Dubbed Hide & Seek, the 19th annual YAP winner now occupies the museum's courtyard and will provide the setting for this summer's outdoor events, including Warm Up, a music series that takes place every Saturday.
Architects Jennifer Newsom and Tom Carruthers—the couple who founded Dream the Combine in 2013—spoke this past week during a preview about their inspiration and hope for the work, which comprises a network of canopies, catwalks, a giant hammock, and pairs of oversized mirrors. (Structural engineer Clayton Binkley, of ARUP, who collaborated on the plan, was also on hand.)
"We started the project by thinking who feels in place in the museum," says Newsom. "A lot of times, people don't feel invited to come into the walls. So how do we start to make that connection between what's happening in here and what's happening outside?"
The solution was to install enormous mirrors at varying planes throughout the space, including on overhead trusses. "They basically act like gigantic periscopes," she says, referencing how the angled mirrors are able to reflect the surrounding Long Island City streetscape. "Part of the usage of the mirrors is to refute these walls while at the same time being confronted with them."
Recommended: Architect Frida Escobedo Brings a Touch of Mexico to the Serpentine Pavilion
At ground level, Newsom says that the pairs of mirrors are mounted on "a universal joint, sort of like truck hitch."
"They move left to right, kind of like your eye moves: side to side, up and down, but they don't twist and rotate," she says. "You get an infinite reflection when they're perfectly parallel, but as they start to flex and move—either from people touching them or moving in the wind—you get this other kind of imagined shape… a wandering vanishing point."
Recommended: Artist Tauba Auerbach's 'Dazzled' Historic Fireboat, Unveiled
Her favorite space is off the main courtyard, where a massive black hammock invites visitors to play and relax. It's bookended by mirrors and shaded by a semiopaque canopy. "Our nickname for this space is a sanctuary courtyard," says Carruthers. "Even though you hear the sounds of the train and construction noise, this is a special room."  
The pair also found inspiration in the work of artists Lorraine O'Grady and Gordon Matta-Clarke. "Matta-Clarke's Odd Lots gave us a way to make the geometry of the setting less precious and break it open a bit more," explains Carruthers, referencing the artist's acquisition of 15 micro-parcels of land across New York City in 1973.
O'Grady's 1983 performance piece Art Is, meanwhile, bolstered their idea to let visitors become an integral part of the installation. "She went to a parade in Harlem and had these dancers move through the crowd wearing all white, holding these gilt frames, and capturing the audience within an art-historical framework," says Newsom. "There's something really beautiful about it, because it's saying 'everyone is part of the art.' We're also trying to frame you all—you're captured in the frame, you're captured in the mirror, you're put in place here."
Hide & Seek is open through September 3, 2018 at MoMA PS1, 22-25 Jackson Ave., Long Island City.
Next Post