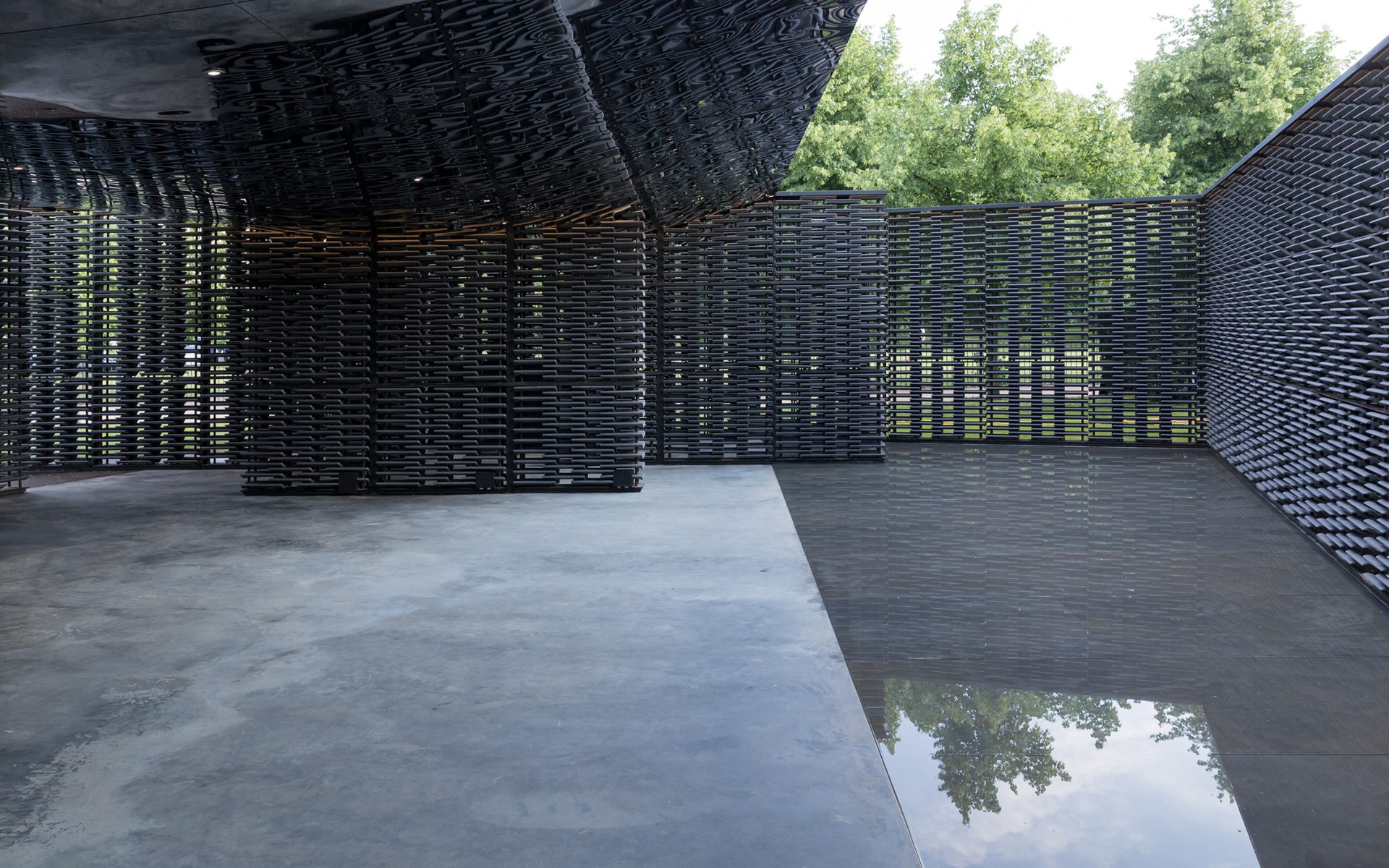 Architect Frida Escobedo Brings a Touch of Mexico to the Serpentine Pavilion
The Mexican architect is the youngest designer to get the prestigious annual commission
The Serpentine Pavilion in London's Kensington Gardens, which was designed this year by fast-rising Mexican architect Frida Escobedo, has been unveiled. 
At 38 years old, Escobedo is the youngest architect given the coveted commission, which is awarded annually by the Serpentine Galleries to an architect who has never completed a building in the United Kingdom.
Escobedo's structure, which opened to the public on June 15, is imbued with cultural references to her home country. The enclosure's lattice walls evoke the traditional Mexican screens, called celosia, that allow light to flow through while offering a certain level of privacy and security.
The materials, however, reflect the pavilion's urbane British location. The walls are composed of the kind of stacked cement tiles that are typically used to crown roofs across Europe. These dark and seemingly heavy tiles, each one gently undulating, offer an austere counterpoint to the vibrant green foliage of the surrounding park.
Escobedo has also included reflective elements in the pavilion, including fun-house-style mirrors that line the underside of the roofline and a shallow triangular pool. The latter, which is positioned along the north axis of the Greenwich Meridian, the line of longitude that sits at the center of our system of time zones, is meant to refract sunlight and give visitors a heightened sense of awareness of time.
Recommended: Diébédo Francis Kéré's Serpentine Pavilion Unveiled in London
"My design is a meeting of material and historical inspirations inseparable from the city of London itself, and an idea which has been central to our practice from the beginning: the express of time in architecture through inventive use of everyday materials and simple forms," Escobedo said in a statement. "We have added the materials of light and shadow, reflection and refraction, turning the building into a timepiece that charts the passage of the day."
In a joint statement, the Serpentine's CEO Yana Peel and its artistic director Hans Ulrich Obrist said the structure "promises to be a space of reflection and encounter. We hope visitors of all ages will create their own experiences in the pavilion this summer as we continue our aim of bringing the urgency of art and architecture to the widest audiences."
The pavilion will remain on view through October 7.
Next Post