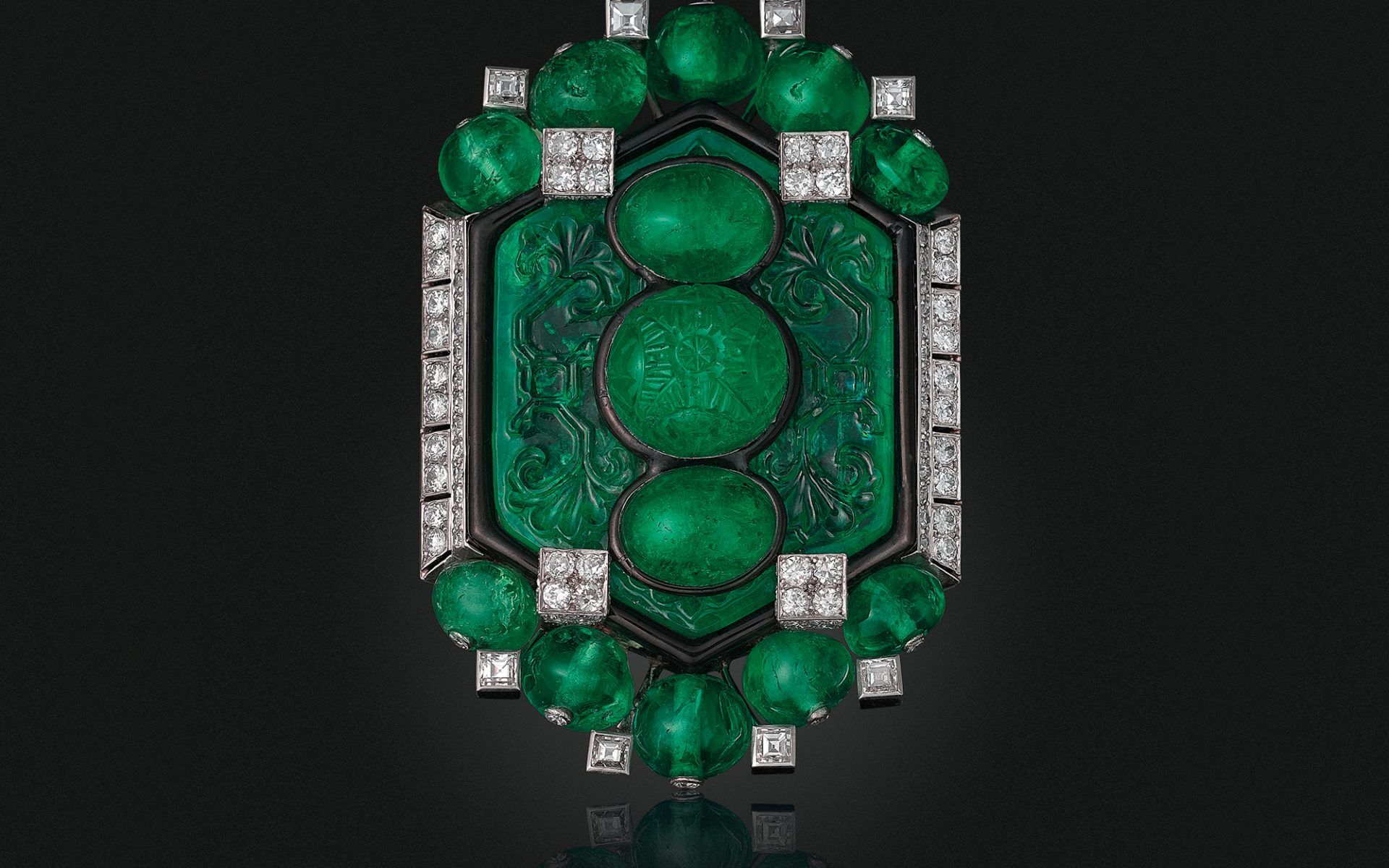 10 of the World's Most Famous Emerald Jewels
From Elizabeth Taylor's beloved Bulgari brooch to Queen Elizabeth II's tiara, these jewels boast superb quality with a provenance to match
"Emeralds have been captivating our attention for thousands of years," says Frank Everett, vice president of Sotheby's Jewelry in New York. "Prized for their rich color, they are the most vibrant of all the green gemstones." In the jewelry world, colored gems are indeed the ultimate luxury, originating from a finite resource, each one boasting a unique character. Of the three crown jewels of colored stones, alongside rubies and sapphires, emeralds are associated with hope, new beginnings, and the budding signs of spring, making them the perfect birthstone for May. 
Dating back to antiquity, emeralds were adored by Cleopatra, who famously had her own mines in Egypt. Today, the rarest emeralds are found in Muzo, a mine nestled in the lush foothills of the Colombian Andes, but deposits can also be found in Brazil, Zambia, Zimbabwe, Afghanistan, Australia, India, Austria, and Mozambique. Every culture has its own interpretation of the stone too. "In Islamic lore, the color green is the color of paradise, denoting richness, abundance, and growth in nature," says Angelina Chen, senior specialist at Christie's Jewels in New York. "Perhaps that is one of the reasons why Cleopatra loved emeralds as well!" Gabbi Harvey, head of business development at Muzo, adds: "It was believed that emeralds were the gifts of gods, and not surprisingly the stone has also been known as the 'jewels of kings.'" Indeed, as the ancient Roman nobleman Pliny the Elder is said to have once claimed, there is "no gem in existence more intense than this." 
Emeralds are not only unique in their color but also in the natural arrangement of inclusions, which, as Everett says, "can add to the natural beauty of the stone." "The French have called these eye-visible inclusions gardens, or jardins, which are descriptive of the mossy, tendril-like lines going through a stone," says Chen. "Very clean emeralds can command exceptionally high prices, especially if they have a wonderful saturation and depth of color and are relatively big—ten carats or more."
Recommended: Kathleen Ryan Creates Sculptures of Fruit Using Shimmering, Precious Gemstones
As with most gemstones, the value comes down to size, purity, color, and brilliance. According to Harvey, "The most valuable color ranges from a bluish green to pure green." When the stone has had little or no "treatment," the value jumps too. "Adding cedar-wood oil has been used traditionally to fill the small fissures and jardins," Chen says, "but these days, other resin or polymer can be used as well." Chen's advice is to always ask for a gem laboratory certificate when making a purchase. 
Below, we share ten stunning examples of the world's finest emeralds boasting remarkable provenance. 
1. The Chalk Emerald  
One of the most famous emeralds in the world is the Chalk Emerald, which weighs a staggering 37.8 carats. "It ranks among the finest emeralds to be discovered due to its outstanding clarity and velvety rich green color," says Harvey of Muzo. "It originally weighed 38.4 carats, but was recut and set in a platinum and gold ring designed by Harry Winston Inc., where it is surrounded by 60 pear-shaped diamonds totaling 15 carats." It was donated to the Smithsonian by Mr. and Mrs. O. Roy Chalk in 1972 and can be found on display in the Gem Gallery at the National Museum of Natural History.
2. Elizabeth Taylor's Bulgari emerald and diamond pendant brooch 
"Richard Burton purchased this brooch for Elizabeth Taylor during the filming of Cleopatra in Rome in the early days of their romance," says Chen of Christie's. Approximately 23.46 carats, it was worn by the actress at their wedding in 1964, before being sold at Christie's in 2011 for $6.6 million. Today, it holds the record for the most expensive piece of emerald jewelry sold at auction.
3. Queen Elizabeth II's Vladimir Tiara
The Vladimir tiara, owned by Queen Elizabeth II, became the subject of speculation around the royal wedding of Meghan Markle and Prince Harry in 2018. British tabloids reported that Markle had her heart set on the tiara for the wedding but was told that she couldn't wear it because of issues with its provenance. The piece was commissioned by the Grand Duchess Vladimir from the Romanov court jeweler Bolin and was hidden away in the palace in St. Petersburg, where it was kept safe during the Russian Revolution, before being secretly smuggled out of Russia and then sold to Queen Mary (the present queen's grandmother).
4. Platinum, emerald and diamond ear clips owned by the Grand Duchess Vladimir 
These earrings featuring drop-shaped emeralds and diamonds come from the collection of Grand Duchess Vladimir (Maria Pavlovna), one of the most important figures in the Russian Romanov family. The jewels later passed through the Thurn und Taxis collection before coming to auction at Sotheby's in 2014. "Few jewels in the world can claim the fame and splendor as those belonging to the Russian imperial family," says Everett of Sotheby's, where the jewels hit the block for $1,055,000 in 2014. 
5. The Stotesbury Emerald 
This legendary stone, comprising more than 34 carats, was owned by three distinguished American collectors: Evelyn Walsh McLean; May Bofils Stanton, the heiress to The Denver Post; and renowned socialite Eva Stotesbury. "The fabled journey of this emerald also included mounting in four different jewels, twice by Cartier and twice by Harry Winston, during the heyday of jewelry collecting in America," says Everett. The Stotesbury Emerald sold for $1 million at the Sotheby's Magnificent Jewels auction in 2017. 
6. Catherine the Great's Emerald Necklace 
This gem weighing 75.61 carats was part of the Russian imperial collection for more than 100 years before Tsar Alexander II of Russia gifted it to Grand Duchess Vladimir in 1874, on the occasion of her wedding to his son Grand Duke Vladimir Alexandrovich of Russia. After the grand duchess's death in 1920, it was bequeathed to her son Grand Duke Boris and was then owned by several famous collectors, including Pierre Cartier. Offered at auction by Christie's in Geneva in May 2019, it hit the block for $4.5 million.
7. The Flagler Emerald 
Weighing 35.02 carats and of classic Colombian origin, this extraordinary stone came to Sotheby's in 2015 from the estate of Mary Lily Kenan Flagler. "Mary's husband, Henry Flagler, was almost single-handedly responsible for establishing Florida as the resort destination we know today, including the creation of towns and cities, including Palm Beach, Lake Worth, and Miami in the late 19th century," explains Everett. It sold for nearly $2.8 million in 2015, soaring above its $1.5 million high estimate.
8. The Rockefeller Emerald 
Weighing 18.04 carats, this octagonal step-cut emerald was purchased by John D. Rockefeller Jr. for his wife, Abby Aldridge Rockefeller, who wore it for years as part of a brooch that was designed by Van Cleef & Arpels. After her death, the brooch was broken down and the stones were distributed to her children. Her youngest son, David, received the large center stone and commissioned the jewelry designer Raymond Yard to turn it into a ring. "The color was rich, and its clarity was wonderful as well," says Chen. "There were hardly any inclusions; classified as Classic Colombia, it boasted an absence of treatment, which is very rare for this size emerald." It sold to Harry Winston in 2017 and achieved a record price per carat at $305,516.
9. The Dupont Emerald 
A lifelong supporter of the arts, Jessie Dupont bequeathed her Belle Epoque Tiffany & Co. ring with a 9.11-carat emerald to the Virginia Museum of Fine Arts after her death in 1970. "It remained in a drawer in the museum, insured for $25,000 until 2019, when it came to Christie's to be sold to fund new museum acquisitions," says Chen. It fetched $1.65 million at auction.
10. A Cartier Art Deco Emerald, Diamond, and Enamel brooch 
"This brooch is one of the finest examples of the use of carved emeralds," says Chen. "In Mogal India, the emperors had court lapidaries take the art of carving to new heights." Jacques Cartier had famously traveled to India at the beginning of the 20th century to sell to the extremely rich maharajas, but these trips led to one of the greatest cultural exchanges in the jewelry world. Cartier purchased gemstones there and adopted these carved gemstones into important Art Deco jewelry, such as this brooch. Exhibited at the Metropolitan Museum of Art, the Victoria and Albert Museum, and the Grand Palais in Paris, the brooch sold for $1.45 million at the Christie's Maharajas & Mughal Magnificence sale in June 2019.  
Next Post