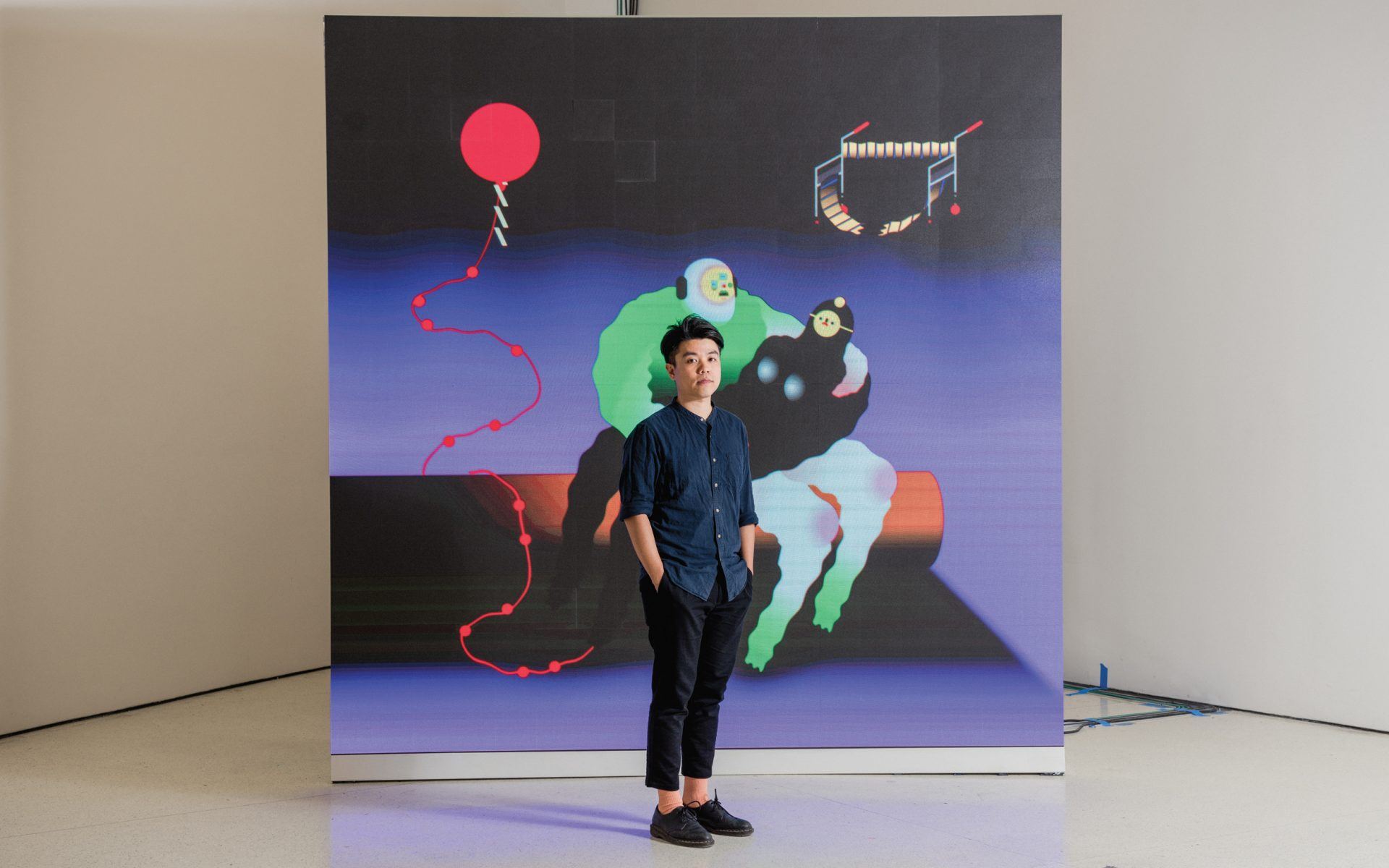 Hong Kong Artist Wong Ping Brings His Witty Animations to ICA Miami
The piece, from Wong's "Fables" series, is just the latest installation by the artist who has been generating major buzz
Hong Kong artist Wong Ping's foray into the arts is a true millennial success story. It all started with the digital animation videos he would upload to Vimeo in his free time while working in postproduction for a television broadcasting company. "I had an organically grown online community," says Wong of his small but loyal audience.
Since 2014, his cartoony short films depicting humorous sexual encounters in bizarre scenarios have garnered tremendous attention in the art world and his name is being added to new-media acquisition lists at museums across the globe. Rendered in bright colors with an intentionally naïve design aesthetic, the works are filled with social commentary and contemporary angst delivered with a heavy dose of wit—meme culture mashed up with existentialist satire. "My process has always been similar to writing a diary," he says. "I am inspired by what I hear, see, or experience wherever I am, on my phone, or in real life."
Just in the past two years, Wong has had a solo exhibition at the Kunsthalle Basel in Switzerland, exhibited at the New Museum in New York, and won the inaugural Camden Arts Centre Emerging Artist Prize at Frieze. Recently, the Solomon R. Guggenheim Museum commissioned Wong's Dear, Can I Give You a Hand? and acquired the piece for its permanent collection.
Recommended: How Artist Vaughn Spann Is Pushing Boundaries with His Poetic Works
His one-man operation, which he dubbed Wong Ping Animation Lab, requires the artist to script the stories himself and then animate them alone, working on just a small laptop in the low-cost hotels and Airbnbs in Hong Kong, where he primarily resides, or from hotel rooms across Europe, Asia, and the U.S.
This winter, the ICA Miami will display a new commission from Wong's "Fables" series in its Yarkin Gallery, which is dedicated to spotlighting emerging artists. The work is an interpretation of the complexities around virtual encounters and physical yearnings. "Wong Ping is an exciting new voice in contemporary art," says exhibition curator Alex Gartenfeld. "His animated videos and installations have enthralled viewers with their playful yet trenchant allegorical style." tanyabonakdargallery.com
A version of this article first appeared in print in our 2019 Winter issue in the section On Our Radar. Subscribe to the magazine.
Next Post