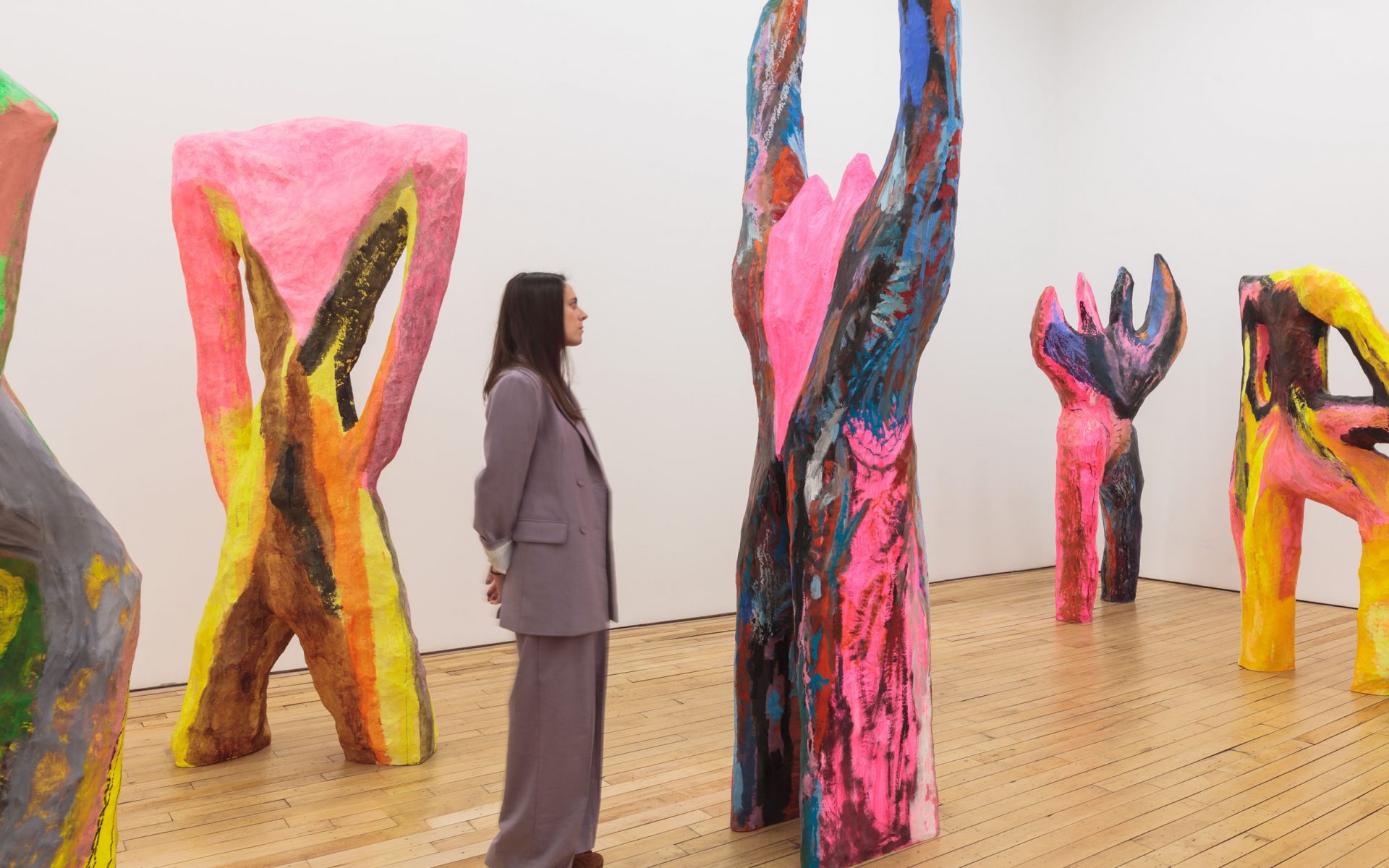 Who We're Watching: Artist Bianca Beck
The interdisciplinary artist finds inspiration everywhere, from Greek philosophy to political protests
Inspiration can be hard to come by, but for Bianca Beck, it's everywhere. She finds it in Greek philosophy and political protests, in the human body and bell hooks, and even in the materials that fill her studio. Embodying all of the above are her larger-than-life papier-mâché sculptures, which complement a series of paintings in her solo show "Body Double" at Rachel Uffner Gallery through December 23.
Aside from regular representation at Rachel Uffner, Beck was recently included in group shows at White Columns (where she also had her first solo show, in 2011), Simone DeSousa Gallery, and Andrew Edlin Gallery. Her work has also been shown internationally.
"I see the work as sculptural, physical, and positive," she told Galerie of the current show. Here are four reasons why she's an artist to watch.
1. She uses materials unconventionally. When she was earning her MFA at Yale, Beck had focused on still life and plein air painting, so the transition to abstract work caused her to rethink the way she'd been using materials like paint and panels. This experimentation earned her early recognition in 2010, when the artist and curator Joe Fyfe included one of her works—a painting on panel into which she'd chiseled an actual hole—in "Le Tableau" at Cheim & Read. Beck was the youngest participant in the exhibition, which included artists like Joan Mitchell and Charline von Heyl.
"It was unusual to see a young artist that was kind of tearing the painting apart physically," Fyfe tells Galerie, sharing that he was struck by the "brutal presence" of Beck's approach. Even today, that gritty surface quality remains essential to her body of work.
2. She wants her sculptures "to feel impossible." Her process starts with an ink drawing or small paper model. Based on that, she then builds a wood armature with chicken wire to create the form. "In that process, I'm really looking at the drawing that I've made. I'm working from observation and trying to get it just right." The process after that involves burlap, three layers of papier-mâché, glue, gesso, and acrylic paint. "I really want them to feel impossible—their balance, or the way they would be working." But if a design slants or bends in a precarious way, then keeping the final two-legged sculpture upright—especially when it's life-size or larger—can be tricky. "If part of it juts out, then all of the weight of the sculpture is located above that point," says Beck. "You have to figure out how that gets weighted into the feet."
Recommended: Who We're Watching: Painter Gabriella Sanchez
3. Her art is informed by social issues. "I'm driven by the lack of women's representation in galleries and magazines," she says, "along with the lack of people of color. I really notice a discrepancy there." In the studio, Beck listens to talks by intersectional feminists like bell hooks, and she looks for inspiration in artists that she considers "outside the canon," especially female and LGBT artists.
Notably, she's also politically active outside the studio. After the 2016 U.S. presidential election, Beck joined a protest in Manhattan. "I was arriving pretty late in the night," she remembers. "Coming up from the subway, I felt and heard the crowd coming toward me. There was almost a sphere of sound around the people. The whole space was enlarged, like a beast or creature. Joining the protest felt really scary—but also really important."
4. Her work is influenced by mythology. Beck's sculptures call upon the human form, and while she was working on her most recent series, her partner—who studied Greek classics—recalled an origin myth for romantic longing in Plato's Symposium. The myth says that human beings were originally double their current size, sporting four arms, four legs, and two faces, and only attained their current forms when one of the gods spliced them apart. As a result, they now spend their lives trying to reunite with their other half.
The myth moved Beck, and she aims for her sculptures to "convey the feeling of being doubled or enlarged through partnership," she says, "when we become something greater than ourselves." 
What's up next: A prospective series of outdoor sculptures (Beck is inspired by Huma Bhabha and Niki de Saint Phalle) and a work in "Le Tableau II," which Fyfe is devising for Luxembourg in 2019.
Next Post