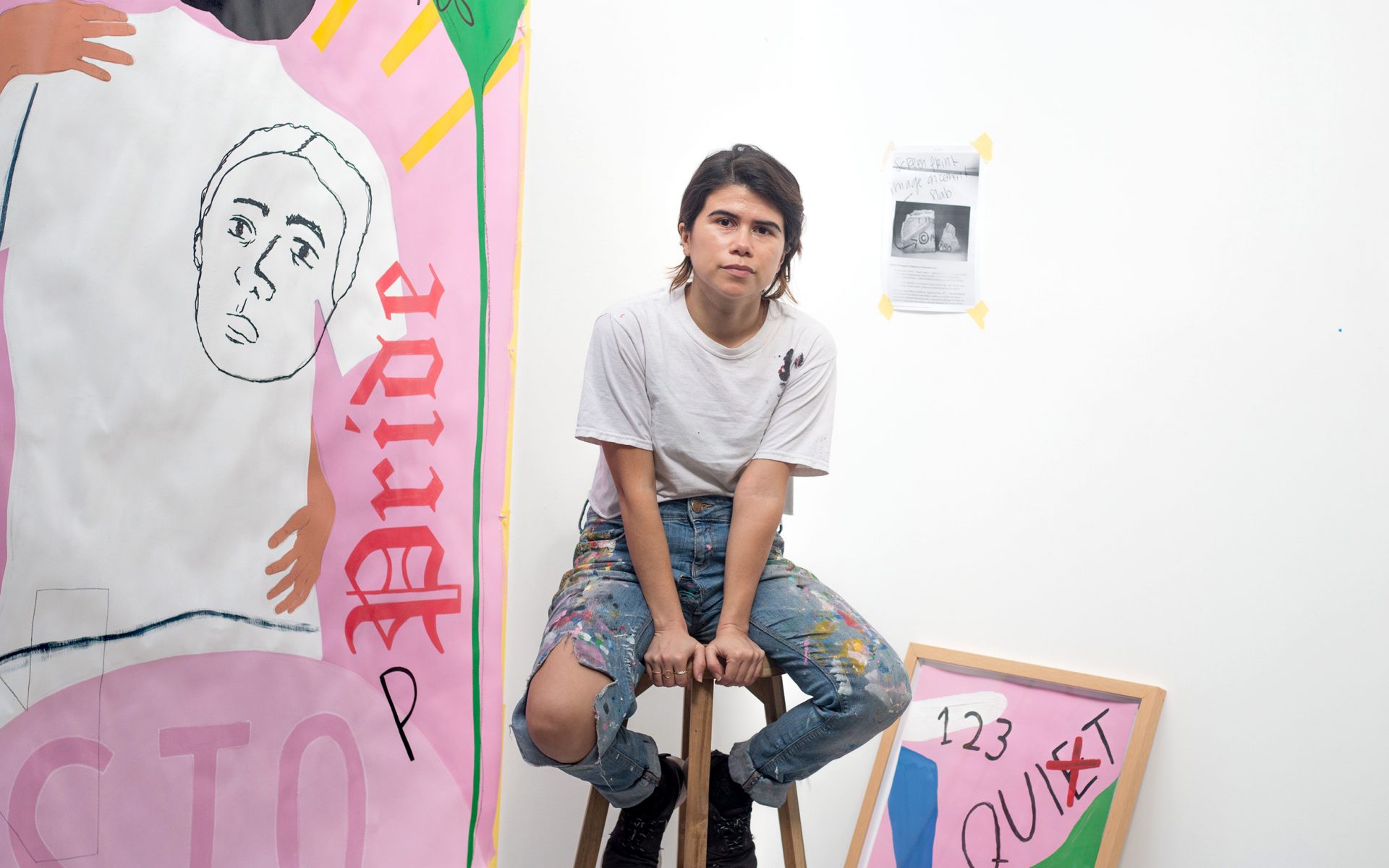 Who We're Watching: Painter Gabriella Sanchez
Instagram gave this politically engaged artist a major boost
Considering the bold impression her work made in "Punch," the group show curated by Nina Chanel Abney that just wrapped at Jeffrey Deitch, it's somewhat surprising that Gabriella Sanchez never expected to become an artist.
"I kind of fell into it," says the painter, whose undergraduate studies at Point Loma Nazarine University started out in childhood development. It was only when she took an introductory art class to fill a graduation requirement that her path changed course and she ended up studying graphic design and illustration, attracting clients like the Obama Administration, Planned Parenthood, Nike, and Tumblr. Then, following in the footsteps of artists who began their careers in the commercial realm like Andy Warhol, Richard Prince, and her inspiration, Ed Ruscha, she made a foray into fine art, bringing the tools of the graphic design trade and a penchant for words and typography with her.
Intrigued by this rising talent, Galerie reached out for a Q&A. Here are three things we learned about Sanchez.
1. Her painting career got a boost from Instagram. "I had collectors before I even had a gallery because of social media," says Sanchez. It was Instagram that first connected her with Nina Chanel Abney. "Nina DM'd me," says Sanchez, meaning that Abney sent her a direct message after she saw her work on the image-sharing platform. "I was floored."
Abney asked Sanchez to contribute work to the show she was in the process of curating, which opened at Jeffrey Deitch in mid-September. Sanchez had just completed a body of work for "By Any Other Name," her first solo show, at L.A.'s Charlie James Gallery, which meant that the work for "Punch" would have to be turned around instantaneously. "Of course," Sanchez recalls, "I said yes."
2. She's politically engaged, both as an artist and graphic designer. As a designer, Sanchez had no shortage of clients that were politically involved organizations. The Obama Administration once hired her to design graphics for an event that it hosted with the sexual assault awareness organization It's On Us. Planned Parenthood also enlisted her help on numerous projects, particularly when it was at risk of being defunded.
"Working with both of these organizations was a really great experience," she says. "I love when I can lend my visual voice to support those who are actually making the moves to change policies."
Recommended: Who We're Watching: Artist Amanda Valdez
Even her fine art demonstrates her political awareness, but that context, she says, is attributed to her work automatically. "The fact that everything is political is more easily pointed out when you are a woman, a person of color, or someone from any margin," she says. "In my work, for example, aesthetic choices like font styles become political because they are considered in a cultural light. When, say, Ed Ruscha uses a gothic script, it has a different representational weight compared to when I use that same script." And she embraces that. "In part, that's what my paintings are about."
3. She writes first, paints later. Her art depicts words and phrases taken from her personal essays, which she continually revises until she's confident that her ideas are ready for the canvas. Then she thinks about how the meaning of each word is affected by its context in the painting.
"Like the word homes," says Sanchez. "Written in a sans serif typeface, you think of its more traditional definition. But that same word in a Gothic font brings more alternative uses to mind, like homeboy. When you boil my work down to its core," she says, "it's really about how meaning is both created and perceived."
What's up next: Sanchez is finishing up work for "New Suns," a show opening November 17 at Páramo Galeria in Guadalajara, Mexico. Her next solo show at Charlie James Gallery is slated for late 2019.
Next Post