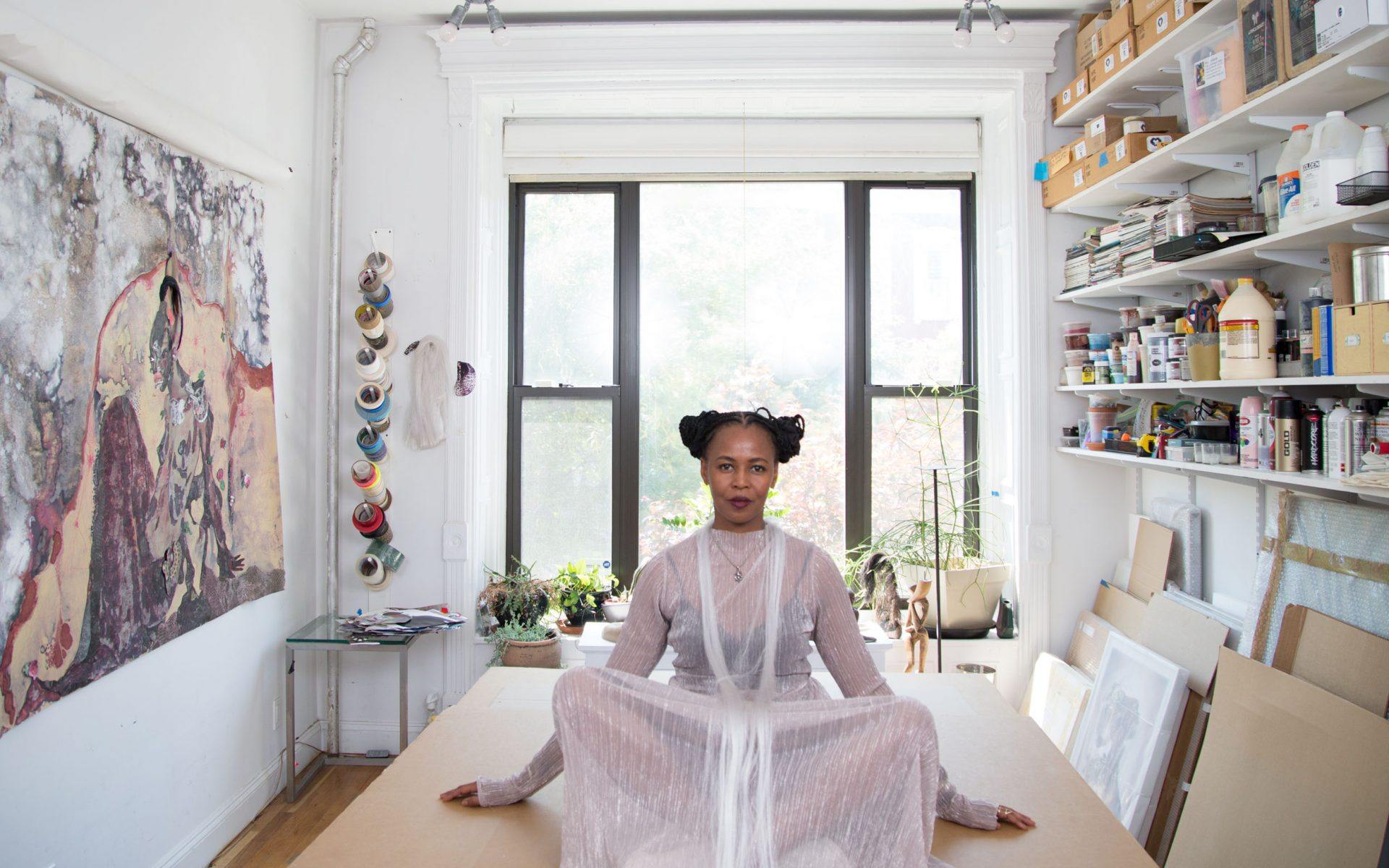 Why These 4 Whitney Biennial Artists Are Making Waves
Galerie visits Tomashi Jackson, Wangechi Mutu, Samuel Bazawule, and Lucas Blalock in their studios
Since its inception in 1932, the Whitney Biennial has been serving up a real-time snapshot of the American art scene. Featuring dozens of artists following different muses, the show is by its nature heterogeneous, contradictory, uneven, and often provocative—in the best way. In the past few decades New York's highest-profile biennial has been known as a flash point for controversy, too.
"There's no set formula or manual for creating this exhibition," says the Whitney Museum's director, Adam Weinberg, adding that it's an attempt to find the "unadulterated but not uncomplicated heartbeat of artmaking at this moment."
The fruits of that thoughtful searching will be unveiled on May 17, when the biennial's 79th edition opens with the work of 75 artists, many of them under 40 and many featured in the show for the first time. Performance pieces will be prominent—reflecting an inescapable art-world trend—as will creative use of nongallery spaces inside and outside the museum.
Recommended: Full Artist List for the 2019 Whitney Biennial Is Unveiled
"There's an engagement with politics and current events," says Rujeko Hockley, who curated this year's biennial with Jane Panetta. "But not in a doom-and-gloom, sliding-off-the-cliff sense." Hockley says that a spirit of connection and shared purpose bubbles up most strikingly. "Artists and their peers are part of broad networks," she says. "There's a sense of community that comes through."
In the run-up to the show, Galerie spoke with four dynamic participants.
Lucas Blalock
When an artist tells you his work is "lightly creepy, but creepy," it's probably safe to expect the unexpected. That's how tech-savvy artist Lucas Blalock describes what will surely be among the most buzzed-about pieces in the biennial: a billboard he's created for outside the museum called Donkeys Crossing the Desert.
Blalock, who works with photography but pushes the medium's limits with interactivity, has created a composite 29-foot-wide image of donkeys that includes one that is deflated. But the image comes alive with augmented reality if you download an app onto your smartphone to view the work. "It allows you to engage with more content if you want to," says the Brooklyn artist, who will also have three works inside the Whitney.
The installation is not supposed to be overtly political. So what do his donkeys signify? "They're allegorical," says Blalock, allowing just a hint. "It's a figure going through scarcity."
Tomashi Jackson
Raised on the West Coast, Tomashi Jackson says her real artistic education came once she deferred her studies at San Francisco Art Institute and apprenticed for Bay Area mural painters. She has always needed to do her own thing. "I have a long-standing compulsion to make my own material, to make my own surfaces," says the artist (who later graduated from Cooper Union), referring here to her colorful, layered, and improvisatory-looking assemblages that combine painting, printmaking, photography, and handicraft.
In her three biennial works, the New York–based Jackson addresses racial inequality, particularly the way communities of color have been displaced in urban development, going all the way back to the construction of Central Park in the 19th century. The unconventional paintings are made with gauze, linen, muslin, brown butcher paper, and paint; one of them uses a shop awning as a base instead of canvas. Boldly hued, they appear abstract from a distance, but distinct figures become visible up close. "We see some of the faces of these displaced people in the works," she explains.
Recommended: Harold Ancart Transforms a Handball Court into a Work of Art
Despite the strong thematic thrust of her work, Jackson considers herself a formalist. "I use photography and printmaking to create a graphic space inside the painting," she says. "When the images collide they create a crosshatch—and that really excites me."
Wangechi Mutu
There's no better example of the diversity of this year's biennial than Wangechi Mutu.
Not just because of who she is, a Kenya-born art star who splits her time between Nairobi and New York, but also because of the way her practice blends painting, immersive installations, performance, video, and other media.
"It's been fun to do, but there's joy and anxiety," says Mutu, speaking from her studio in Nairobi as she completes three sculptures for the show. "I'm not ready to let them go." For the two works she calls Sentinel I and Sentinel II, the artist used acacia tree bark and a clay made from ash and soil to create female figures. "I'm thinking about nature and our place in it," she says, adding, "It's alchemy the way the materials assemble as one form."
The third work, Poems by My Great Grandmother I, has a special meaning for her. The sculpture has three talon-like shapes that hang over a long spindly writing instrument, which, powered by an electric motor, moves along the bottom of a metal cooking vessel and produces enigmatic, mesmerizing rhythms. It's personally poignant in that Mutu never got to know her great-grandmother's poems. Like a lot of thoughtful art, it suggests multiple narratives without explaining them. Says the artist, "It's a mystery."
Samuel Bazawule
Samuel Bazawule, a.k.a. Blitz the Ambassador, is best known as a musician whose African-inflected hip-hop incorporates elements of soul and R&B. Born in Ghana and now based in Brooklyn, he is also a visual artist and filmmaker making his major-museum debut in the biennial with an 80-minute film, The Burial of Kojo.
"It's about two brothers with a jagged past," explains Bazawule. "One of them goes missing, and his daughter goes on a rescue mission." Magical realist in style, the film was shot in Ghana, and Bazawule funded it by raising $78,000 via Kickstarter; it's also available on Netflix, which offers him a massive worldwide audience.
Given the diverse inspirations of Bazawule's music, it's no surprise that his cinematic storytelling is, in his words, "an amalgam of my Africanness and things I picked up in the diaspora." The fact that the biennial also includes work by Kenyan-American artist Mutu is not lost on him. "This may be the first time people are hearing African stories like these," he says. "It's great that bold voices have been selected."
A version of this article first appeared in print in our 2019 Summer Issue under the headline Generation Wow. Subscribe to the magazine.
Next Post