Meet 4 Artists Shaking Up This Year's Whitney Biennial
Yto Barrada, Leidy Churchman, Ralph Lemon, and Pao Houa Her give insight into the provocative pieces they're showing at the celebrated exhibition
If the Whitney Museum of American Art's biennial exhibitions, famous for surveying the U.S. contemporary art scene, are meant to crystallize something essential about the culture right now, it's telling that the current iteration, titled "Quiet as It's Kept," has a dark section and a light section. The yin and yang structure is both functional—the dark galleries are heavy on film and video—and symbolic, a reflection of our disquieting, changing times.
On view through September 5, the Whitney Biennial presents the work of 63 artists and collectives, the bulk of it displayed on the museum's fifth and sixth floors. The upper floor, with its dusky walls and carpeting, enclosed galleries, and minimal lighting, exudes an uneasy, ruminative feeling. One story below, ample daylight and white walls project a sense of openness and possibility.
"We don't do themes, but we do hunches," says David Breslin, who curated the show with Adrienne Edwards, regarding the way the artists and projects were chosen, with an emphasis on fostering conversations among multiple generations. Edwards adds that, given the political and social unrest of the past few years, the exhibition asks "questions around collectivity—does each individual 'I' represent a 'we?' "
The four Biennial artists profiled here take wildly different approaches to their art. What they share is a refusal to accept the limits of what has come before while also learning from it. As Breslin puts it, savvy mining of the past "helps us lean into the present."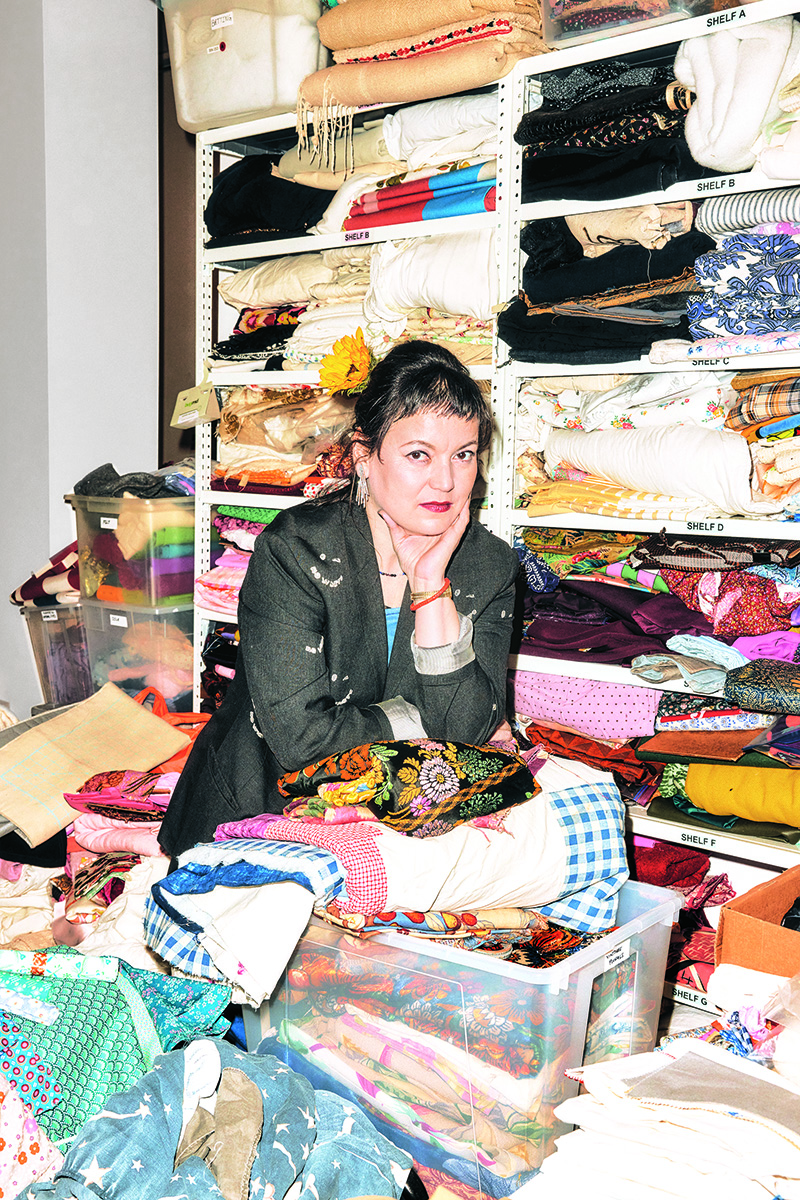 Yto Barrada
The work of Brooklyn-based multimedia artist Yto Barrada has been popping up all over lately, most notably in a solo exhibition at Mass MoCA in the Berkshires. She also curated an "Artist's Choice" show at New York's Museum of Modern Art, ingeniously remixing items from MoMA's collection. 
Born in Paris and raised in Tangier, Morocco, Barrada makes work that often looks critically at how cultural narratives coalesce. She spent years researching the dinosaurs that once lived in present-day Morocco and how their fossils are excavated and exported—as well as faked—and what that means for national identity. The result is a book with a satirical bent: Presented as a tourist-friendly tome, A Guide to Fossils for Forgers and Foreigners (Walther König) shows the dark humor in her work. 
"I experiment with material, and I use a lot of found stuff—I collect things"

Yto Barrada
Barrada rarely starts a project with a specific medium in mind. "I experiment with material, and I use a lot of found stuff—I collect things," she says.
For the biennial she contributed a two-channel video work, A Day Is a Day, featuring side-by-side imagery shot at so-called weather-accelerating facilities in Miami and Phoenix, where fabrics and other materials are subjected to the harsh elements to test how they hold up over time. "It's all about the decrepitude and the death of material," says Barrada of the scenes. "It's beautiful, but it's about the end of stuff." It may be her version of the traditional vanitas found in Old Master paintings, reminding viewers that life is short. A time-based medium like film was perfect in this case: It has a beginning and an end. As she puts it, "It has to do with letting go."
Leidy Churchman
Claude Monet's "Water Lilies" paintings, in particular the eight mural-size works installed in a circular gallery at the Musée de l'Orangerie in Paris, have long been an important art historical marker for Leidy Churchman. "I've wanted to do this for a while," the artist says of Mountains Walking, a 36-foot-wide, three-panel painting conceived for the biennial that partly riffs on the Monet series. The triptych also takes inspiration from a 13th-century Zen text called Mountains and Waters Sutra.
Churchman creates work that, while often figural, doesn't have a signature style or focus. Their talent is embracing the quotidian, even cliché, and transforming it into something personal and elevated. As the New York artist puts it, "What's more contrived than starting with water lilies? I thought, I'll start from what I like about the Monet and then go deep with it."
"What's more contrived than starting with water lilies? I thought, I'll start from what I like about the Monet and then go deep with it"

Leidy Churchman
The swirling blues, greens, and whites of Mountains Walking, shot through with areas of pink, make an impactful misty landscape, but Churchman doesn't stop there. These hues are overlaid with a yellow grid; something beyond mere appreciation of nature is going on here, and the artist says the grid is what moves it into the conceptual realm. A bit of surprise and humor comes from the fact that the painting is set on clawlike animal feet—not exactly a Monet move—that are connected to Buddhism, Churchman explains, noting, "They bring a wrathful protector energy."
The Pennsylvania native, who recently showed new paintings at Matthew Marks Gallery in New York, says that keeping an openness is part of the recipe for artistic success. "Painting it was quick, about a month of working every day," Churchman says. "I wasn't sure what I would do, but I was ready for it."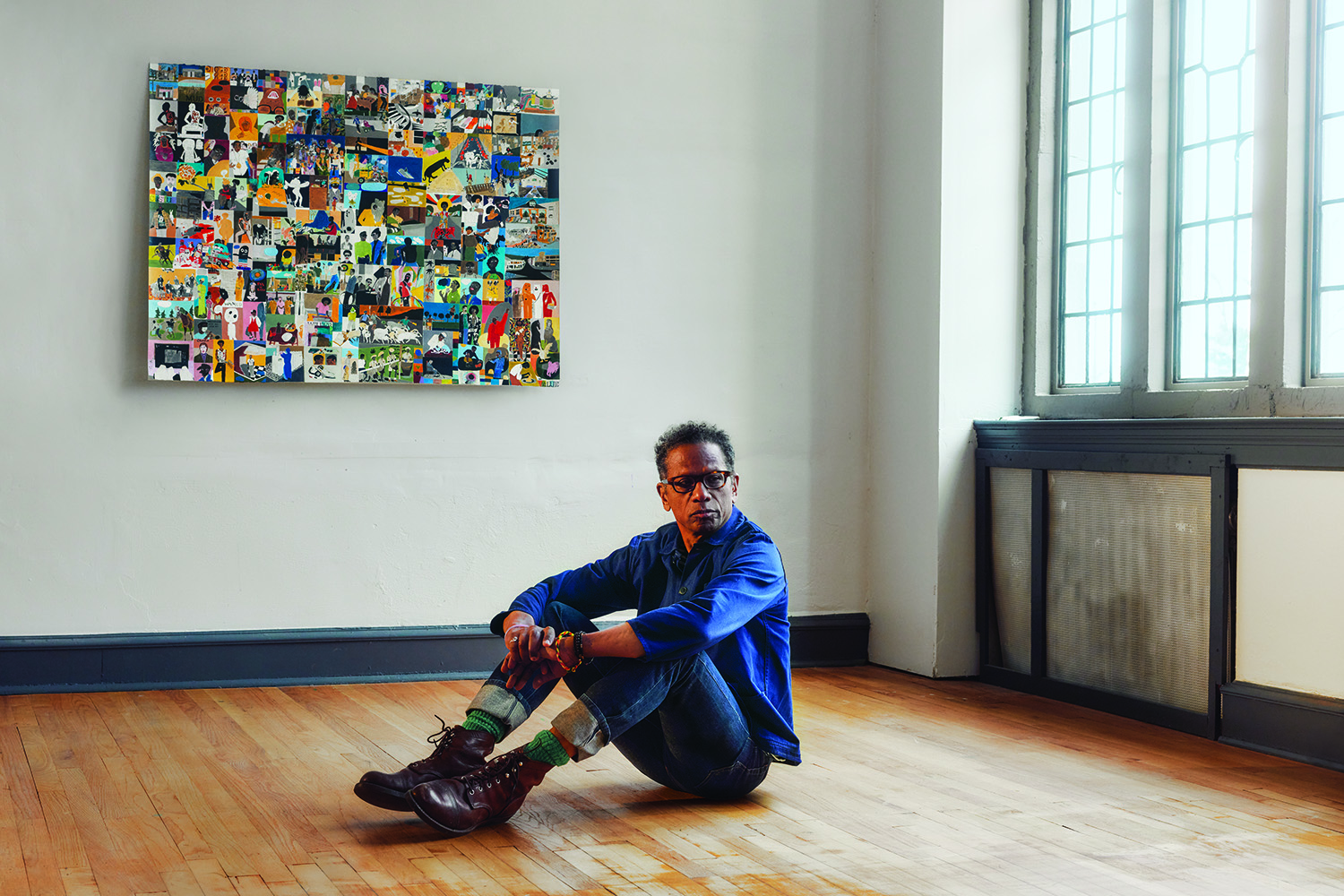 Ralph Lemon
In a way, it's surprising that Ralph Lemon hasn't been featured in an edition of the biennial before now. The 2020 MacArthur Fellow is an acclaimed interdisciplinary artist and choreographer who used to run his own troupe, the Ralph Lemon Dance Company. The work shown at the Whitney is a suite of his drawings, colorful grids with small squares full of largely abstract shapes. A revelation even to art-world insiders, they come across as vibrant personal hieroglyphics. 
"My drawings are a private practice, and most of them haven't ever been seen," says Lemon, who works out of a studio in Brooklyn. "So I'm a little conflicted." Biennial cocurator Adrienne Edwards, a trusted friend, persuaded him to participate.
"It's alchemic. You start with nothing and then you experiment, and it becomes something"

Ralph Lemon
The drawings—in ink, watercolor, acrylic, and oil—are "experiments and visual meditations," says Lemon, who was born in Cincinnati but grew up in Minneapolis and worked there early in his career. He notes that there's no hierarchy among mediums and disciplines in his creative practice, but the era of coronavirus lockdowns made performing difficult. "During the pandemic I was doing mostly drawings," he says.
Although these works are not technically related to dance, "I would say there is a sense of choreography in how they flow," says Lemon, perhaps best known for his sprawling Geography Trilogy, a dance piece that took place on three continents from 1997 to 2004. Elements of Black American culture are alluded to but in a private, secret way. "It's alchemic," he says of his process. "You start with nothing and then you experiment, and it becomes something."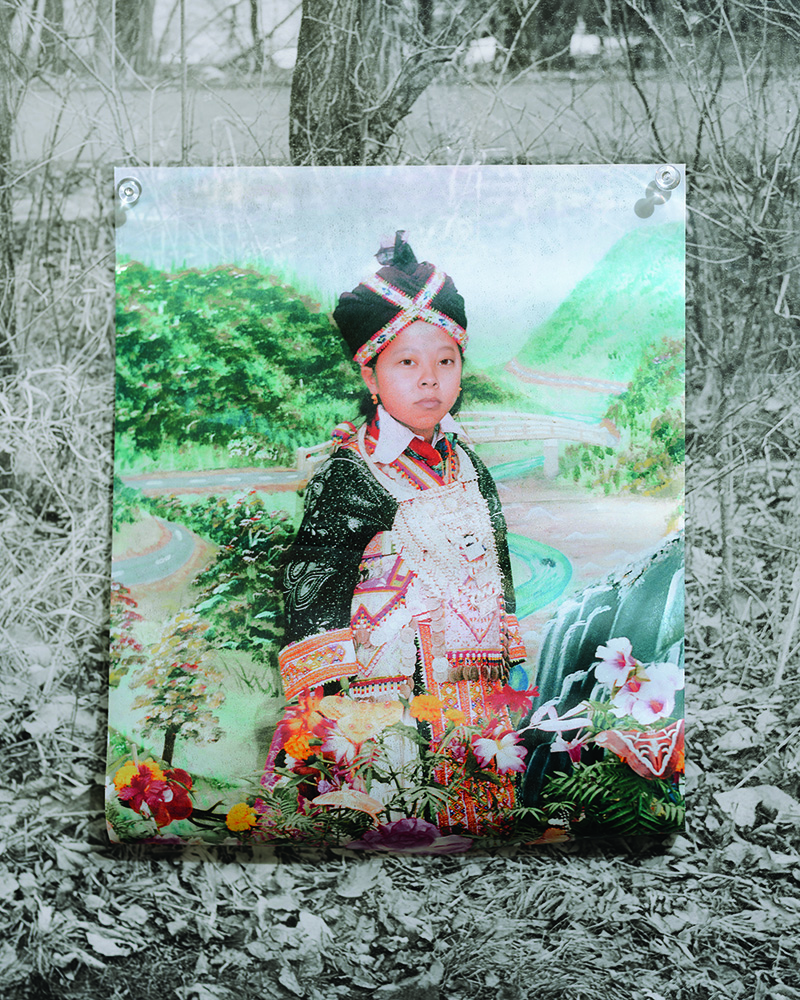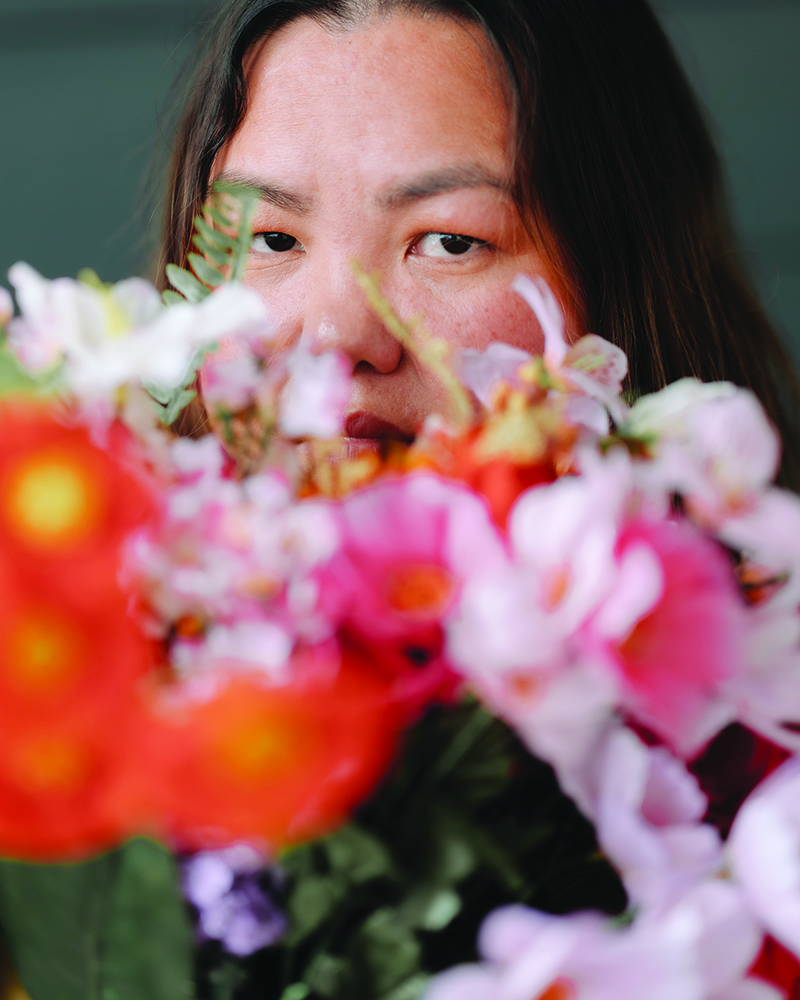 Pao Houa Her
When she was three, photographer Pao Houa Her came to the U.S. with her family as part of a wave of immigration of the Hmong people native to Laos. They ended up in Minnesota, where she lives today in a suburb of the Twin Cities. "For a long time, I had identity issues," she says. "I was this Hmong girl growing up in middle-of-nowhere America, watching TV and not seeing people who looked like me. There was a real need to find myself in the world, and I think photography really helped to do that."
She studied photography at the Minneapolis College of Art and Design and then at Yale University, where she got her MFA. She focused on making pictures that took Hmong people and culture as their subject, initially working in more of a straight documentary style. "I started with a traditional upbringing when it comes to photography," she says.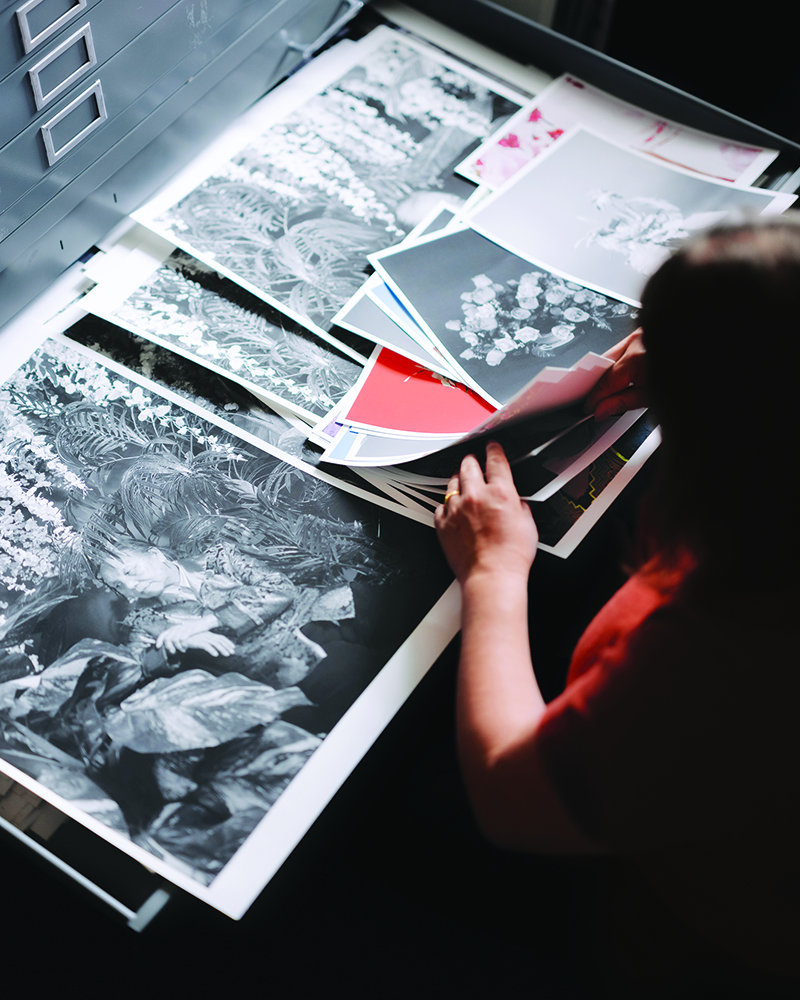 But studying at Yale with masters of staged, provocative images such as Gregory Crewdson encouraged her to push in new directions. "The photographs are more conceptual now," says the artist, who shows with the Bockley Gallery in Minneapolis. Her newer work—which ranges from landscapes and still lifes to portraits—sometimes includes appropriated images.
In the biennial Houa Her is showing images from six series, including "My Mother's Flowers," which touches on identity, displacement, and longing. The series references her mother's meticulous floral arrangements, an attempt to preserve connections to her culture, but it also incorporates images of Hmong women featured on dating websites who are sought after as "pure" by Laotian American men. "For me," she has said of the flowers, "they seem to symbolize home." 
A version of this article first appeared in print in our 2022 Summer Issue under the headline "In the Moment." Subscribe to the magazine.
Next Post