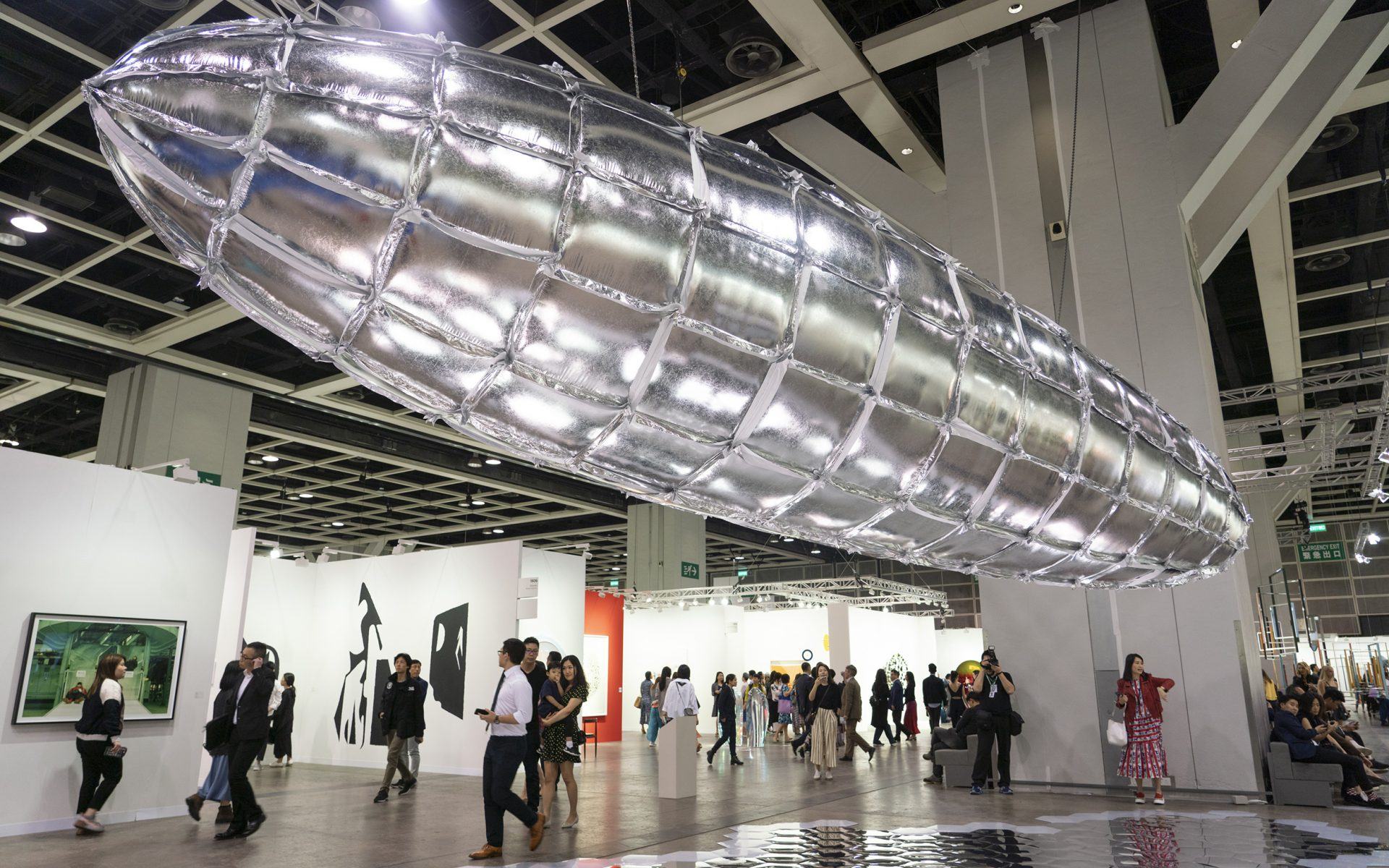 Here's What Sold at Art Basel Hong Kong
With aisles buzzing with crowds from every corner of the globe, this fair has finally hit its stride
Since the 2013 launch of Art Basel Hong Kong, the Asian edition of the Swiss mega-fair has always been framed as bridging a cultural divide—an opportunity for regional galleries to raise the visibility of their artists and bring them into the international spotlight, as well as a chance for big-name, blue-chip galleries to tap into Asia's rapidly growing wealth and cultivate a new collector base. While early days were marked with wan sales, a reticence to show non-Asian artists, and subpar works on offer, the latest edition of the fair, which was open to the public at the Hong Kong Convention and Exhibition Centre from March 29 to 31, felt like it was finally hitting its stride.
The 242 galleries from 35 countries attracted an early audience on the first VIP preview on Wednesday, with the aisles buzzing with crowds from every corner of the globe and David Zwirner selling out his entire booth in one day.
This edition "surpassed past years," Taipei- and Beijing-based gallerist Tina Keung said in the fair's closing statement. This year was the first time she brought works by Chiang Yomei, a Taiwanese-born painter who builds layers of paint, sand, and ash into rough-hewn topographies on canvas, and sold all the works.
Recommended: 9 Must-See Gallery Shows During Art Basel Hong Kong
Gallerists reported a greater diversity of collectors, an indication of the fair's increased importance on the international stage. "A number of American collectors we know opted to take the long flight to Hong Kong this year, many for the first time, prioritizing Hong Kong over other Western fairs," said Lisson Gallery director Alex Logsdail.
London gallerist Sadie Coles called the presence of museum directors, curators, and collectors from Indonesia, Thailand, Japan, Singapore, and Korea "striking," while the fair featured more South Asian gallerists than ever. "We are a young gallery, and Art Basel is a great platform for us to introduce Southeast Asian artists to an international audience," said Sutima Sucharitakul, founder and director of Bangkok's Nova Contemporary.
The French gallerist Almine Rech, who sold George Condo's 2011 Boy in a Striped Shirt for a price between $1.2 and 1.4 million during the fair this year, reported making inroads among Asian collectors, with 80 percent of her buyers coming from China—good news ahead of the opening of a new Shanghai location later this year. The gap seems to be closing between the so-called East and West.
Below are a few of the million-dollar (or more) works that were among the top sales this year. While there was no blockbuster transaction on the level of Lévy Gorvy's headline-stealing $35-million sale of a Willem de Kooning last year, quite a few dealers were pleased with their results.
1. Andy Warhol, Campbell's Elvis
Andy Warhol is a perennial favorite on the art-fair circuit. White Cube gallery sold his 1962 Campbell's Elvis for $2.85 million. The ink silkscreen and acrylic painting has an interesting provenance, having once belonged to Salvador Dalí.
2. Jack Whitten, The Eleventh Loop (Dedicated to the Memory of Adrienne Rich) 
On day one, Hauser & Wirth made three million-dollar (or more) sales with Mark Bradford's 2019 Superman; a crayon-and-pencil work on paper by the late Armenian-American painter Arshile Gorky; and a 2012 ten-by-four-foot painting by Jack Whitten, The Eleventh Loop (Dedicated to the Memory of Adrienne Rich), seen here, marking the first painting to become available from the late Abstract painter's estate.
3. Lee Ufan, From Line 800139 
The acclaimed Korean painter Lee Ufan was a progenitor of both Korean Dansaekhwa and Japanese Mono-Ha, two 1970s avant-garde movements born of minimalism and counterculture. Kukje Gallery, with locations in Seoul and Busan, sold Ufan's From Line 800139 (1980) for a price in the range of $1.5 to 1.8 million.
4. George Baselitz, Immer noch unterwegs
Galerie Thaddaeus Ropac sold Georg Baselitz's 2014 Immer Noch Unterwegs, two abstracted figures in oil paint bisected by a thick stripe of black, for $1.8 million.
5. Alice Neel, Olivia 
The late Alice Neel was acclaimed for the expressive lines and colors of her portraits. On day one, David Zwirner sold Olivia, a 1975 portrait of the artist's granddaughter for $1.7 million, as well as the rest of the gallery's booth.
Recommended: 6 of the Most Expensive Hotel Suites in Hong Kong
6. Zeng Fanzhi, Untitled 
Hauser & Wirth followed up later during the fair with a multimillion-dollar sale of an untitled abstract landscape by Chinese painter Zeng Fanzhi, to a private collection in Asia.
Next Post