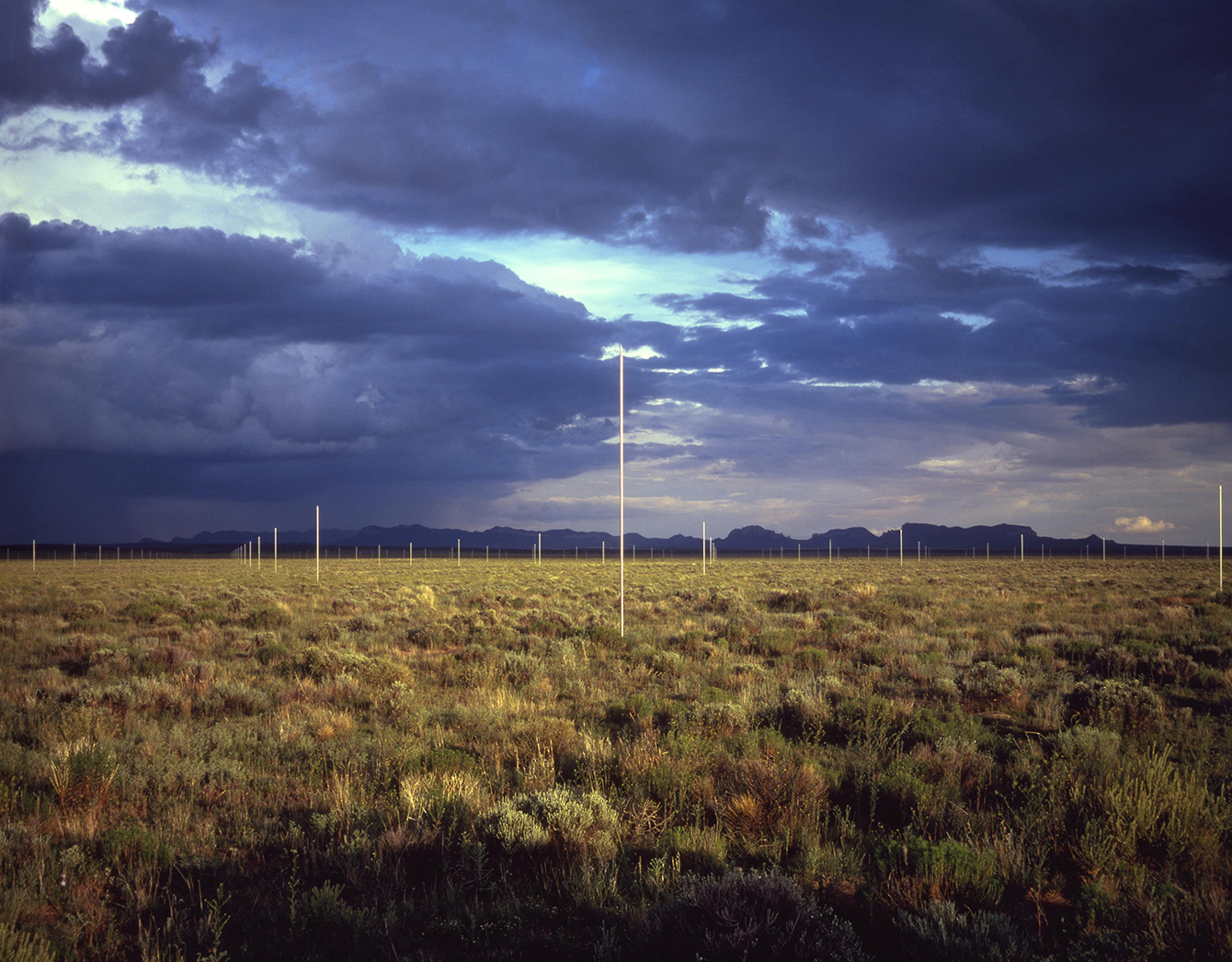 Walter De Maria's Final Masterpiece Unveiled
Dia:Beacon in Upstate New York is hosting the must-see posthumous installation
On an isolated plateau in the middle of the New Mexican desert, there's a mile-wide field sprouting 400 shiny metal poles. Nearly 2,000 miles away, in the middle of Manhattan, there's 3,600 square feet of gallery space hosting 140 tons of soil. Besides being utterly unexpected, what could these two incongruous plots of land have in common? Artist Walter De Maria.
The pioneering sculptor, who died in 2013 at age 77, is best known for his contributions to the Minimalist and Land Art movements of the 1960s and '70s. Although prolific and multitalented—he briefly joined a band called the Primitives with Lou Reed, which eventually morphed into the Velvet Underground—the artist was not a household name in his lifetime. He shied away from the limelight, only granting one interview during his 50-year career. The Lightning Field and The New York Earth Room, both originally created in 1977 and noted above, remain his most highly cited works.
On September 22, his final masterpiece, Truck Trilogy, will be unveiled at Dia:Beacon in Upstate New York. Begun in 2011 and completed posthumously, the installation features three flatbed Chevrolet Advance-Design trucks from the 1950s, stripped of their detailing. Their chrome accents are replaced by circular, triangular, and square rods in polished stainless steel, vertically bisecting the trucks' flatbeds. The work serves as a companion piece to his earlier Bel Air Trilogy (2000–11), which similarly features three Chevy vehicles horizontally interrupted, rather than vertically, by steel forms.
For an artist associated with Minimalism and earthworks, De Maria's Trilogy series has an unexpected air of Pop. "His interests were eclectic and wide ranging, and he was invested in a broader spectrum of aesthetic concerns than I think what we've traditionally ascribed to him," says Dia curator Alexis Lowry, who explains that the artist had a long-standing interest in the relationship between American avant garde artistic practices and mid-century industrial design.
"It's maybe not what you'd associate with one of the most rigorous Minimalists to come out of the U.S., so it's exciting to bring some of these aspects of his practice to fuller light now."
De Maria had a long and fruitful relationship with Dia in his lifetime. The art institution's cofounder, Heiner Friedrich, took an early liking to the young artist in the 1960s and showed his first Earth Room at his gallery in Munich, Germany, in 1968. De Maria was also one of the first artists to do commissioned work for Dia beginning in 1977, creating three site-specific works, including The Lightning Field, The New York Earth Room, and The Vertical Earth Kilometer. The institution also keeps several of his object-based works on display in their galleries, as well, including some of his smaller early stainless steel works and, notably, his expansive red and white floor installation, 360˚ I Ching / 64 Sculptures.
Born in Albany, California, in 1935, De Maria moved to New York City in 1960, where he became entrenched in the burgeoning downtown art scene, taking part in Alan Kaprow's "Happenings" and showing Dada-inspired wood sculptures at Paula Cooper's space on the Upper East Side (then called Paula Johnson Gallery).
It didn't take him long to start incorporating shiny metals and geometric forms, which run through his oeuvre until the end of his life and beyond, as seen in Truck Trilogy. An early steel piece from 1968, a bed comprised of nails scaled up to the size of railroad spikes, is often seen as a precursor to The Lightning Field. "From the beginning, De Maria wanted to push our understanding of what a sculpture can be—of what art can be," says Lowry. She notes that Truck Trilogy plays with the line between art and design much like 360˚ I Ching / 64 Sculptures toes the line between pictogram and object.
De Maria often turns the experience of his work back on the viewer, which is on par for the attention-avoidant artist he was. "He was interested in focusing your attention on you, to your physical relationship to the work. These works ask what you see," Lowry says. "It gives you the chance to see more than one thing, to experience it in different ways. In a sense, I think that's really generous."
To celebrate the 40th anniversary of his three 1977 projects as well as the debut of Truck Trilogy, Dia is publishing Artists on Walter De Maria, which includes texts by artists including Terry Winters, Richard Aldrich, and Jeanne Dunning. Then, in November, the foundation will release the first book of photography centered on The Lightning Field. Featuring dozens of unreleased images by photographer John Cliett, who worked closely with De Maria and lived on-site for several months, the account offers a rare personal glimpse of the artist's process and intention for the massive installation.
Like this? Read more about Land Art including Walter De Maria, Richard Serra, and Ugo Rondinone here. 
"Walter De Maria: Truck Trilogy" opens September 22 at Dia:Beacon. 3 Beekman Street, Beacon, New York. diaart.org
Next Post