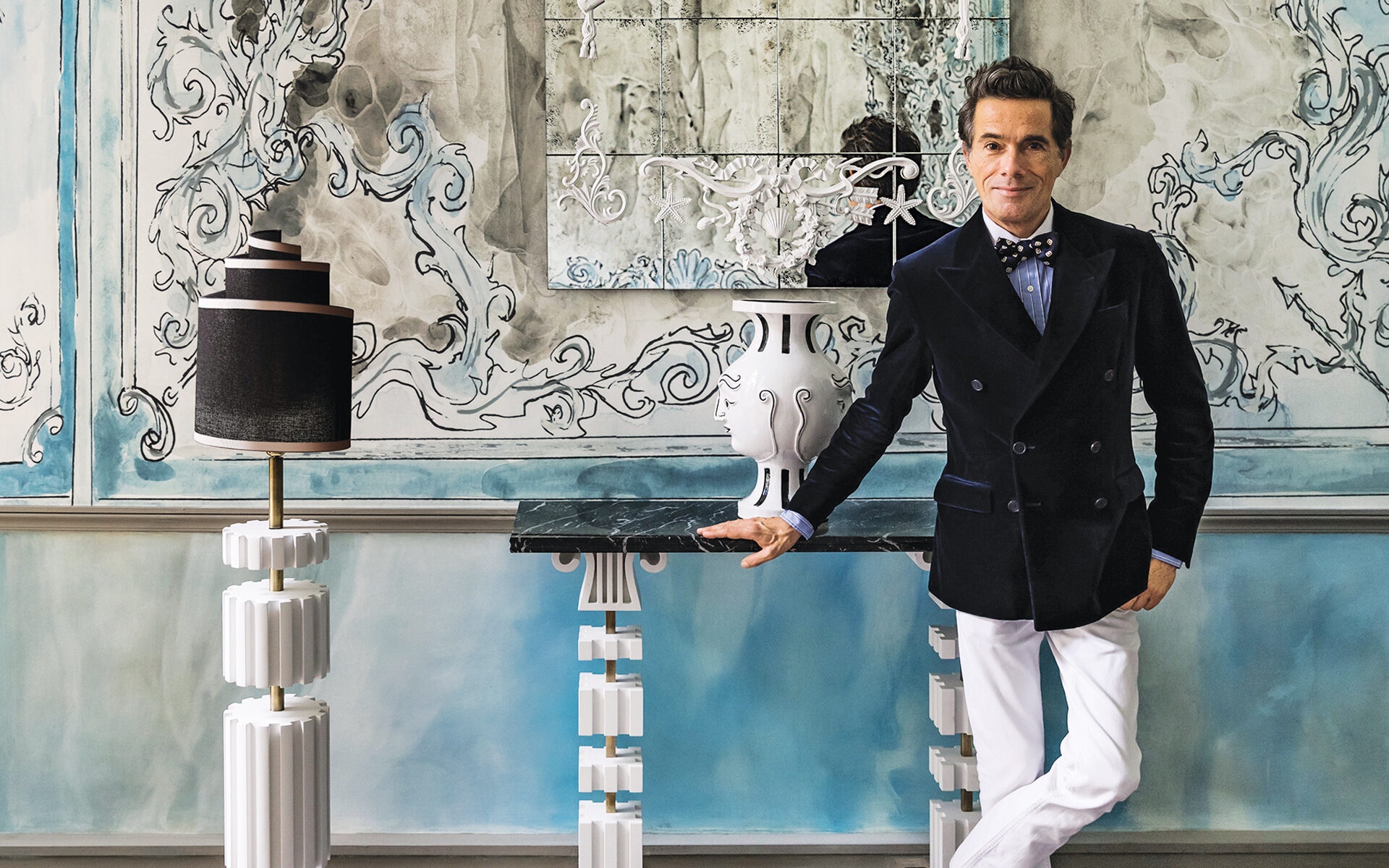 Vincent Darré Debuts a Spectacular Capsule Collection with OKA
The French designer's whimsical collaboration with the British brand features an array of surrealist furnishings and home accessories
The surrealist provocateur behind the recent reimagining of the Schiaparelli salon, Vincent Darré possesses a singular aesthetic that reverberates with rich colors, whimsical patterns, and fantastic shapes. This spring, the Paris designer introduces a capsule collection with OKA comprising a mirror accented with rococo plaster molding, a jaunty two-face vase, a deconstructed column turned floor lamp, and a marble-top console. "OKA's use of color and patterns reminds me of the eccentric aristocratic style I love," says Darré. "For my pieces, I envisioned archaeological finds designed in a more contemporary, dreamlike way."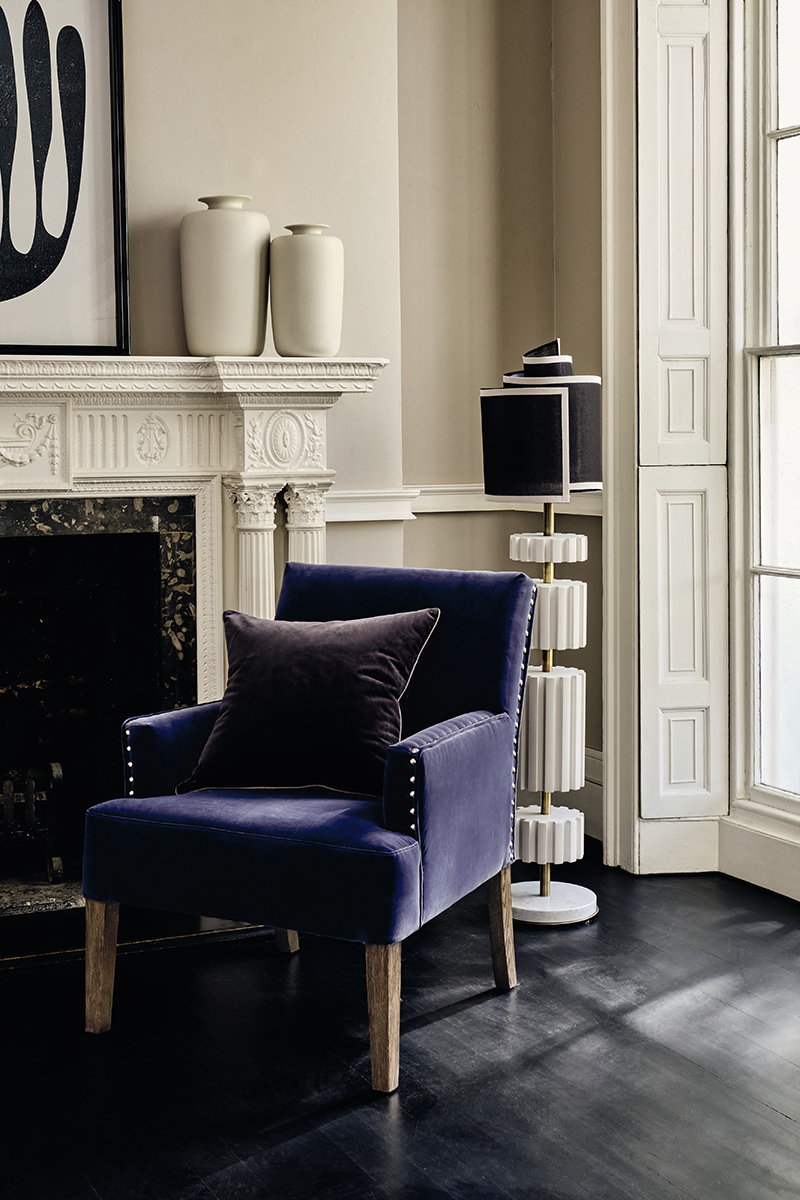 Debuting the collection in a video presentation alongside OKA Creative Director Sue Jones, Darré detailed his fascination with the Bloomsbury decorating style, which is defined by expressive use of color and pattern. "When we speak of eccentricity, I think the English people are the best," says Darré, whose OKA collaboration marks his first with a British brand. "When you mix everything together, in the end it's gorgeous and chic. In France, we don't do this—we're more bourgeois. This is not pretentious furniture; it's cool and something from the past but we interpret it with something new and different."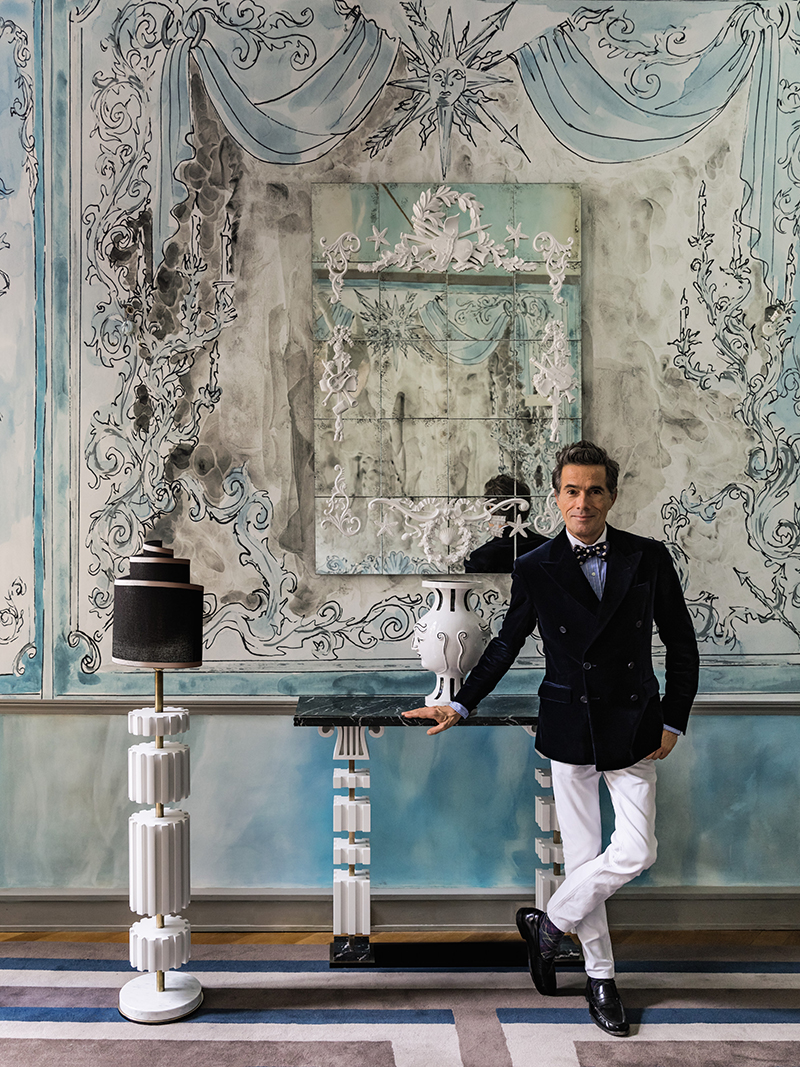 "When I was looking at how Vincent perceives everyday items, it has a really exciting twist and I knew that our customers would find that exhilarating, and it would strike a chord with them," suggests Jones. "It's a bit out of OKA's normal comfort zone in some ways, but that's what I absolutely adore about it."
"I love this collection because it's like a mix of Jean Cocteau and La Belle et La Bête"

Vincent Darré
The XIV mirror, with its aged-glass panels and intricate plaster details, appears as if it could have been uncovered in a whimsical 17th-century palace. "This is not something to use in a practical way; it is a piece of art," says Jones. "One of the things OKA is most happy about is that we've been able to keep skills going all over the world, and antiquing mirror is a real skill. There is a nod to Versailles, which is to me all about mirrors, then the plaster work on piece like this traditionally would have been gold-leafed but we were very keen to give it a more modern twist, which is the white plaster. I think the combination of the really ancient background and the mythical carvings gives it a really beautiful light, fresh finish."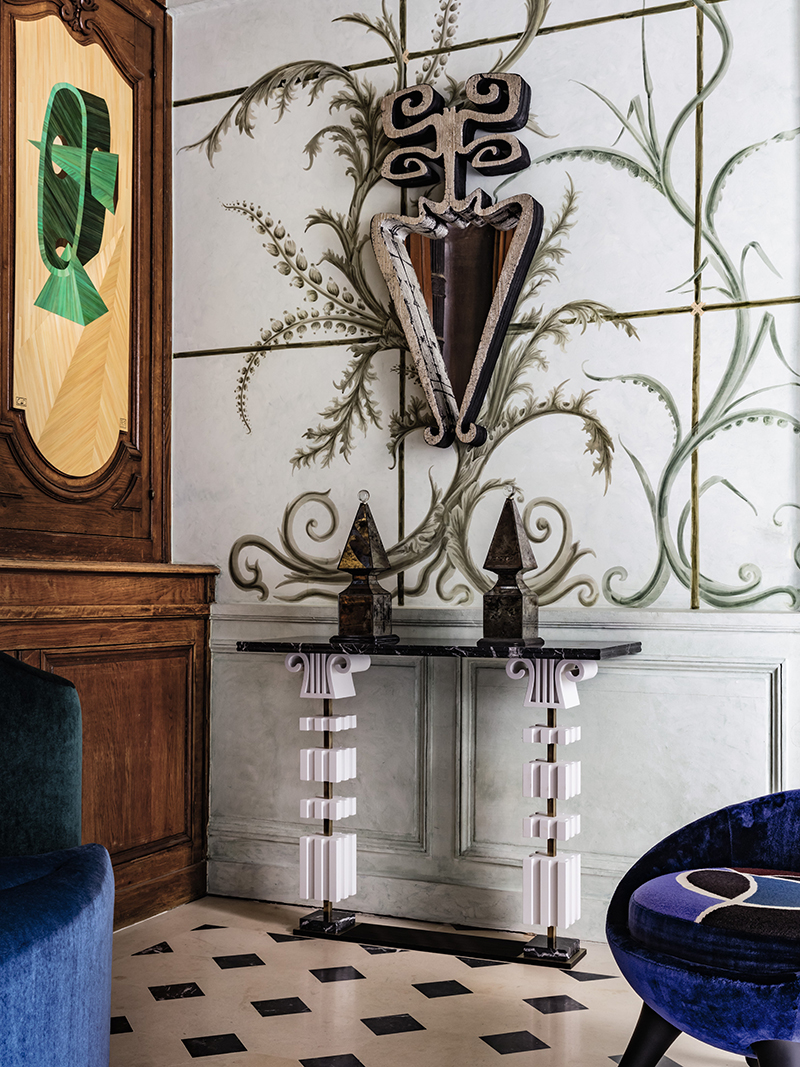 The equally striking Lyric console and complementary Spiral floor lamp reimagine a traditional fluted column in a futuristic style, segmenting marble slices of varying sizes along a delicate brass post. With the sculptural table, a graphic key supports a black marble slab while the lamp is topped by an nautilus-shaped shade Jones equates to a masterful Philip Treacy hat. The showstopping Gemini vase is inspired by an antique Darré found in Capri.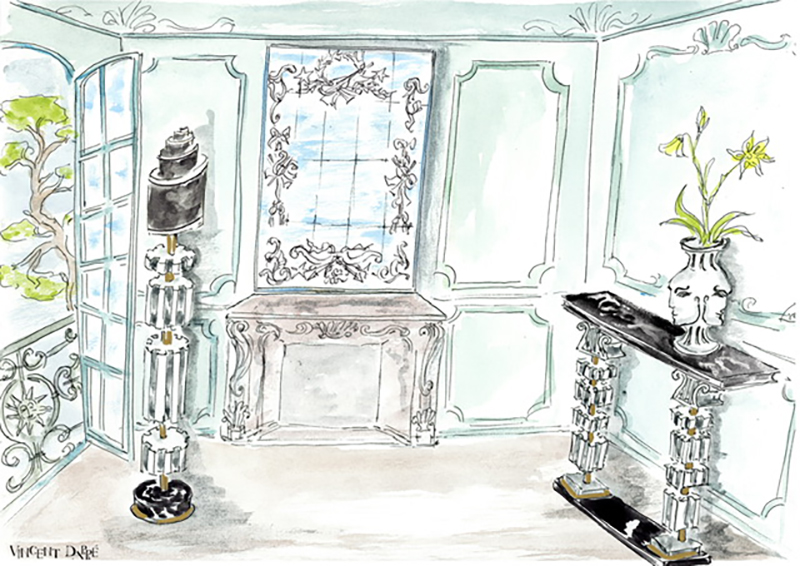 At the onset of the collaboration, Darré was given an open forum to create the pieces, which he first sketched in a Jean Cocteau-esque style. "There was no question of my interfering with Vincent's creative process; he has more creativity in his little finger than most people have in a lifetime," says Jones. "We had an open book and could have done anything, but I wanted to guide that to make sure we had a cohesive collection that worked well together. I'm really glad we did the vase because that set the tone for the whole range. We kept the monochrome theme, so if you started to mix color with it—for example, chairs with bright-colored covers on them—they would really show up as well."
"My furniture is very eccentric and very surrealist, but I love to do not do the same thing every time," says Darré. "When I do a new collaboration, I make something different from my past and this was something new for me to do something in black and white. I love this collection because it's like a mix of Jean Cocteau and La Belle et La Bête."
A version of this article first appeared in print in our 2022 Spring Issue under the headline "Surreal Deal." Subscribe to the magazine.
Next Post