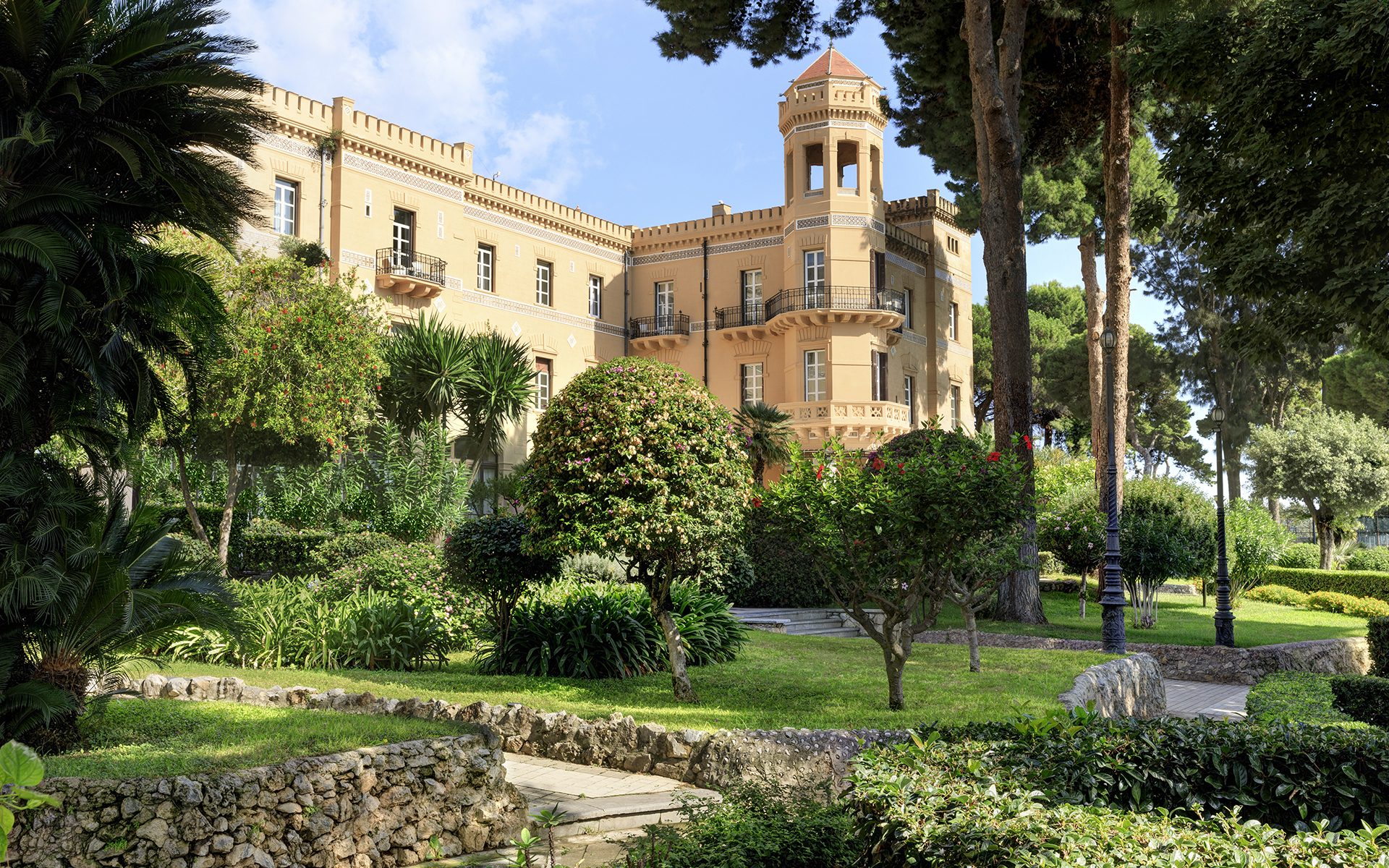 Paolo Moschino and Philip Vergeylen Bring a Timeworn Italian Villa Back to Life
A crown jewel of Sicily, Villa Igiea has been remarkably reimagined using local artisans so no two guest suites are alike
There was a time when royalty, captains of industry, and the global glitterati arrived at the Grand Hotel Villa Igiea by boat, disembarking on the shores of the Tyrrhenian Sea to luxuriate at a property considered the crown jewel of Palermo. The 19th-century villa was originally built by an English admiral, then was owned by the prominent Florio family who, in the late 1800s, decided to turn it into a hotel, and enlisted Ernesto Basile—Palermo's version of a starchitect and proponent of Italy's Art Nouveau movement—to help realize this dream, creating a must-visit destination in the process. Over time and world wars, the property had several lives and various owners, before being strategically snapped up by Rocco Forte Hotels in 2018.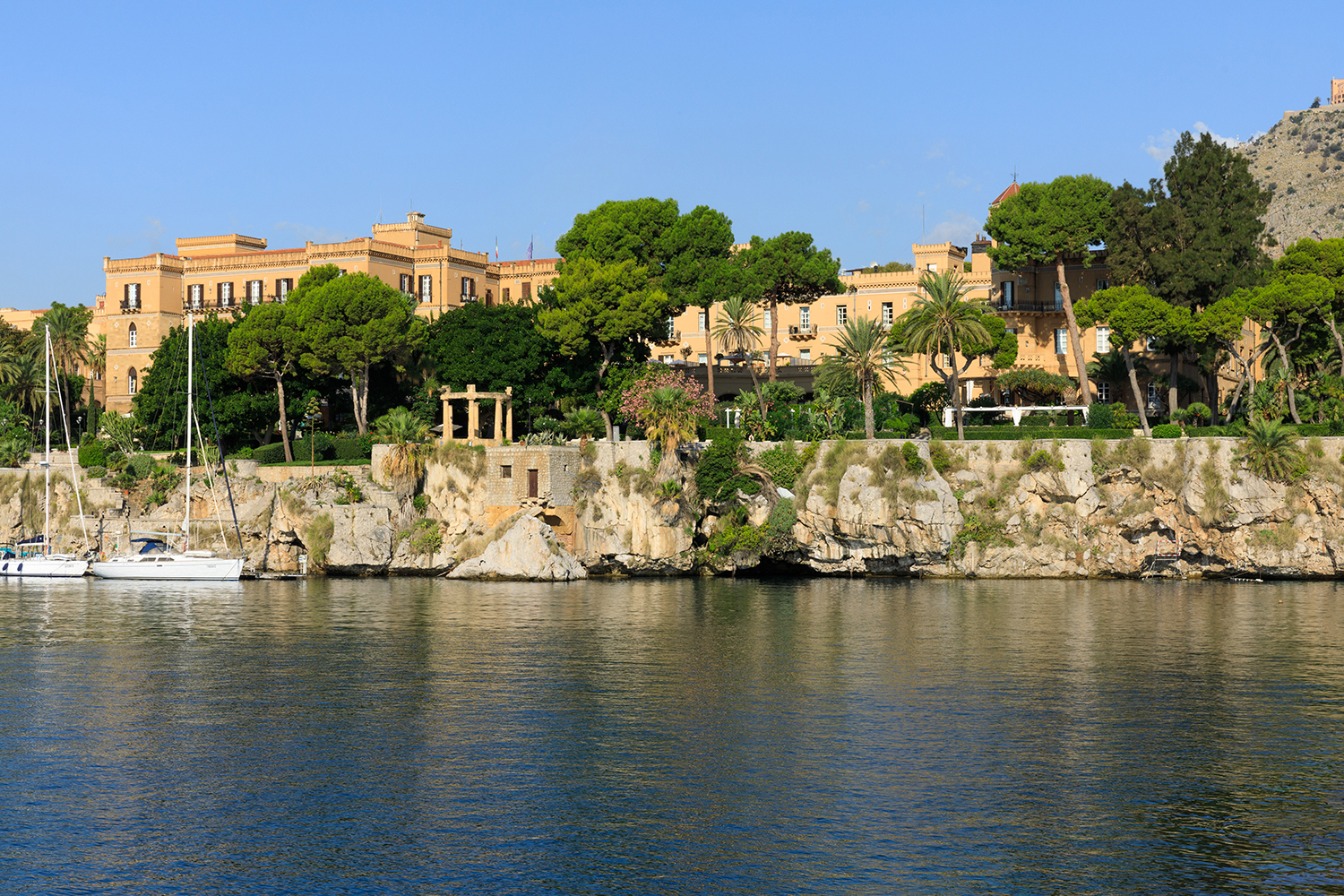 "At the time there were no nice hotels in Palermo; they were all falling apart. The best of the ones falling apart was Villa Igiea, but it was still quite ugly," recalls Philip Vergeylen, who years ago had spent a long weekend at the hotel to celebrate his sister's birthday. "Paolo and I could see the glamour and we thought, 'Can you imagine if you could do this thing up and bring it back to life?'"
When Vergeylen and Paolo Moschino of London-based Nicholas Haslam subsequently got the call to "creatively reimagine" the interiors through a significant mix of preservation and gut-renovation, it wasn't entirely out of the blue. Rocco Forte Hotels had over the years purchased pieces of their furniture and home accents, and the duo knew Olga Polizzi, Deputy Chairman and Director of Design at Rocco Forte Hotels, who they now refer to as a "dream client," socially.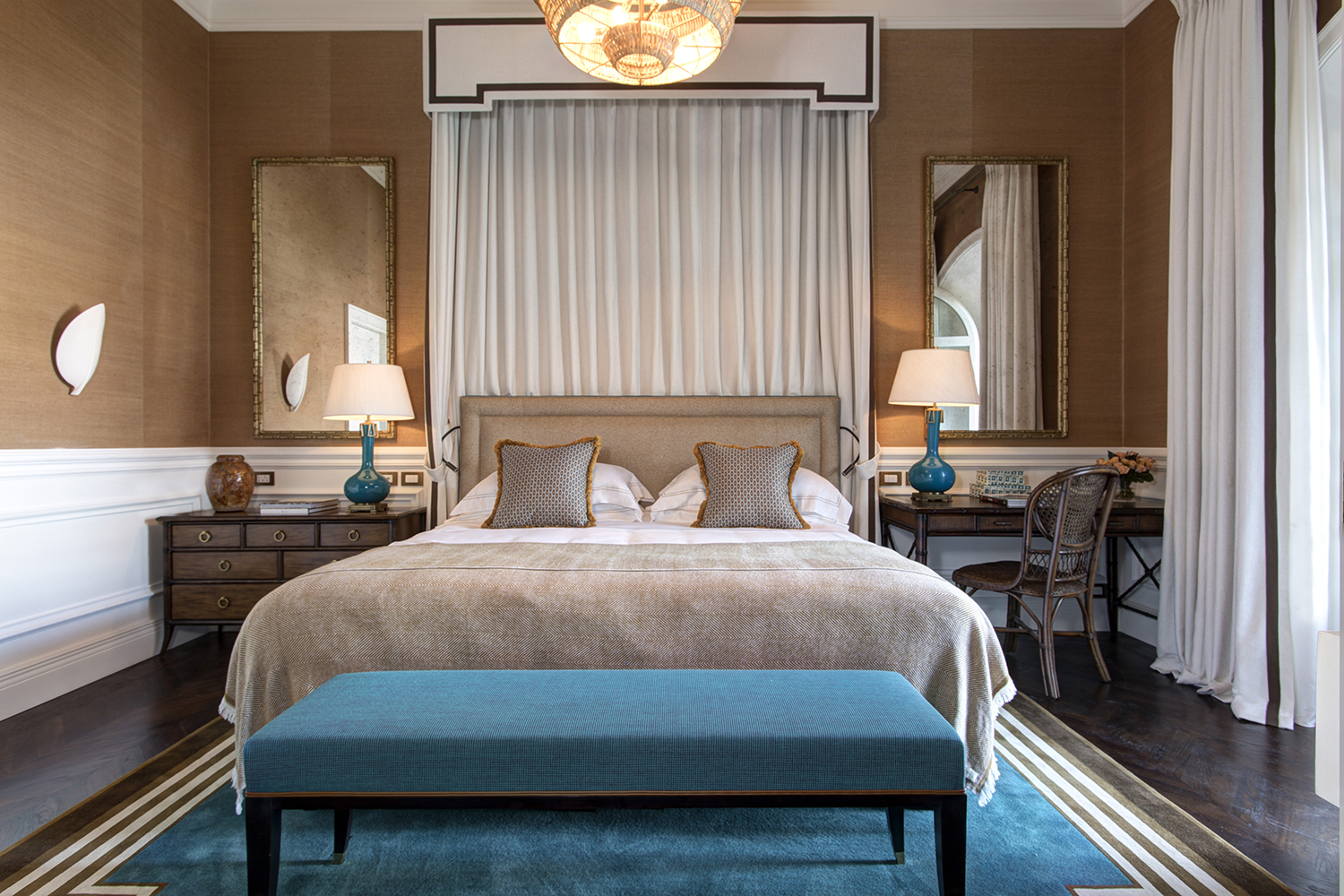 But bringing Villa Igiea back to its former glory was no small task. The building is the Italian version of landmarked, and changes had to be approved, testing the duo's diplomatic skills. "In other countries, like America, there are very specific rules," Vergeylen tells Galerie. "In Italy, it is completely personal. So you're presenting to a superintendent who says 'I don't like stripes.' What do you mean you don't like stripes?"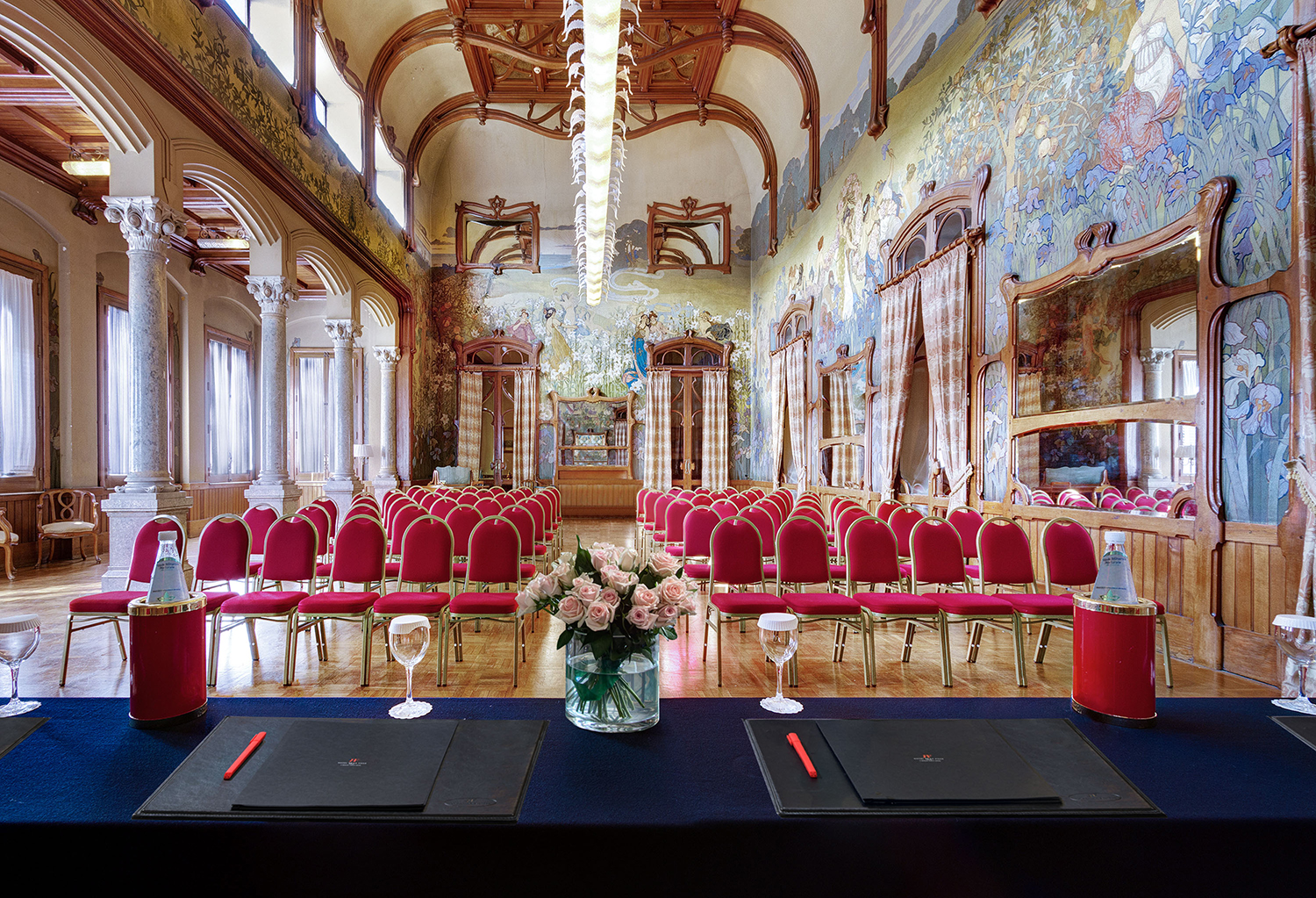 Their color palette for the property was inspired by its most dramatic room, the Sala Basile reception hall, an Art Nouveau gem featuring intricate woodwork, stained glass and original frescoes by Ettore de Maria Bergler, that were restored in part by graduates of the local art academy. While most of the public spaces were preserved, including the gardens and the pool, the 100 guest rooms, were re-envisioned so no two are alike.
The design team made it a goal to source as much as they could locally, whether for restoration or reinvention. Tiles were crafted by Scianna Ceramiche, one of the oldest producers in the area and substantial amounts of wallpaper came from the Design Lab at San Patrignano, a rehabilitation center that's renown for training their residents in age-old craft techniques, creating in-demand mater artisans in the process. The designers also sourced marble locally, and purchased fabrics as well as much of the furniture, whether new or antique, from the vicinity.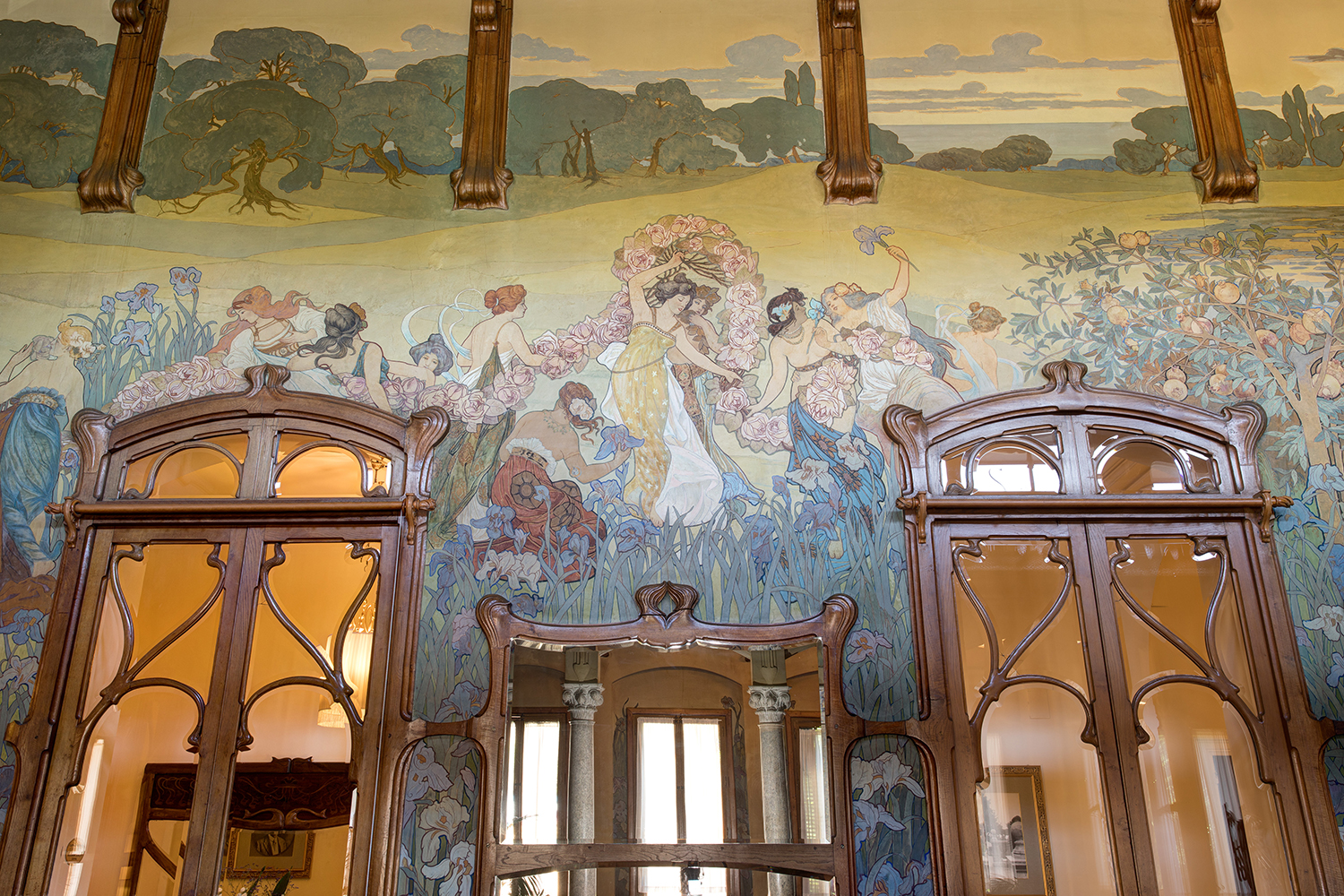 Also completely transformed was the entrance, located on the back side of Villa Igiea, which Vergeylen says had become "drab and dreary" once guests no longer arrived at the hotel's front by boat. Today, visitors are welcomed in a bright, elegant trompe l'oeil space, hand painted with trellises. Vergeylen also exalts a vaulted area between the restaurant and the bar, that's occupied by a green octagonal banquette in the center. The tile floor here was a birthday present from one of the early Florio owners of the villa to his wife. "We found pictures and recreated the floor he gave to his wife probably 100 years ago, so it's new, but locally made," says the designer.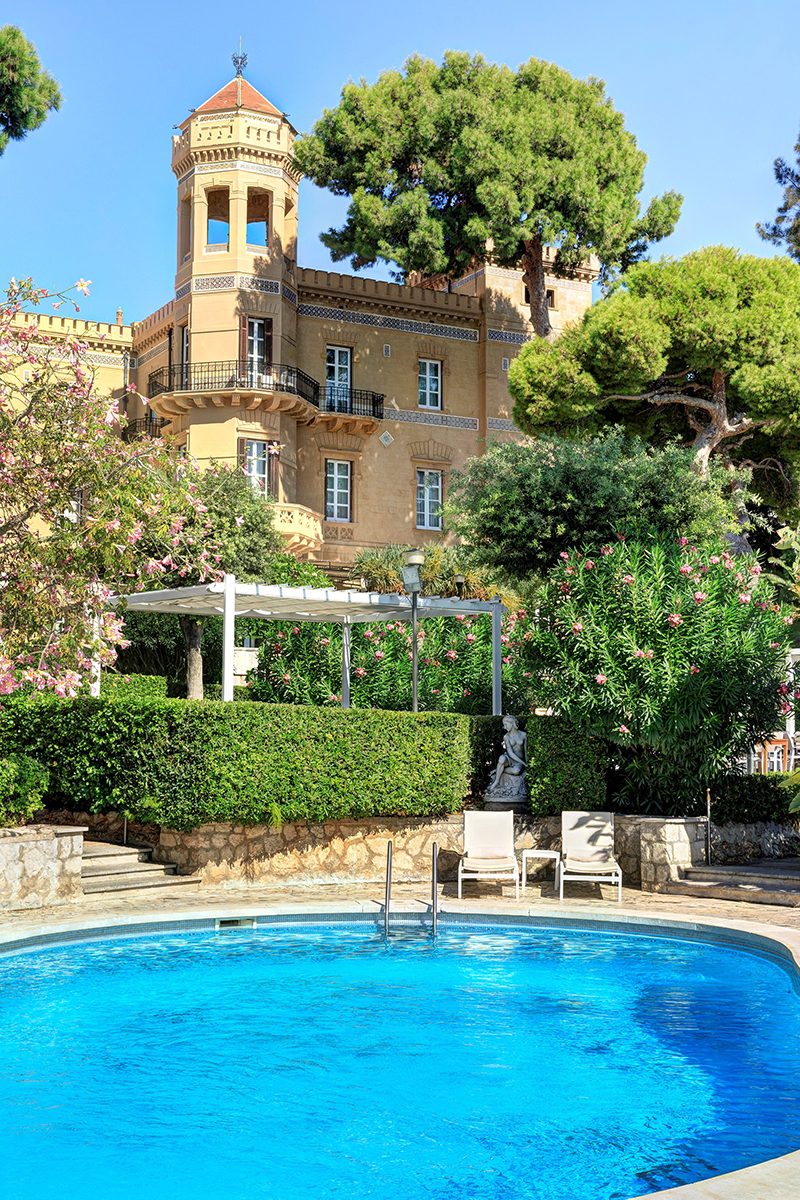 The team's painstaking efforts at restoration and historically-appropriate yet modern reimagining have clearly paid off in a property that is updated but not stuffy, sophisticated but not sterile. "This grand lady has come back to life in a way that you can feel the history, but it's not about a Disneyland recreation," muses Vergeylen. "I think it will become a destination on its own but it will also give an enormous benefit to the town of Palermo, to bring it back as a destination. It is spectacular."
 A version of this article first appeared in print in our 2021 Fall issue. Subscribe to the magazine.
Next Post