The First Family of Luxury Italian Linens Launches New Atelier
Federico and Gaia Pratesi translate their heritage into Verderoccia, a curated array of embroidered sheets, towels, tablecloths, and napkins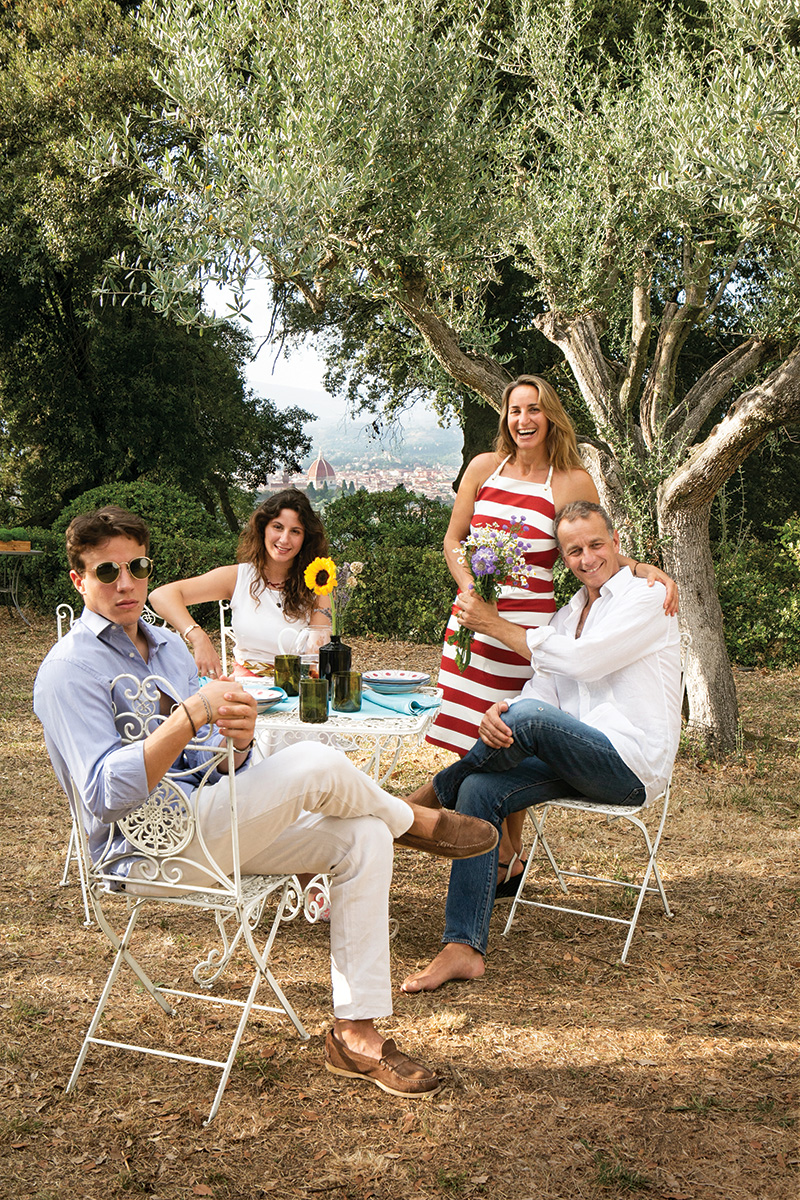 Italy has a long history of creative dynasties, with clans like the Ferragamos, Missonis, Bulgaris, and Antinoris making their mark on the worlds of fashion, jewelry, and wine for generations. For more than a century, the Pratesis of Tuscany have been the first family of quality linens. Now, members of its fourth generation, Federico Pratesi, and his wife, Gaia, have translated that heritage into Verderoccia, a curated array of embroidered Italian sheets, towels, tablecloths, and napkins. "Creativity has to turn the page by definition," muses Federico. "If you have a spring inside, you will always find your way forth."
To create Verderoccia's patterns, the Pratesis looked no further than their own lore, reinterpreting styles from the company's archives and translating romantic memories into inspiring new designs. Nodo d'Amore ("Love Bow"), originally conceived by Federico's mother, Dede, to celebrate her engagement, was transformed into a border of interlocking links named after her. Gaia drew the wavelike Tuffo while she was in Cala Piccola, the magical coastal city where she and Federico first met. Audrey nods to the beloved film actress with a pinstripe that is painstakingly applied at a rate of just one centimeter every five or six minutes. "This is true luxury," Federico says. "The beauty is in the simplicity."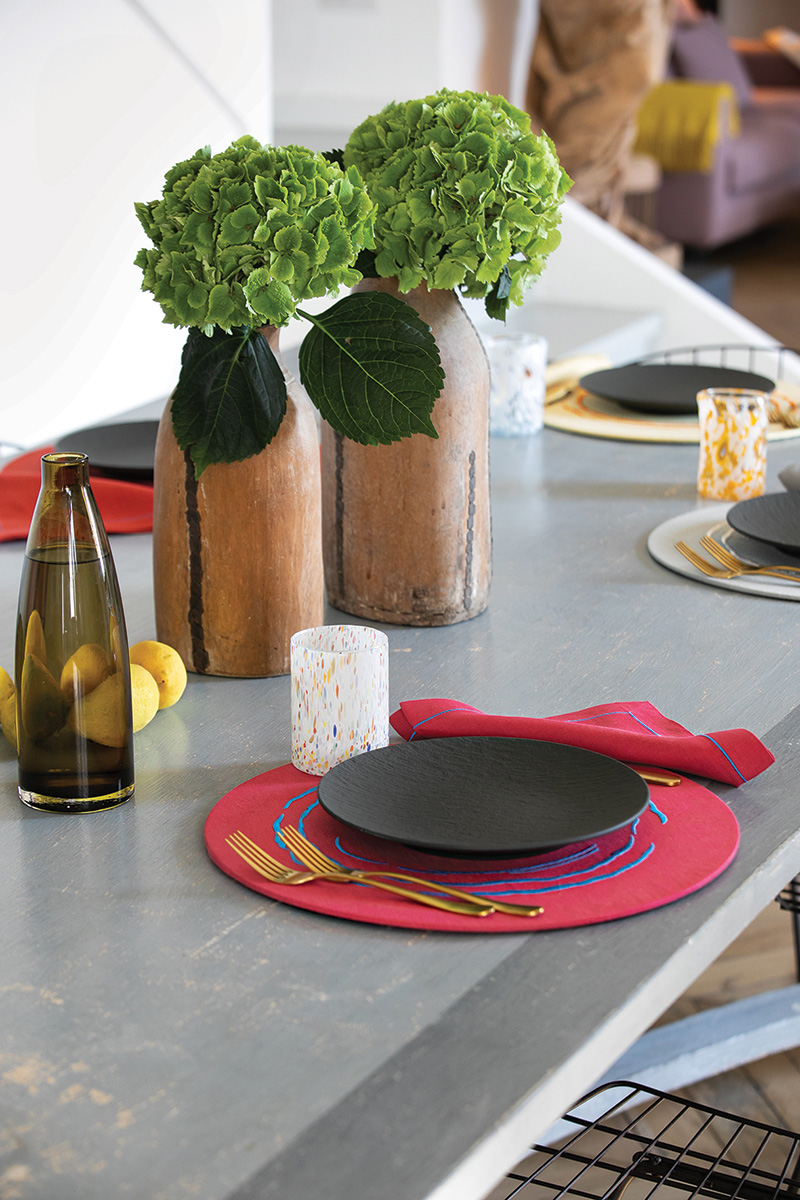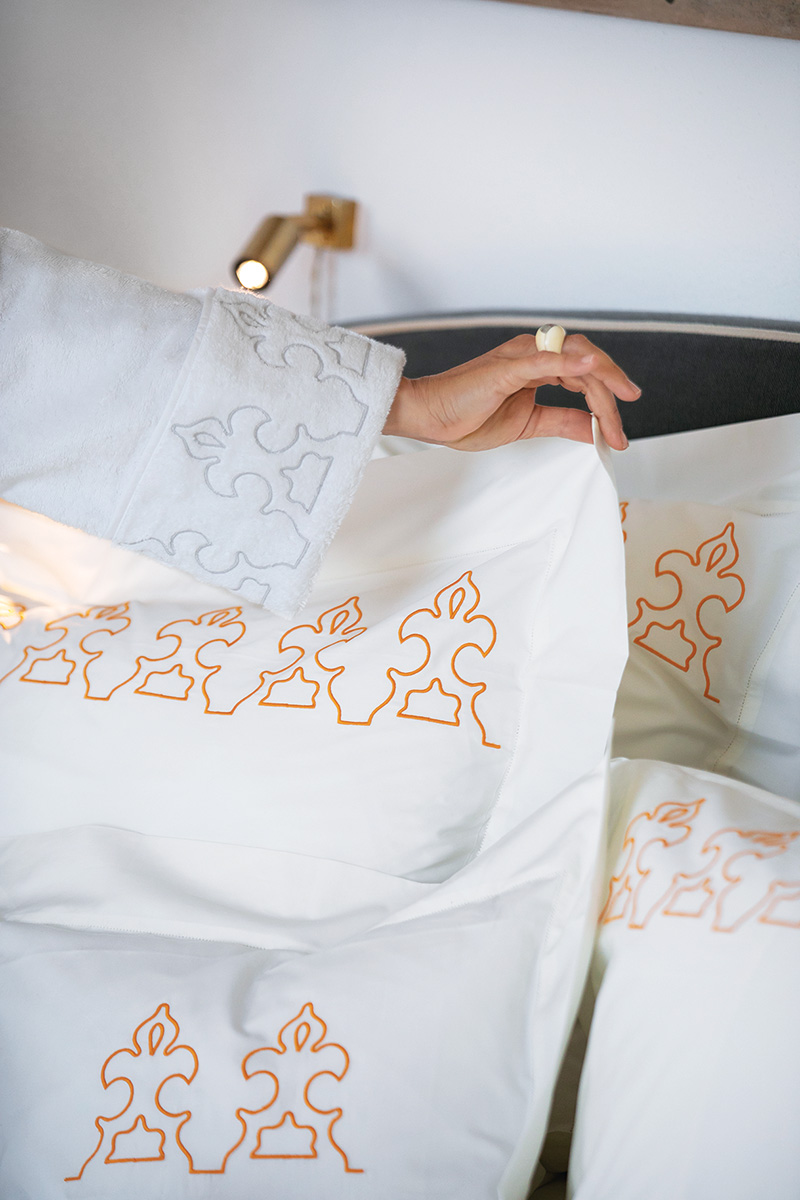 The Pratesis sourced textiles from the artisan weavers who have produced Estremo percale, cashmere, and jacquards for them for decades. "One of Federico's passions is to find the absolute best fibers from the top harvests," says Gaia. "Actually, it has a lot in common with the production of wine: Some years are better than others, and like the best winemakers, he cannot delegate the task of testing, selecting, and picking. It is a meticulous process that must be executed with the utmost care."
"The beauty is in the simplicity"

Federico Pratesi
The comparison is not unfounded—it was Tuscan winemaker Remigio Pratesi and his wife, Bianchina, a beautiful young woman skilled in the intricate embroidery techniques of Pistoia, a city in Tuscany, who launched the namesake business in 1906, fashioning tablecloths that became prized heirlooms. "Noble families would have these amazing parties and the table setting was a central piece, so these masterpieces became very famous, thanks to word of mouth throughout Italy," says Federico. Opening a boutique in the Italian resort town of Forte dei Marmi introduced Pratesi linens to the world, with tastemakers like Gabrielle "Coco" Chanel, Aldo Gucci, Andy Warhol, and Elizabeth Taylor all devoted collectors.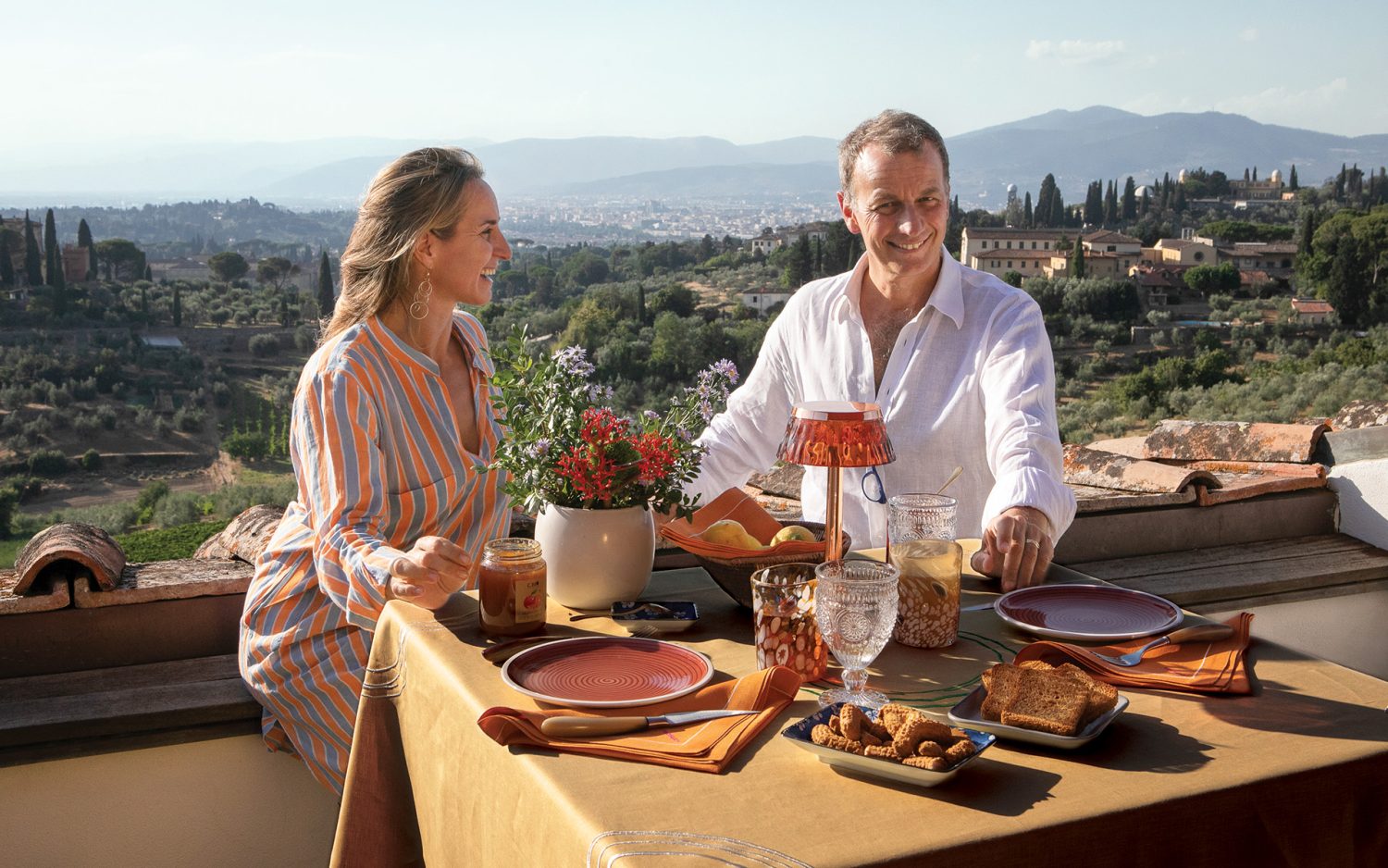 At Gaia and Federico's art-filled home on the Pian dei Giullari, a village of rolling hills overlooking the heart of Florence, beds are made with Athos, a twist on the traditional three-stripe border, while the table is set with linens in the Graffiti style, an Impressionist swirl not unlike the condensation left behind by a chilled glass of Lambrusco. "I love the round shape with this modern and soft touch of movement," says Gaia. "The linens are wonderful to mix and match. Our favorite is always the one that will be presented next."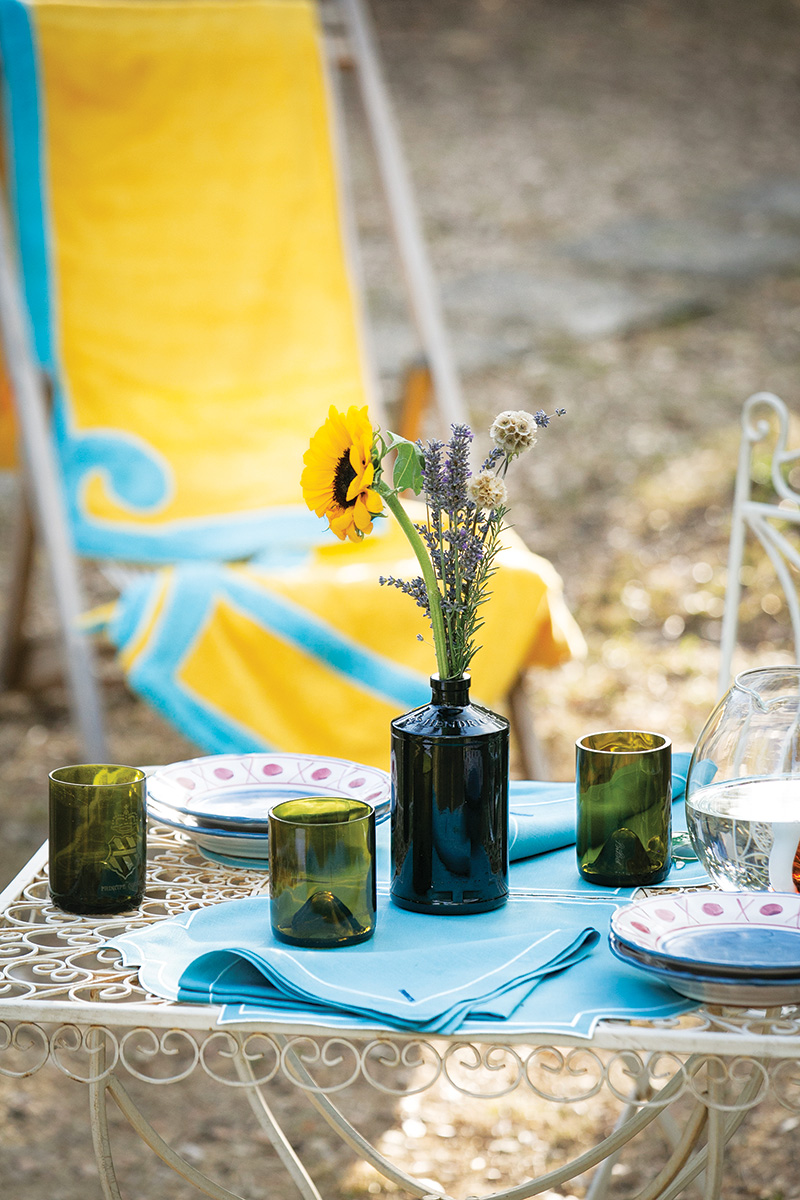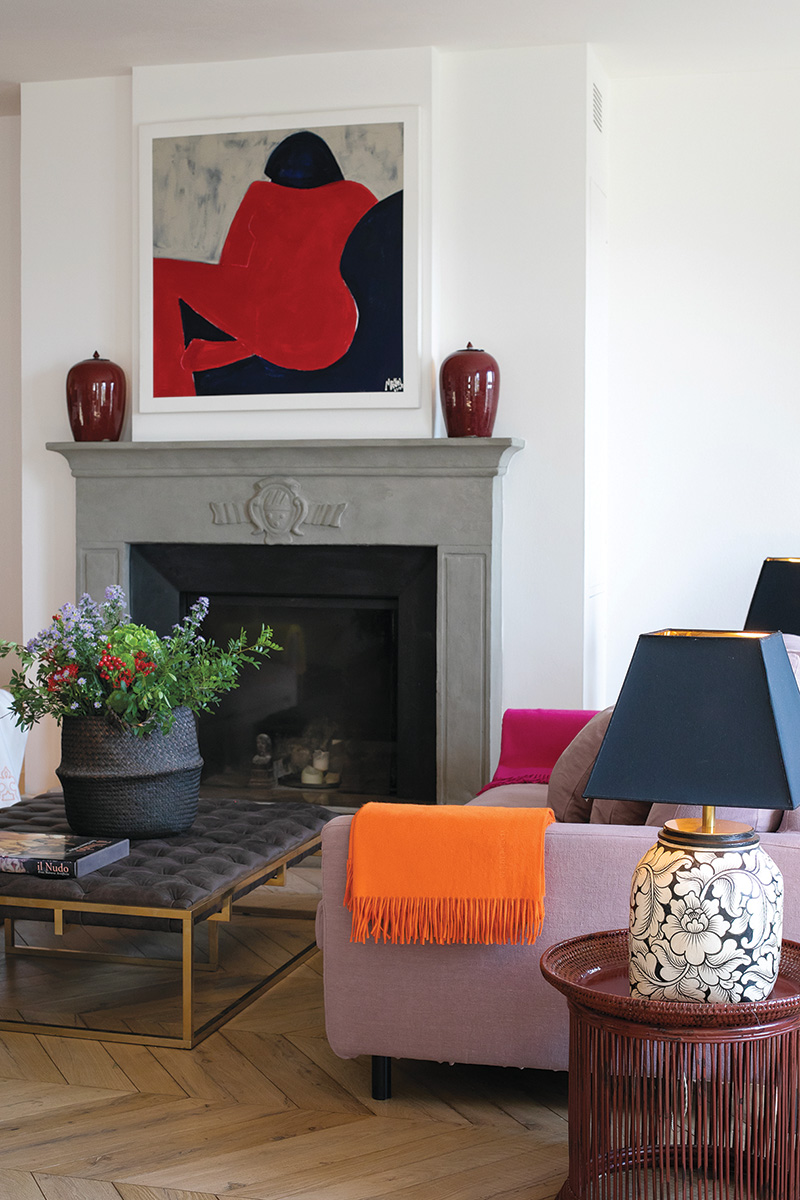 Coming soon are showrooms in New York and Florence, a new collection with Federico's sister Isabella Pratesi, and a collaboration with designer Alessandra Branca. "I have always loved and owned Pratesi sheets," says Branca. "Federico and Gaia share my frame of reference for culture, history, and quality craftsmanship. We played with embroidery colors and patterns, jacquards and prints—all the most wonderful elements for a super collaborative collection."
"Verderoccia was born by and for love and, much like in 1906, the same passion and respect toward this product is the rock upon which Verderoccia is built," says Gaia, who hopes one day her children, Athos and Margherita, will maybe take over the business. "From the selection of the raw material through the finishing touches, the obsession  for details is what makes our atelier the new standard for connoisseurs."
A version of this article first appeared in print in our 2022 Fall Issue under the headline "Common Thread." Subscribe to the magazine.
Next Post