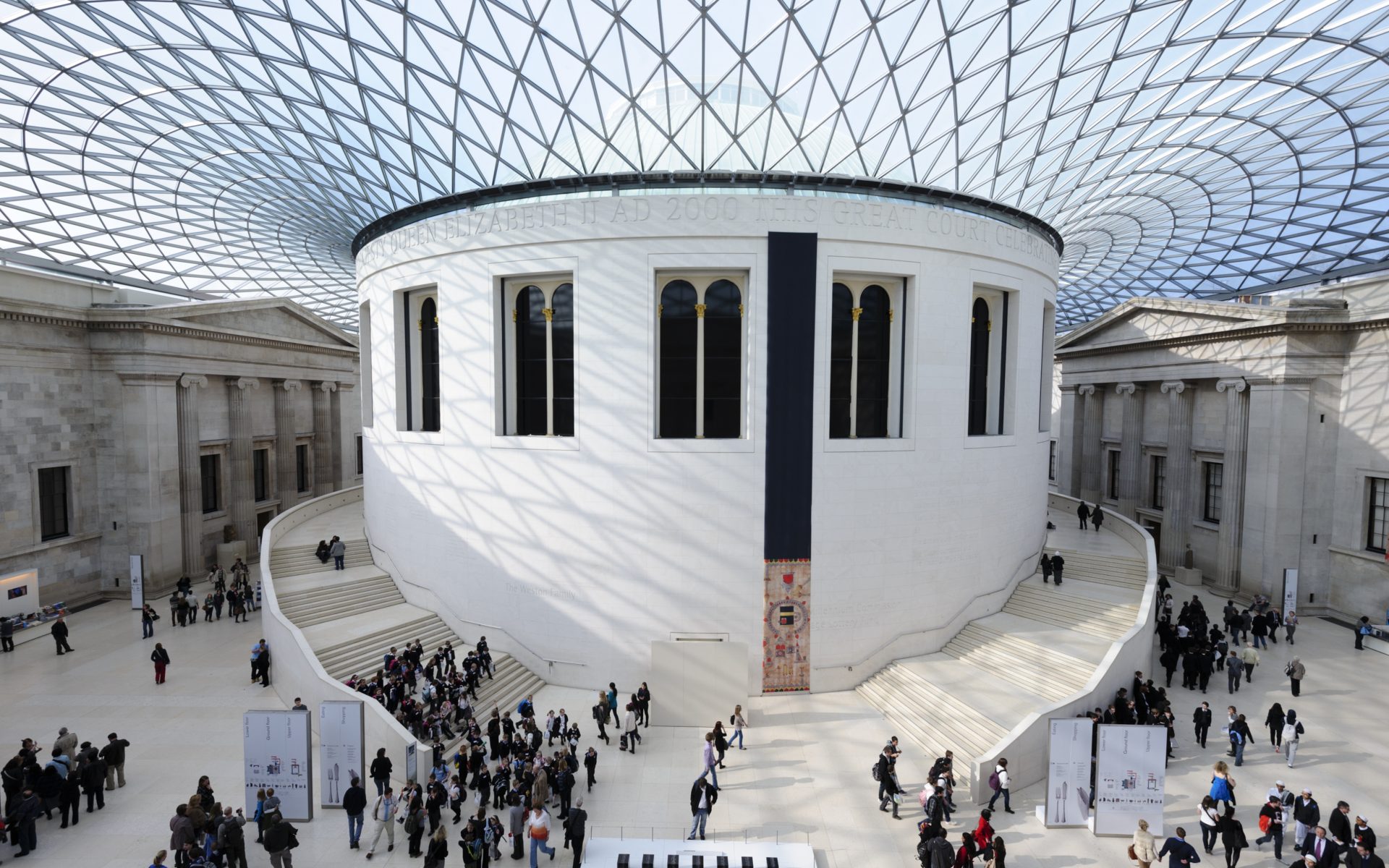 The Ultimate Art Insiders' Guide to London
As the city prepares for Frieze Art Fair, we asked some of the world's top curators, gallerists, and museum directors to share their go-to spots
The art and design world will soon descend on London for Frieze Week. The linchpin is Frieze London, which takes place from October 4 to 7 and features some 160 galleries from around the world. Taking place in the same week is Frieze Masters, the Sunday fair, 1-54 African Art Fair, PAD London, the Other Art Fair, and Moniker Fair. Galerie's arts and culture editor asked some of the top curators, gallerists, and museum directors (among them Clare Lilley, director of Frieze Sculpture; Stéphane Aquin, chief curator of the Hirshhorn Museum; and Isabelle Bscher, co-owner of Galerie Gmurzynska) to share their must-visit spots while in town.
Clare Lilley
Director of programme, Yorkshire Sculpture Park, and curator of Frieze Sculpture 2018 
I love the large, public space of the St. Pancras Renaissance, with all its bustle and the wonderful iron-and-glass ceiling designed by George Gilbert Scott. The extraordinary neo-Gothic staircase then sweeps you up to beautifully restored rooms. It's not the fanciest of places, but the Great Queen Street restaurant—between Holborn and Covent Garden—boasts consistently gutsy, imaginative, and superbly cooked food!
I can't resist dipping into Maggs Rare Books & Manuscripts—it's a calm treasure trove with exceptionally well informed and relaxed staff. At the end of Frieze, I always visit the British Museum. I head straight for the Neolithic, Mesolithic, Phoenician, Babylonian, Edo bronzes—in no particular order—and marvel at the power of human creativity.
Isabelle Bscher
Co-owner of Galerie Gmurzynska
I like staying at the Berkeley; it's not huge so it feels cozy, and the location is really convenient. For shopping, 29 Lowndes has a well-curated selection and some of my favorite designers, such as David Koma or Alexandre Vauthier. You'll also find designers there that you can't find elsewhere.
London also has some of the best selection of vintage treasures in the world. A great example is the old-school store Rokit. I also can't wait to get to the Tate to see the new Annie Albers show. One of my favorite buildings in the world is the Battersea Power Station.
Recommended: The Best Art and Design Fairs Around the World This October
The parks are so well taken care of and such a pleasure to walk in. My favorites are Hyde Park and Regent's Park—especially when the rose garden is in full bloom. To end the day, Isabel and Georges are terrific restaurants, and China Tang has my absolute favorite dumplings.
Touria El Glaoui
Director of 1-54 Contemporary African Art Fair
Some of my favorite galleries are Tiwani Contemporary, Tyburn Gallery, Vigo Gallery, and Jack Bell Gallery. They are all within a 20-minute walk from Oxford Circus and boast strong collections of artists. Likewise, Sulger Buel and Copperfield Gallery are very close to each other in Southwark, South London, and show brilliant artists in great spaces. Autograph ABP in Shoreditch is another favorite. They have resonant exhibitions with a compelling program of talks.
Carlos Picón
Director of Colnaghi Gallery
I like to stay at Dukes Hotel in St. James's for their attentive and personalized service, their quiet elegance, and its proximity to so many auction and art destinations in London.
Perhaps the most original of all small London museums, and one of my favorite destinations, is the Sir John Soane's Museum, with its three historic houses, its unique collections, and its superb Georgian library. 
Marlies Verhoeven
CEO and cofounder of the Cultivist 
The Hayward Gallery often makes it to the top of my list in London. Ralph Rugoff (next year's artistic director of the Biennale) has really pushed the range of exhibitions there, and I can't wait to see their upcoming "Shapeshifters" show. I've recently been staying at the Bloomsbury, a perfect blend of London charm; cosy spaces and a great location. The Coral Room is not too far from the fair and is the perfect place to decompress from art overload. A new restaurant I'm excited to try is La Goccia from the Petersham Nurseries team in Covent Garden.
Recommended: David Hockney Creates Stained-Glass Window for Westminster Abbey
Stéphane Aquin
Chief Curator, Hirshhorn Museum and Sculpture Garden
Aside from the compulsory stop at the National Gallery for a refresh of the fundamentals, I'll go to Tate Modern for another glimpse of Christian Marclay's The Clock, wondering if it has taken any patina since its creation in 2010. I am also looking forward to seeing the two paintings by Peter Doig at Sotheby's David Teiger collection sale. For lunch, I'll stop at The Wolseley—there's no place more simultaneously grand and comforting."
Diana Campbell Betancourt
Curator of Frieze Projects
When I come to London for Frieze, I tend to get overwhelmed running around the city trying to pack in as many performances and exhibitions as possible. It is important for me to have a quiet and serene place to recharge and collect my thoughts. The Zen-inspired hallways of Hotel Café Royal welcome me into a restorative space even before entering the generously sized, comfortable bedrooms. Their Akasha Holistic Wellbeing Gym with Eastern wellness methods is a great antidote to the hyperactivity during Frieze Week.
Elliot McDonald
Senior director, Pace London
I love the Chiltern Firehouse for dinner, business meetings, or cocktails with friends. I like to have weekend drinks at Ombra on Vyner Street because it's on the same street as my friends (and artists) Kevin Francis Gray and Keith Coventry's studios. The Cow and The Academy's Club are also fun. I like the iconic Italian delicatessen and pasta Restaurant and Lina Stores in Soho. For shopping, the menswear boutique Trunk on Chiltern Street has a fantastic selection.
Daniel Hug
Director of Art Cologne
When in London for Frieze, I always visit the Sunday fair in the Ambica building—it's a must for discovering international young galleries. Darren Flook, formerly of Hotel Gallery, is opening a new gallery called Freehouse, presenting the Berlin-based artist Tobias Spichtig. A fascinating museum I stumbled upon is the Imperial War Museum—it's so interesting and a great break from all the art.
Visiting Thaddaeus Ropac's new space in Mayfair is a must, as well as Cabinet gallery's new space in a fantastic 12-sided building designed by Trevor Horne Architects that was funded by the collector Charles Asprey. I also like Annely Juda gallery, which has a beautiful space high above the street and fantastic shows. Don't miss the younger generation of galleries such as Rob Tufnell, Project Native Informant, Arcadia Missa, and Arcade. For fantastic Indian food paired with live jazz music, my go-to is Sitara.
Mary Findlay
Deutsche Bank International Curator
The Farmacy Kitchen, launched by Camilla Fayed and located between Notting Hill and Bayswater in a former bank, is a must-visit. The menu is inventive, delicious, and amazingly nutritious.
The depth of shows at the Tate is fantastic—from the well-known to the new discoveries. A must-see at the moment is Christian Marclay's The Clock, which is a looped 24-hour video montage of scenes from film and television that feature clocks or timepieces played at exactly real time. Deutsche Bank are a longstanding partner of Tate's, and we will be showcasing British sculpture from the Tate collection at our new Palais Populaire space in Berlin early next year.
Next Post