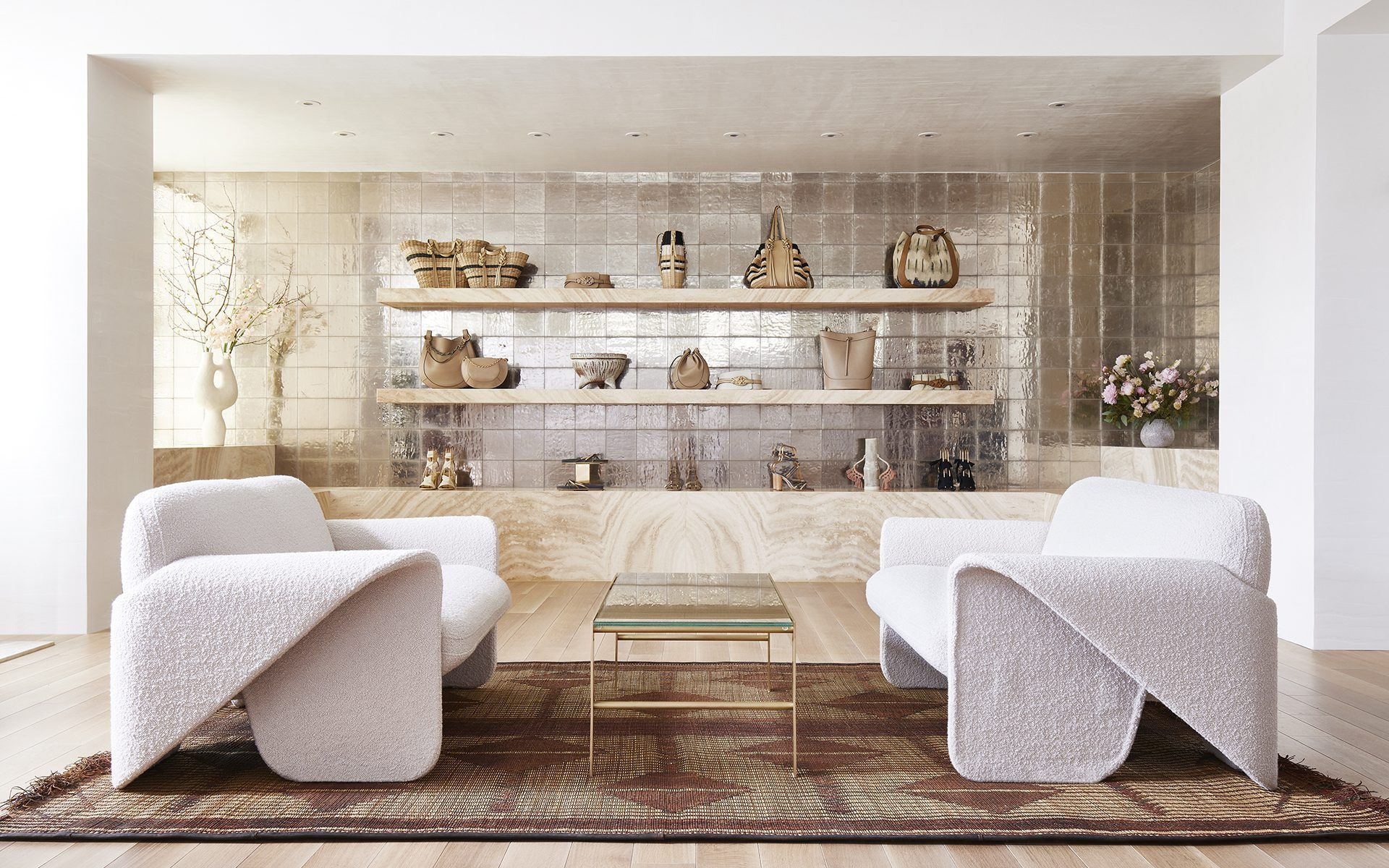 Rafael de Cárdenas Creates an Ultra-Chic Manhattan Showroom for Ulla Johnson
The sun-drenched SoHo loft is the perfect backdrop for the fashion designer's exuberant collections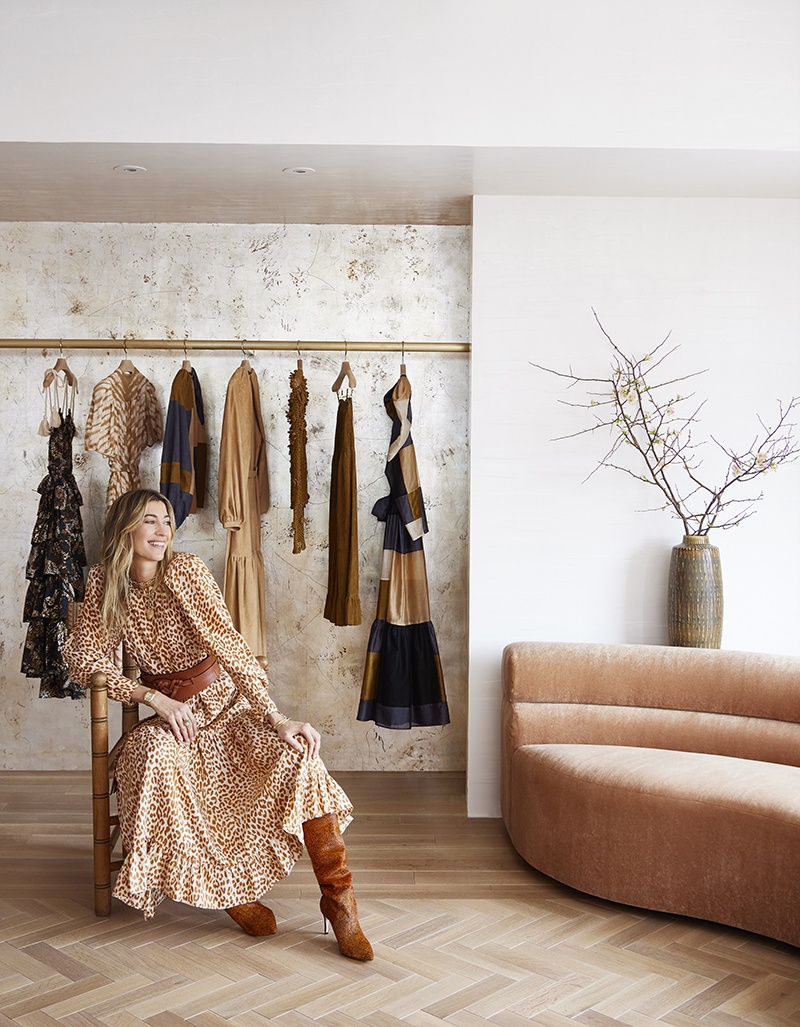 For years New York fashion designer Ulla Johnson had been searching for the perfect loft to create a showroom for her exuberant collections. And just before the COVID-19 lockdown, she found exactly the right sun-drenched space with sweeping views overlooking SoHo. The fact that it was directly across the hall from her design studio only made it that much sweeter. The raw interior, however, was in need of a total overhaul, so Johnson reached out to friend and designer Rafael de Cárdenas.
"I was familiar with his residential work, and I thought this was a really interesting place for us to collaborate," Johnson tells Galerie. "It was very important to me that the showroom be able to function in a commercial capacity but also have a residential feel, which is a particular balancing act. This felt like a good fit from the beginning."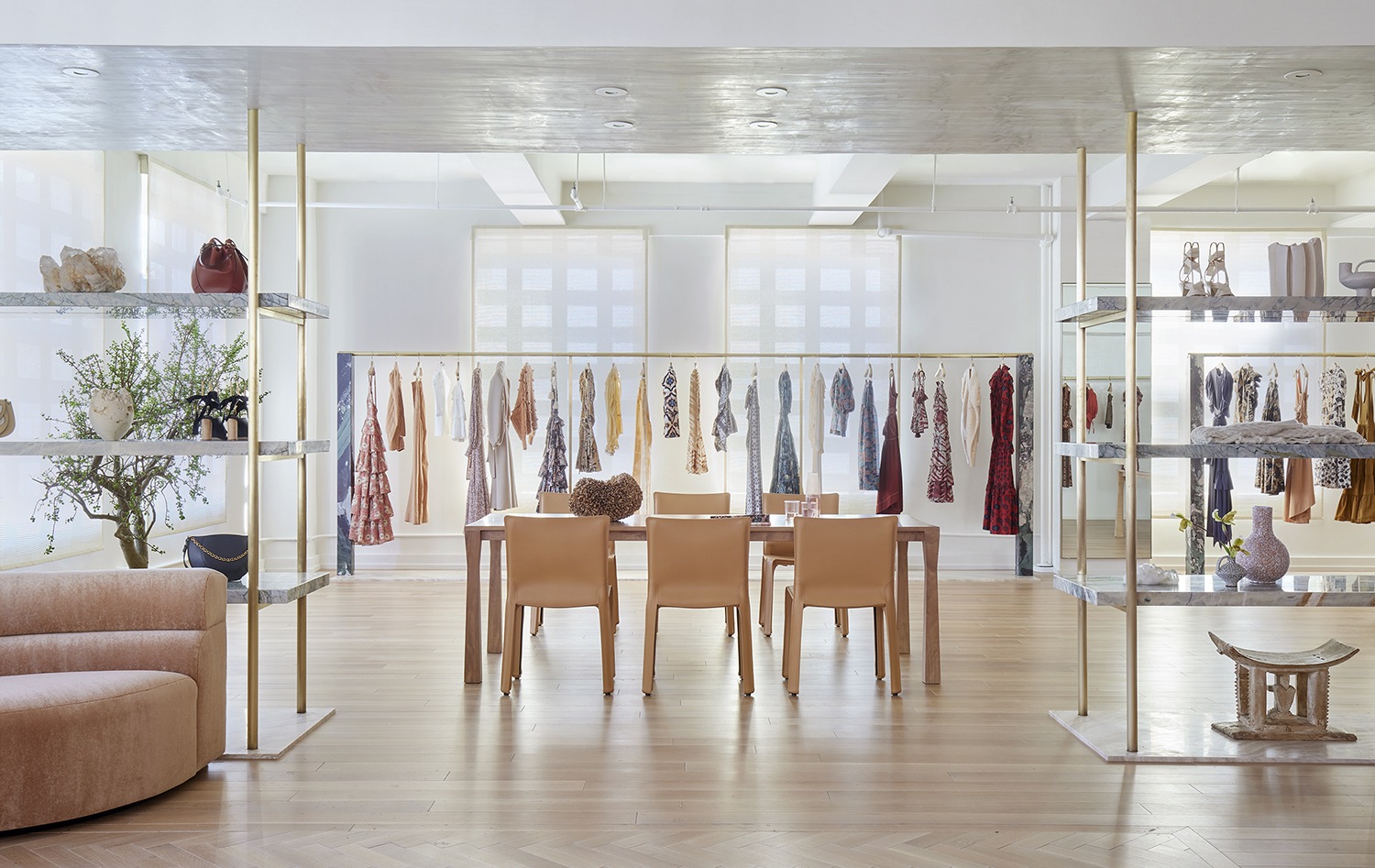 For their first professional project together, de Cárdenas and Johnson took cues from her namesake brand, looking to infuse the boutique with handcrafted elements and meticulous detail. Pre-existing walls were left a creamy white, while newly constructed ones were treated with different plaster techniques, ranging from a rough trowel texture to a pearlescent coating, by the team from Nota Design. Roman shades were hand-woven by Alexis Brown using linen, natural reeds, and gold thread.
Additionally, de Cárdenas tapped designers and frequent collaborators Aaron Aujla and Ben Bloomstein of Green River Project to create perforated, hand-carved Filipino mahogany screens that separate the reception area with the bulk of the showroom. "One of the first things that Raf and I spoke about was how to bring artisans in with the fixtures, furnishings, and finishes," says Johnson. "What's exciting about doing interiors projects like this is that we get to work with a whole group of local artisans. I have to go much further afield for the ready-to-wear."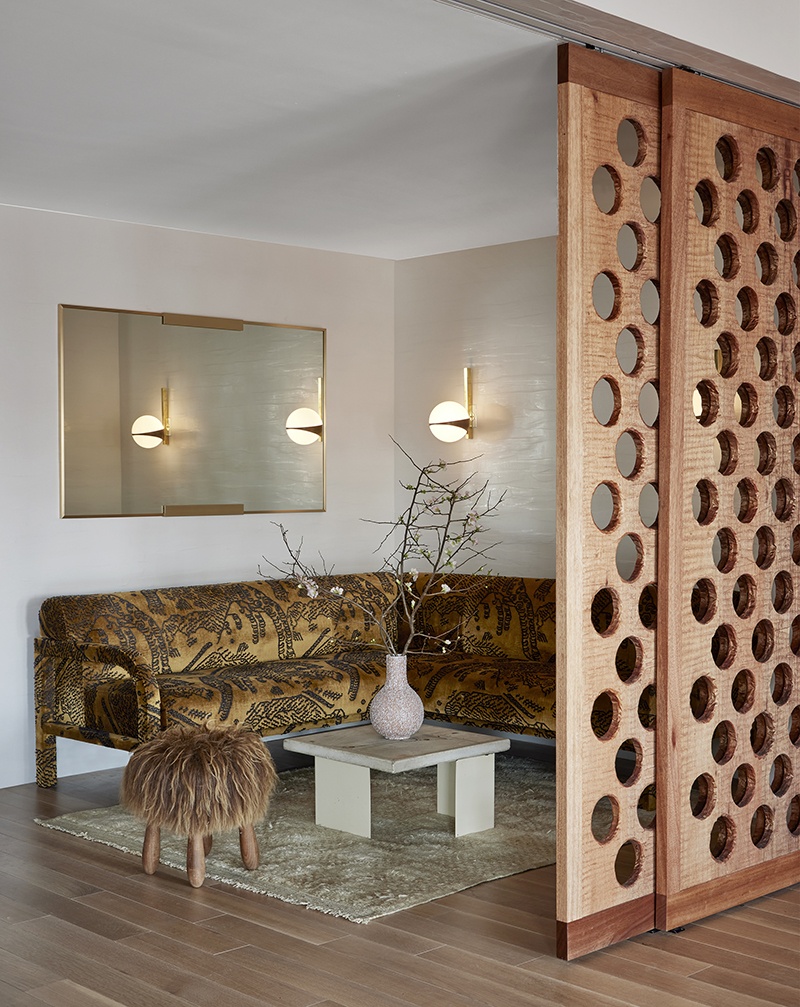 In a niche dedicated to accessories, de Cárdenas crafted a luminescent backdrop using glass tiles with a mirror-gilded finish from Sicis. "I gravitated towards this glass years ago and had never used it in project before," he recalls. "There are so many items in Ulla's collection, so these material interruptions space things out in a different way, which is necessary to give your eye a moment to breathe."
A number of Johnson's favorite things also found their way into the showroom, including textural raffia works, Gunnar Nylund vases, and an Ingo Maurer fan pendant, which she's used in several other projects. "It felt important to touch on certain things that have become almost hallmarks for us and also introduce things that felt quite new," she explains. "It was important to me for the art to not just be on the walls but also fully integrated into the space."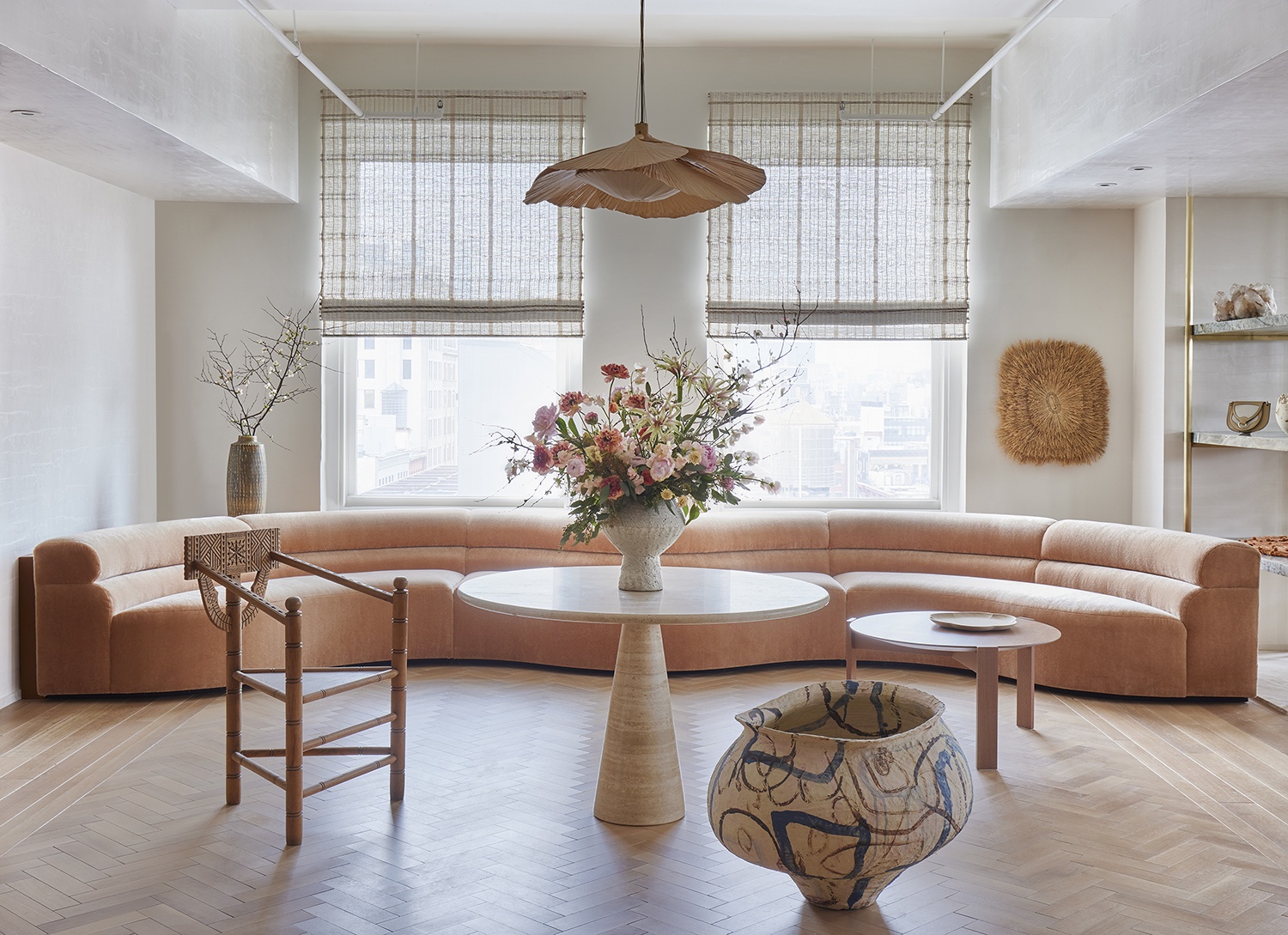 Both Johnson and de Cárdenas are collectors and have pieces by Kazunori Hamana. In the showroom, they added a large vessel by the Japanese craftsman that sits in a textural juxtaposition with a honed travertine table by Angelo Mangiarotti, custom lacewood cocktail tables, and a triangular Swedish monk's chair.
Many of the walls were left intentionally unadorned to allow for the art to evolve over time. "I never want to get something to fill a space. It has to speak to me," says Johnson, who purchased one Nacho Carbonell's lights that were featured in her recent runway presentation at Lincoln Center and installed it in the new showroom.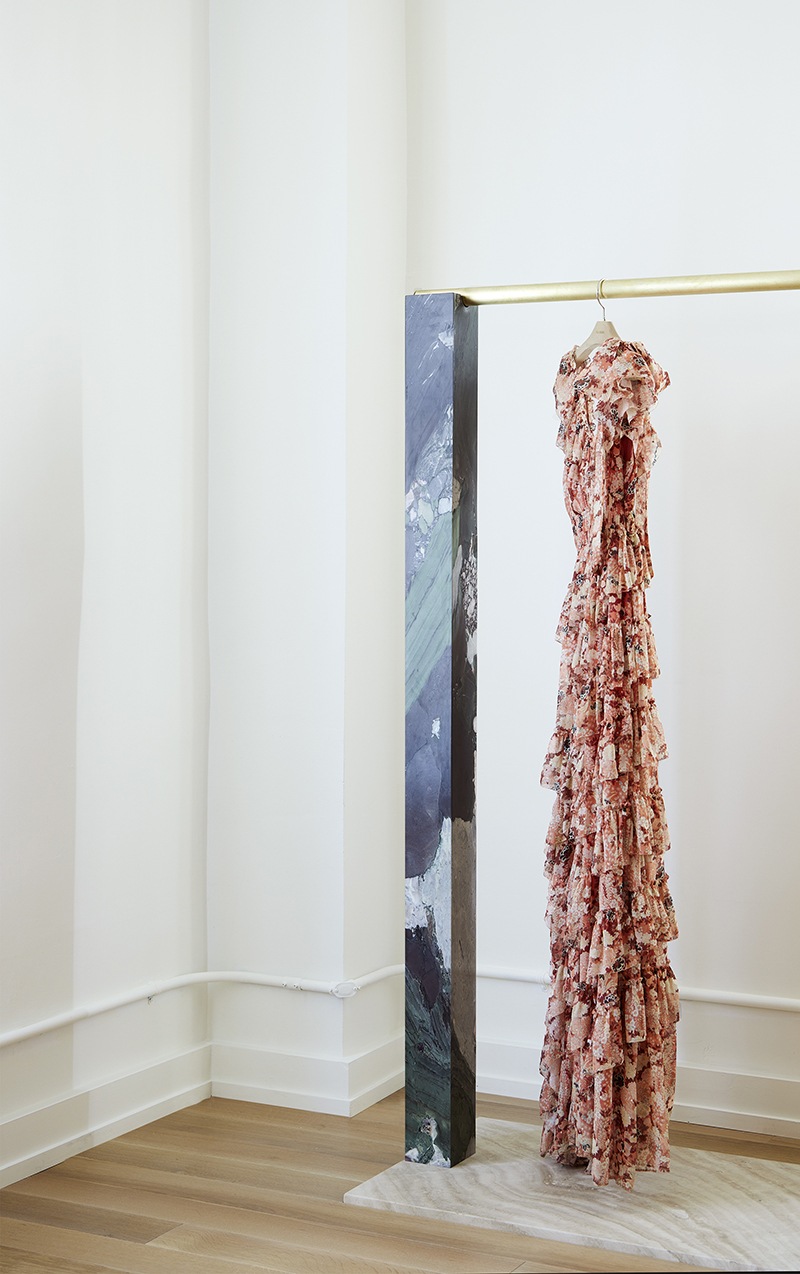 The color palette, too, has its roots in Johnson's ready-to-wear line, with shades like golden-green and blush as constant touchstones. Those same hues are reflected in the reception area's sofa, which is upholstered in Dedar's Tiger Mountain, and a sinuous custom sofa made using Savel's Palazzo mohair, in apricot. "In of all these years designing, I've come to realize pink is one of the few shades that goes with everything," says Johnson. "Because there is so much color and celebratory pattern in the ready-to-wear, I needed the space to have color, but also to be more contemplative in its palette and something that would feel timeless and be able to endure the vagaries of one season after the next."
Bolder pops are brought in using a mossy green travertine and black Opera de Arte marble. "When we went to the stone yard, we'd never really seen anything like that," says de Cárdenas, who created display columns specifically to utilize the richly veined stone for maximum impact.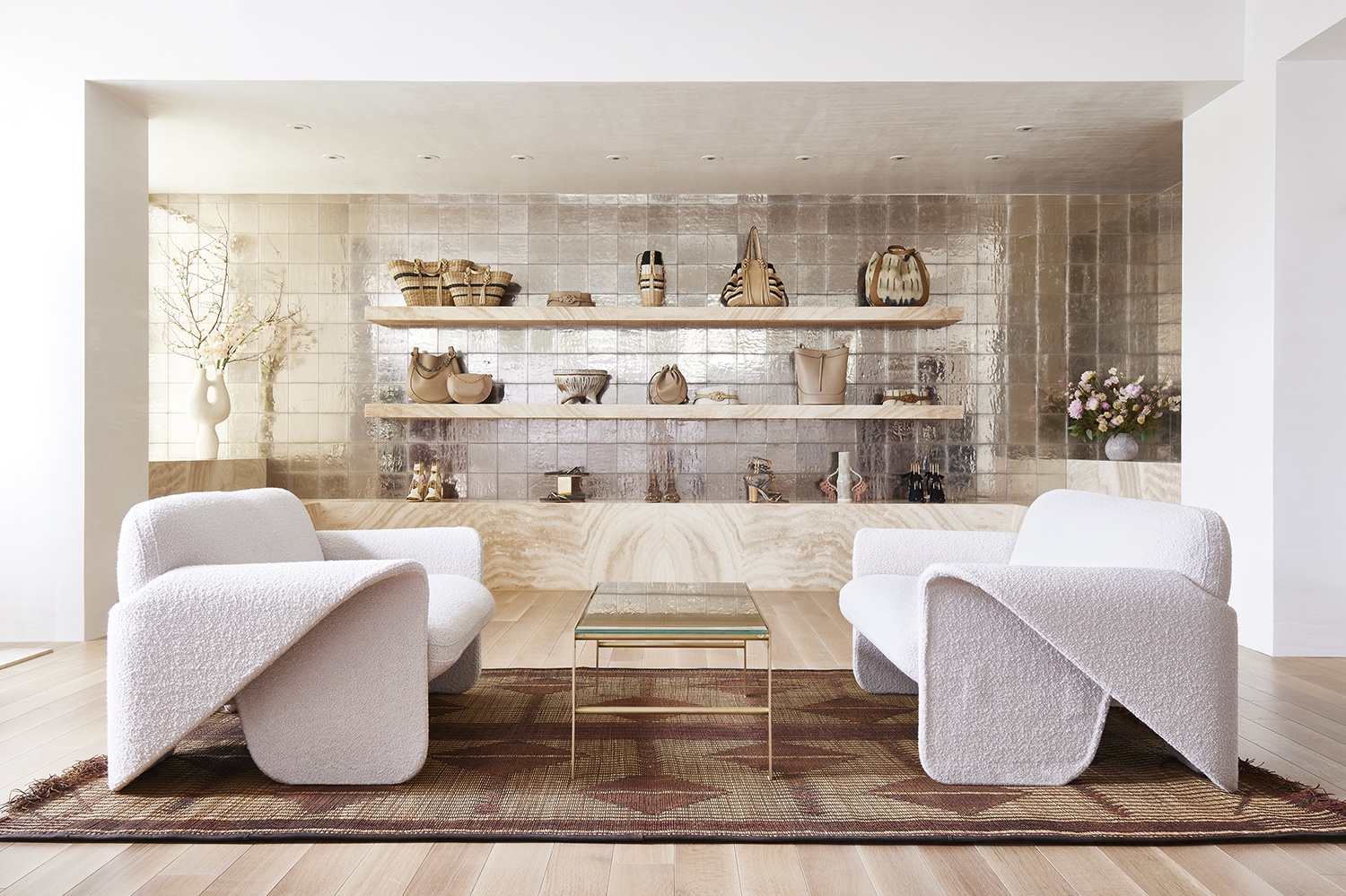 While the space is open and airy, numerous seating areas offer intimate moments. In the accessories lounge, a pair of vintage De Sede sofas are reimagined in a Dedar boucle, while in another area, a custom worktable is surrounded by Mario Bellini's Cab chairs for Cassina. "We wanted to create moments for the eye to pause and a sense of moving through space," says Johnson. "There's a process of revealing we wanted to achieve."
"The space had to accommodate clothing, accessories, and more, and also allow for every individual piece to be showcased in 'heroic' fashion," says de Cárdenas. "Yet it was essential that it feel almost residential, like a beautiful dressing room—always soft and residential."
Next Post