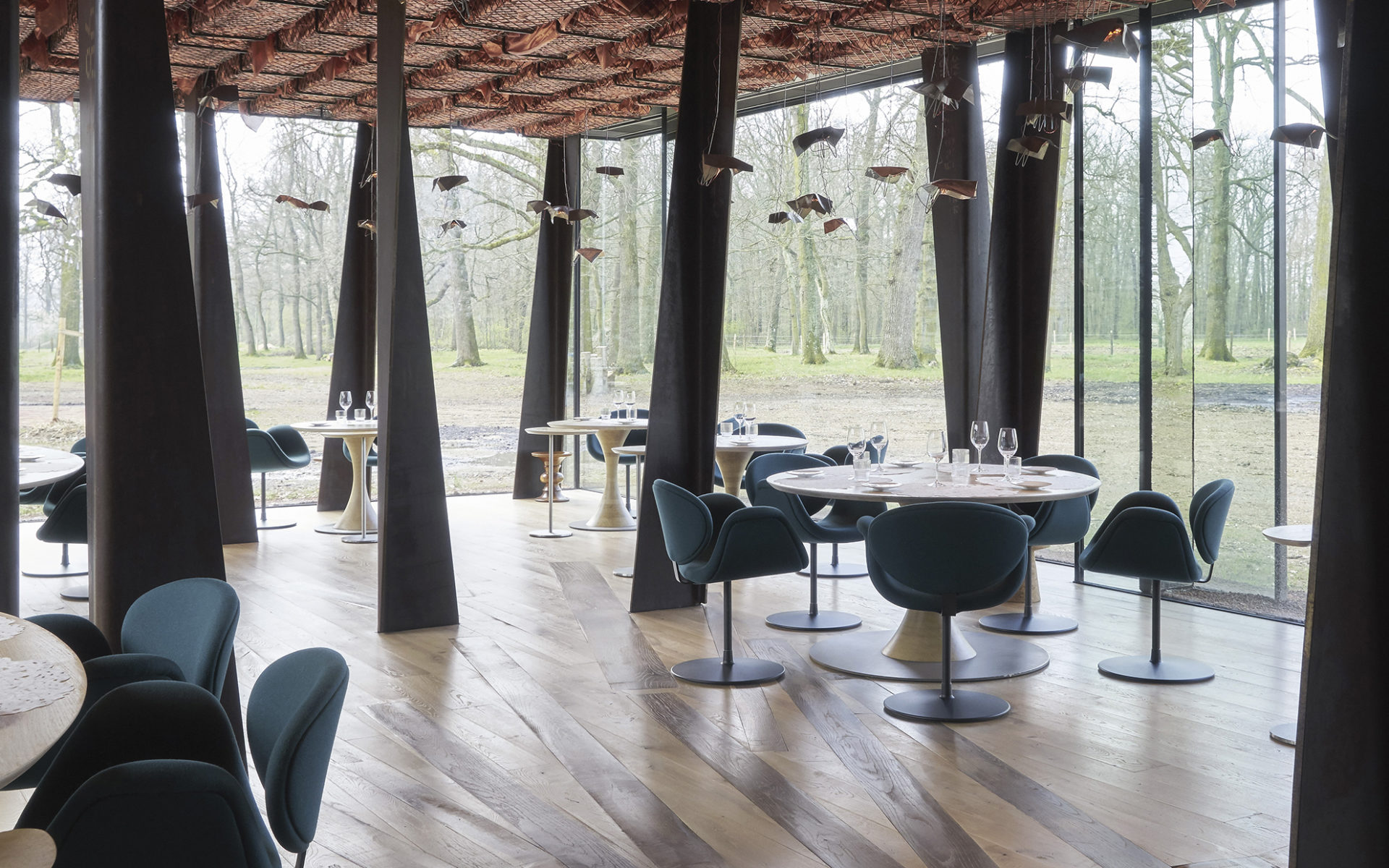 Troisgros Gets New Life in the French Countryside
Architect Patrick Bouchain creates a dramatic space befitting the culinary mecca
On a soft summer morning in Ouches, France, sun streams through the oak-lined windows of his handsome new library, and chef Michel Troisgros, 59, is pensive. "To respect tradition, sometimes you must challenge it boldly," says Troigros, heir to one of the most enduring French culinary legacies of all time. The proof of his convictions is that he not only recently moved his eponymous Michelin-three-star restaurant to new quarters but is enthusiastically passing on his toque, too.
"My wife, Marie-Pierre, and I transmitted our love of art and gastronomy to our children," he says, "and it's a joy that my son César is now our head chef, with his brother, Léo, alongside him in the kitchen." That he entrusted his reputation to his sons isn't surprising: Troisgros's grandparents and his father, Pierre, did the same. What is perhaps more extra­­ordinary is the restaurant's new address. For almost 90 years, Troisgros sat across from the train station in Roanne, a town on the Loire River in central France. "Several years ago," he says, "we realized we had to give our sons a new setting in which to succeed at this chapter of our family's history, because the world has changed so much."
That new setting is a mid-19th-century stone villa in the countryside, five miles from Roanne. Léo and César, who both trained at the Institut Paul Bocuse and did stints, respectively, at Guy Savoy and Thomas Keller's French Laundry, cook out of a glass-enclosed kitchen with views of the surrounding woods. "We knew this was the place for us to be, since our guiding idea now is that luxury is about a greater proximity to nature," Troisgros says. Indeed, César plans to grow his own fruits and vegetables for the restaurant, aptly renamed Le Bois sans Feuilles (the Forest Without Leaves). The space was designed by Paris-based architect Patrick Bouchain, who created a U-shaped glass pavilion supported by a forest of interior steel pillars, inspired by the 100-year-old oak tree in the courtyard. By linking the property's farm buildings to the villa, Bouchain broke down the old sociological configuration of the estate, when the working farm was kept at arm's length from the main house. 
The contrast between a certain self-effacing refinement and an artful rusticity gives the redesigned farm its quietly dramatic personality. The same could be said about the menu. "The days of foie gras and truffled everything are over," César says. "Now it's about vegetables, grains, and meat and fish from sustainable sources." His father wholeheartedly agrees: "The 21st century is about simplicity, tranquillity, and, most of all, a well-preserved environment."
Not that the younger generation has turned entirely away from the dishes that made the family name. There's Michel's signature Truffe, lait, Fontana, a puree of black truffles topped with a whisper-thin layer of raw milk that is sliced in the slashing style for which Italian artist Lucio Fontana was famous. Only now it's offered alongside nid d'abeille silencio—crunchy ribbons of acidulated tripe with pickled radishes and ginger—and grilled veal sweetbreads with sesame sauce, one of César's creations.
As with the family's other inn, La Colline du Colombier, in Iguerande, diners at Le Bois sans Feuilles can tuck into a gourmet meal and a plush bed—in one of the 15 guest rooms upstairs. Within the estate's 19th-century bones—soaring ceilings, raw oak parquet floors—Marie-Pierre has installed modern luxuries, such as rain showerheads and soaking tubs. "We wanted to create a guesthouse, not a hotel with its formalities and fussiness," she says. "The idea is that we'll take care of you by feeding you a wonderful meal, then make sure the rest of your evening is very comfortable. We want you to feel at home here." troisgros.com
Next Post