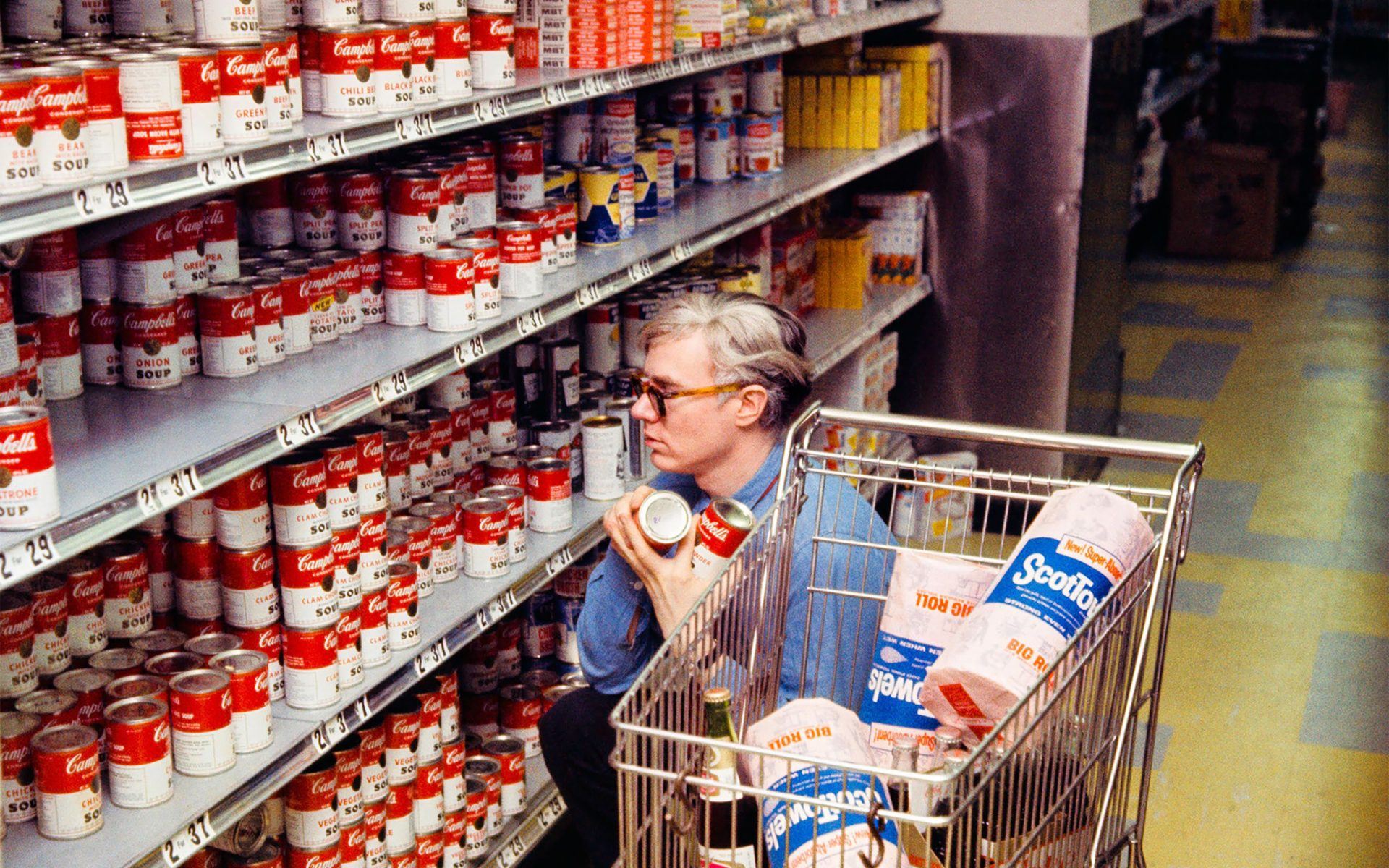 9 Recipes from Famous Artists That You Can Make at Home
Discover how to make Claude Monet's potato pie, Marcel Duchamp's steak tartare, and Georgia O'Keeffe's borscht
Artists are creative people, which means they're not only innovative in their studios but also in their kitchens. There's a long history of artists who feel just as comfortable in front of the stove as they do in front of an easel, whether they simply enjoy cooking for themselves or hosting elaborate dinner parties. Below, discover nine recipes from cookbooks featuring dishes by celebrated artists, including Marcel Duchamp, Andy Warhol, Claude Monet, and Georgia O'Keeffe.
1. Marcel Duchamp's Steak Tartare, from The Artists' and Writers' Cookbook
Perhaps one of the most revered artist-inspired cookbooks, The Artists' and Writers' Cookbook was published by Contact Editions in 1961. It featured recipes by 70 artists and 80 writers, some of whom volunteered tried-and-true dishes they make at home, while others took some creative liberty. Man Ray, for instance, suggested serving steel ball bearings soaked in machine oil with French bread painted baby blue. Marcel Duchamp found a middle ground for his steak tartare recipe that's partially a performance but also a genuine recipe.
Let me begin by saying, ma chere, that Steak Tartare, alias Bitteck Tartare, also known as Steck Tartare, is in no way related to tartar sauce. The steak to which I refer originated with the Cossacks in Siberia, and it can be prepared on horseback, at swift gallop, if conditions make this a necessity.
Indications: Chop one half pound (per person) of the very best beef obtainable, and shape carefully with artistry into a bird's nest. Place on porcelain plate of a solid color—ivory is the best setting—so that no pattern will disturb the distribution of ingredients. In hollow center of nest, permit two egg yolks to recline. Like a wreath surrounding the nest of chopped meat, arrange on border of plate in small, separate bouquets:
Chopped raw white onion
Bright green capers
Curled silvers of anchovy
Fresh parsley, chopped fine
Black olives minutely chopped in company with yellow celery leaves
Salt and pepper to taste
Each guest, with his plate before him, lifts his fork and blends the ingredients with the egg yolks and meat. In center of table: Russian pumpernickel bread, sweet butter, and bottles of vin rosé.
2. Salvador Dalí's Fruit Cream from Les Diners de Gala
While Salvador Dalí's paintings often incorporated food, the artist's lasting claim to fame in the food world might just be his sumptuous surrealist dinner parties thrown with his wife, Gala. So it's perhaps no surprise that he published a cookbook of their menu items, including dishes by top French chefs of the day. Les Diners de Gala was originally published by Felicie in 1973 and included 136 recipes alongside illustrations by Dalí himself: The tome is being republished by Taschen this June. The book covers 12 different courses, including dessert, like this fruit cream.
1 can of grape juice (1 pint)
1 can of apricot juice (1 pint)
8 tablespoons of semolina
3½ oz powdered sugar
3½ oz heavy cream
7 oz plums with brandy (optional)
5 oz of heavy cream
2 oz powdered sugar
Pour the grape juice and the apricot juice into a saucepan. Bring to a boil, then throw the semolina into the liquid. Stir with a wooden spoon and boil for 5 minutes.
Add the cream and remove from the fire.
When it is lukewarm, stir to settle the preparation.
You can then add the plums, cut into pieces.
Since the children like this dessert very much, you can do without the brandied plums if you wish.
Pour into a shallow dish and put in the refrigerator.
Beat, add sugar to the 5 oz of heavy cream to make a whipped cream.
If you prepare the whipped cream ahead of time put it in a sieve so as to drain the butter milk.
When serving, use the whipped cream as decoration.
3. Olafur Eliasson's Beetroot Gnocchi from Studio Olafur Eliasson: The Kitchen
Danish-Icelandic artist Olafur Eliasson doesn't just produce artwork in his Berlin studio, he also produces lunch. Appropriately named the Kitchen, the studio's private kitchen, staffed by an all-female team of chefs, serves vegetarian or vegan dishes to the dozens of workers in a grand communal meal shared around one long table each day. "The studio kitchen celebrates the connections between human beings, food, and the sun as a system of energy exchange, as ecology of giving, taking, and sharing," writes Eliasson in Studio Olafur Eliasson: The Kitchen, a 2016 cookbook published by Phaidon.
The book includes more than 100 vegetarian recipes, including Eliasson's favorites: a bifun rice noodle salad with peanut sauce. Here is the recipe for 6 or 60 people.
For the salad:
2|20 tbsp sesame seeds, toasted
2|20 eggs
2 tsp|6 tbsp shoyu soy sauce
Freshly ground black pepper
2 tbsp|1¼ cup (300 ml) sunflower oil
7 oz (200 g)|4½ lb (2 kg) smoked tofu, sliced
7 oz (200 g)|4½ lb (2 kg) mixed mushrooms (shiitake, oyster, king trumpet), sliced
Salt
9 oz (250 g)|5½ lb (2.5 kg) rice or glass noodles
4 tbsp|2½ cups (600 ml) toasted sesame oil
1|10 cucumber or zucchini, cut into matchsticks
1|10 red bell pepper/s, finely sliced
1|10 celery stick/s, finely sliced
10|4½ lb (2 kg) cherry tomatoes, quartered
2 tbsp|1 lb 2 oz (500 g) cashews, toasted
1|10 bunch/es cilantro (coriander) or basil, chopped
1 sprig|1 bunch mint leaves, chopped
For the peanut sauce
4 tbsp|1¾ lb (800 g) smooth peanut butter
2 tbsp|1¼ cup (300 ml) tahini
1 tbsp|5 oz (150 g) brown sugar
1½ tbsp|1 scant cup (225 ml) soy sauce, plus more as needed
1 tsp|3 tbsp ground chiles
50|1 lb 2 oz (500 g) toasted peanuts
Toast the sesame seeds in a dry frying pan over low heat until the seeds take on a round shape. Once the pan gets hot, the seeds burn very easily, so watch out! This can be done in a large batch ahead of time and stored in a dry place for later use.
Whisk the eggs with soy sauce and pepper and scramble them in a bit of sunflower oil. Using the same frying pan, add more sunflower oil and fry the tofu until crunchy. Season with pepper and set aside. Cook the mushrooms in the pan with the soy sauce until all liquid has evaporated.
Bring a large saucepan of water to a boil and add a dash of salt. Turn off the heat, place the noodles in the water and leave for 1 minute. Drain very well and drizzle with sesame oil. Add the cucumber, red pepper, celery, sesame seeds, tomatoes, cashews, eggs, tofu, cilantro, and mint and gently mix.
For the peanut sauce, combine all ingredients. Thin with water until you reach desired consistency. Serve with the salad.
4. Ansel Adams's Poached Eggs in Beer from The Photographer's Cookbook 
When curator Lisa Hostetler came across a boxful of recipes at the George Eastman Museum in Rochester, New York, she knew she had to publish them. The recipes were originally collected in the 1970s by Deborah Barsel, the museum's assistant registrar, but the project was abandoned after she left for grad school. It came to fruition, however, in 2016, with the publishing of The Photographer's Cookbook by Aperture in conjunction with the George Eastman Museum, with an essay penned by Hostetler. The photographers' recipes are paired with images: Ansel Adams recommended his poached eggs in beer, which was published alongside Still Life, San Francisco, 1932.
¼ cup (⅛ pound) butter
Mixed spices
Dash sherry
1 bottle dark malt liquor or strong ale (ordinary beer is not strong enough)
¼ tsp
Salt
2 eggs
2 pieces toast
Dash paprika
1) Melt butter in microwave oven, but do not allow to brown. Add a dash of mixed spices and sherry. 
2) In a small bowl, microwave malt or ale with ¼ teaspoon salt just to the boiling point. Carefully slide eggs into this hot liquid, cover with paper plate or glass bowl (to retain thermal heat), and cook as desired in microwave. (See note below on microwave cooking.) 
3) While eggs are cooking in microwave, make two pieces of toast. Spread part of the butter-spice mix over the toast.
 4) Serve eggs on the toast, and pour over the rest of the butter-spice mix. Add a dash of paprika.
 Note on microwave cooking:
I like my eggs poached soft. I find that 1 egg in the hot ale or malt takes about 1 minute to cook, 2 eggs about 2 minutes, etc., all the way up to 8 eggs about 8 minutes. When working with as many as 8 eggs, the bowl should be moved around every 2–3 minutes.
5. Georgia O'Keeffe's Brightest Borscht with Sour Cream & Fresh Dill from Dinner with Georgia O'Keeffe
Georgia O'Keeffe loved innovating in the kitchen and was known for her healthy dishes made with colorful ingredients—unsurprising, given her fondness for color in her paintings. For the 2017 book Dinner with Georgia O'Keeffe, published by Assouline, writer Robyn Lea dug through the artist's notes to compile this cookbook, inspired by O'Keeffe's favorite dishes that she either cooked herself or had served to her by her caretakers. One of the most colorful dishes in the book: Brightest Borscht with Sour Cream & Fresh Dill.
4 large beets
1 tsp salt, plus more to taste
1 tbsp sugar
3 egg yolks, lightly beaten
Juice of 2 lemons
4–5 tbsp sour cream, plus more for garnish
A few sprigs chopped dill, for garnish
Freshly ground black pepper
Trim and wash the beets, leaving the skin on. Place the beets in a large saucepan and cover them with about 2½ quarts of water. Add the 1 teaspoon of salt. Cover the pot and simmer for about 1 hour, or until tender when pierced with a knife. Remove the beets with a large slotted spoon and place them in a sieve to drain. Reserve 1½ quarts of the cooking liquid. Allow the beets to cool, then peel and grate them.
 In a small saucepan, heat 1 cup of the cooking liquid, then add the sugar and stir to dissolve. Slowly drizzle the hot liquid into the egg yolks, whisking to combine, then stir in the lemon juice. Pour the egg mixture into a large bowl and add the remaining cooking liquid and grated beets. Add the sour cream, then season with salt and pepper, stirring to combine well. Chill until cold, about 2 hours. Garnish with dill, pepper, and more sour cream.
6. Claude Monet's Potato Pie from The Monet Cookbook
If you've ever visited Monet's home and studio in Giverny, France, you know that one of the most exceptional rooms in his home is the grand kitchen, clad in blue-and-white tiles and lined with copper pots. The Impressionist master was not only a painter but also a gourmand, delighting in hearty meals of which he kept copious notes in his culinary journal. In The Monet Cookbook by Florence Genter (Prestel, 2016), discover some of the artist's favorite recipes, including this one for a rustic potato pie.
For the pastry:
500 g (4 cups) flour
250 g (17 tbsp, or a bit more than 2 sticks) butter, at room temperature
2 egg yolks
Salt
For the filling:
6 (1.2 kg, or 2½ lb in all) firm, medium-sized potatoes
3 onions
1 small bunch parsley
150 ml (5 fl oz, or a bit more than ½ cup) heavy cream
1 whole egg
Salt and freshly ground pepper, to taste
 Resting time for pastry: 2 hours.
Preparation time: 30 minutes.
Cooking time: 2 hours.
 Start by preparing the pastry: Cut the butter into small cubes and place in a bowl; add the flour with 1 pinch of salt, then mix together with your fingertips until the mixture resembles fine bread crumbs. Mix in the egg yolks and shape the dough into a ball.
Place the dough on a lightly floured work surface. Press out the dough with your palm, working from the center to the side to obtain a smooth dough. Repeat the process several times until the dough is even. Shape it into a ball again, wrap in plastic wrap, and leave to rest in the fridge for two hours. 
When you are ready to use the pastry, preheat the oven to 180ºC (gas mark 4, or 350ºF).
Peel the potatoes and slice into rounds. Soak the potato slices in cold water. Peel the onions and cut into rounds. Dice the parsley.
Take the pastry out of the fridge and divide it into two uneven-sized pieces. Place the larger piece onto a floured surface and roll it out into a circle large enough to line the bottom and sides of a shallow, round, earthenware dish. The pastry should slightly overlap the sides. Roll out the second piece of dough into a circle just a little larger than the dish.
Drain the potatoes and dry them with a clean paper towel. Arrange them in the dish in a single layer and scatter with the onion rings and diced parsley. Season with salt and a generous amount of pepper, then add the cream. Cover with the second circle of pastry, pinching the two sheets of pastry together to seal the edges. 
Make a hole in the middle of the pastry (to let the steam escape while cooking), and carefully insert a funnel made by rolling up a small piece of thick paper. Beat the whole egg, then brush the pastry with it before it goes into the oven. The pie should take 2 hours to cook. If it turns golden before then, cover it with a piece of lightly greased parchment paper.
7. Sanford Biggers' Red Turn Up from The Artists' and Writers' Cookbook
Recipe credit: Excerpt from The Artists' and Writers' Cookbook by Natalie Eve Garrett
Inspired by the 1961 book of the same name, Natalie Eve Garrett compiled a new collection of recipes by contemporary names for The Artists' and Writers' Cookbook, published by powerHouse in 2016. An-My Lê submitted her grandmother's phở, Liza Lou provided some feminist popcorn, and Sanford Biggers went for a boozy delight he calls Red Turn Up, which we've shared here.
1½ ounces quality mezcal (Ilegal, Del Maguey, or similar is suggested)
1 cup cubed watermelon cilantro–1 sprig for muddling, 1 sprig for garnish
Freshly ground salt and chili mixture for glass rim
Lime wedge
¾ cups of ice
Agave to taste (optional)
Mix salt and chili powder in a bowl, pour onto a saucer. Rub the rim of an old-fashioned glass with a wedge of lime. Dip rim of glass into the salt mixture until rim is lightly dusted. Muddle one sprig of cilantro inside the glass and set aside. Place the watermelon and mezcal into a blender. Blend until watermelon purées. Add ¾ cup of ice into the glass. Pour watermelon mezcal mixture over the ice. Add a sprig of cilantro for garnish. Makes one cocktail.
8. Jackson Pollock's Famous Spaghetti Sauce from Dinner with Jackson Pollock
Prior to writing Dinner with Georgia O'Keeffe, Robyn Lea published Dinner with Jackson Pollock, a collection of the artist's recipes. Pollock and his wife, Lee Krasner, frequently entertained at their home in Springs, New York, hosting dinner parties for such guests as Elaine and Willem de Kooning and serving dishes crafted from freshly grown ingredients. Though Pollock didn't try spaghetti for the first time until he was 18, the dish soon became a regular on his menu.
2 tbsp olive oil
1 onion, finely chopped
1 lb pork tenderloin or pork chops, finely cut by hand
1⁄2 lb mushrooms, sliced
6 oz can tomato paste
1 can water
1 bay leaf
Salt and pepper, to taste
1 lb spaghetti
1 cup Parmesan cheese, grated, for serving                                                             
In a heavy-bottom skillet, heat the oil and brown the onion. Add meat, mushrooms, tomato paste, water, and seasonings; cover and simmer 30 minutes or until pork is tender.                                              
Meanwhile, cook spaghetti in salted boiling water 8–10 minutes; drain.                       
Toss spaghetti with sauce, and serve with cheese.
9. Andy Warhol's Campbell's Milk of Tomato Soup from The Museum of Modern Art Artists' Cookbook
In 1977, New York's Museum of Modern Art published its own cookbook—The Museum of Modern Art Artists' Cookbook by Madeleine Conway and Nancy Kirk—which offered recipes by some of the biggest names of the day, including Andy Warhol, who shared a rather appropriate recipe.
One 10¾ can of Campbell's condensed tomato soup
Two cans of milk
In a saucepan bring soup and two cans milk to a boil; stir. Serve.
Next Post