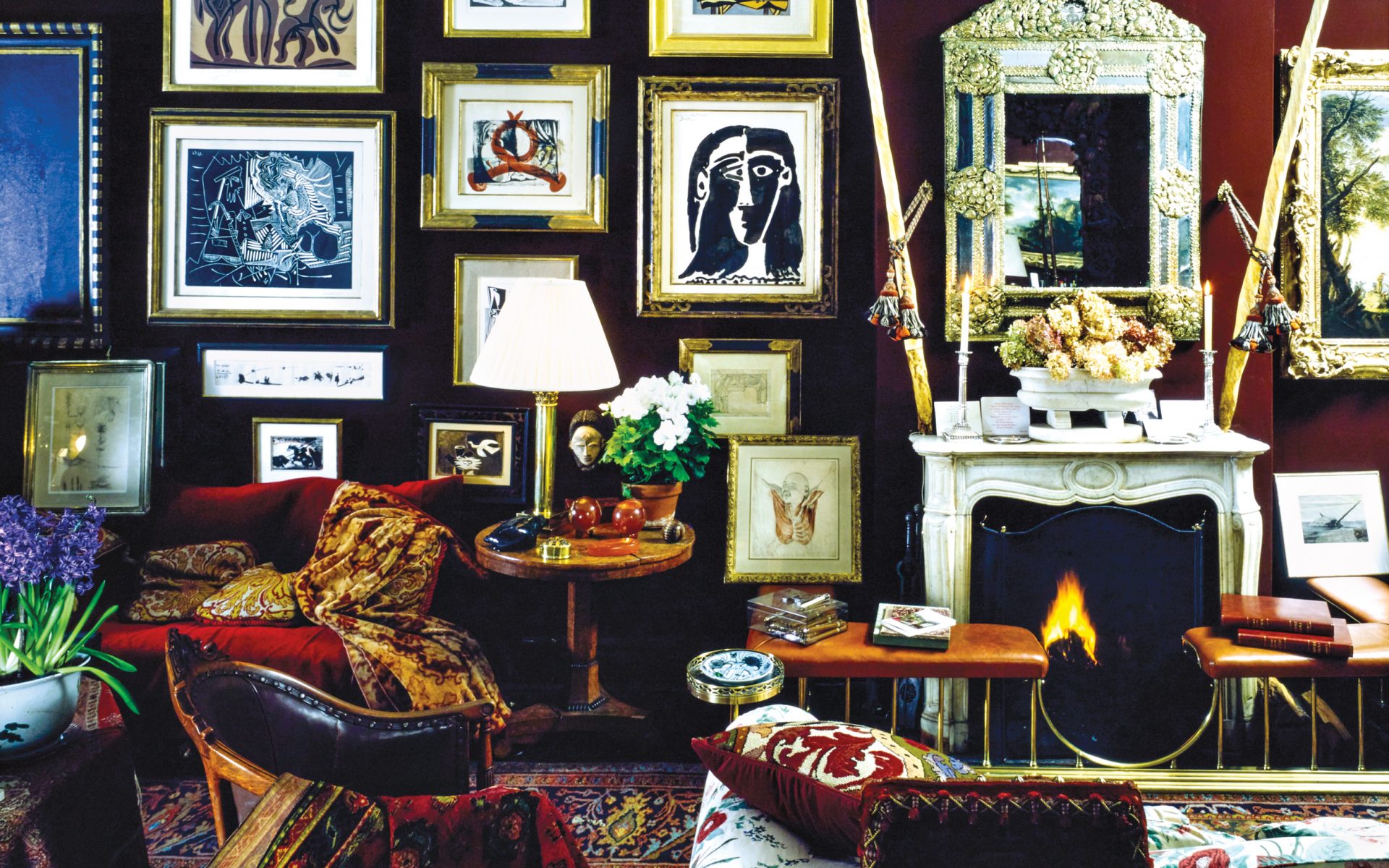 In Honor of Sir John Richardson, We Take a Look at His Most Beloved Homes
The late art historian, who died Tuesday, surrounded himself with priceless artwork, collectibles, and exquisite antiques
In the preface of his new autobiographical tome, Sir John Richardson, who died on Tuesday at 95, is quoted as saying, "The houses I've lived in have all influenced me, though obviously in different ways." The art historian continues, "But then, when I find a space, I want to improve it and change it into my way—my way of thinking."
On March 26, Rizzoli will release John Richardson: At Home, an eight-chapter look back at the places, from 1924 to the present, that Richardson has inhabited. Artfully arranged, the work spotlights his notable homes—from his early years at Stowe School in Buckingham, England, to his New York apartments. It's a fitting tribute to the noted Picasso scholar who passed away March 12, at age 95, at his home in New York.
"John wrote a memoir several years ago, but it focused on Picasso and other important persons in his life," explains writer James Reginato, who penned the book's preface. "In many ways, his new book is more intimate and personal; it's an autobiography told through all the houses that he has lived in in his 90-plus years. Most of them are long gone, but they all exist vividly in his mind and in these essays that he wrote and in the archival photos he assembled."
Recommended: See Designer Vincent Darré's Dazzling Parisian Interiors
Knighted by Queen Elizabeth II in 2012, Richardson spent his youth with a collection of colorful characters—from Francis Bacon and Geoffrey Bennison to art collector Douglas Cooper, who became a romantic partner. It was at the château he shared with Cooper near Uzès, France, that Richardson's affinity for design took shape. The couple resurrected the ancient bastide, and inside works by Joan Miró and Paul Klee hung above Provençal furniture Richardson sourced from local secondhand shops called brocantes.
There, Richardson entertained Picasso, Helena Rubinstein, and David Hockney, among other fascinating individuals. It was a salon of sorts that followed Richardson to his "set" at Albany, Piccadilly's famous apartments, and on to New York. But it wasn't just characters that gravitated from room to room—objets, too, traveled across miles and continents. An Italian Baroque mirror can be seen in a London sitting room only to reappear years later above a chimneypiece in a dining room in Manhattan. Richardson has portraits of himself done by Bennison in college and Hockney just last year. Other artworks, by Andy Warhol, Picasso, and Lucian Freud, have pride of place next to seemingly random artifacts, like a stuffed tortoise, a bust of Marcus Aurelius, or a cluster of stone eggs and ivory bangles.
"John could have been one of the best interior decorators in the world, but he laughed at the very notion of decorating," says Reginato. "For him, the process of assembling his houses was completely innate and instinctive. 'I mix things, and they galvanize each other,' he told me. He was a sorcerer that way." 
A version of this article first appeared in print in our 2019 Spring issue under the headline "House of Style." Subscribe to the magazine. 
Next Post