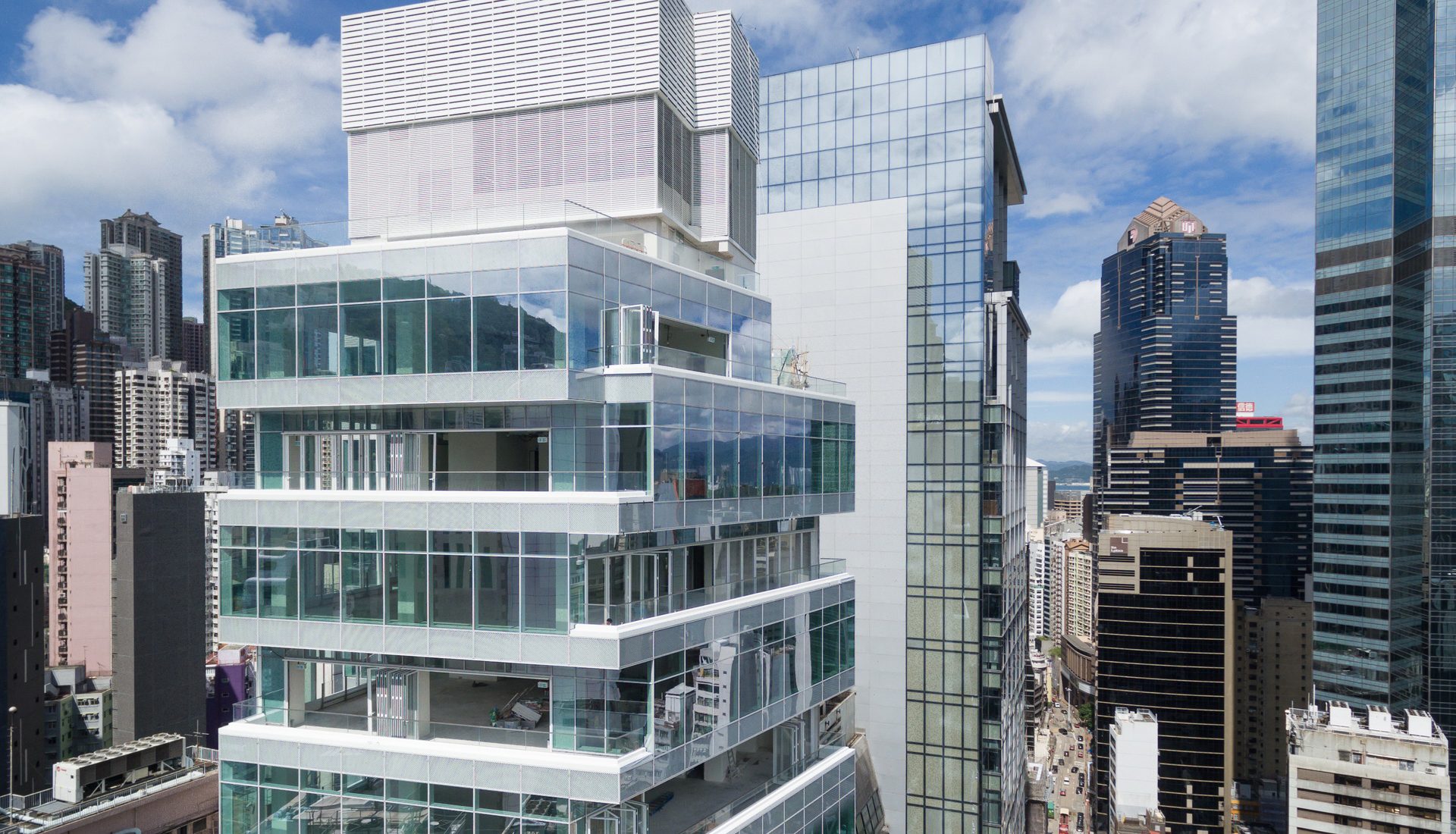 Tour Hong Kong's Latest Arts Destination H Queen's
From David Zwirner to Hauser & Wirth, international galleries are flocking to the new 24-story tower dubbed H Queen's
Hong Kong is an intensely vertical city, with slim towers stretching towards the sky and dense clusters of buildings occupying virtually every block. It's only natural, then, that the megacity's newest arts destination, unlike the rows of galleries in New York's Chelsea, would be built upwards, not out.
Enter H Queen's, a glassy new skyscraper located in the bustling central business district and designed by Hong Kong–based William Lim of CL3 Architects. At the end of March, the 24-story building welcomed seven major international galleries: David Zwirner, Galerie Ora-Ora, Hauser & Wirth, Pace Gallery, Pearl Lam Galleries, Tang Contemporary Art and Whitestone Gallery. Each operates on its own floor, except for Hauser & Wirth, David Zwirner, and Whitestone, which have their own duplexes.
"It's a purpose-built building," says Art Basel global director Marc Spiegler. "It gives galleries who had been thinking for a while about coming to Hong Kong the space they wanted. This building quality didn't exist before in central Hong Kong."
Anticipating the needs of future tenants, Lim knew he needed to tailor certain aspects for the gallerists; the glass walls, for example, allow for zero UV penetration in order to protect light-sensitive artworks. They also open completely, aiding crane delivery of large-scale works, like the suite of mammoth ceramic busts (some weighing as much as 660 pounds) by Yoshitomo Nara that were recently hoisted onto Pace's floor.
As a 21st-century endeavor, H Queen's also prioritizes sustainability and state-of-the-art technology. It's a modern-day update to its predecessor, the 1924 Pedder Building, a nearby Beaux-Arts style commercial structure that houses galleries, including Gagosian, the original Pearl Lam location, and Ben Brown Fine Arts, in storefronts connected by narrow corridors. Comparatively, H Queen's is airier and more user-friendly, with greater natural light and less physically strenuous stairwells.
The arrival of H Queen's comes amid an electrified moment in Hong Kong's artistic landscape, one fomented by the tremendous growth of Art Basel Hong Kong, a growing body of collectors throughout mainland China, and the highly-anticipated 2019 opening of the city's first major art museum, M+, designed by Herzog & de Meuron.
It's almost unrecognizable to Hauser & Wirth co-founder Iwan Wirth, who first visited Hong Kong in 1987. "Art was not at the top of the list back then," he says. Today, both of his gallery's floors are filled with new works by high-profile artist Mark Bradford. "I'm thrilled to say art is very much a culture now. We're privileged to become a part of this cultural landscape, and we're feeling humble to contribute to it." hqueens.com.hk
SaveSave
Next Post