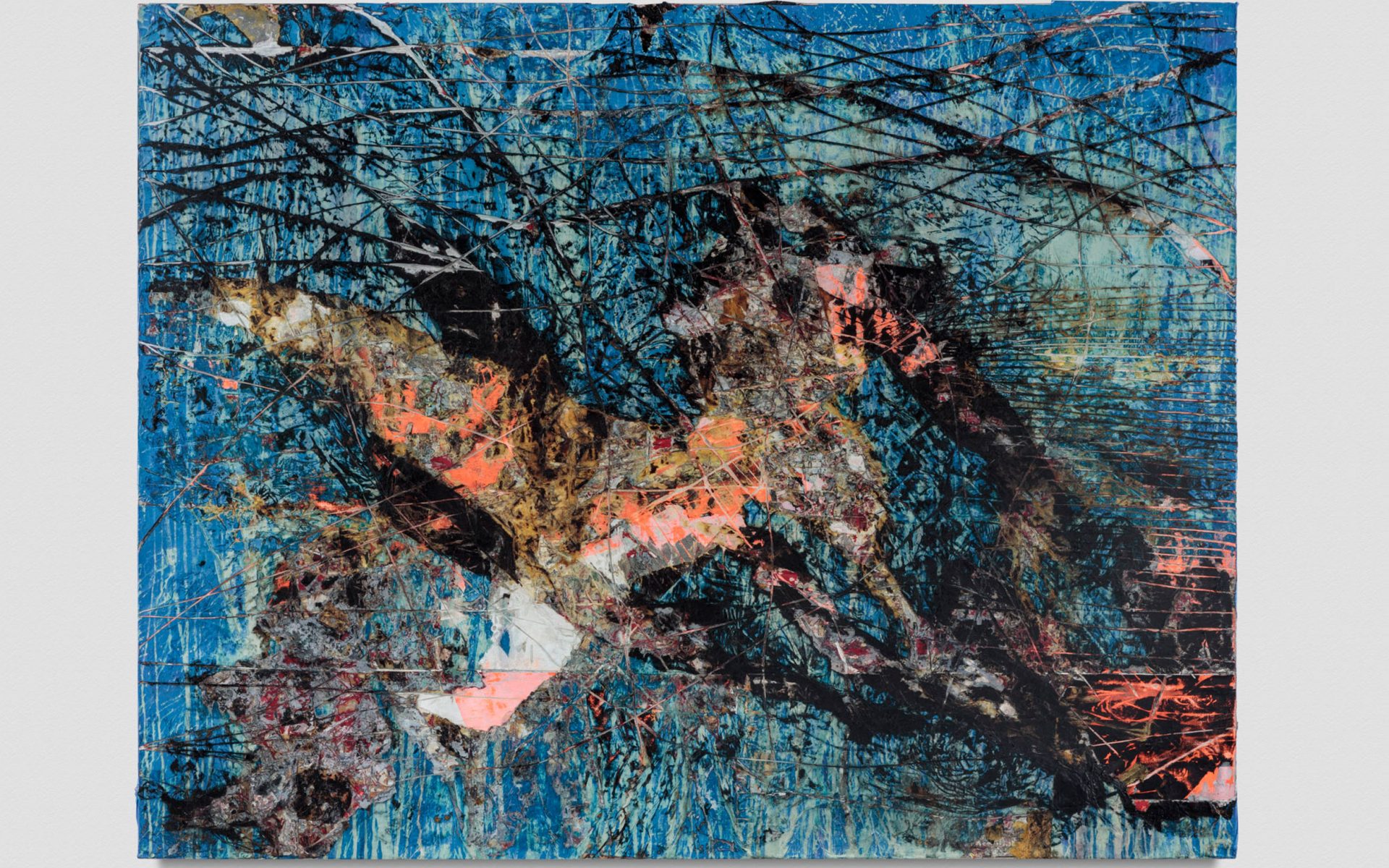 Mark Bradford Debuts Striking New Works in Los Angeles
For his first hometown exhibition in over 15 years, the artist translates the comic book universe onto the canvas
Growing up in the white enclave of 1970s Santa Monica black, gay, and six-foot-eight by age 15, artist Mark Bradford felt the pangs of isolation early on. As a child he'd retreat into the pages of comic books—Archie, Marvel, and Foxy Brown among them. As for DC, he identified less with Batman's brooding calm than with Superman's alter ego.
"Clark Kent was a nerd," Bradford said earlier this month, at the opening of Hauser & Wirth's "Mark Bradford: New Works," where comic book pages—alongside newsprint, merchant posters, and resounding sentiments of alienation—serve as the foundations of his work. Salvaged from billboards, telephone poles, and the supply drawers of beauty salons, this humble urban detritus resonates with cultural meaning and a sense of place. In Bradford's South L.A. studio, they are collaged, bleached, left to dry in the sun, sanded down with a Home Depot hand buffer, and carved into urban cartographies, some as striated grids, others into hilly terrain gouged with scar-like canyons that expose the layers of color below.
It's a "painting vocabulary," Bradford explains, "but I just use paper. It's more unforgiving."
Now 56, having traveled the world and achieved critical acclaim, Bradford emanates the charisma and magnetism of an artist who's grown comfortable in his own skin—and yet his subject matter remains devoted to communities pushed to the margins. During the 2017 Venice Biennale, he set the cancer of slavery loose on the American Pavilion, hanging an enormous tumor-like sculpture from the ceiling that pushed viewers to the edge of the room. The central rotunda was consumed by a parasitic tentacle of black and gold paper that curled itself upwards inside the hollow of its dome.
Bradford describes his practice as "social abstraction," a contradiction in terms: works absent of human figures that instead depict he crisis of the human condition. At Hauser & Wirth, "New Works" are his continued ruminations on the portrayal of black and queer people in the media. Speech bubbles are visible between the grooves on the surface, their contents lending titles to the works: "I heard you got arrested today," or "Looking at me funny." They explode in shades of red, turquoise, and pink, "action colors," as Bradford calls them.
"Comic books are a great material to use right now because everything is so drama," he says. "I'm talking about dystopian worlds, things colliding, civilization on steroids… it's a little bit like what we're living through."
Noticeably more subdued are the rhythmic striations gently pulsing through "Moody Blues for Jack Whitten," an homage to the titular painter, who died earlier this year. Bradford came across Whitten's work in search of someone like himself, a black abstract painter to look up to as a predecessor, a point in a lineage. Noting the dearth of black superheroes, both in comic books and the art world, Bradford points to the success of movies like "Wonder Woman" and "Black Panther" as a cultural turning point.
"People are hungry for different archetypes," he says, both on screen and in the gallery.
"Mark Bradford. New Works" is on view through May 20, 2018, at Hauser & Wirth in Los Angeles.
Next Post