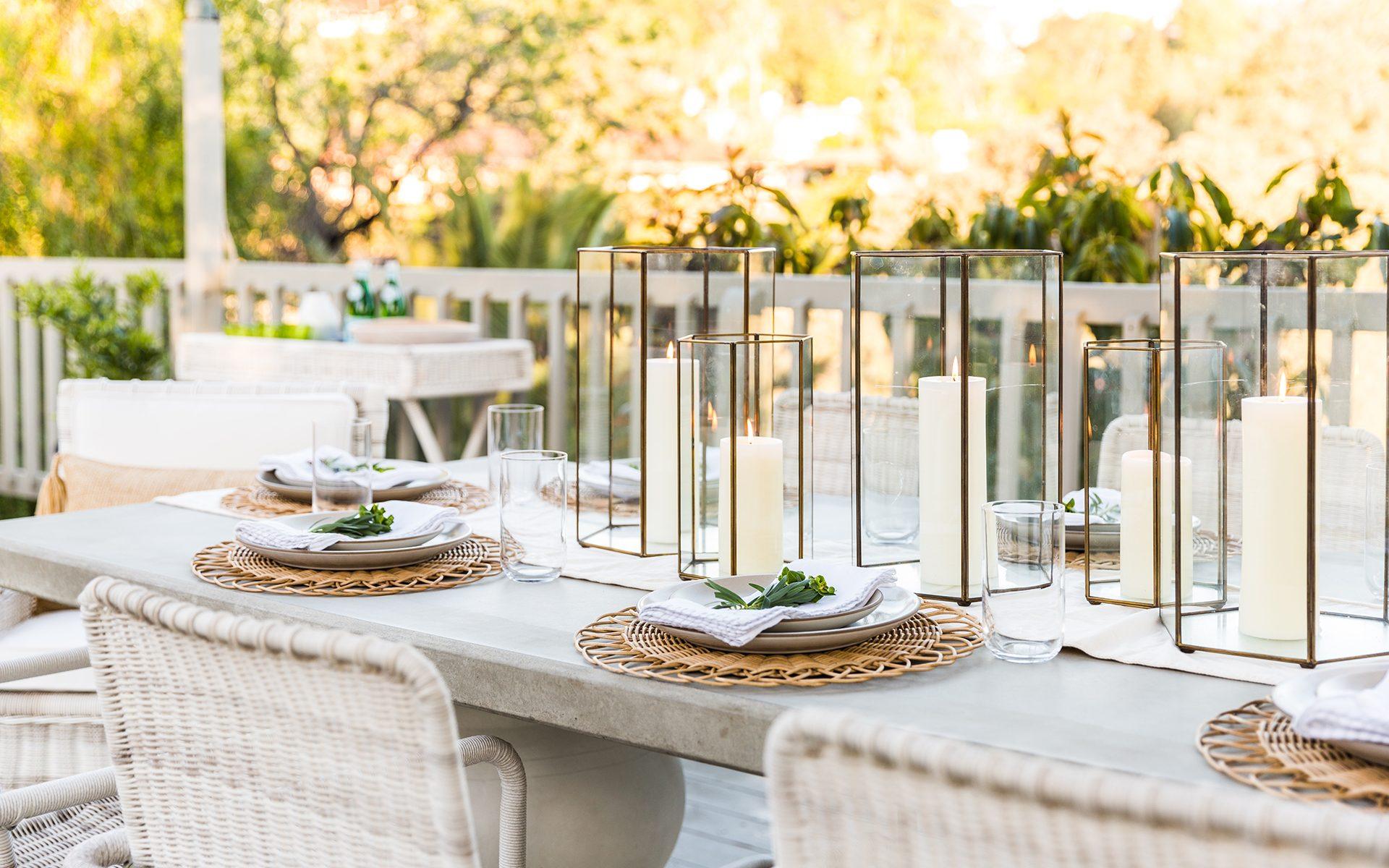 Top Designers Reveal Their Secrets to Setting the Perfect Summer Table
Richard Mishaan, Aerin Lauder, Alexa Hampton, and more talk to Galerie about creating gorgeous seasonal table settings
Entertaining looks a lot different in 2020 than it has in summers past, but that doesn't mean the most discerning hosts have abandoned all civilities. In fact, just the opposite. Given the chance to welcome a select group of friends and family, designers enjoy rolling out the proverbial red carpet and creating a vibrant, cheerful tablescape sure to elevate even the most casual backyard affair. With thoughtfully selected plates and summery flatware, creative centerpieces made from fresh-from-the-garden blooms or other interesting objects rediscovered at home, and a perfectly executed menu of seasonal fare, a meal shared in the company of others is always an event.
Here, some of the design world's top talents share photos from their own seasonal get-togethers and their suggestions for creating just the right atmosphere.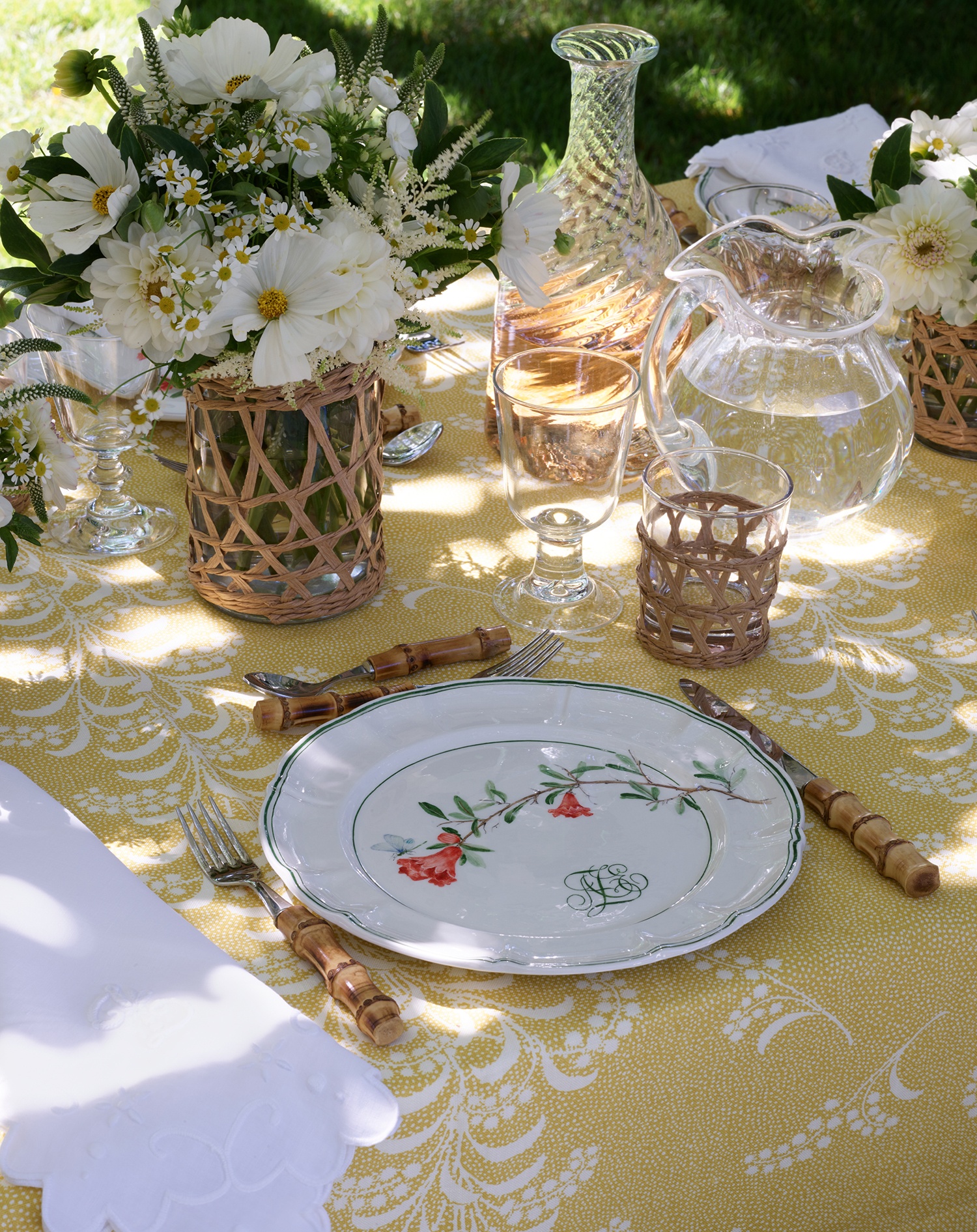 1. Aerin Lauder
"I love to mix and match. I think that different colors and textures make a table fun and interesting. My favorite part about setting a table is being able to mix new and old pieces. The tablescapes I love most include vintage pieces that have become family heirlooms, alongside newly launched pieces from the Aerin brand. However, the pieces that have been passed down to me are the most special. They hold such sentimental value, and it's an honor for me to use them in my own way. I always have fresh flowers on the table. It's important though that they are just the right height and not too tall that they interfere with conversation. I definitely pay attention to the occasion, the season, and the menu when setting a table. During the summer I will typically choose to serve something a bit lighter like paella. The table always reflects the vibe of the menu and the atmosphere."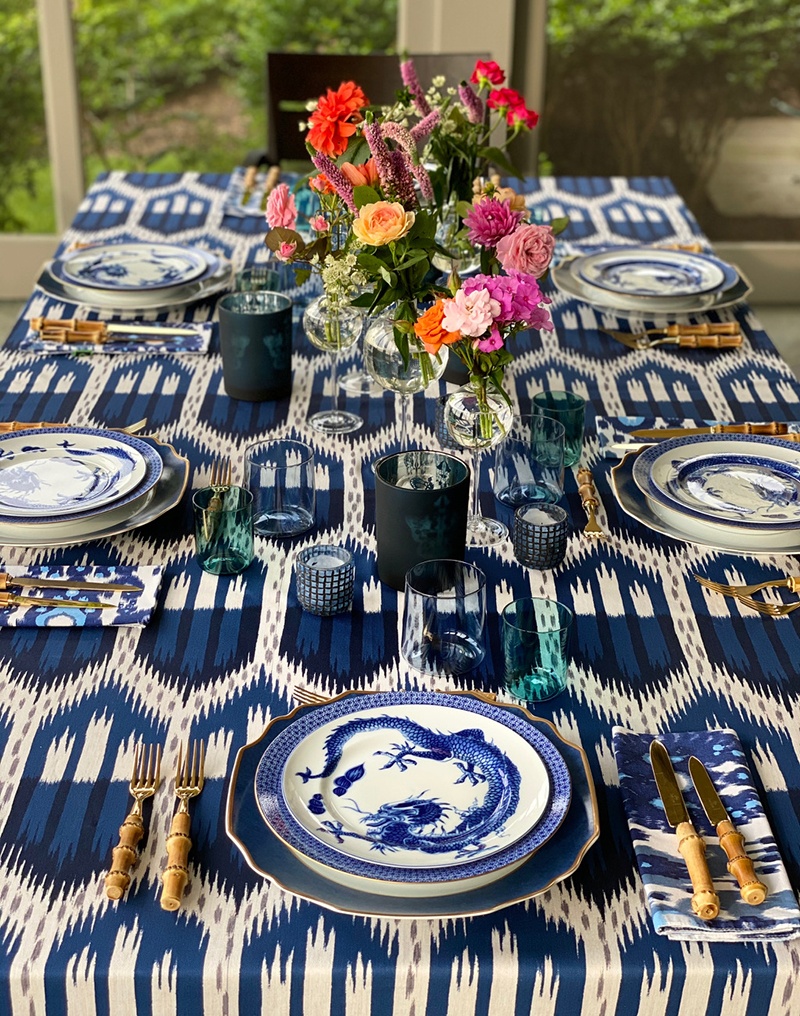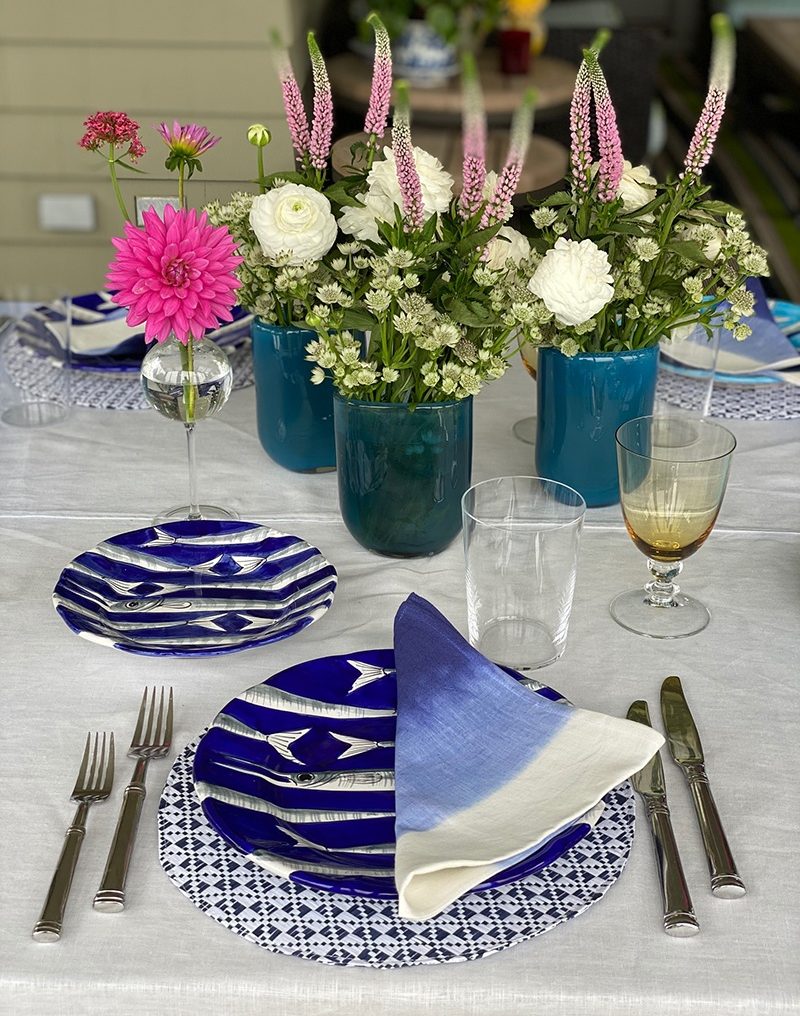 2. Richard Mishaan
"My go-to color scheme in general is blue and white. My exception is breakfast. I love color then. I love gold-trimmed plates and serving dishes. I like gold cutlery as well; that always adds sparkle and warmth. The flatware and serving pieces I love most are from Alain Saint-Joanis, which are sold at Talmaris Paris. They are the chicest thing ever. I like to have china that reflects the tone of the menu. For example, I used the Dragon china from Mottahedeh and a patterned tablecloth from Williams Sonoma. The results were casual elegant.
"Honestly I've enjoyed having smaller, intimate dinner parties this summer. The energy that ensues is intoxicating. We are not going to restaurants during quarantine so I want to make it feel as close to being out somewhere special as I can. I was in Capri at the restaurant Il Riccio and loved the plates so much I asked to buy a set. Many of our friends who love that spot and were sad not to be able to go this summer came over and I set the table with the dishes and voilà. . . . We were all at Il Riccio for the afternoon."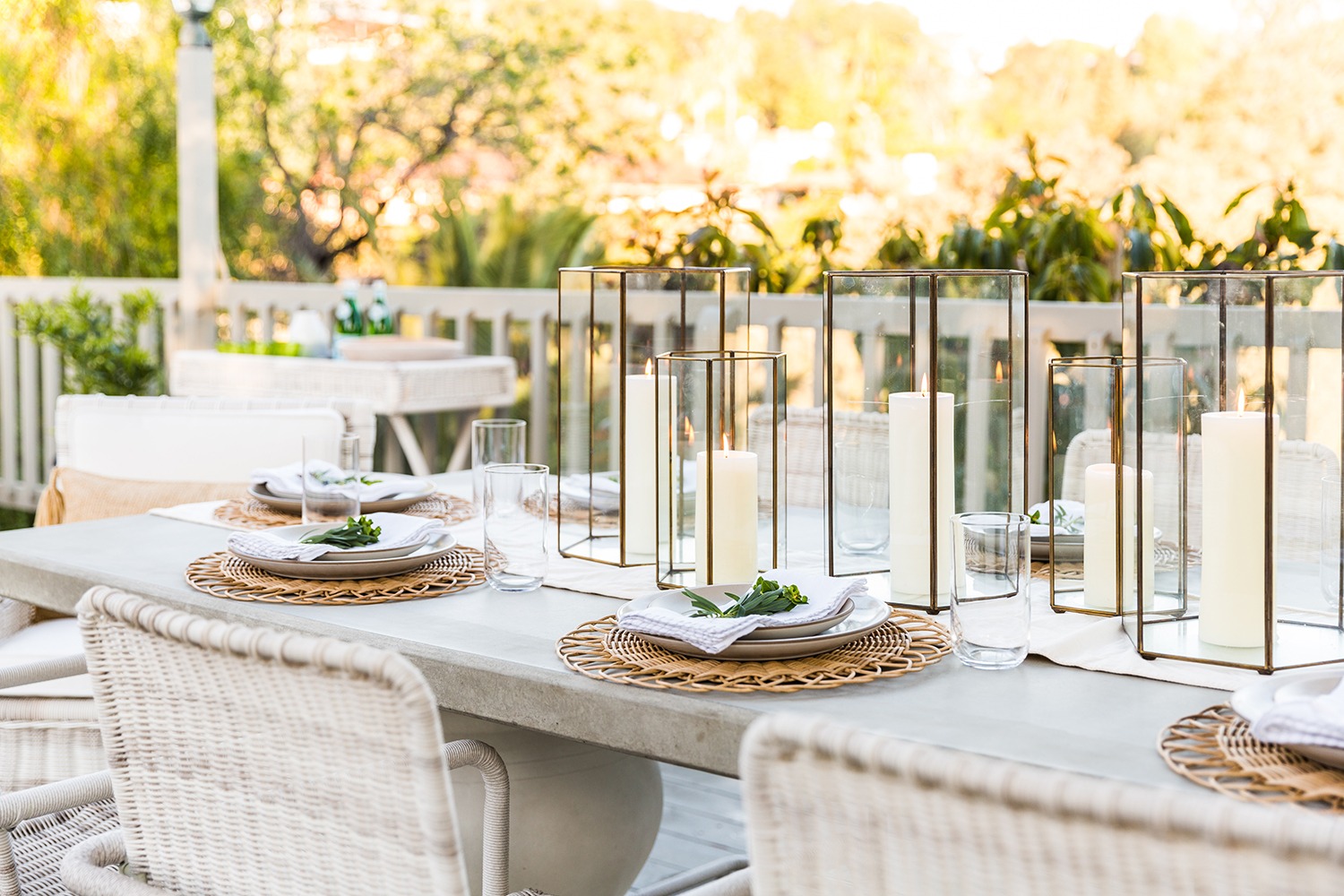 3. Marie Flanigan
"Whether it's mirroring the color scheme of a stunning floral centerpiece or incorporating natural materials like rattan and linen, my tablescapes are always inspired by nature. In the summer, I'm drawn to crisp whites and soft neutrals with pops of color like green interspersed. When planning a centerpiece, I always consider sight line. I want my guests to be able to see each other across the table! If utilizing florals, I tend to go for one central, statement-making arrangement or a few smaller bouquets. I also love the ethereal beauty of candles lining the center of the table for an evening soiree. I let the structure of the meal dictate what tableware to incorporate and how much space I have for centerpieces and decor. A plated or buffet-style menu allows for ample accoutrement, but a family-style meal means much of the table will be filled with serving dishes. I've been lucky to have my parents and in-laws on my family's 'quaran-team,' so I cannot wait to host a few of my best friends for brunch when the pandemic is finally behind us. Bring on the girl talk!"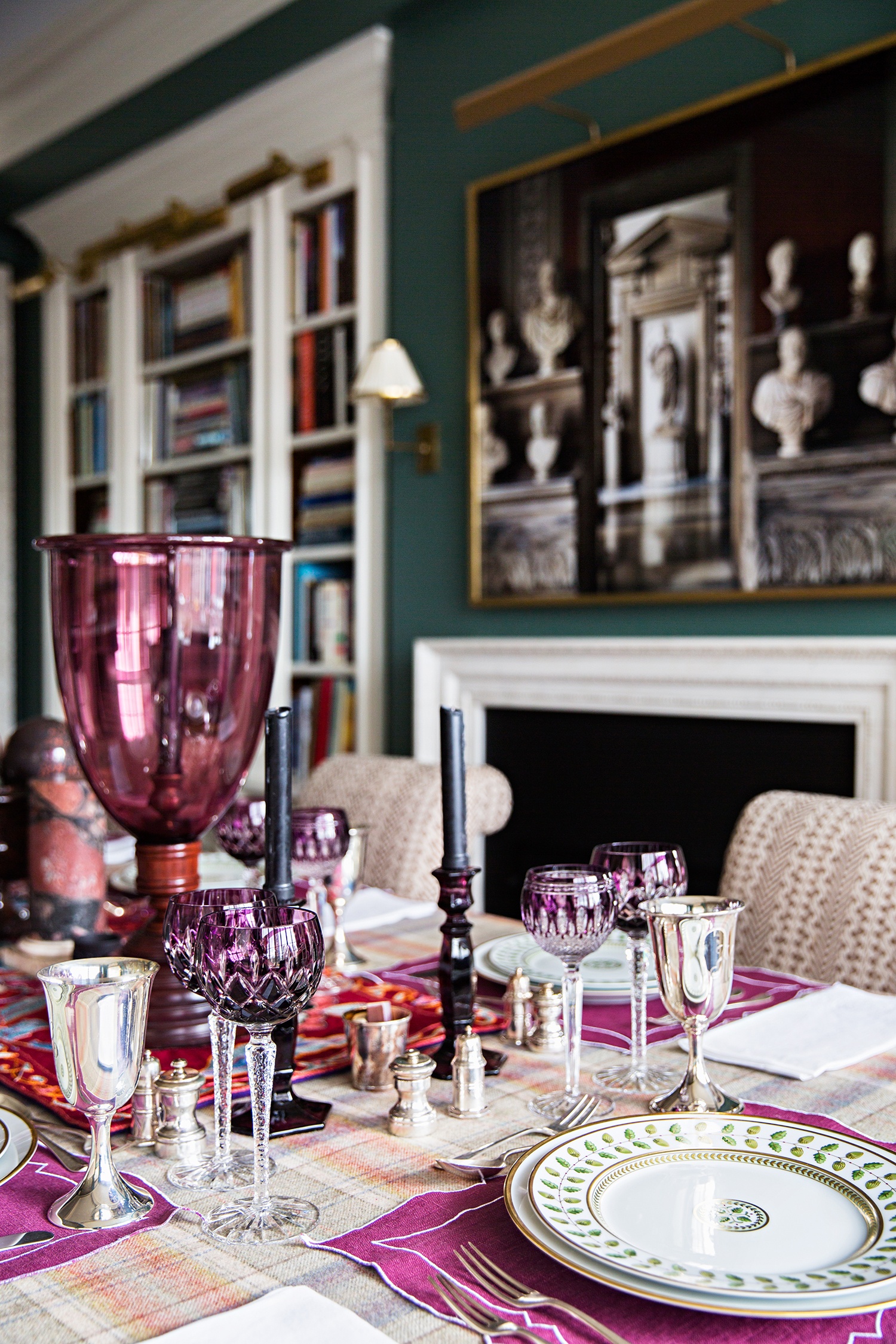 4. Alexa Hampton
"I have the Parentesi linen place mats and napkins from La Gallina Matta in Rome in shocking pink and lavender. I alternate the colors per place setting, and it's just happy making. Then everything else on my table is blue and white. For a centerpiece, we'll do fresh flowers or this sculptural bowl of white plaster fruit that comes out pretty often. Then, of course, there are candles everywhere—including the faux flame ones; they're A-OK by me. When we're in the Hamptons, we do the full 'Hamptons' so mozzarella, tomato, and avocado with olive oil and a heap of basil; steak, salad, and corn my husband cooks on the grill wrapped in foil with butter. Then I drink red wine on ice. My favorite thing to do when I'm entertaining is to for every seat to get its own salt and pepper. It feels indulgent, then no one is sitting 'below the salt,' which in olden times is how you denoted your less valuable guest."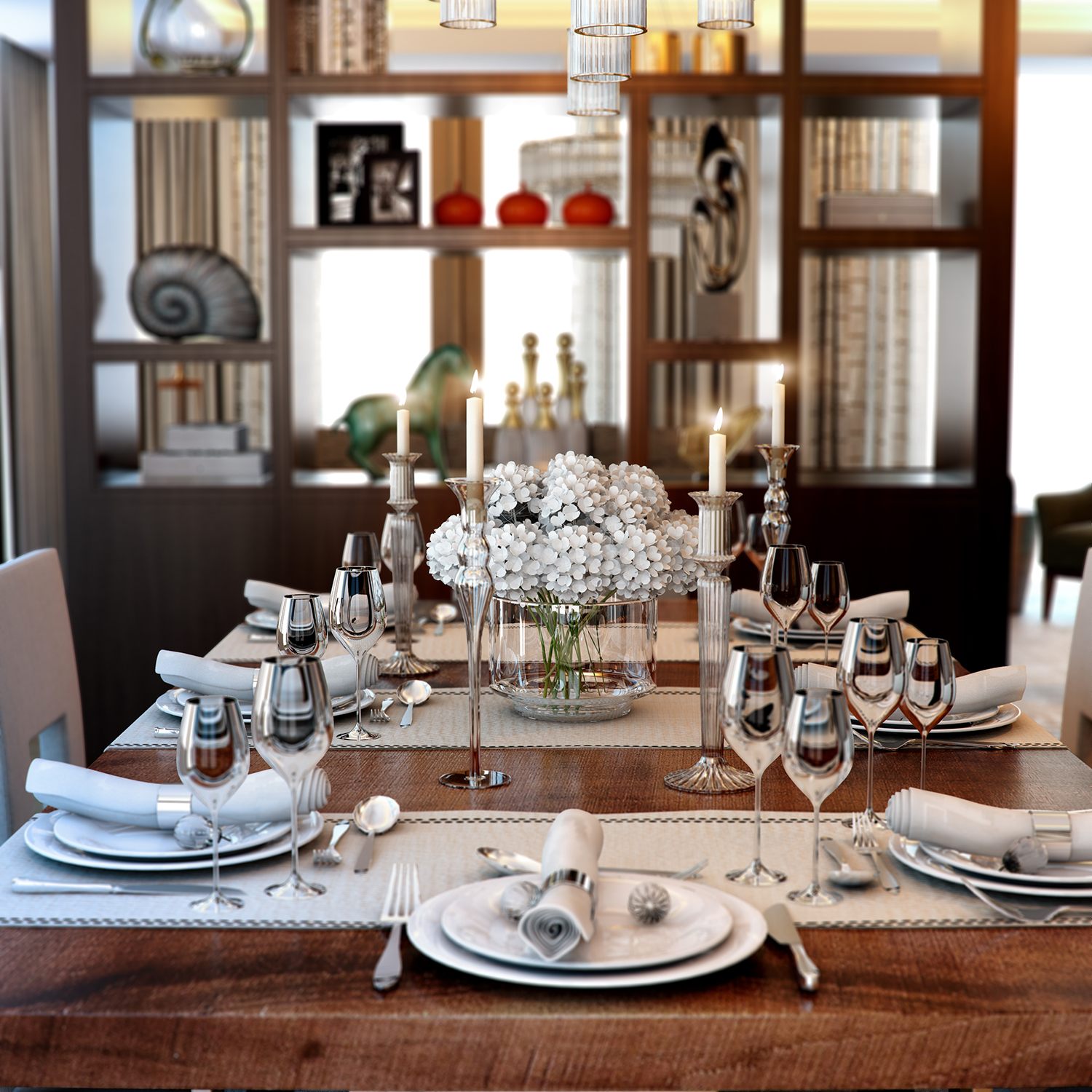 5. Jo Littlefair
"I think it's really important to present food as beautifully as possible, and selecting the right tableware is key to that. I personally stick to having a great set of basic white, contemporary porcelain plates in a few different shapes and sizes. I also collect pieces from my travels and love to include them on the table as reminders of the beautiful countries we have visited. I have a white china plate from Provence, France, which I serve summer cakes on. The wide border is decorated with the imprint of flowers, and you can see the handmade irregularities of the piece under the white glaze.
"I do think that vibrant, spicy food on an almost-black plate can be visually stunning while a mini copper pan containing an individual portion of a rich dish like a saffron-laced risotto could be a decadent surprise. You don't always have to be so formal—it's great to bring a smile to your guests' faces by serving lemon possets in vintage china teacups with shortbread on the side. We created an outdoor fireplace when we were restoring our house, and we can't wait to invite friends over to share an evening cooking up a South African feast. We had to cancel our planned holiday there this year for obvious reasons, but we can still try and re-create some of that ambiance from home."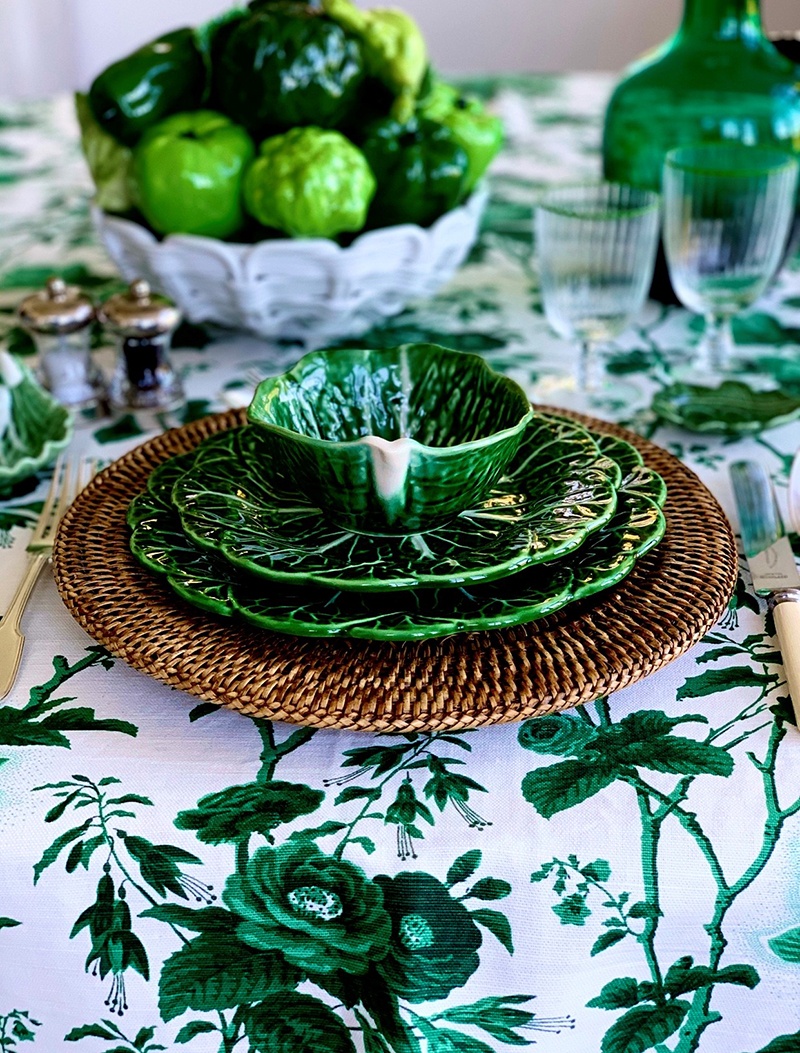 6. Philip Vergeylen
"I like mixing and matching and lately prefer patterned tablecloths rather than plain. My favorite china is 18th-century Tournai porcelain. During the summer I also love the bamboo handles of the Tahiti silverware from Buccellati. I choose tableware depending on the mood I want to create but also the color of the food served. With the centerpiece, I think you can be really creative, from the obvious flowers to silver fruit baskets to any decorative object. For dinner I like to use lots of candles. I would love to host a large casual country lunch for all my friends with the sun shining, lots of yummy food, and rosé!"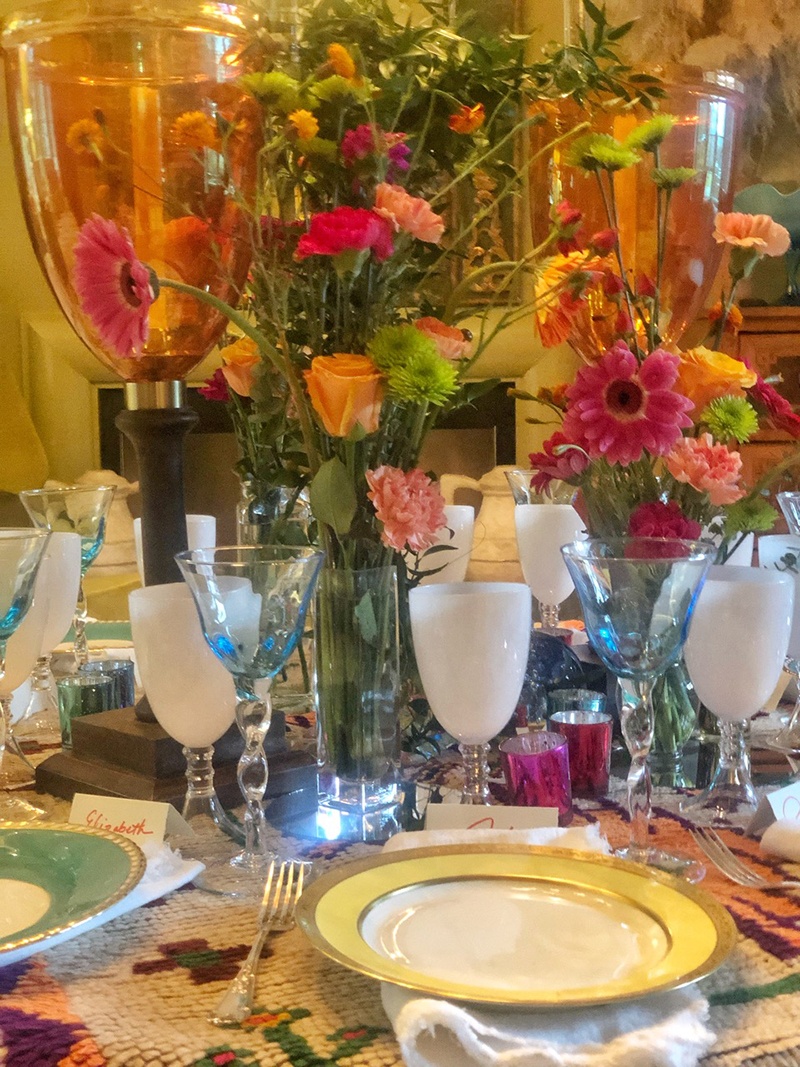 7. Janie Molster
"All shades of pink and coral work well in my pink-themed dining room. I have a collection of blue opaline stemware that I love to mix with yellow-rimmed dinner plates and white flowers. Right now I'm drawn to seasonal dahlias and zinnias, which mix well with bolder textiles like suzanis and vintage quilts, bamboo-handled flatware, and my favorite amber glass hurricanes. I'm currently obsessed with antique and vintage floral patterns. The allover designs are fun, but the plates with a colored rim and a flower in the center are easy to mix with like-minded patterns. And I've never met a white creamware serving dish I didn't love. Previously, I hosted a Moroccan dinner that was a great success—sitting on the floor on poufs and pillows sparked a wonderful sense of intimacy and conviviality. I miss hosting relaxing, boozy Sunday brunches; I encourage guests to cancel their afternoon plans and linger."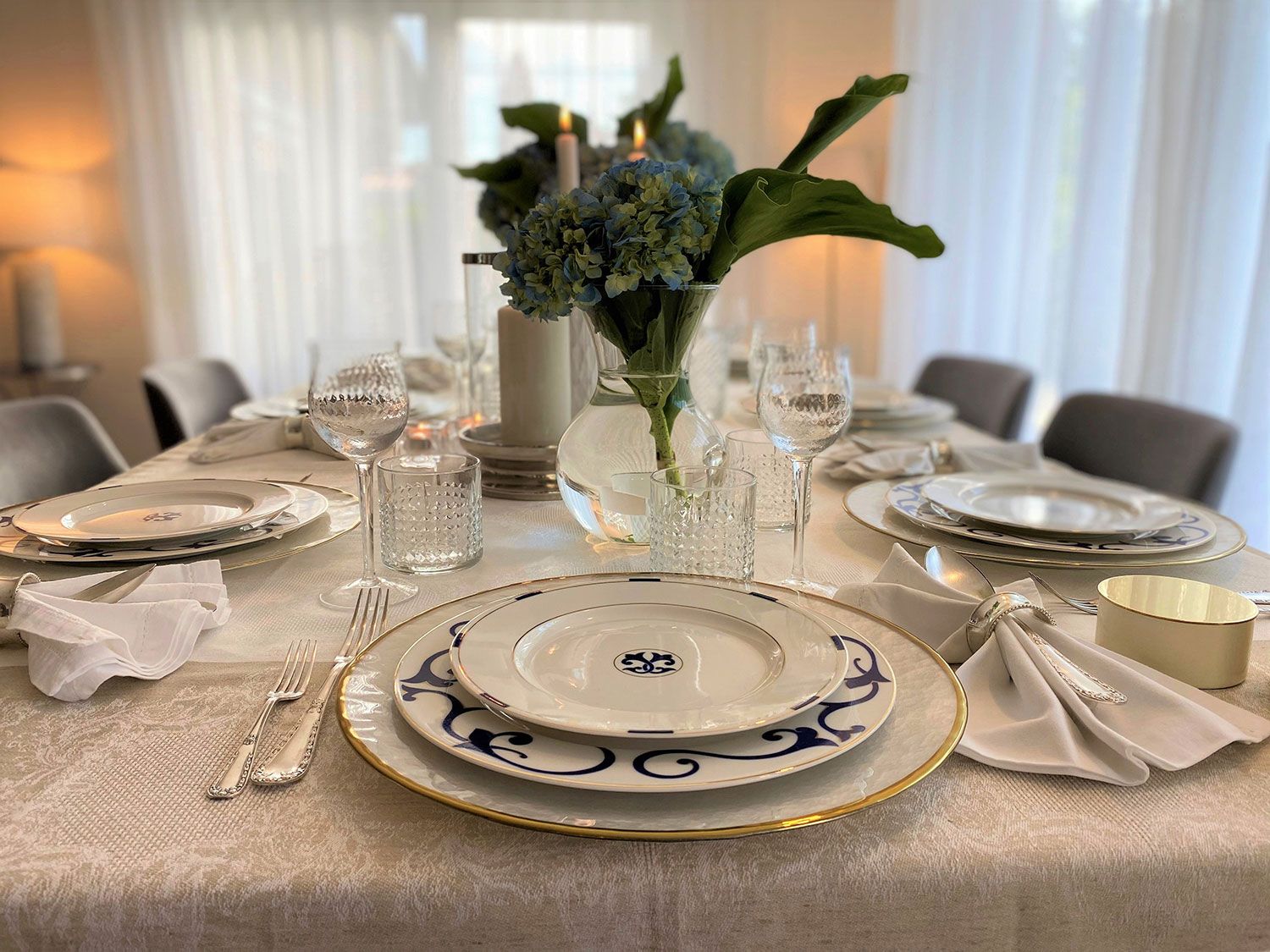 8. Rita Chraibi
"It is very important for me that a dinner table is presented in the most sophisticated way with the utmost elegance and refinement. For this particular evening, I chose the Limoges porcelain from DeGrennes; the blue dishes with a gold border and placed delicately on pure mother-of-pearl trivets captured the French spirit of art de la table! The silver adds to the sophistication and luxury of this summer table. All the decorative elements, such as the Lalique vases and candlesticks, help perfect this atmosphere of elegance and sophistication, but they're nuanced without being too much. A tablecloth from Yves Delormes with nude and ecru embroidery recall the freshness of summer."
9. Karen Williams
"Although I tend to go to taupe, bone, and white with black accents for interiors, outside I believe in embracing bright and powerful colors. Nature is a great backdrop, with blue skies and greenery. A table setting should be happy and lively, nothing too structured. I like to say, 'Make it look random,' but it's not random at all. I love the hand-painted dishes from Solimene in Positano, Italy, I purchased for my children when they were young; everyone has a favorite color and animal. When I do an all-white tablescape, Pillivuyt from France is my go-to. The beautiful white porcelain platters, pitchers, serving pieces, and accessories are the perfect brunch table setting. They can go from the oven to the table, so there's no replating frittatas or soufflés. My simple rules for centerpieces is low enough to talk over, organic in shape, use different flowers that are in season, and consider putting several smaller ones on the table that randomly run down the center. I love entertaining and want it to be fun; I try not to overthink it."
Next Post