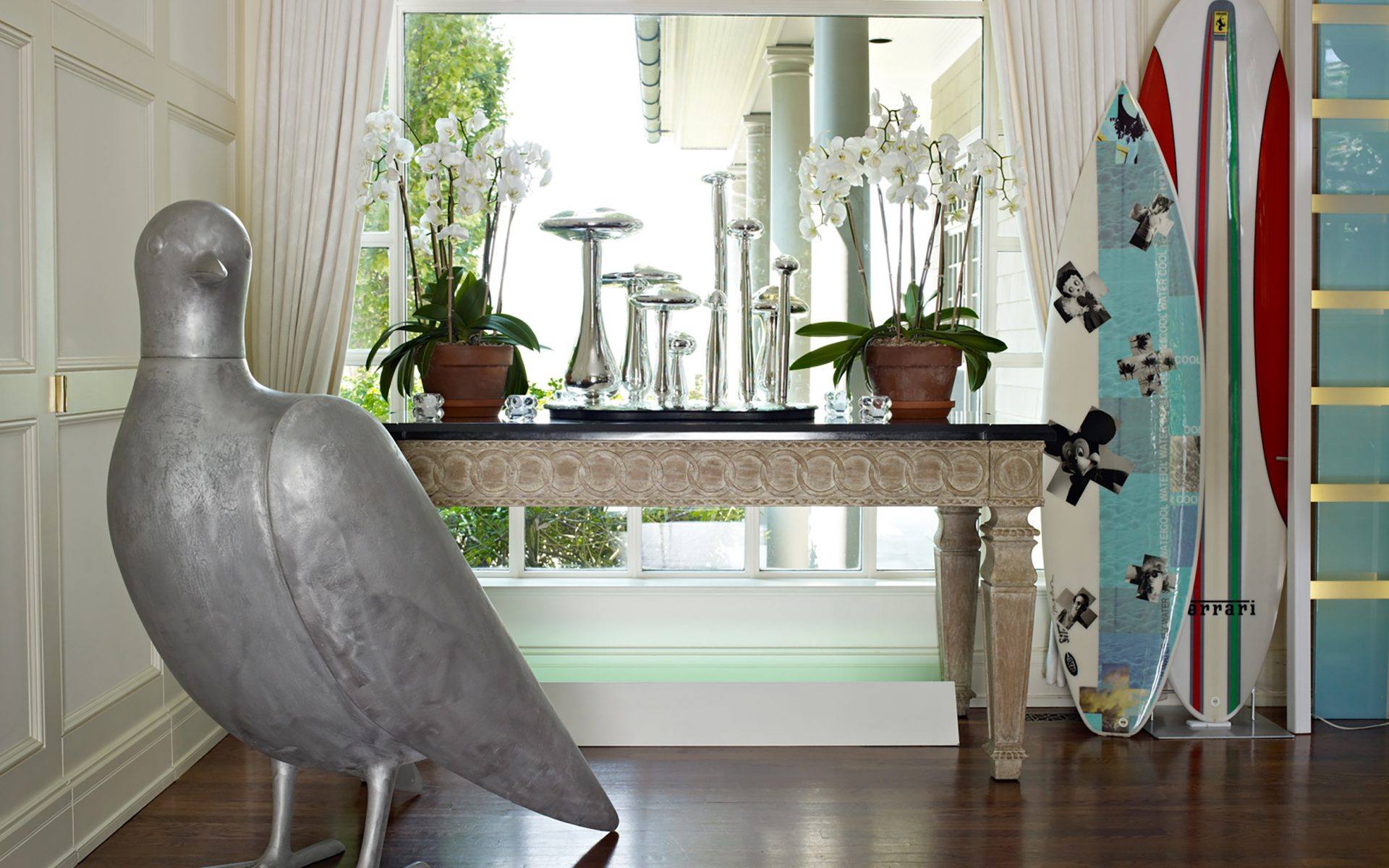 Why Designer Richard Mishaan Loves His Ever-Evolving Hamptons House More Than Ever
Working from his glamorous Sagaponack library hasn't stopped the New York–based designer from setting the perfect dinner table or smiling at the Lalanne sheep
With over 25 years in the design business, Richard Mishaan knows what he likes. The interiors he creates, especially the ones he conjures for himself, pack a punch with bold mixes of art and design, periods and styles. When taken as a whole his spaces create a sense of warmth, intelligence, and integrity all seen through his keen collector's eye.
Now he's spent over two months in the Sagaponack, New York, home he shares with his wife, Marcia, and their two children. It's the longest stretch he's ever stayed there—and he's become adept at continuing to run his design business while cooking adventurous dinners and setting the table with his discerning touch. Here, he shares how his Hamptons home continues to bring him and his family joy.
My house in Sagaponack is surrounded by working farms. When I look out the window, I can see my neighbor out on her tractor tilling her soil. We designed and built the house over 20 years ago and based it on a Shingle-style house with a slanted roof we had seen in the area.
The interiors are quite eclectic, having been added to over time, and are therefore hard to define as one thing. It's quite laid-back and comfortable, although I'll admit that my version of laid-back isn't what others would consider. One thing it definitely is, is constantly evolving.
The place is filled with artwork and collectible furniture I have amassed over many years. When we first built the house, I purchased a set of 15th-century Gothic windows that were donated to the Tacoma Museum in Washington by William Randolph Hearst at auction from Butterfield and Butterfield in San Francisco. At that time, I thought the dining room's theme should be Gothic. Then, a year later, I bought two Tony Duquette twig chandeliers at auction that had been in the Palazzo Brandolini when Dodi Rozenkrantz had lived there. Fast-forward to an estate sale of more Duquette pieces I had at Homer, a shop I owned at the time, when I purchased a shell-encrusted mirror and console that were added to that room. So, in short, many rooms in the house have followed this same trajectory and changed over time with the layering of many styles.
I have favorite pieces throughout the house—there's a Swedish 18th-century oven that was my grandmother's that is in the entry foyer and makes for the perfect visual treat and conversation starter. I have three concrete Lalanne sheep I fell in love with 25 years ago at the Jean Gabriel Mitterrand Gallery in Paris. They've moved around the house and garden and never failed to make me smile. I love the whimsical Mattia Bonetti bubblegum side table that flanks the living room sofa. It really adds to what's so unexpected about the mix of things in the house. Plus, we have a collection of vintage and art surfboards throughout the house that give the space a sense of levity and add to the cool factor.
We're usually just here during the summer months, although we like to think of it as a year-round house but have never spent as long a period of time here as we have now. I'm enjoying how much roomier it is than a cramped city apartment. When we're usually here, we're never inside this much. Each one of us has claimed their space—my son is in law school and daughter in the last semester of undergrad. The library is my work space. It ordinarily is where we have cocktails in the evening and has a gold-leafed ceiling and leopard rug. The desk I am at has only ever been used to write a thank you note before this. I took a large tray and a side table and have my excess work items on it. At the end of the day I tuck the tray under the desk, so I don't have to look at the mess.
The kitchen is my joy and my new hobby. I have been cooking five out of seven nights and have bought more things from Williams Sonoma than I can tell you. I had never paid attention to most of what is required to prepare food. I have therefore reorganized all the cabinets and what is in each of them; our drawers were not organized in as specific a way as they are now. It actually helped me with my current projects in creating storage spaces in kitchens I'm designing, and I find that clients almost overnight have a newfound appreciation for this as well.
Our dining room is for 12 to 24 people, so it's too large for just the four of us to eat. Instead, it's become the shipping and receiving department as well as health control center. There is a tray with face masks, Purell, and gloves. Next to it is a tray with box cutters, alcohol spray bottles, and paper towels for wipe down. So we've been eating in the kitchen at the dining nook at every meal. It's been too cold to eat in the screened porch, where we usually eat during the summer, so our joke is that soon we will be able to dine out—meaning we will go out to the porch for dinner. I also obviously love to set the table and have been using all our china, from Ginori to Pearl River Mart, and have bought new place mats from Chilewich and Kim Seybert.
Board games are a huge joy and way of relating to those you are with, but we don't have a real gaming table—so that's on the list of things we need to change. A workout pavilion is on our list of improvements as well, but until then guest bedroom is working for online classes as well as long walks.
It's been a challenge and a luxury to be here. When this is over, it's going to be so hard to go back to the pace we used to be. We used to come out here for periods of time in the summer, but there was this joke about all the ladies that came out here and that the first week back in September they'll cut your head because it's hard to readjust. This is going to change everything in how we want to live our lives even in small spaces in New York. What it has done is set me thinking about making changes to our city apartment, but that's a different story.
Next Post