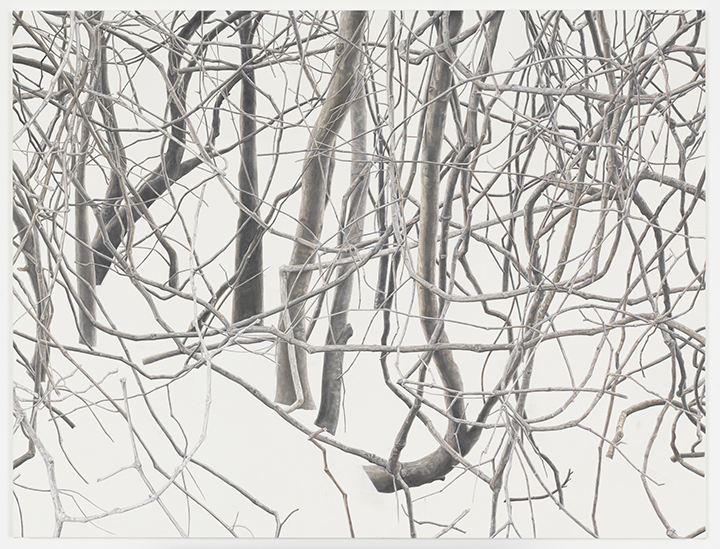 Toba Khedoori's Mesmerizing Artwork on Display in Miami
An overdue survey of the Iraqi-Australian artist celebrates her precise, elegant, and enigmatic style
There are a number of striking things about the blockbuster show of Toba Khedoori's work at the Pérez Art Museum in Miami, and only one of them is her precise, elegant, and enigmatic art.
The first is how the exhibition flouts art-world convention and unwinds backwards, starting with her most recent works before revealing the larger-scale 1990s works that initially made her famous. Then there is the provenance: While Kheedori may not be a household name, she has a cult following in the art world. "The collection of Jeffrey Deitch," reads one artwork's wall text, citing the patronage of superstar dealer and one of the art world's top talent-spotters. "Courtesy of David Zwirner," reads another. She also has work in major museum collections: the Walker, Whitney, Hirschhorn, MoMA, Pompidou, and all three L.A. art museums (the Broad, LACMA, and LA MoCA).
So, what merits Khedoori's popularity? Right out of the gate, and out of UCLA in 1994, she had an instantly recognizable style. Her skilled draftsmanship of colossal architectural images on wax-lined paper drew raves in the 1990s for their precise-yet-handmade, labored-yet-elegant qualities.
Khedoori, born to Iraqi parents in Australia, and now working in California is "an artist of the world," explains exhibition curator and PAMM director Franklin Sirmans. He also applauds the artist's rigorous practice, along with her "surrealist wit and appreciation for magic of the everyday."
Now, the non-narrative artist has turned her attention to the body for the first time. A recent series on display depicts lifelike, beautifully rendered hands reaching out—almost welcoming the visitor to the gallery. And she is increasingly swapping out her huge drawings for small oil-on-canvas, while keeping much of the same delicate mood.
A version of the exhibition was on display at LACMA earlier this year, also curated by Sirmans, who relocated from his position as the head of contemporary art at the L.A. institution to the Miami job in the fall of 2015.
Sirmans' relocation is just one of the more recent developments in a bid by Miami museums to break into a different weight class. The Pérez reopened in its glamorous new Herzog & de Meuron building off Biscayne Bay just four years ago. The Bass reopens after an extensive renovation this October with solo shows by Ugo Rondinone followed by Mika Rottenberg. In December, the Institute for Contemporary Art, helmed by Ellen Salpeter and Alex Gartenfeld, veterans of the Jewish Museum in New York, and of MoCA North Miami, respectively, opens in the Design District.
As for the Khedoori survey, it's a strikingly different, meditative exhibition. And in an art world too often filled with fads and fuss, Khedoori's calm, exacting aesthetic is a breath of fresh air.
"Toba Khedoori" is on view at the Pérez Art Museum through September 24. pamm.org  
Next Post