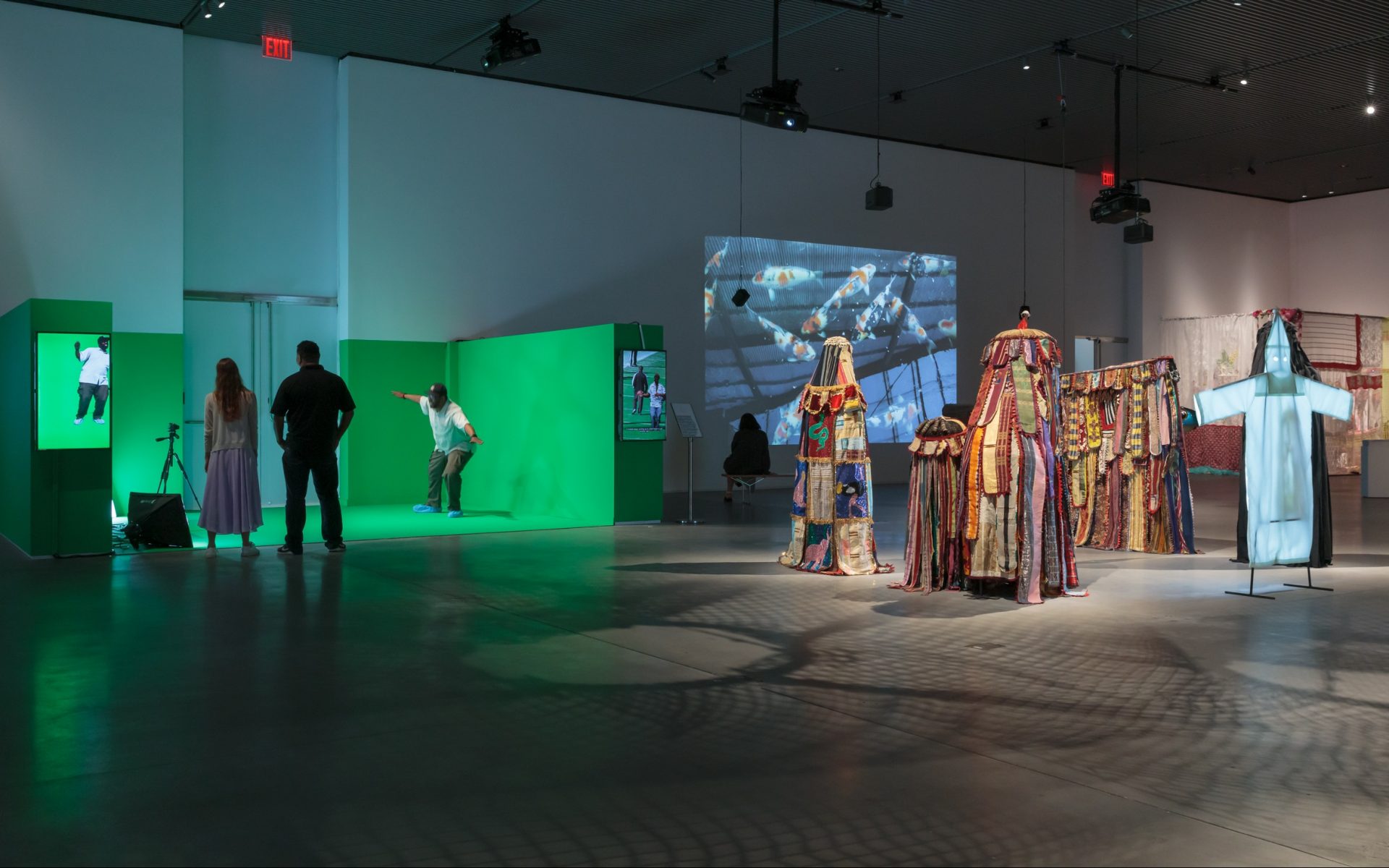 Three Curators Pick Highlights from The Shed's Emerging Artist Exhibition 'Open Call'
We asked Eugenie Tsai, Sophia Maria Lucas, and Jenny Gerow for their selections from the second stage of the program
Since its unveiling on April 5, 2019, the Hudson Yards's Diller Scofidio+Renfro–designed cultural center The Shed has been unfolding its commissioning and programming initiative titled Open Call, in which it is introducing 52 New York–based emerging artists and collectives across several exhibitions this summer. For the second stage of the project, which was unveiled in June and is on view through August 25, the work of 22 artists and collectives is displayed in the Level 2 Gallery.
To help navigate the presentation, we asked three curators from New York art institutions to each select one highlight from the second stage of the project.
Sophia Marisa Lucas, Assistant Curator at Queens Museum: Analisa Teachworth
Multimedia artist Analisa Teachworth once repurposed one of the largest commercial billboards in Detroit to screen a video (which she sourced online) of a woman plunging into water. Another time, she staged a performance that included three goats at MoMA PS1's VW Dome on the future of genetic technologies. For her presentation at The Shed, The Tribute Pallet, the artist brings her interest in sensory stimulation to full force, enclosing the viewer in a shack in which  candies on a table are available to stimulate the taste buds.
Recommended: Video: Take a Look at The Shed, the Highly Anticipated New Performance Space in Hudson Yards
Similar to Kara Walker's 2014 Domino Sugar Factory installation, A Subtlety, Teachworth's presentation explores sugar's warped history, problematized with issues of labor, race, consumption, and even health, in the U.S. Not unlike the artist's former mixed-media installations, a projection of human figures activate and haunt the installation, singing a hymn for the past and possible future.
"It was among the most successful of the immersive installations combining video and sculptural form," says Sophia Marisa Lucas about the work's influence, "and offered a compelling, visceral reflection on the trajectory of capitalism."
Eugenie Tsai, John and Barbara Vogelstein Senior Curator, Contemporary Art, Brooklyn Museum: daaPo Reo
According to artist daàPo reo, he might be referred to as an "author of vivid imageries and substances," a "video artist," or a "couturier and a master tailor." For proof of his multifaceted practice, visit his installation UYE'N KEGBE KEGBE, POSSESSION OF STOLEN GODS, which intertwines elements of textile, performance, film, and sculpture for a monumental statement on history and remembrance.
Recommended: 6 Must-See Artists Showing at Condo New York 2019
Eugenie Tsai notes similarities between the installation's reproductions of Yorùba Egùngùn masquerade dance costumes (mainly from Nigeria and Benin) and one currently on view at the Brooklyn Museum, adding that "the projection of footage of Egùngùn masked figures onto a white Klux Klux Klan robe made for a great juxtaposition, visually and conceptually." The contrast of colors, forms, histories, and beliefs the Brooklyn-based artist mashes together is an arresting statement on perseverance and joy against all odds.
Jenny Gerow, Assistant Curator, BRIC: Farideh Sakhaeifar
This "Open Call" exhibition is not short on multimedia installations absorbing viewers into historic moments that have remained on the periphery of mainstream collective memory. Tehran-born artist Farideh Sakhaeifar's installation, Mute, is one example. The work conveys the terror and consequences of Saddam Hussein's March 16, 1988, chemical attack on the Kurds of Halabja in Iraqi Kurdistan, which was supported by Western allies at the time, including the U.S.
The artist's use of dance strives to capture the physical and mental trauma of the massacre through fluid movement. The choreography is blended with projections of archival footage on a clear architectural structure whose plastic surfaces surround the viewer, turning opaque when lighted, unveiling, according to Jenny Gerow, "how the haunting presence of these brutal attacks persist even when not visually present."
"Open Call: Group 2" is on view at The Shed through August 25, 2019.
Next Post