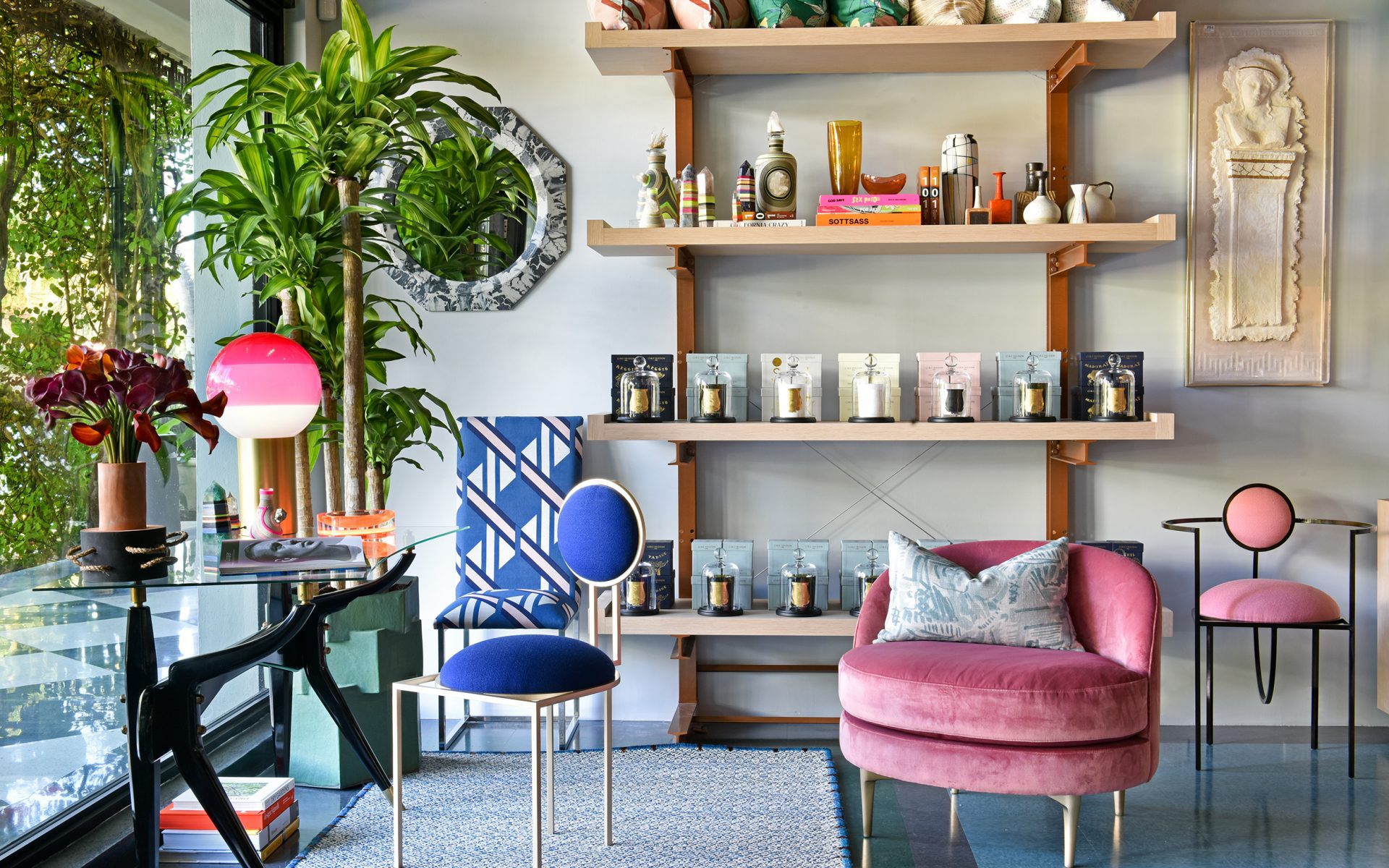 Get a Virtual World Tour with These 6 Design Treasures
The Grand Tour, a must-visit new Palm Beach boutique, is tapping designers from around the world
Palm Beach certainly has no shortage of design inspiration. The latest entrant to the scene is The Grand Tour, a dreamy shop of ever-changing antiques, artisanal furnishings, and sumptuous textiles that infuses the South Florida island with a little edge and worldly eclecticism.
Presiding over the boutique is interior designer Caroline Rafferty and her mother, Julie Fisher Cummings, both of whom developed their love of the decorative arts at their shared alma mater, Michigan's storied prep school Cranbrook.
"The campus featured textiles by Loja Saarinen and furniture by Eliel and Eero Saarinen," recalls Rafferty. "Being surrounded by the works of so many famous architects like Albert Kahn, Steven Holl, and others had a profound effect on me from such an early age."
The store's name pays homage to the 17th- and 18th-century tradition of European nobility traveling around the globe in search of literary works, art, and artifacts. Likewise, traveling from a young age provided Rafferty with invaluable design references.
"I remember staying at Claridge's in London and being really impressed by the detail and formality of the space. When I was 13, I went to Egypt and remember being fascinated by how things were built."
Recommended: See Donald Robertson's Artwork at the Redesigned Surf Club Restaurant
Below, Rafferty tells us about a few of her favorite treasures from the shop to give us a taste of the global experiences that are behind them.
1. Glasses by Anselm Croze
Over the summer, my mother and I went on an unforgettable trip to Africa and discovered gorgeous mouth-blown glasses by Anselm Croze and his team of artisans at Kitengela Hot Glass. Aside from the beauty and handcrafted nature of their creations, Kitengela has embraced a culture of giving back and supports many causes, which is so important to our family and to The Grand Tour.
2. Willie Weston Fabrics and Wallpaper
Designed company Willie Weston works with indigenous artists across Australia; each pattern celebrates the artist and tells a visual story.
3. Furniture by DeMuro Das
I love the level of detail in the furniture pieces by DeMuro Das, like the hand-laid lapis lazuli in the Azure center table or the Lola center table topped with white agate. This brand is committed to quality and craftsmanship, and their designs are modern while evoking the rich traditions of India, where they're based.
4. Lara Bohinc's Seating Inspired by the Cosmos
Lara Bohinc of Bohinc Studio in the United Kingdom has designed a collection of seating inspired by the cosmos. I love how she took an everyday object that we all have in our homes—the chair—and made it unique.
5. Grainne Morton's Jewelry
Grainne Morton designs jewelry from her studio in Scotland, using a mix of found objects and precious gemstones. My design aesthetic is eclectic, collected, and doesn't take itself too seriously, so her fun pieces really speak to me.
6. Lighting by Marset
We're carrying a number of lighting styles by Marset, a brand headquartered in Spain that reimagines light itself and not just the vessel for it.
Next Post