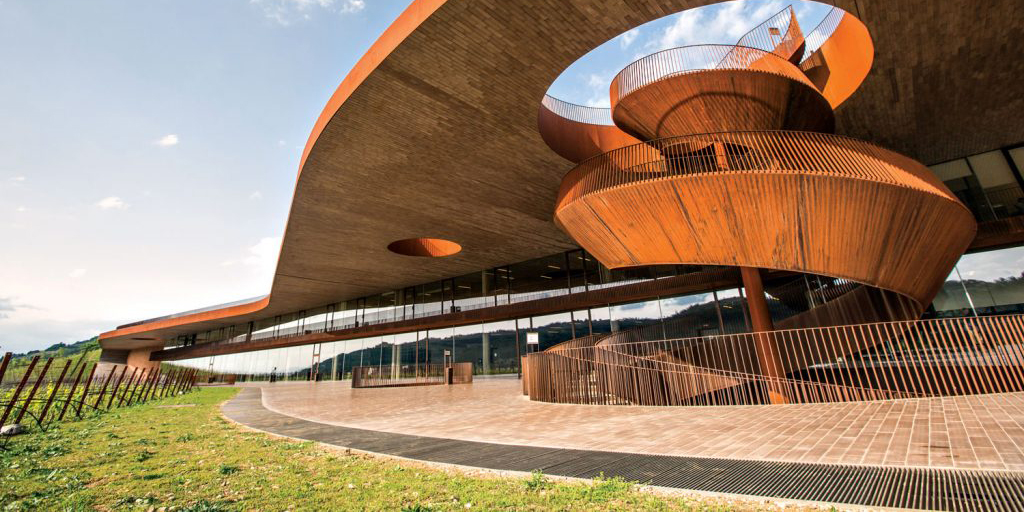 Tastemaker Alessia Antinori Blends Wine and Art in Tuscany
The art patron's latest venture taps emerging artists for site-specific projects at her family's Marchesi Antinori winery
Beyond her contagious vivaciousness, adventurous spirit, and seemingly endless energy, Alessia Antinori possesses another striking trait: Just like her maternal grandmother, Laetitia Boncompagni Ludovisi, she is a true mecenate, a patron of the arts.
A member of the 26th generation of the Antinori marquisate running the illustrious Italian winery Marchesi Antinori (with her sisters, Albiera and Allegra), Alessia Antinori has arts patronage written in her DNA: Her family has regularly called on artists to celebrate its house throughout its six centuries of existence, as demonstrated by the 20-some artworks on display inside Marchesi Antinori's new sculptural, earth-toned headquarters in the Chianti Classico region, just outside Florence.
Most notably, in the early 16th century, her ancestor Nicolò di Tommaso Antinori commissioned ceramist Giovanni della Robbia to create a glazed half-moon polychrome terra-cotta architectural ornament, called a lunetta, that featured the patron's likeness to the left of Christ. Her forebear, Antinori explains, "was a good friend of Della Robbia, of Raffaello, and other great artists at that time."
New York's Brooklyn Museum acquired the lunetta in the late 1800s—a family member put it up for sale in Florence, where an early board trustee bought it—and when the institution sought help to restore it a few years ago, Antinori readily offered the funds. "Even though we don't own it, we decided without any doubt to have the restoration done," she says.
But if preserving the family's historic art collection is an aristocratic obligation Antinori takes seriously, what truly gets her excited is promoting the art of today. As she sees it, engaging with art "has to be an experience of how you are really living at that moment of your life."
And so, for the past two decades (when she started collecting during a business trip to China), she has immersed herself in contemporary art. In addition to taking over Laetitia's seat on the International Council at New York's Museum of Modern Art and recently joining the board of the American Academy in Rome (on which Laetitia also used to sit), Alessia has been forging her own trail as mecenate.
A supporter of the Zaha Hadid–designed MAXXI in Rome, Italy's first national museum of 21st-century art—she presides over the fundraising efforts and is helping to launch a U.S. foundation for the museum—she has also undertaken what may be her most ambitious and personal project yet.
Recommended: Max Mara's Collezione Maramotti Celebrates 10 Years
Founded in 2012 and based at the winery, the Antinori Art Project solicits mostly site-specific commissions from young artists of national and international stature whom Antinori and a curator jointly select. All artworks for the project touch on themes of tradition, innovation, nature, and time, which are as fundamental to the Antinoris' history as they are to the art of making wine.
The works include Rosa Barba's 2012 Sun Clock, which transforms one of the property's courtyards into a light-activated sculpture, and Jorge Peris's 2016 Portal del Angel, in which the family's antique terra-cotta oil urns, or orci, are arranged on stones, soil, and marble sourced nearby. Keenly aware that the family's historic collection goes back centuries, Antinori sees her role as "giving it continuity," because, as she points out, "one day this too will be the past."
A version of this article first appeared in print in our 2018 Summer Issue under the headline Supporting Role. Subscribe to the magazine.
Next Post