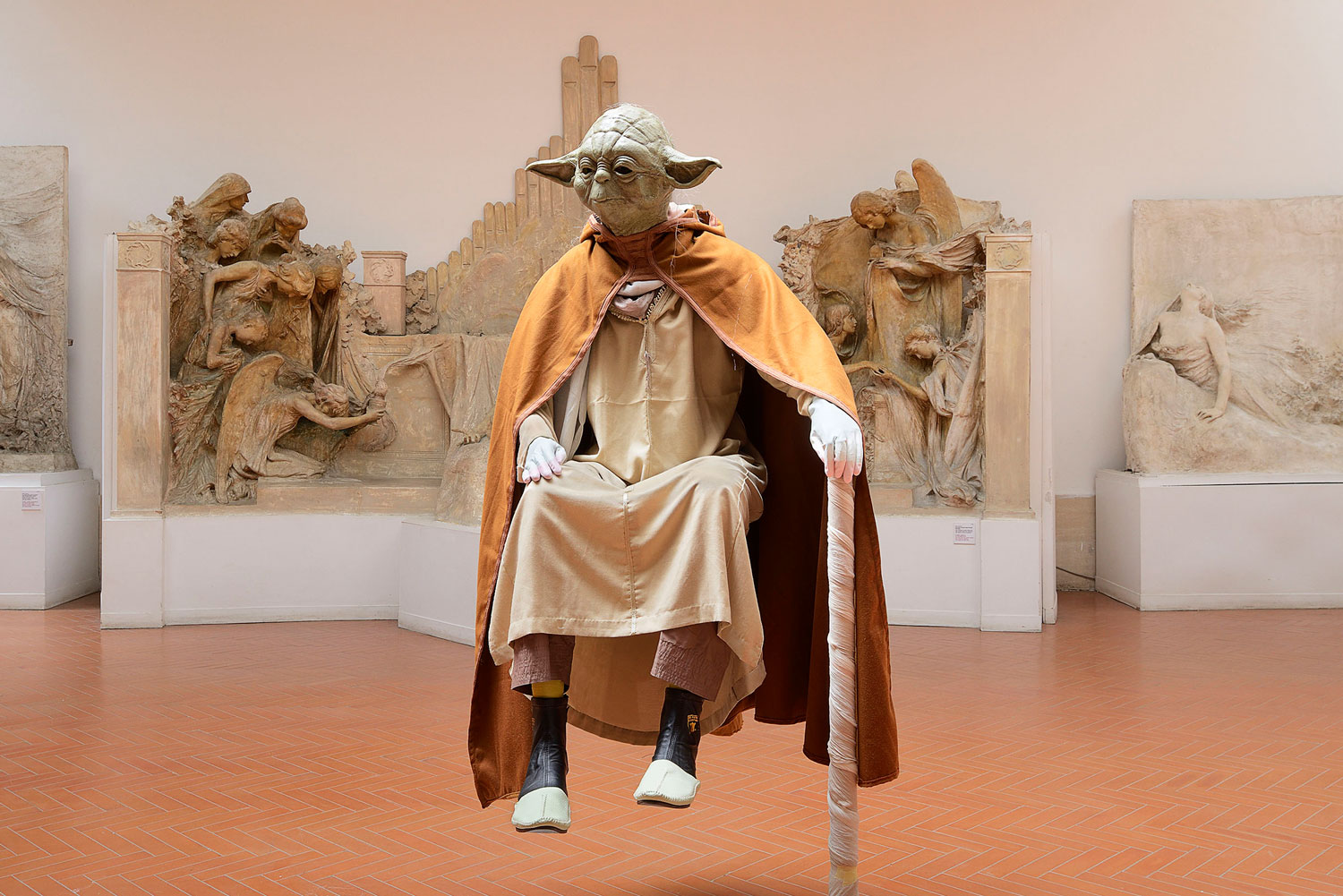 Swiss Institute Debuts New East Village Space with Ode to Duchamp
The first show in the Annabelle Selldorf–designed building is a cityscape of readymade objects
"This piece is an overturning of Duchamp's bicycle wheel," said curator Fredi Fischli standing in a light-filled gallery, "setting the tone of what the exhibition is trying to achieve."
Fischli was standing by a sculpture of a sleek white metal bicycle wheel mounted upside down on a plastic school, a 2007 work by Oliver Payne and Nick Relph called Technical Taxi. The show, "Readymades Belong to Everyone," is an exhibition that Fischli has co-curated with Neils Olsen for the inaugural show at the Swiss Institute's new Annabelle Selldorf–designed building on St. Mark's Place, in Manhattan.
The work is a seeming update on Marcel Duchamp's first readymade, Bicycle Wheel, a fitting anchor for the show, which gathers a "cityscape" of readymade objects (per Fischli) by over 50 artists, architects, and collectives including Wade Guyton, Klara Liden, Claire Fontaine, Rem Koolhaas, Sauter von Moos in collaboration with Herzog & de Meuron, Lutz Bacher, Reena Spaulings, and Martin Wong with a series of public programs by Yuji Agematsu, Helen Molesworth, and the Center for Land Use Interpretation, among others.
In it, you'll find works that make use of the readymade in art and architecture including Rem Koolhaas's Field Trip (1971), which uses the Berlin Wall as a found object; Aldo Rossi's 1981 Prototype for Cabina, a blue-and-white painted hut, which is meant to symbolize "the idea of the house"; and a temporary, green-painted wall that had been salvaged from the construction site of the new Swiss Institute building by the artist Klara Liden and repurposed as a work of art.
Recommended: New Lower East Side Gallery Spotlights Female and Outsider Artists
The readymades on view also embrace performance as with Curator on the Phone, a 2012 work by Merlin Carpenter. Performed during the opening event, it features one of the curators, Olsen in this case, standing outside talking on a cellphone to the artist for one hour, a commitment intended to prevent the curator from taking part in the opening.
In some of the more unsettling extensions of the found object concept are artist collective Claire Fontaine's Pinocchio and Yoda (both 2016). Among their Living Statues series, these compelling and creepy sculptures refer to actors who perform as sculpture in tourist destinations. Through this conceptual fissure, the artists evoke a reflection on the consequences of the readymade on the subjectivity of artists.
Also debuting with the new space is SI ONSITE, a new series of commissioned artworks that intervene in the non-gallery spaces of the building. Step into the elevator and you'll notice the sleek walls are a surprising and subtle shade of pink. A new installation by Pamela Rosenkranz, the color of the walls were matched to SI director Simon Castets' tongue.
Tongues came into play in more ways than one. When asked how the identity of the institution might be changing with this new building and location, Castets pointed to the front door, which had on it a phrase translated into seven languages: Switzerland's four official languages (French, German, Italian, and Romansh) and the three that are represented in the district of the new building (English, Spanish, and Chinese). With respect to this diversity, Castets saw a connection between Switzerland and the neighborhood of SI's new home. "There are many ways to interpret Swissness," he said.
"Readymades Belong to Everyone" is on view through August 19, 2018, at the Swiss Institute, 38 St. Marks Pl., New York, NY.
Next Post