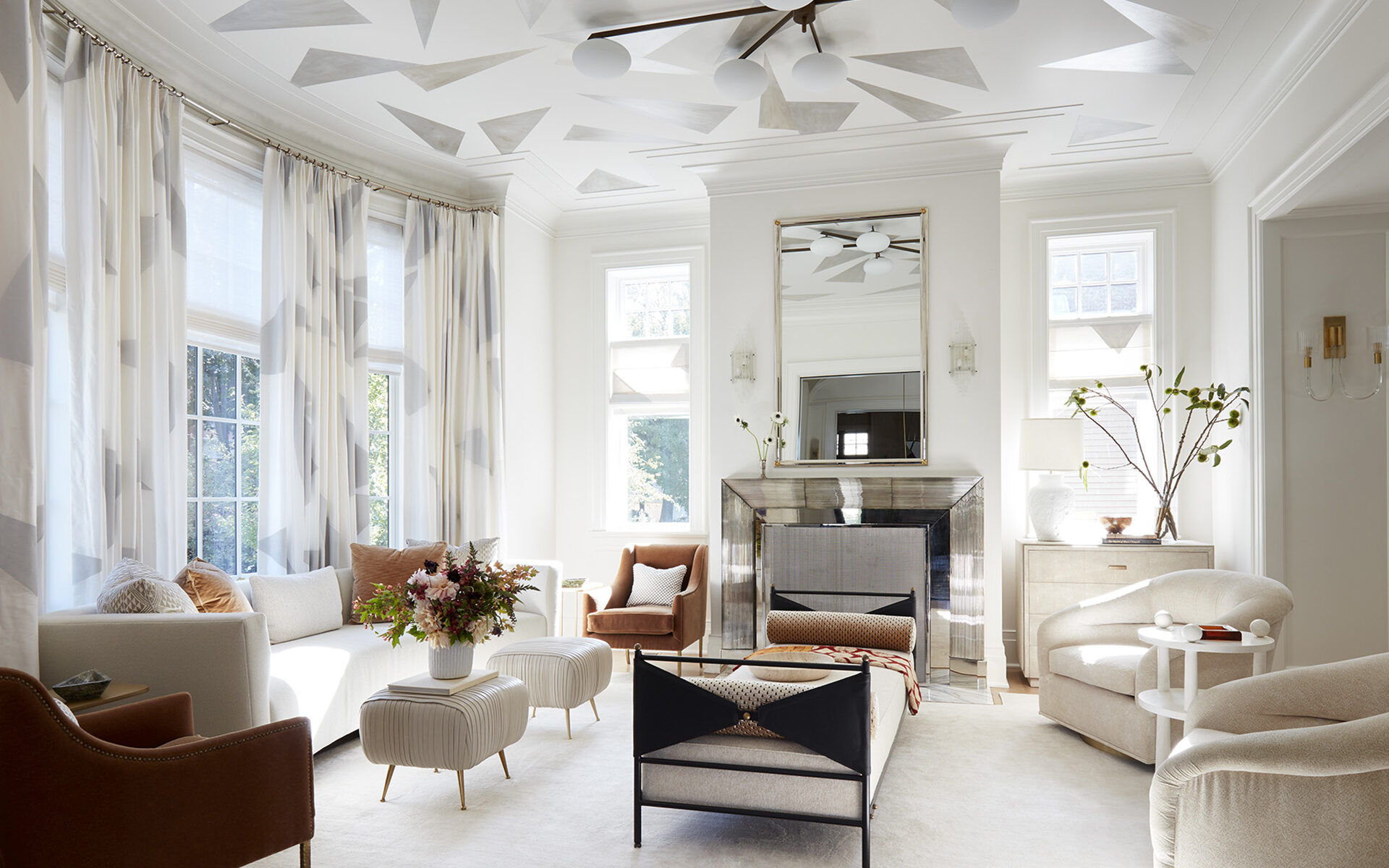 Summer Thornton Combines Three Chicago Homes into One Transcendent Residence
By fully reworking the interiors, the designer created a spirited space with plenty of room for a growing art collection
After living in a classic home on Chicago's North Side for five years, Summer Thornton's client was able to purchase a similar residence by the same architect next door with the goal of combining them into a spacious Georgian residence with a refreshed façade. But as the saying the goes, the best laid plans often go awry. "It sounded very easy in theory, but it ended up being much more complicated," explains Thornton, who collaborated with colleague Jenny Holladay to rework both structures from the ground up to create a cohesive living environment. The purchase of a third adjoining lot allowed for even more outdoor living space. "Once it came down to building a new house, she felt more free to change direction. Throughout the process, her taste became more modern."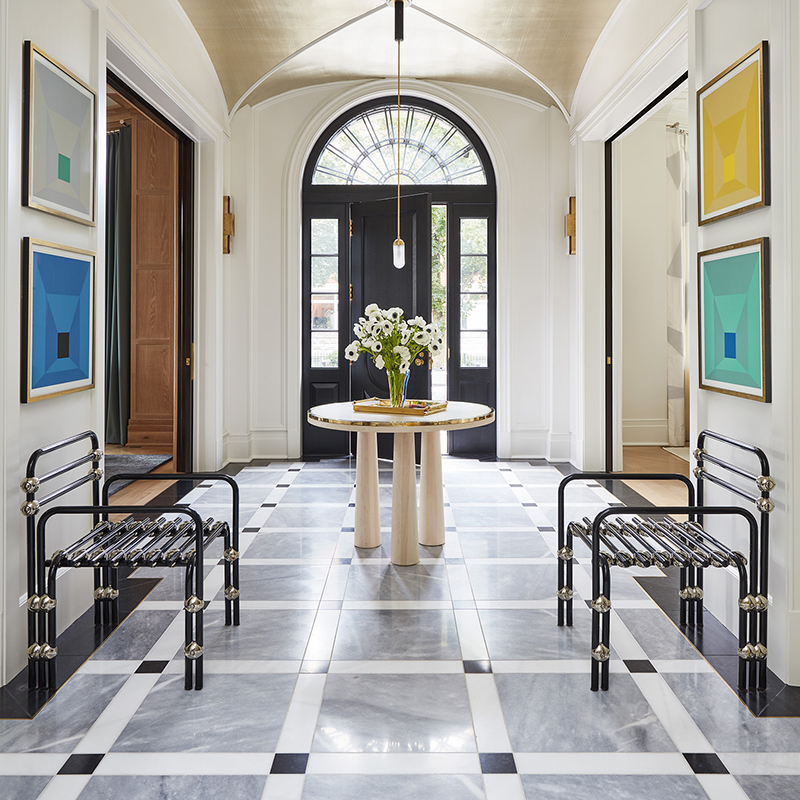 As part of the architectural revival, the team transformed the area between the two preexisting buildings into an eye-catching foyer anchored by a serpentine staircase with custom iron railings. "We knew we had a lot of space, especially for a Chicago house, so we wanted it to be something really dramatic," says Thornton of the entry that features a classic flooring style, but interpreted in a large scale to keep the look modern. A commissioned sculpture of sunny yellow disks plays off the vibrant Josef Albers prints that hang above a pair of 1970s Italian tubular chairs.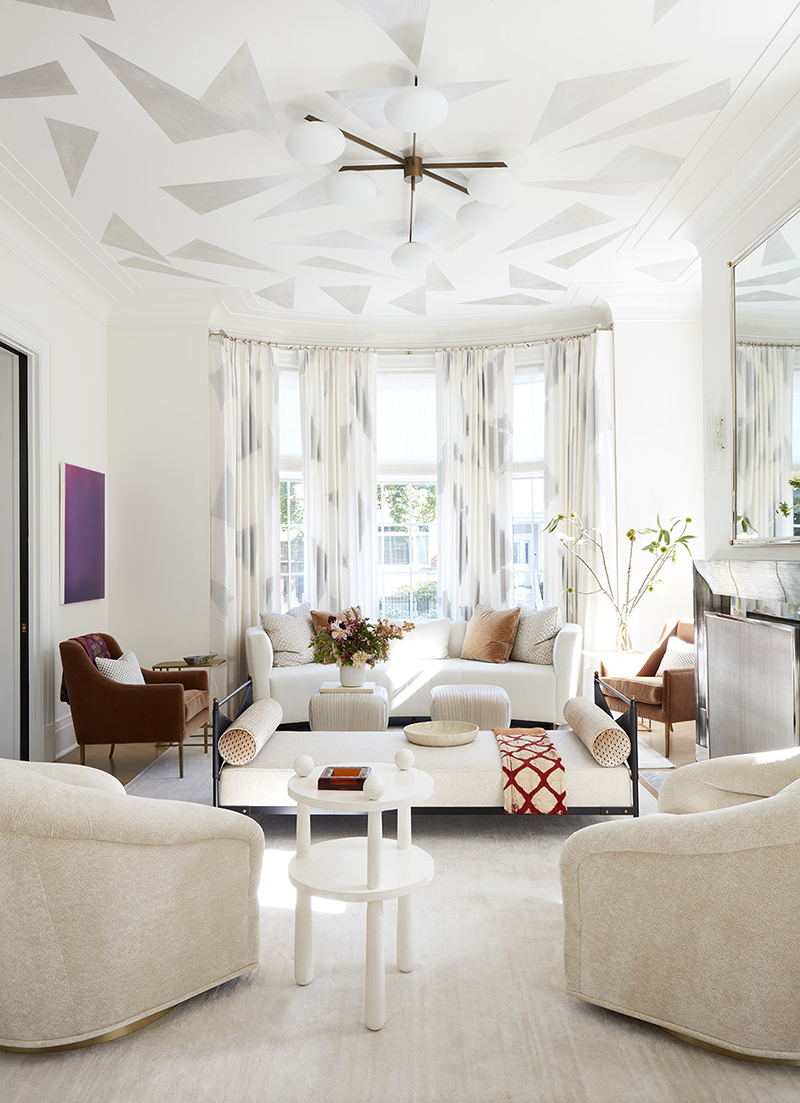 Embracing a pared down, more simplified lifestyle, the team looked to contemporary furnishings, solid-color silk rugs, and fabrics that were not overly ornate. Sheathing the majority of the living space is Benjamin Moore's White Dove, which created a blank canvas for other creative elements. In the living room, for instance, the designers created a bright area for entertaining with a custom bouclé sofa, pleated leather Kelly Wearstler ottomans, and shagreen cabinets. The hand-painted ceiling details are echoed in flowing drapes made from a Porter Teleo fabric, the silvery details translated onto a glamorous fireplace surround in an antique mirror finish. "There is so much energy for a white room," says Holladay. "I think without that ceiling it would be a much more subdued room."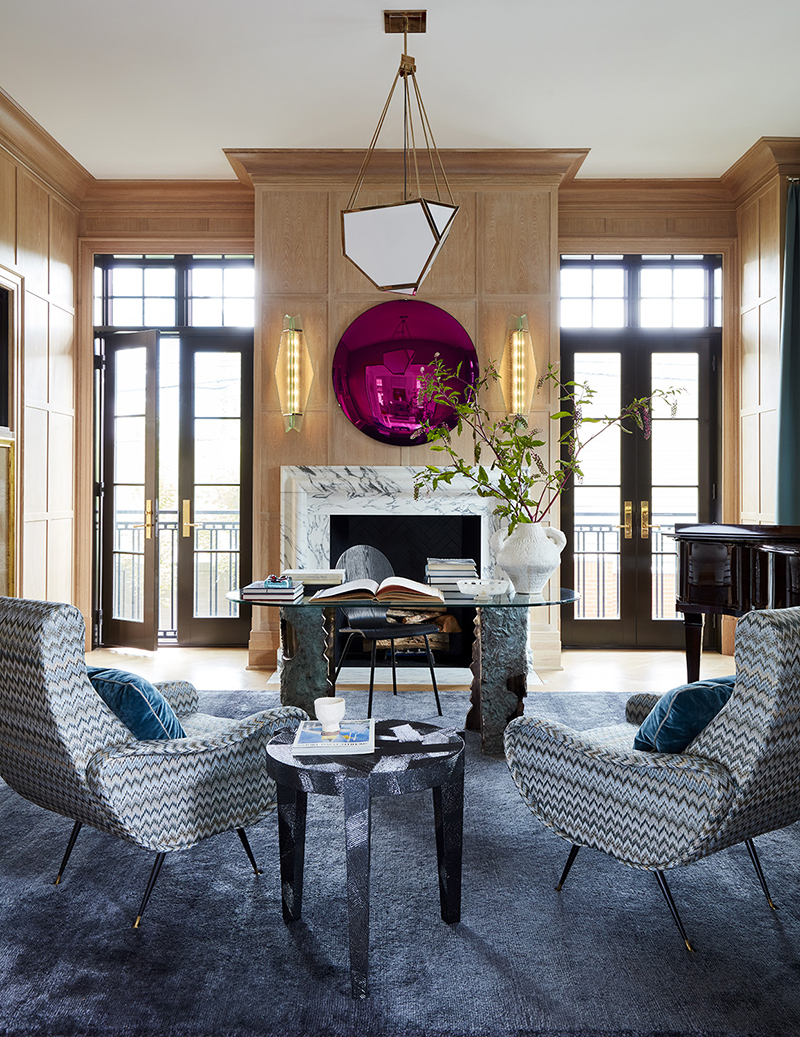 Across the foyer, the library offers a cozy contrast, providing a private place for respite with white oak paneling, a geometric milk-glass pendant from Urban Electric, vintage chairs reupholstered in a Missoni fabric, and Brutalist table by Valenti Madrid. Similar style millwork is carried over to a custom built-in bar, then echoed in a trompe l'oeil Maya Romanoff wallpaper in a sitting room connected to the main bedroom. "When you have a house of this scale, you're really looking for different experiences in different rooms," says Thornton. "Whereas the general direction of the house is 'let's see how much light we can get in or how bright we can make the space and give it that airy feeling,' you still sometimes need those cozier spaces."
"When you have a house of this scale, you're really looking for different experiences in different rooms"

Summer Thornton
Additionally, Thornton and Holladay looked to finish each space with a touch of "jewelry"—installing beautiful gold hardware and a custom metal range hood in the kitchen, brass inlay in the main bath's marble floor, and glamorous lighting fixtures throughout, including a pair of striking Kelly Wearstler Circa sconces in the foyer, a bold Murano glass Sputnik chandelier at the top of the staircase, and a bird-like vintage French Art Deco pendant in the main bath. "The bath is one of my favorite spaces—it's so dreamy and cloud-like," says Thornton. "The client wasn't as big a fan of vintage as I am so there is a mix here."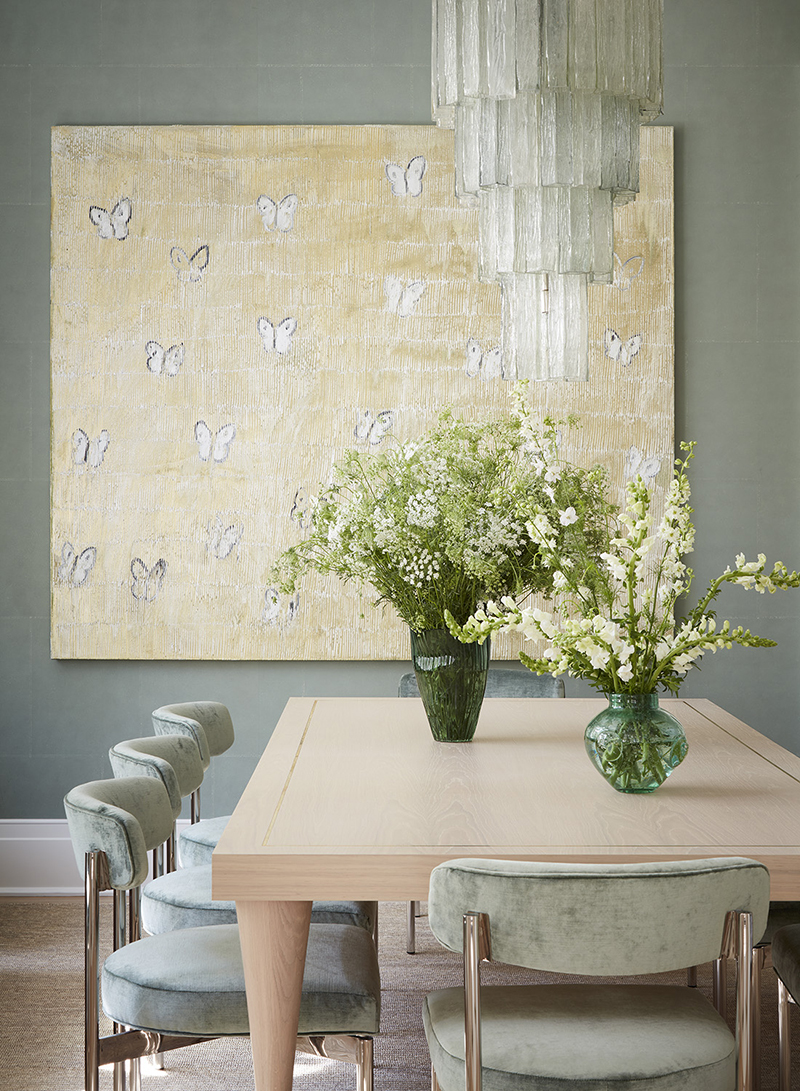 Beyond the obvious benefits of the expanded footprint, the newly conceived residence also allowed the clients the luxury of added space for art. During the four-year construction process, Thornton's team helped the homeowners build a collection, acquiring works by Hunt Slonem, Damien Hirst, Josef Albers, and more. "In her previous house, the space had to be used in a much more functional way, so one of her initiatives for this house was just to create more breathing space for an art collection," says Thornton.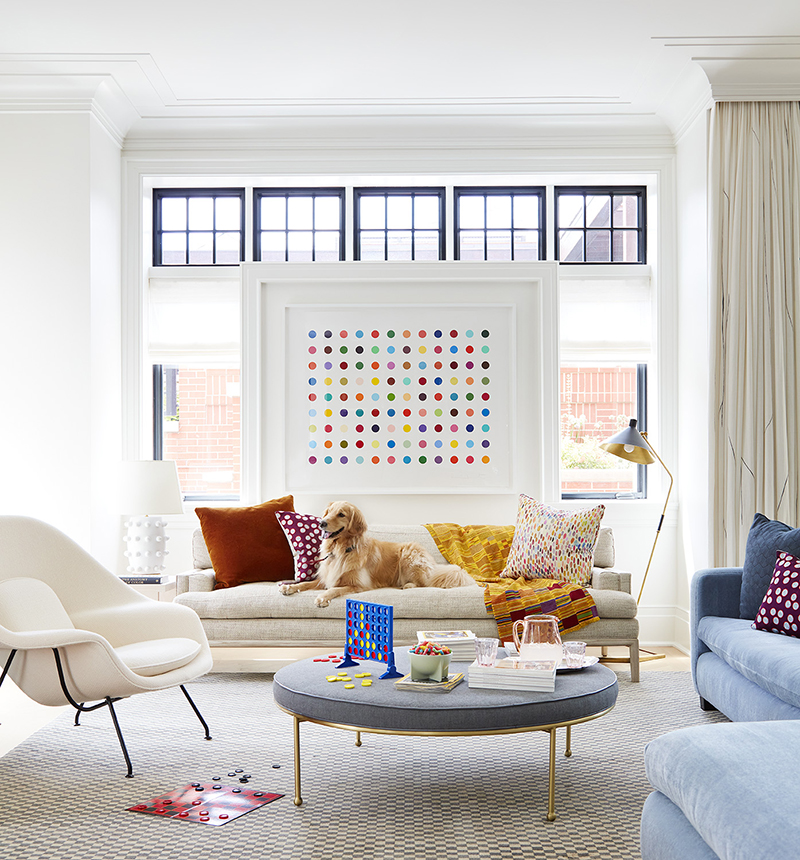 An early purchase, the Hirst work also created a through line for the interior, which features circles and other geometric forms in myriad ways. "She was very attracted to graphics; anything with circles, squares, or triangles is something that she really responded to," says Thornton, who featured the project in her new book Wonderland (Rizzoli) in a chapter titled "Full Circle."
Graphic patterns are most prominently reflected in the son's bedroom, where a Studio Printworks wallpaper is pulled up onto the ceiling where it turns a structural challenge into a dramatic focal point. "She wanted a room that would grow with him," says Holladay, who balanced playful details with more mature elements, like a color-rich custom shades, Stark rug, and cerused oak paneling in the bath.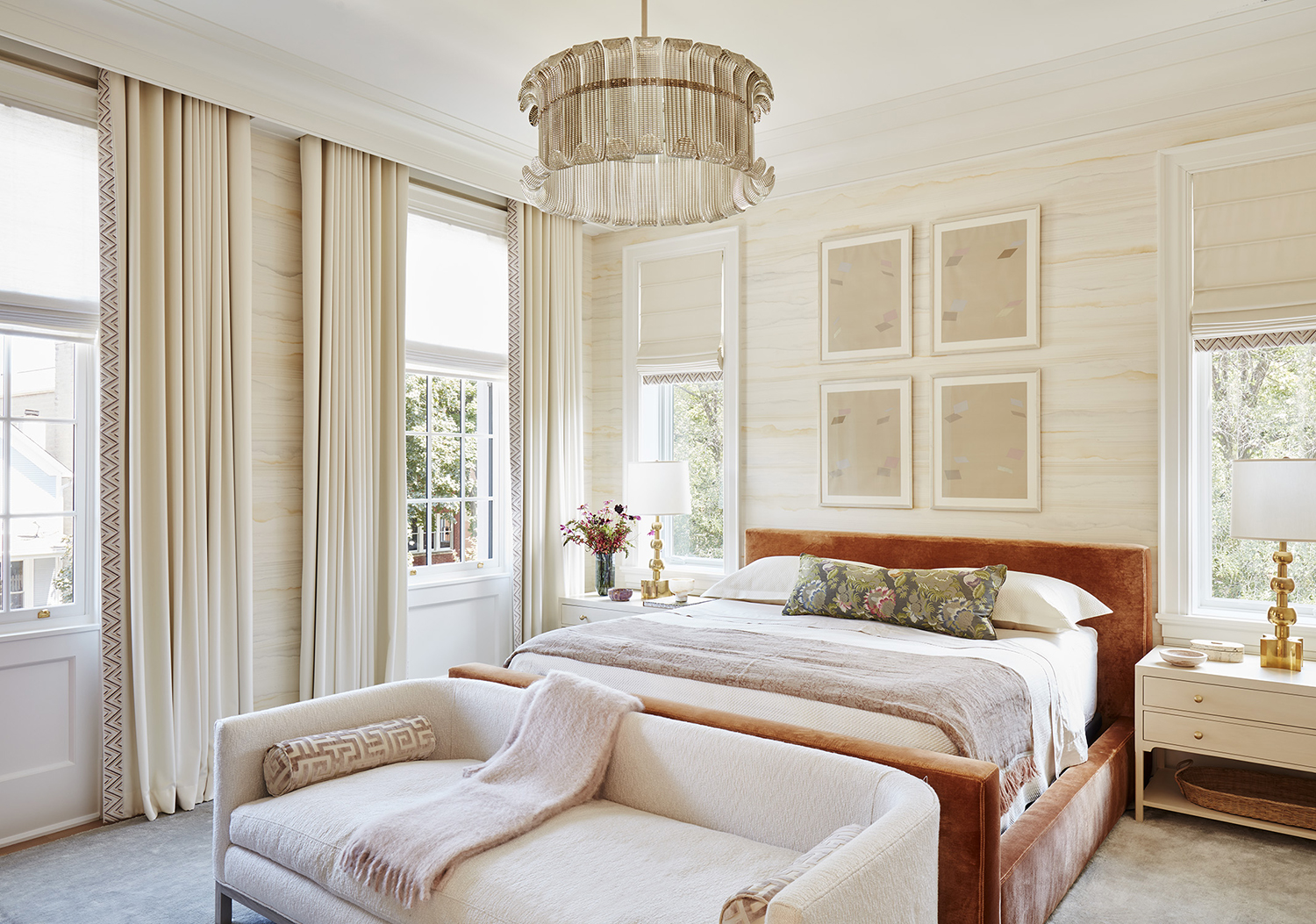 Balancing tranquil rooms, such as the serene main bedroom, with more forward-thinking designs, like the decadent emerald-green lacquer powder room, the final project is a departure from the original Georgian vision, but its evolution is what makes the interior a standout. "As the metaphorical walls came down, she started seeing things a lot differently," says Thornton of her client. "It was interesting to go along with her on that journey."
Next Post