The 10 Best Art Exhibitions to See Around the World This Summer
Don't miss these spectacular shows, from Jeff Koons's newest works on the Greek island of Hydra to Daniel Arsham's colorful intervention in Marseille
In addition to rounding up the best gallery shows across America to add to your viewing calendar each month, Galerie has decided to highlight exhibitions where you can combine vacation with the viewing of art and design during the month of August—and beyond. From Jeff Koons's newest works on the Greek island of Hydra and Daniel Arsham's colorful intervention in the former rooftop gymnasium of a Le Corbusier–designed apartment building in Marseille to the Italian design duo Formafantasma's takeover of Russel Wright's former home and studio in Upstate New York, we've assembled a group of shows to provide cultural stimulation in adventurous realms.
See below for the full list.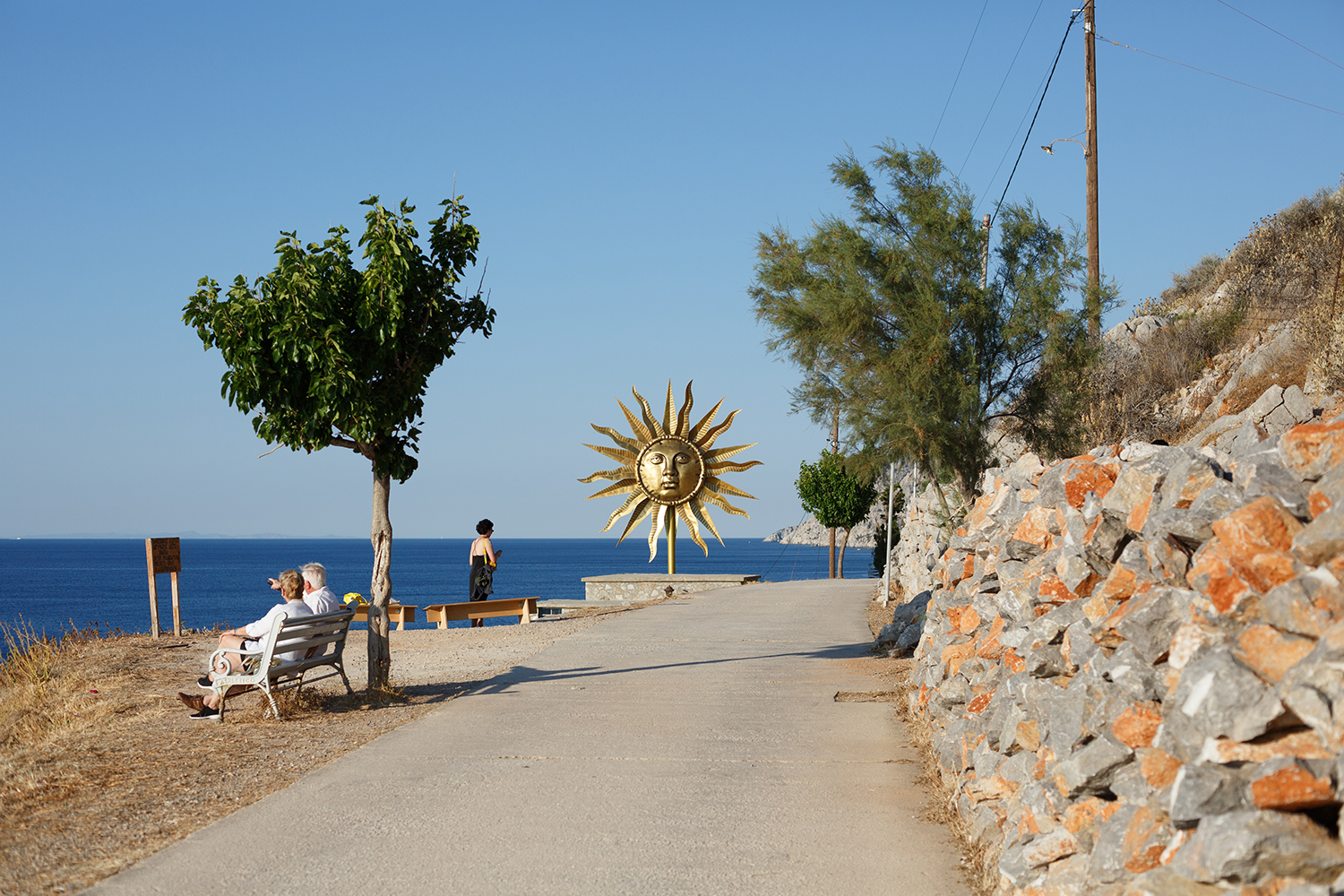 1. "Jeff Koons: Apollo" at the DESTE Foundation Project Space in Hydra, Greece
Featuring this summer's most popular sculpture on social media, Jeff Koons has captured headlines again with his enigmatic "Apollo" exhibition at the DESTE's Project Space in a former slaughterhouse on the car-free Greek island of Hydra. The conceptual presentation honoring Apollo, the Olympian god of the arts, is centered around four new works by the iconic American artist. 
Greeting you as you arrive at the foundation is the 45-foot-high, motorized Apollo Wind Spinner, which simulates the sort of sun-with-a-face symbol associated with Louis XIV, aka the Sun King, but this up-to-date version spins in situ. Approaching the slaughterhouse, you can catch your reflection in the artist's Gazing Ball Tripod, which is watched over by attendants in togas who guard the project space's entrance. Inside a kitschy Apollo Kithara statue with an animatronic snake holds center court, while Koons' painted bronze Nike Sneakers, which are fit for a king, dangle from a nail nearby.
Through October 31.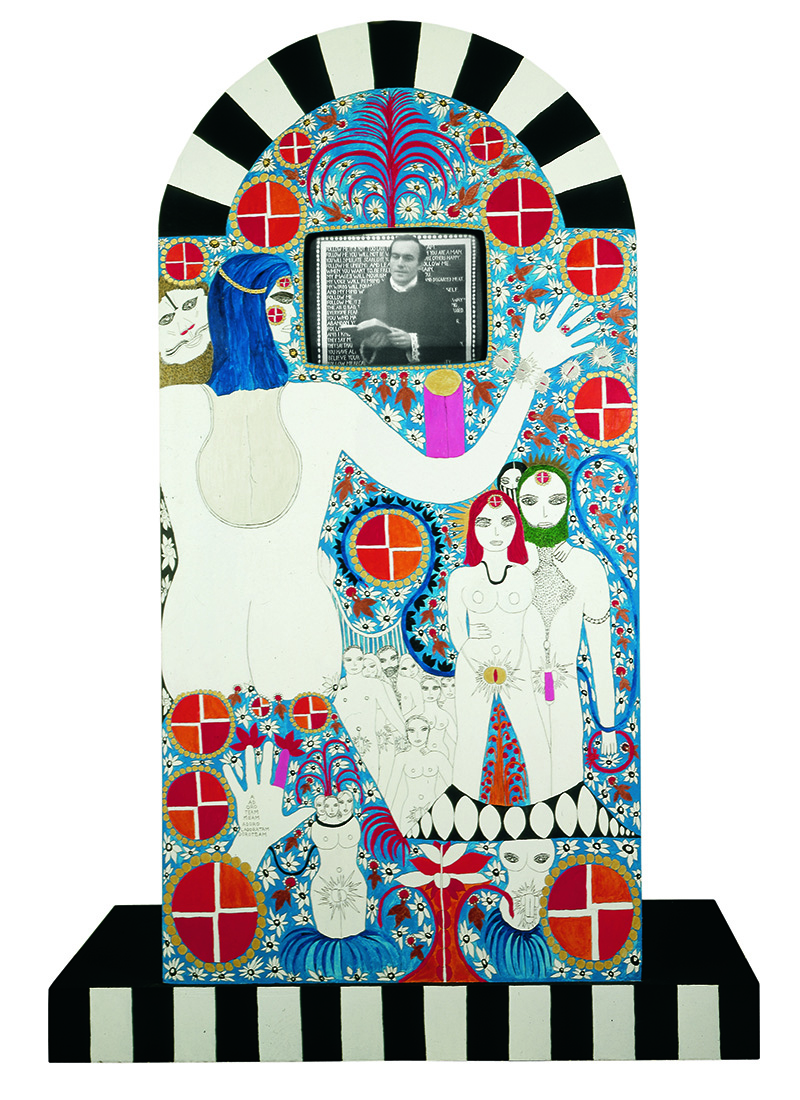 2. "Dorothy Iannone" at Louisiana Museum of Modern Art in Humlebæk, Denmark
A self-taught American artist who's lived and worked in Europe since 1967, Dorothy Iannone is best known for her naïve portrayals of erotic love. Inspired by sexually explicit Japanese woodcuts, Greek vases, and Tantric imagery, the Berlin-based octogenarian was often censored in the 1960s, '70s and '80s, but is now being honored with an exhibition presenting six decades of her art at the Louisiana Museum of Modern Art in Denmark, which is arguably the most sexually liberated nation in the world.  
Highlighting her works on paper, including her graphic novels, which she was making long before that art form became popular, the survey also features key works from her ongoing oeuvre. Some of the works in the show are based on Iannone being controversially censored in group shows in Europe, while other pieces are visual narratives that tell the tales of her lovers such as The Heroic Performance of Pastor Erik Bock, a painting on wood that depicts clusters of nudes in a free-love setting with an embedded video of her then Danish mate delivering an hour-long sermon on Christian love and community.
Through September 11.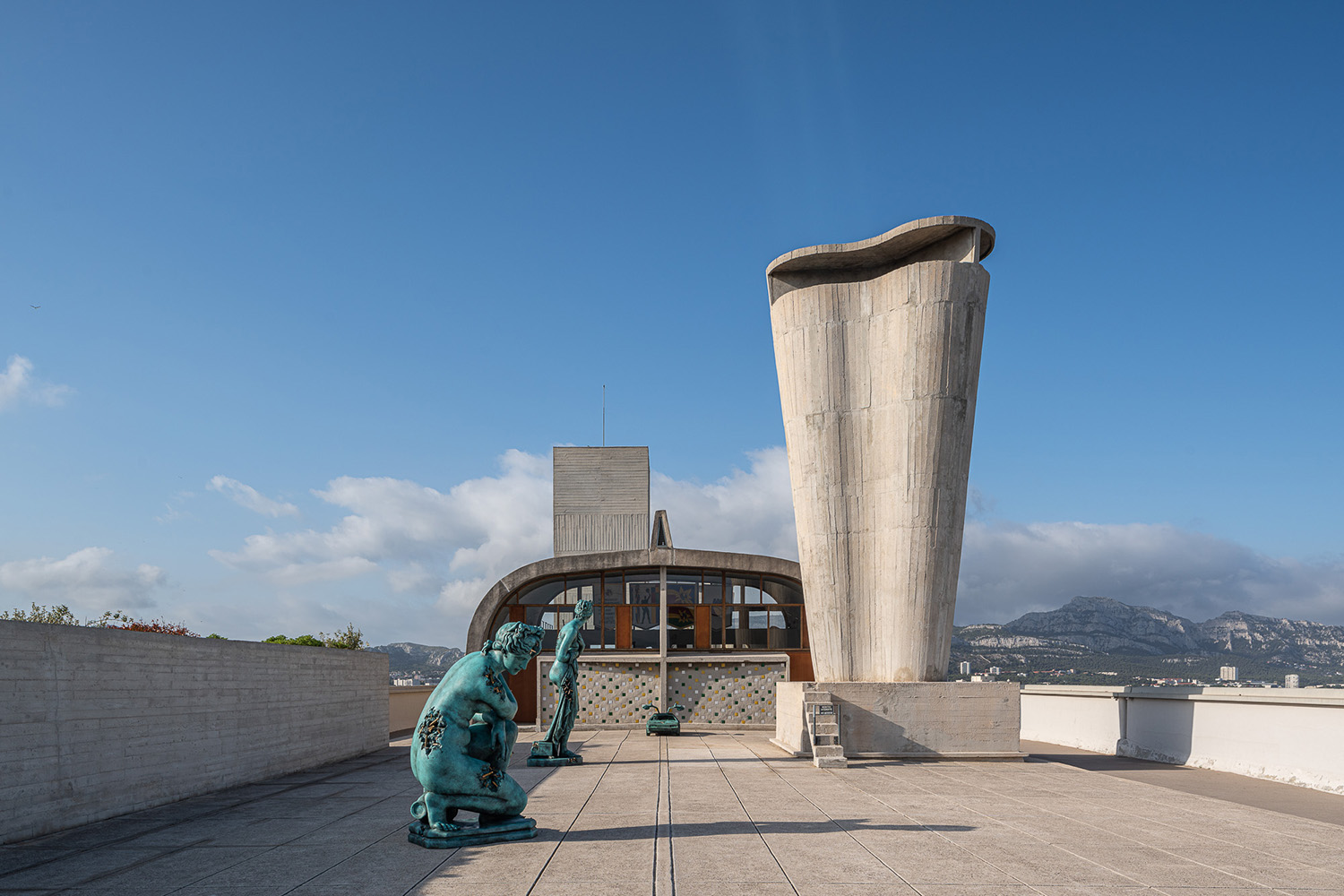 3. Daniel Arsham: "Le Modulor Basketball" at MAMO (Marseille Modulor) in Marseille, France
Celebrated for his stylish sculptures of decaying technological devices and crumbling cultural artifacts, Daniel Arsham makes art that looks as though it was just discovered in an archeological dig. The American artist and designer has long been a fan of legendary architect Le Corbusier, to whom he paid tribute with his 2019 editioned India Lounge Chair V, and the sport of basketball, even before he was named creative director of the Cleveland Cavaliers in 2020. Now, Arsham has combined his two loves with the site-specific exhibition "Le Modulor du Basketball" at MAMO (Marseille Modulor), a project space on top of La Cité Radieuse, a Marseille apartment building designed by Corbusier in 1945. 
Named a UNESCO World Heritage site in 2016, the building has moved into modern times with at least one Airbnb unit and the rooftop exhibition space, which has previously hosted interventions by Alex Israel, Daniel Buren, and Felice Varni. Transforming the old rooftop gymnasium into a basketball court, Arsham employs many of  Corbusier's signature motives into his dynamic design, with a basketball hoop inspired by Corbu's Open Hand symbol and the artist's use of red, yellow, and blue referencing a 1955 series of paintings and texts by the French architect. It's on the outdoor terrace, however, where Arsham shines on his own with a pair of bronze sculptures inspired by Greco-Roman plaster models that are embedded with crystals to signify erosion and his bronze, eroded version of the 1981 Delorean DMC from the movie Back to the Future, which is where the "reverse engineering" artist seemingly wants to be.
Through September 25.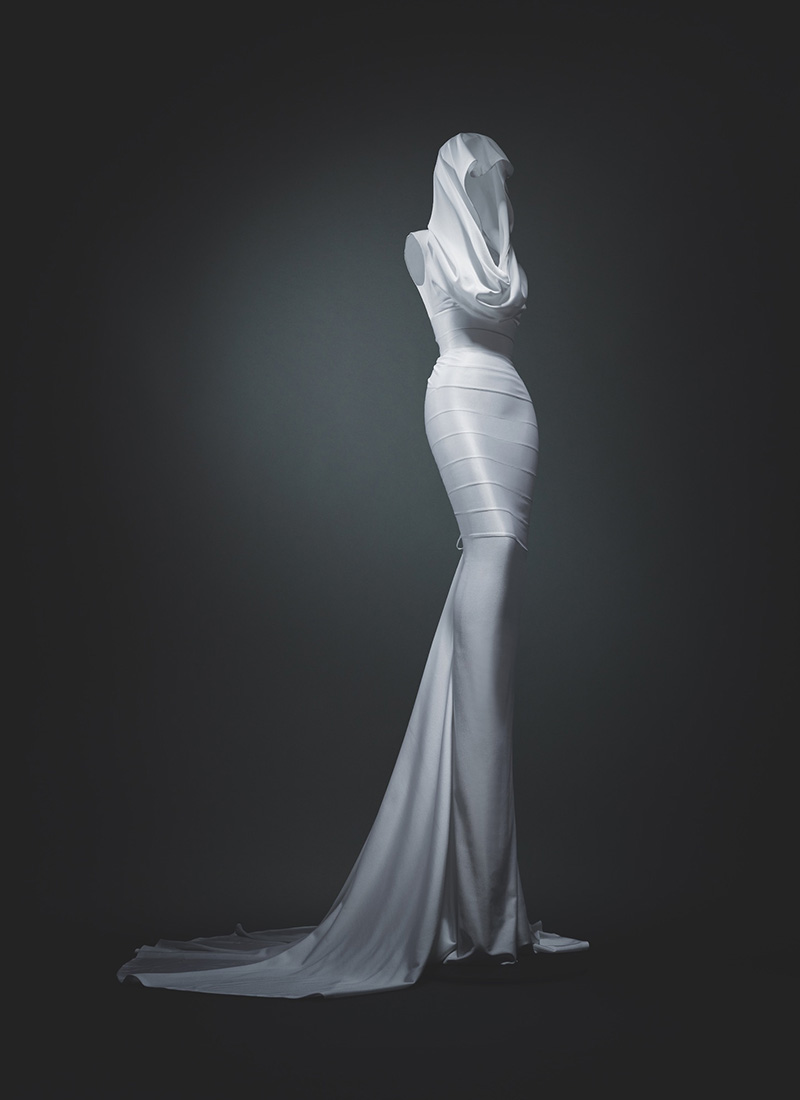 4. Azzedine Alaïa: "L'Art de la Mode" at SCAD Fash Lacoste in Lacoste, France
Originally trained as a sculptor, French fashion designer Azzedine Alaïa rose to the top of the industry in the 1980s and remained an haute couture superstar until his death at age 82 in 2017. Considering fashion to be an art form, Alaïa was involved in every step of the design process, meticulously constructing garments meant to drape and accentuate the female body to perfection.
The exhibition "L'Art de la Mode" at SCAD FASH Lacoste offers viewers a curated selection of Alaïa creations from the designer's archives. Organized in collaboration with Olivier Saillard, director of Fondation Azzedine Alaïa in Paris, the succinct show highlights 20 career-defining evening gowns, sleek ensembles, and other exquisitely tailored garments. Evoking Alaïa's timeless aesthetic while championing his artistic triumphs, it traces the arc of his legendary career in the picturesque realm of the old mountain village of Lacoste.
Through October 29.
5. Antony Gormley: "GROUND" at Museum Voorlinden in Wassenaar, the Netherlands
Having created private and public sculptures of the human body that have been exhibited and celebrated around the world for the past 30 years, Sir Antony Gormley could rest on his laurels, but the 1994 Turner Prize–winning artist is still challenging himself to make imaginative works of art for galleries, museums, and the public domain. Invited to take over the Voorlinden Museum's galleries and estate for the course of the summer, the British sculptor embraced the idea of an overview of his extensive body of work, ranging from his 1975 sculpture Open Door, a wooden door that hung in mid-air, and his early lead sculptures to digital cubism pieces, where the human body is rendered in an array of different postures and poses. 
The survey also features a number of works from the collection of the Voorlinden Museum, an architectural wonder designed by Kraaijvanger Architects in a sophisticated North Sea city, just outside of the Hague. Chief among the Gormley pieces from the museum's collection is Passage, a 39-foot-long human-shaped tunnel that offers a journey into darkness, and Breathing Room, which gives visitors the chance to stand in a three-dimensional drawing in space.
Through September 25.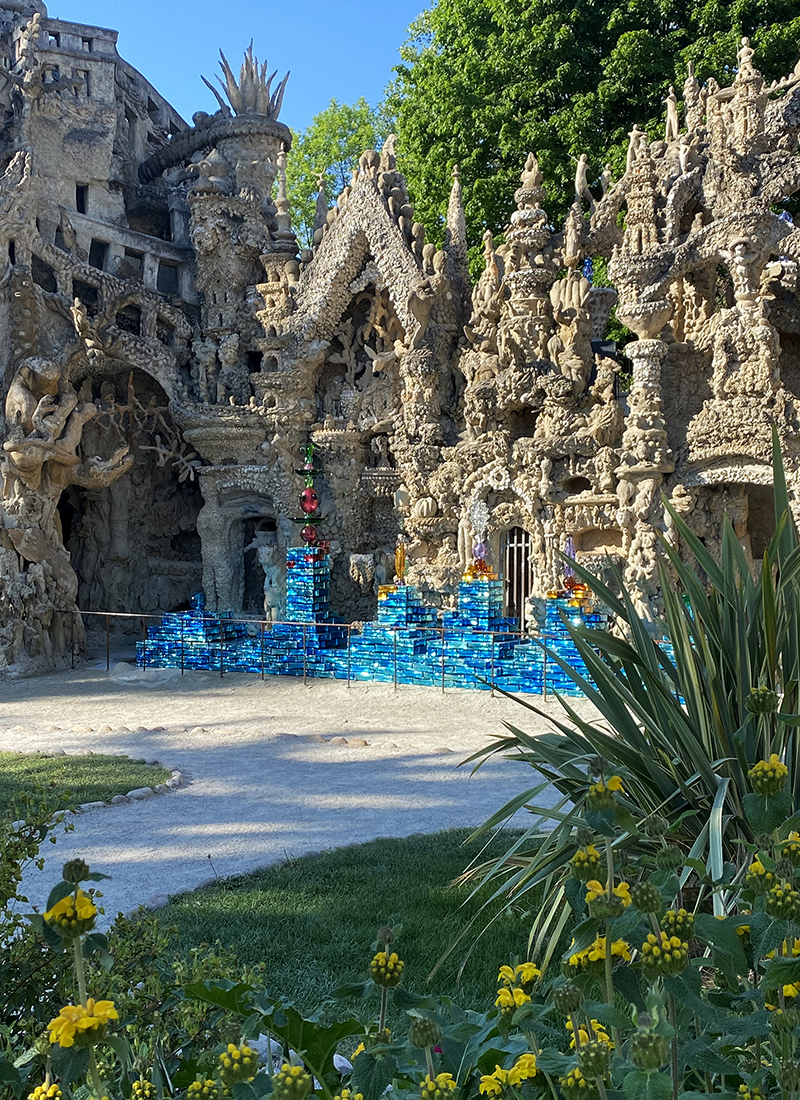 6. Jean-Michel Othoniel: "The dream of water" at Postman Cheval's Ideal Palace in Hauterives – Drôme, France
Turning the ancient craft of glassmaking into a conceptual art form, French artist Jean-Michel Othoniel was initially motivated to make beaded glass works to comment on the loss of lives during the AIDS crisis but has since created artworks and installations that interact with history, sites, and other issues in equally compelling ways. Exhibiting internationally since the late 1980s, Othoniel has created permanent projects for several high-profile places, including the National Museum of Qatar, where he installed fountain sculptures in relation to Jean Nouvel's architecture, and the Château de Versailles, where he made gilded fountain sculptures for the landmark's sumptuous gardens.
Invited to create a project for the historic Postman Cheval's Ideal Palace, the artist recalled a visit to the magical castle as a child, researched the site and then made drawings to plot his intervention. Built from stones, pebbles, and fossils by Postman Cheval over a 33-year period beginning in 1879, the fairy palace was inspired by nature and the postcards and the illustrated magazines that Cheval delivered on his route. In turn, the self-taught Cheval's wonder has inspired other artists—including Pablo Picasso and Niki de Saint Phalle—but Othoniel is the first artist to actually create an intervention for the iconic site. 
Utilizing water and light with his handmade glass balls, bricks, and stained-glass windows, Othoniel formulated artworks that interact with the palace's enchanting façade, alcoves and caves. An altar-like display sits at the front of the palace, where it mirrors Cheval's towering construction with glass fountains, totems and abstract deities; beaded Murano glass balls rise out of the postman's urns like plants; and colorful stained-glass windows light up the palace's decorative interiors to produce an all but spiritual experience in an awe-inspiring realm.
Through November 6.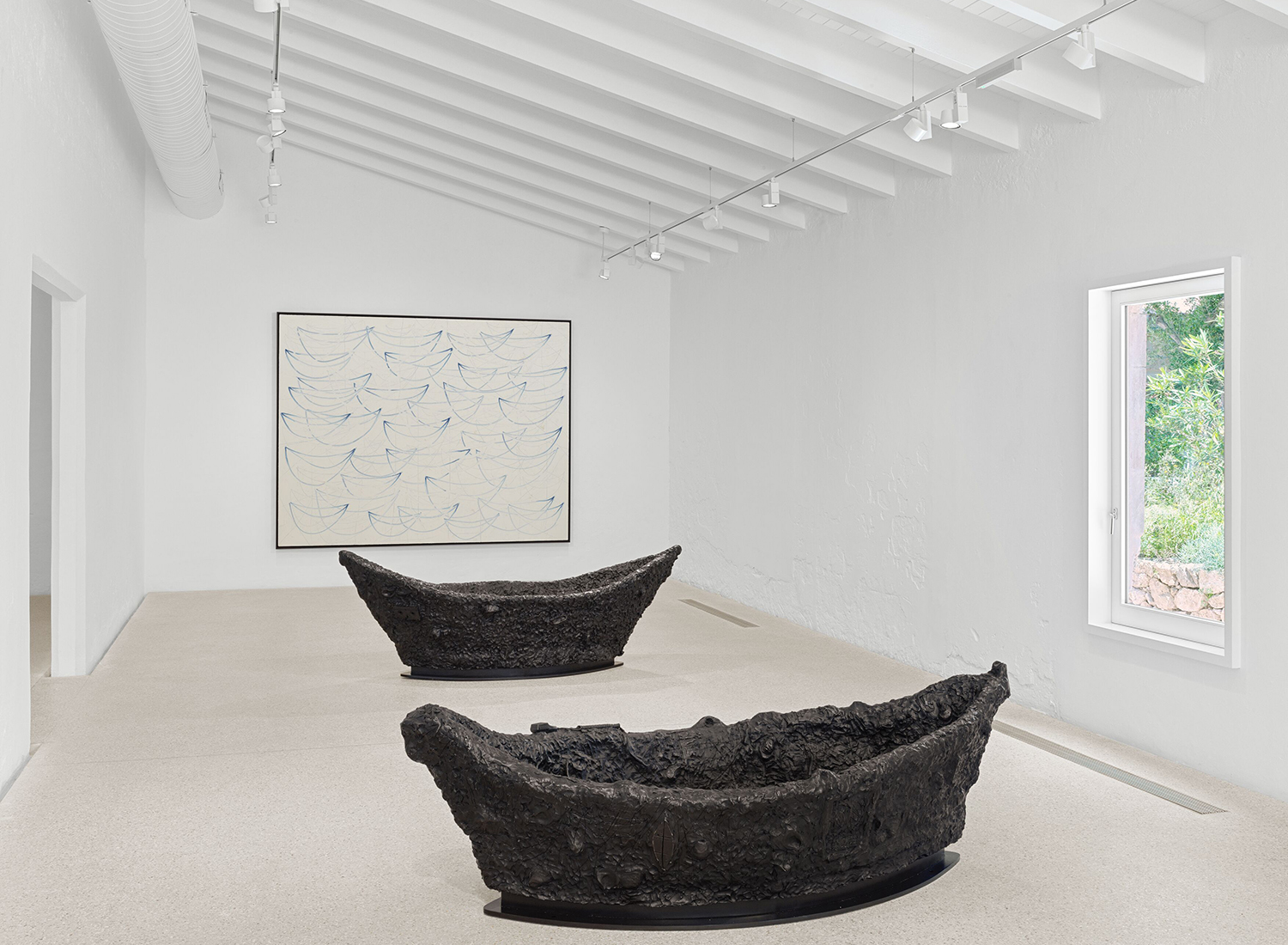 7. Rashid Johnson: "Sodade" at Hauser & Wirth in Menorca, Spain
The youngest artist in the Studio Museum in Harlem's seminal 2001 exhibition "Freestyle," Rashid Johnson embraced curator Thelma Golden's notion of "post-Black" culture more than any other artist in that show. Some 20 years later, Johnson's multimedia work has grown to encompass a wide range of everyday materials and objects while exploring diverse ways of expressing his experience as an African-American. Johnson's multidisciplinary practice now spans sculpture, painting, drawing, film-making, and installation.
At Hauser & Wirth Menorca, which not only offers a massive exhibition space but also a cantina and garden, Johnson's solo show features two main bodies of works, paintings from his ongoing Anxious Men series and paintings and bronze sculptures from a new body of works called Seascapes. The Anxious Men paintings, which Johnson sees as cathartic illustrations of his personal anxiety and our collective anxiety, presents grids of scribbled faces rendered as blue canvases, which he calls Bruise Paintings, and white canvases, his Surrender Paintings. Meanwhile, his new Seascapes explore humanity's relationship to the sea, land, and water and how that gives us an opportunity for escape.
Through November 13.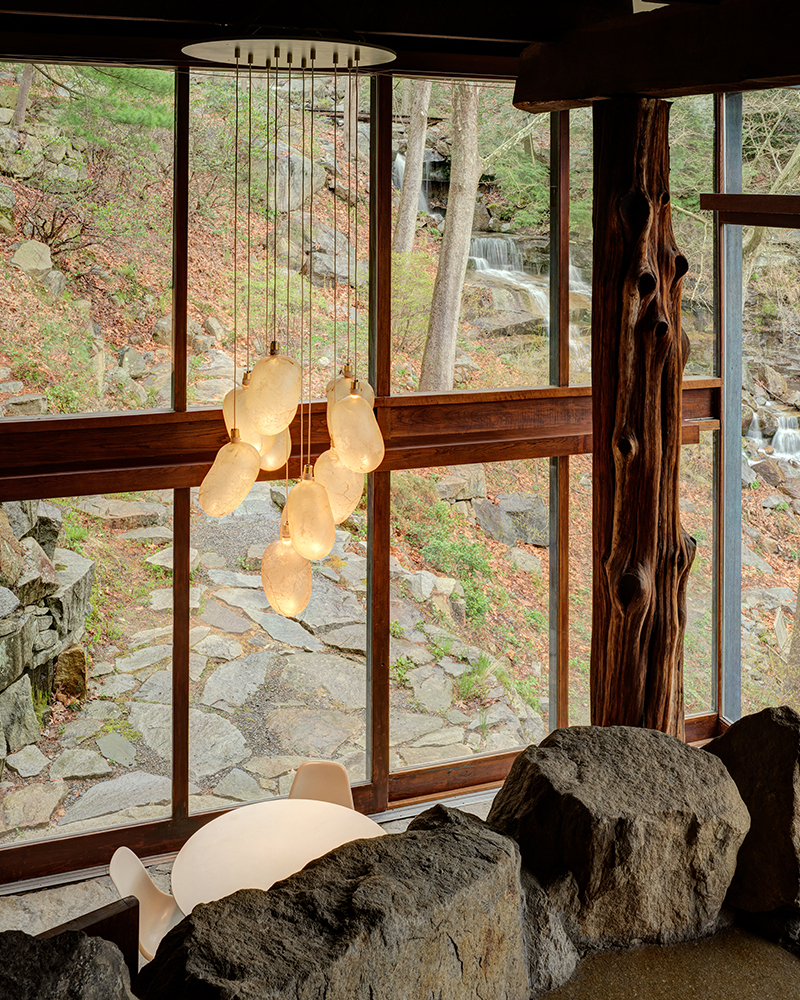 8. Formafantasma at Manitoga's Dragon Rock: Designing Nature at Manitoga/The Russel Wright Design Center in Garrison, New York
Design aficionados who have visited Manitoga, the former home and 75-acre woodland garden of American industrial designer Russel Wright, know the splendor of the site in Garrison, a hamlet on the Hudson River that's just an hour north of New York City. Known as Dragon Rock because of the shape of one of the cliffs in the old quarry that the home rests upon, the house is masterpiece of postwar modernist design. Integrating his house and studio with the surrounding landscape, Wright extended the nature into them with a monumental rock fireplace, stone floors and grass roofs.  
Named a National Historic Landmark in 2006, the house and studio now include the Russel & Mary Wright Design Gallery, with more than 200 objects that they designed on view, and it hosts an annual art and design residency, with the most recent residents being Andrea Trimarchi and Simone Farresin of the Italian design duo Formafantasma. Presenting a selection of works in dialogue with Manitoga and in collaboration with Magazzino Italian Art, a private art space devoted to postwar and contemporary Italian art in nearby Cold Springs, the installation of Formafantasma's contemporary designs is marvelously mixed into Wright's modernist vision, with arresting vessels made from organic materials lining the studio shelves and a striking chandelier, with its lamps fabricated from large cow bladders, impressively lighting Wright's stylish dining room.
Through November 14.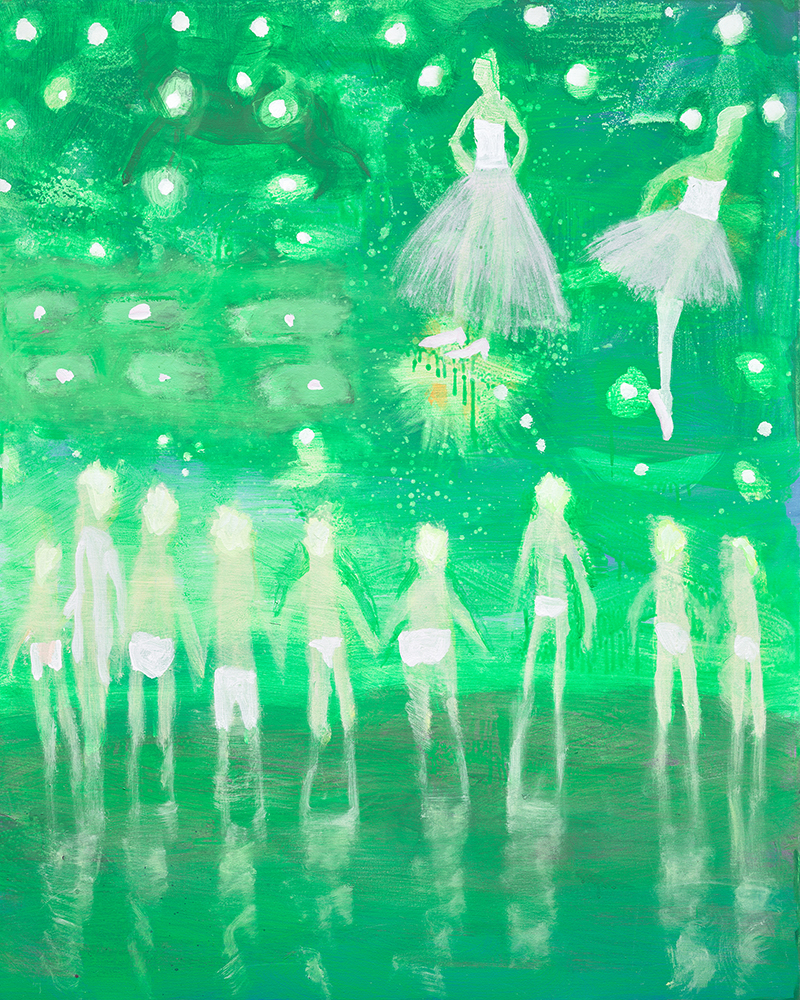 9. "Flying Woman: The Paintings of Katherine Bradford" at the Portland Museum of Art in Portland, Maine
An American artist with studios in Brooklyn and Maine, Katherine Bradford began her career as an abstract painter but over time her work became more figurative when she started depicting athletic women in motion—women who were flying, floating, swimming and diving. Blurring the boundary between abstraction and figuration, she never renders her characters in a realistic manner, preferring instead to see them as universal characters related to stories from her own life. Loosely painted, her figures are part memories of people whose paths have crossed and part projections of whom we could be.
Her survey show at the Portland Museum of Art begins with a 1999 painting of a flying woman, which was first shown at the museum in 2001, and continues through to swimmers in communal groupings and faceless people helping other people. No one is actually identifiable, because in the end her subjects are color and form, and how they interact. 
Through September 11.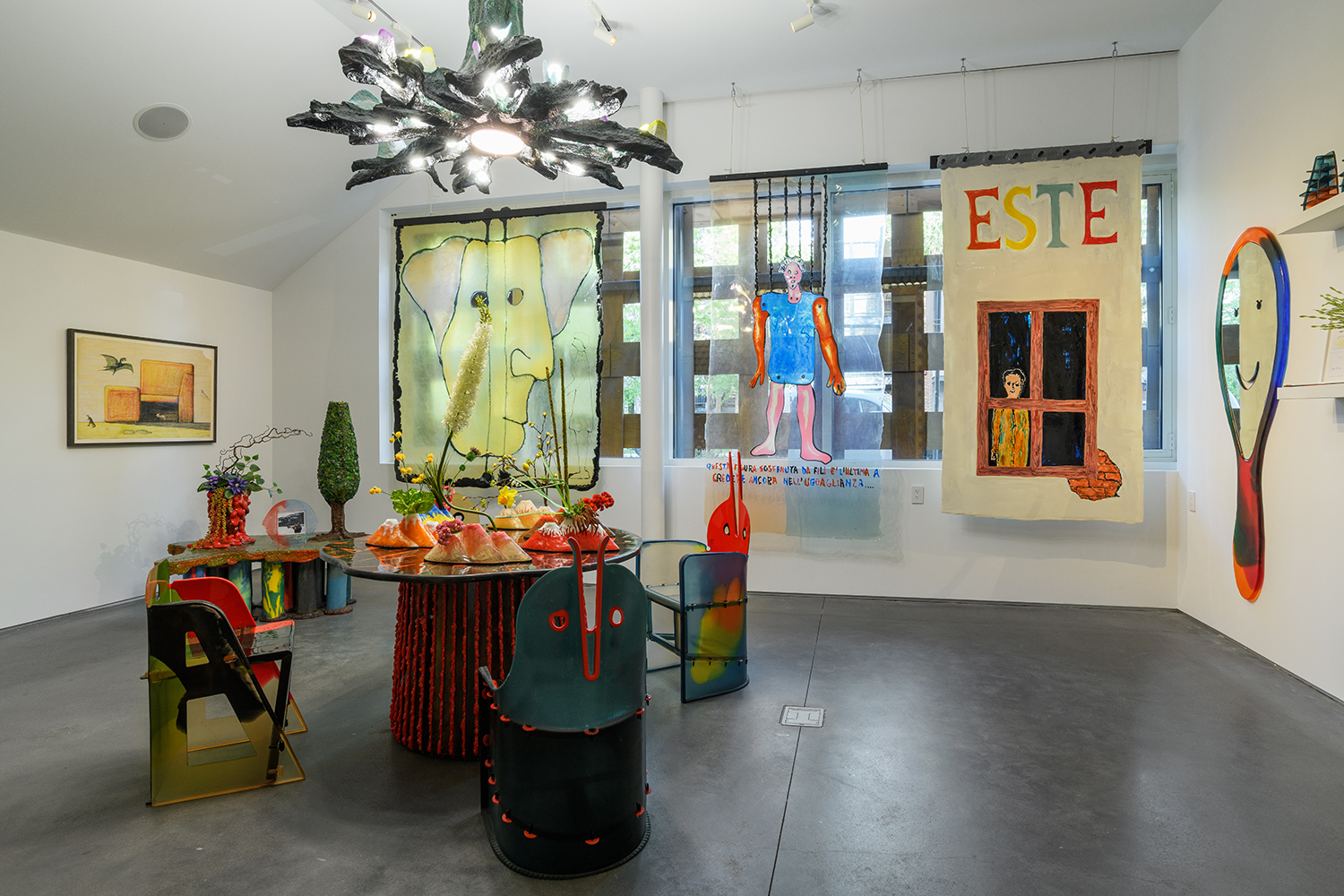 10. "Gaetano Pesce: My Dear Mountains" at the Aspen Art Museum in Aspen, Colorado
Avant-garde Italian architect and designer Gaetano Pesce is best known for his experimental use of materials, especially polyurethane resin, which he has utilized to create all types of objects, images, and signs. His show at the Aspen Art Museum consists of two parts: the first being a gallery show featuring pictures, furnishings, sculptures, and vessels produced between 1968 and 2022 and the second section being a site-specific installation of mountains covering of the museum's façade. Taking the building out of its urban setting by identifying it more with the rural realm that surrounds it, Pesce shines a light on the natural world—a world defined by mountains—for which Aspen has always and, hopefully, forever will be known.
Through October 9.
Next Post