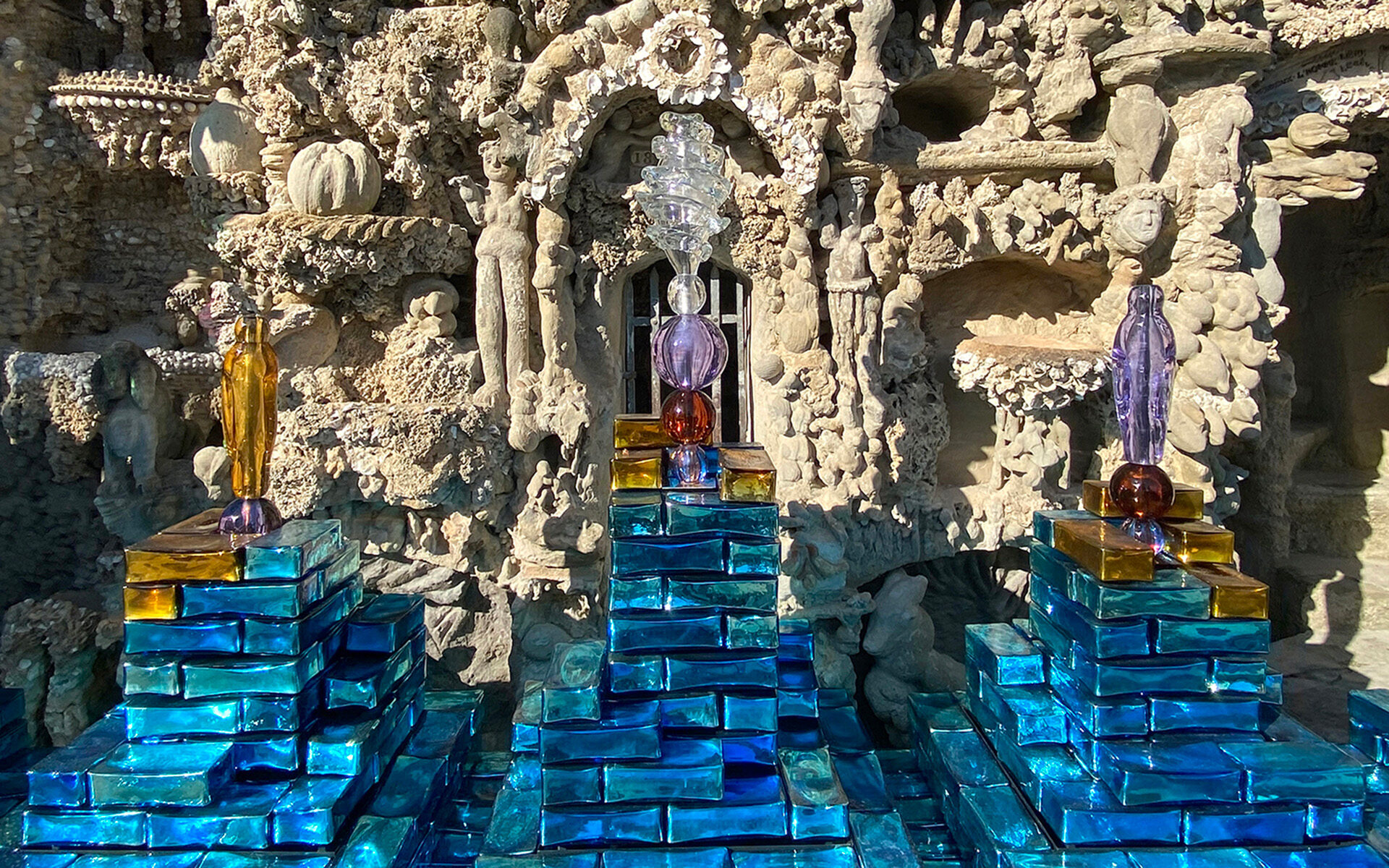 Jean-Michel Othoniel's Sculptures Transform a Whimsical Man-Made Castle in the South of France
Le Palais Idéal celebrates its 110th anniversary with "The Dream of Water," a site-specific exhibition that pays homage to the palace's unlikely maker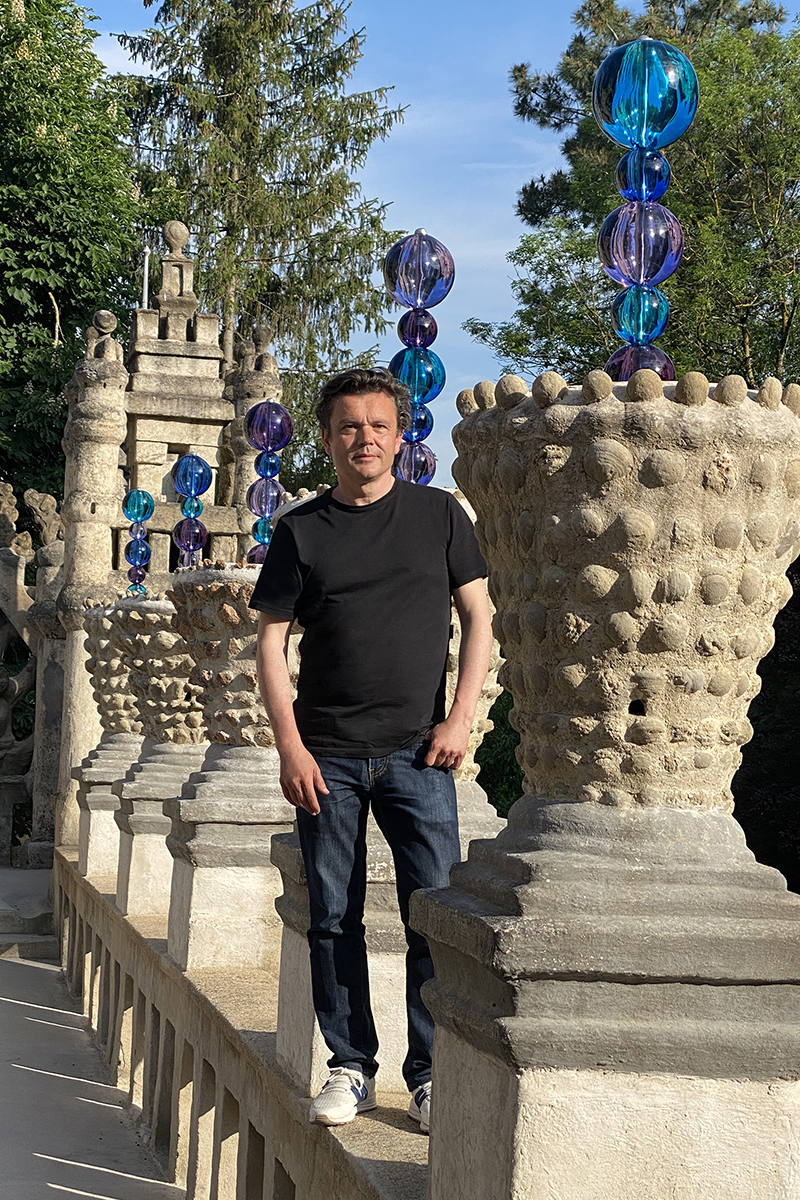 In the sleepy Southeastern town of Hauterives, just few hours drive south of Paris and north of Provence, rises the man-made marvel Le Palais idéal. In 1879, the local postman Ferdinand Cheval laid down the first stone in what would become a whimsical palace. To complete the castle, legend has it that every night after work he would tirelessly add rocks, pebbles, and pieces of limestone that he'd collected off the streets. It took him some thirty-three years working in candle light to complete the incredible project. The result is an extraordinary example of naïve architecture or Art Brut.
Reaching thirty-two feet in height and eighty-five feet in length, this temple of human achievement and reason-defying ambition now sits as the town symbol and a national hallmark, with its image on souvenir gifts as well as the French text books. The French Minister of Culture granted the palace a cultural landmark status in 1969.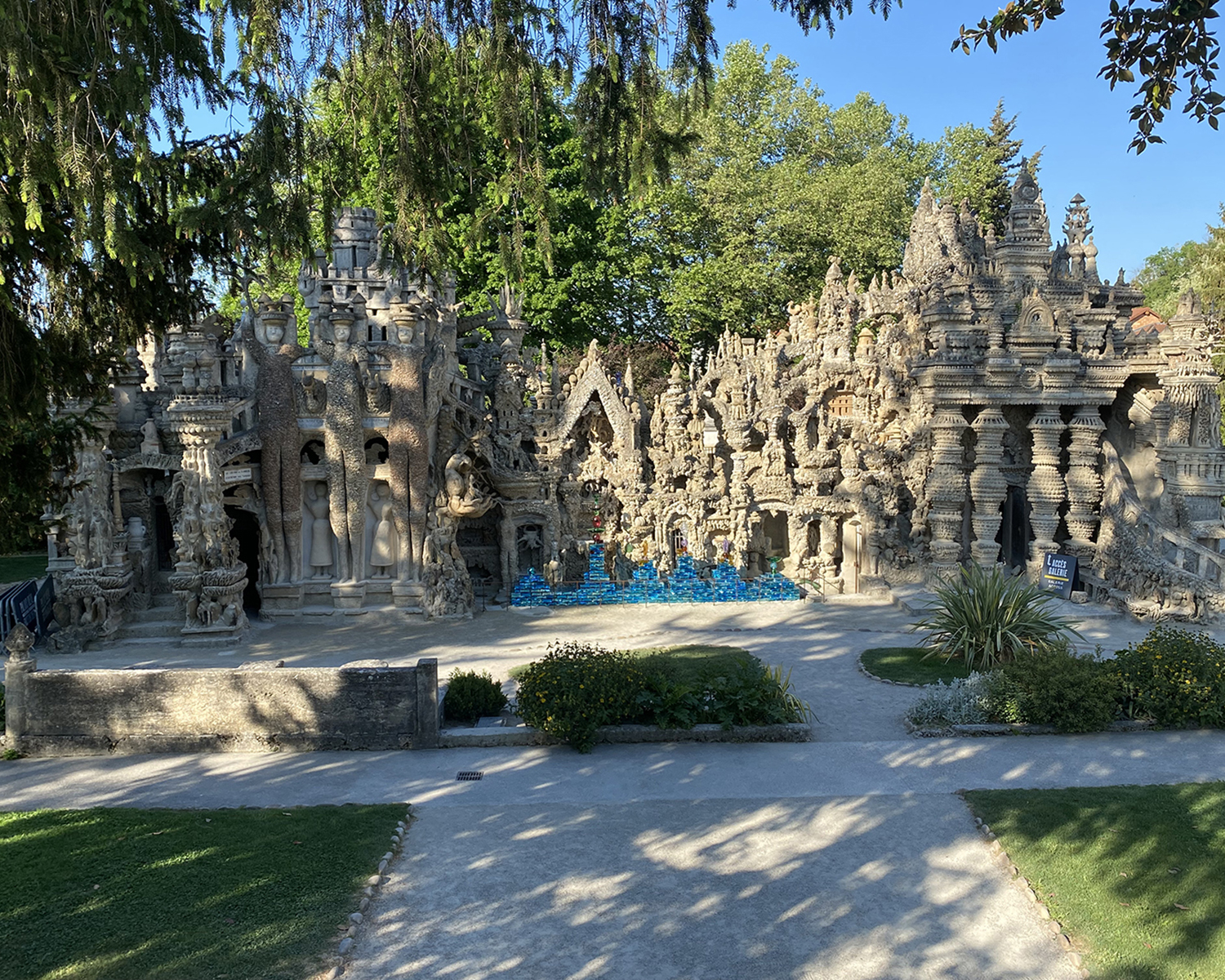 Cheval did not have formal training in art or architecture but the reputation of his otherworldly masterpiece reached the European masters of the 20th century. Particularly beloved by the Surrealists, artists like Bernard Buffet, Pablo Picasso and Max Ernst have all created artworks in homage to the postman who built his dream palace entirely through his sketch and intuition. For its 110th anniversary, the beacon of surreal thinking welcomes for the first time a contemporary artist, Jean-Michel Othoniel, to exhibit his own site-specific art around its intricate facade, bulbous towers, and meandering corridor.
"In a way, nobody was expecting me to be here, so I could return to the limitedness of fairytales and do something purely for myself." 

Jean-Michel Othoniel
Serendipitous enough, the palace holds a dear place for Othoniel who visited the site in numerous occasions growing up with his family. "I was thrilled when I received the invite because I felt taken back to my childhood in the nearby city, Saint Etienne," the artist says during a recent walkthrough. "The whimsy and possibilities of childhood," the maestro of mesmerizing glass sculptures adds about his emotions while standing by one of his interventions into Cheval's structure. 
Stretching throughout one of the facades, Othoniel's signature glass bricks, which stem from his collaboration with a foundry in central India, are paired with his rounded forms in bright shades of blue, purple, yellow, and green. An aquatic tune hymns as water runs through the serene sculpture, giving it the fountain quality that Cheval religiously thrived for his creation yet failed to achieve at the time.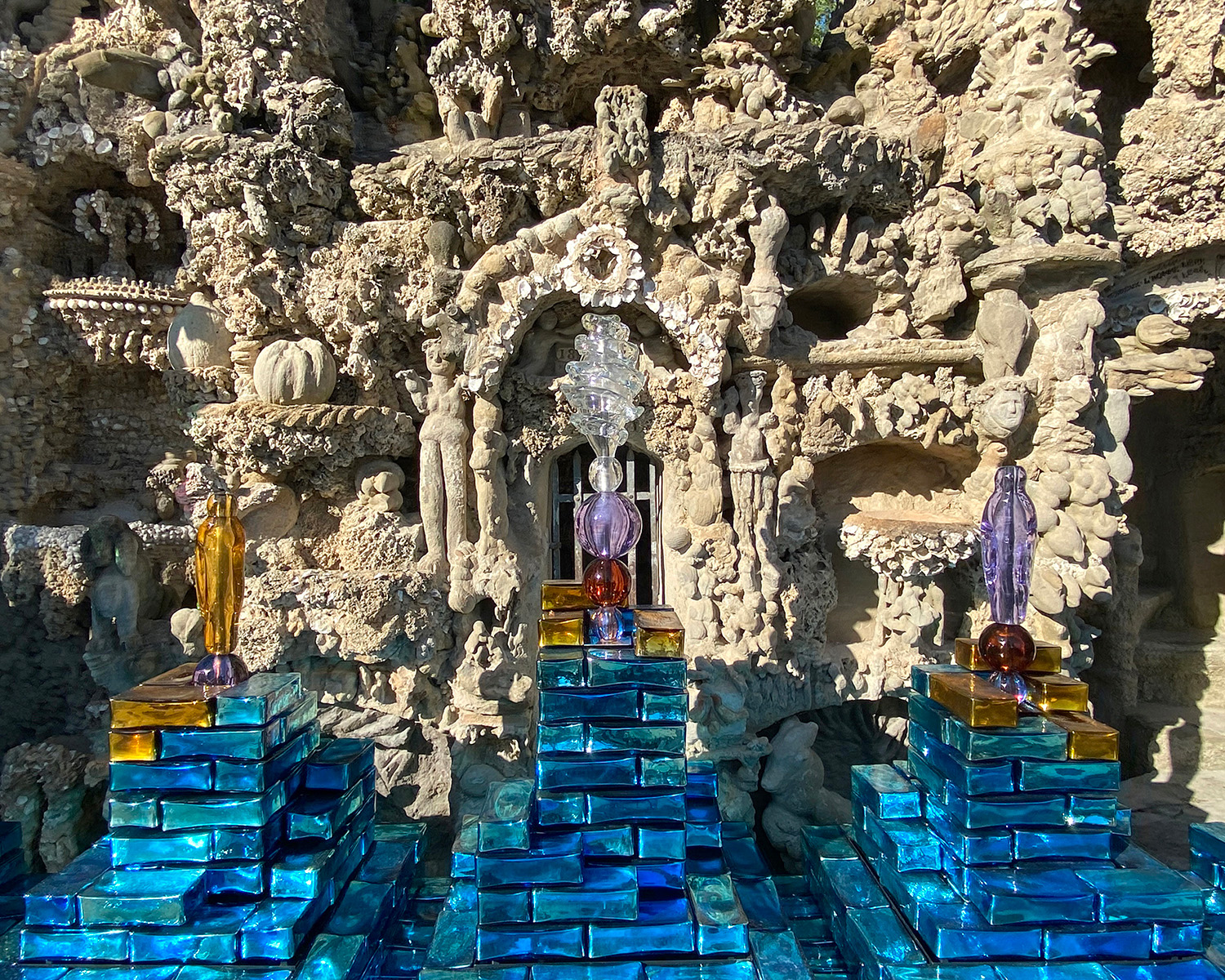 When Othoniel read about the original maker's ambition to implement running add water to his palace, he immediately concocted his strategy to honor Cheval's legacy in his project, which is overall titled The dream of water. "My additions had to be a starter of new emotions but not compete with the architecture," he explains. In what he calls "a homeopathic way," the Paris-based artist has placed gentle glass sculptures and fountains throughout the space with homages to water. 
Cheval's original drawing shows numerous water channels that would activate the palace as a site of animation and liquidity. Over a century later, Othoniel's poetically suiting accents complete the postman's vision not only visually but metaphorically through the aquatic sheen of his glass.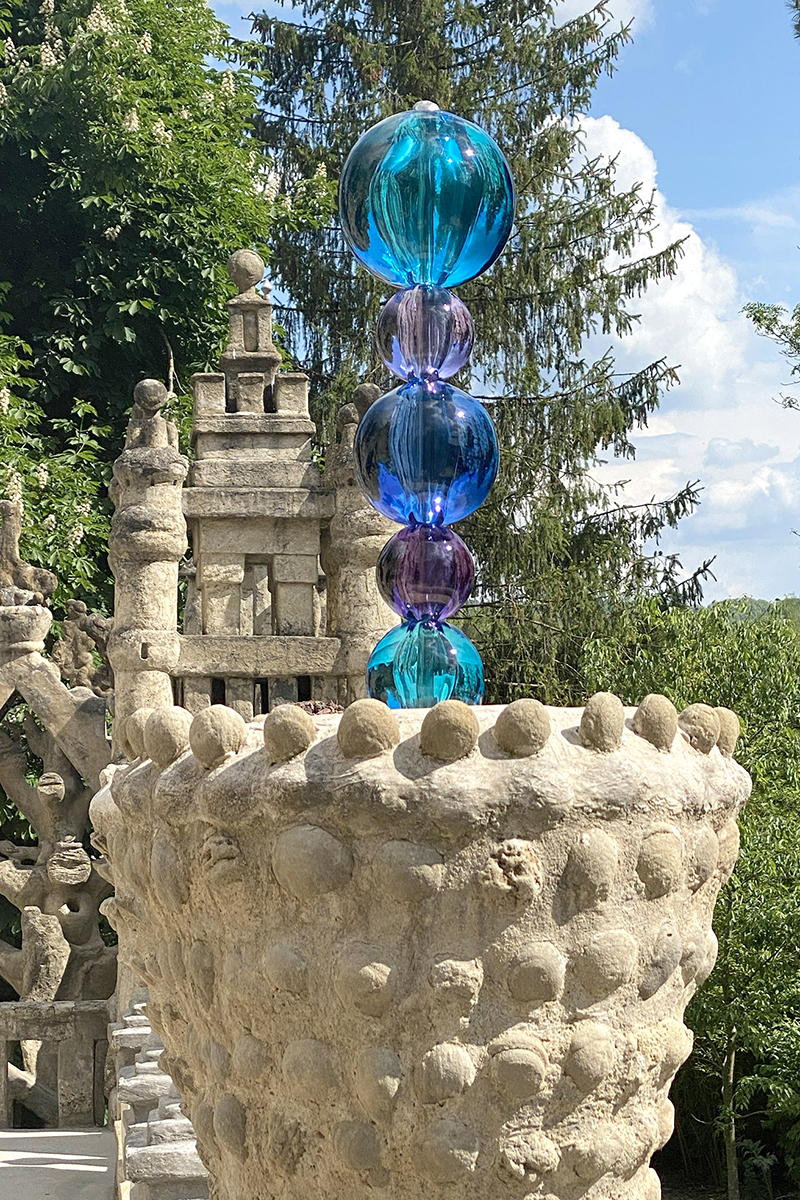 Othoniel is, in fact, far from being a stranger to activating his art with water. The artist installed his massive glass bead sculpture in the pool of Grand Palais last year while his biggest fountain to date, ALFA, sits permanently in front of the Jean Nouvel-designed National Museum of Qatar. Rather than grandiosity, however, this assignment for the artist rhymed with memory and introspection. "After many ambitious projects, going back to smaller scale near home has a feeling of pure creativity, an opening of the mind," he admits. "In a way, nobody was expecting me to be here, so I could return to the limitedness of fairytales and do something purely for myself." 
The implementation of glass windows, for example, speak to Othoniel's foray into an alternative journey in Cheval's creation. Inspired by few smears of blue paint the postman added to the building's stone surface, the artist created stained glass windows adorned with motifs in blue shades inspired by the fluidity of water, as well as Cheval's own drawing. Besides adding a luminous layer inside, the windows tie a transhistorical connection between the palace's builder and the artist-in-residence. "Come here at 6pm, and you will be stunned," Othoniel says about the reflections cast by the dusk light on the floor.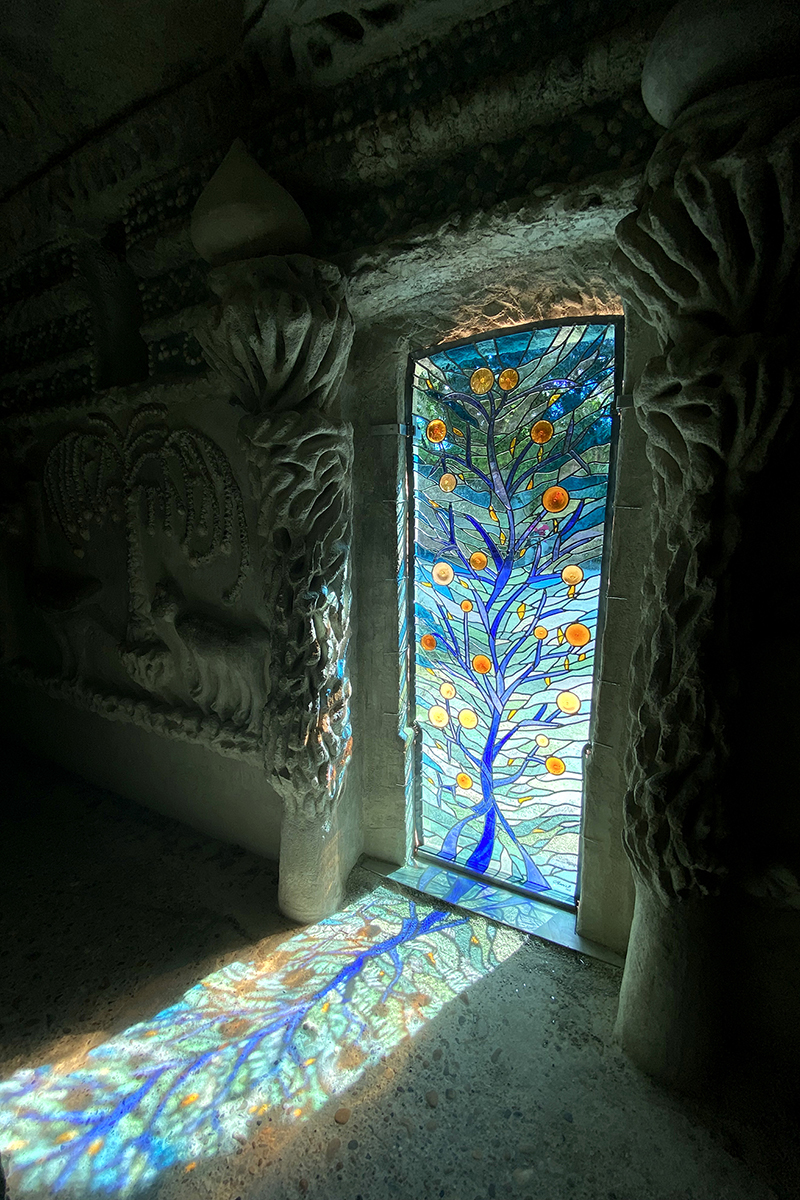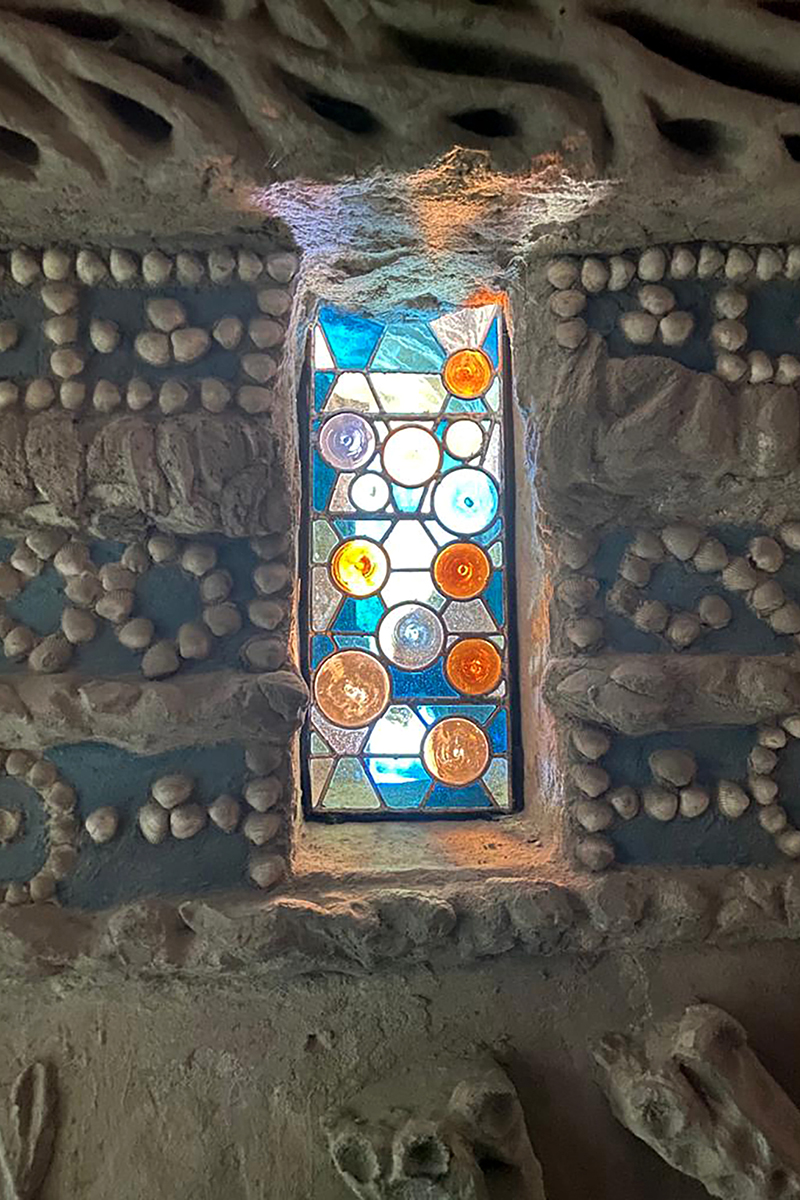 The artist's illuminating accent continues throughout the narrow corridor where he has added glass light fixtures in the shape of the very first rock that Cheval stumbled upon during a mail delivery shift. Similar to the inspiration the postman found in the humble rock to build a timeless monument of ambition, Othoniel feels prompted by his discovery of an uncharted path in his career. "Childhood was a marvelous time in my life when I could just pick flowers from our garden or visit this palace with my parents—and you can feel this sense of freedom in my proposition here today." 
"The Dream of Water" is on view at Le Palais Idéal until November 6, 2022.
Next Post