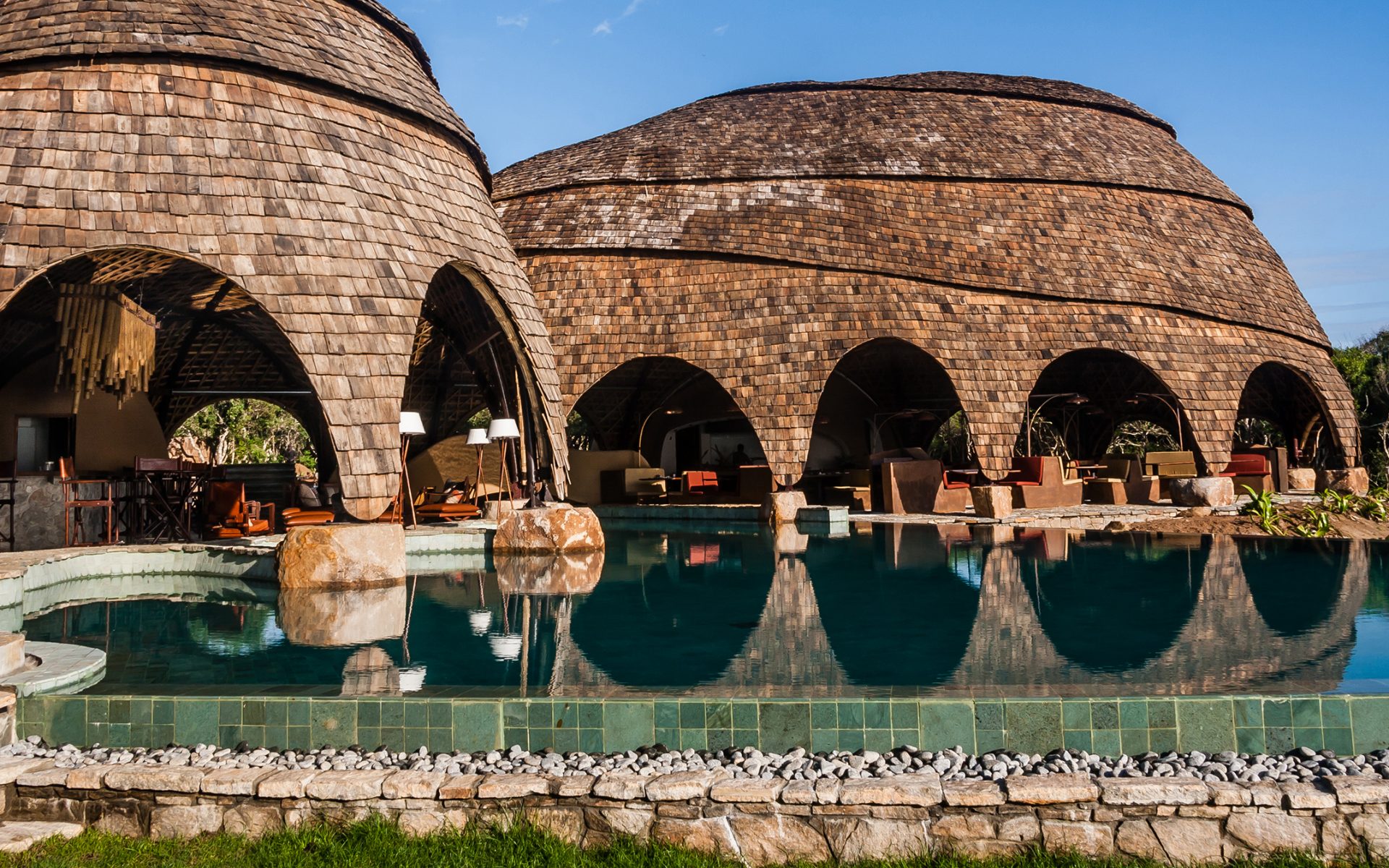 Sri Lanka's Newest Luxury Hotel Imitates Nature
The remote Wild Coast Tented Lodge offers five-star amenities, sustainable design, and the chance to see stunning wildlife up close
At the five-star Wild Coast Tented Lodge in the south of Sri Lanka, canvas villas resemble cocoons, and soaring bamboo-clad pavilions could pass for rocky outcrops. And it's all by design: The eco-friendly safari-style camp was conceived to blend in with the pristine environment, a remote location near the vast Yala National Park and the Indian Ocean. "We didn't want to disturb the unique character of this rough landscape," says architect Olav Bruin of Nomadic Resorts, who designed the resort with the Dutch interiors firm Bo Reudler Studio, using local artisans. Whether you stay for two days or two weeks, time at this extraordinary getaway—equipped with a spa, restaurant, pool, and bar—is bound to be unforgettable. resplendentceylon.com 
Below, Bruin answers some questions from Galerie. 
Galerie Magazine: How did this project begin?
Olav Bruin: We started Nomadic Resorts with the company ethos of 'light footprints, lasting impressions.' From this we developed the Looper tented villa concept, as alternative solution for the normally more traditional hotel construction industry. The Looper is prefabricated, lightweight, with a minimal physical footprint and can be disassembled and moved to different locations in the future, leaving virtually no traces behind. It requires no heavy machinery and only a small construction team to assemble so it is the ideal solution for the more remote and environmentally sensitive locations.
Our CEO, Louis Thompson, presented this concept to Resplendent Ceylon who were about to develop Wild Coast Tented Lodge next to Yala National Park, so we were lucky to be there with the right idea at the right time.
GM: What factors influenced the design of the resort?
OB: During our first visit to the site we were impressed with all the massive rock outcrops and big boulders scattered around the area. We didn't wanted to disturb the unique character of this rough landscape so we came up with the idea to design the buildings in the shape of large boulders so they would seamlessly blend in with the environment. The roofs are clad in a rough texture of reclaimed teak shingles which will become grey over time, similar to the rocks around.
GM: What were some of the challenges of the site?
OB: The area has a unique biodiversity, which we needed to respect. We gently rubbed shoulders with the elephants that visited the site and stole our sugar and emptied the water tank, we watched monkeys bounce on the membranes, wild boars ate our lunch, and a giant squirrel came to visit the mock up villa—all the while leopards prowled around. The isolated location required a precise logistics and procurement plan for the prefabricated tented villas.
Next Post