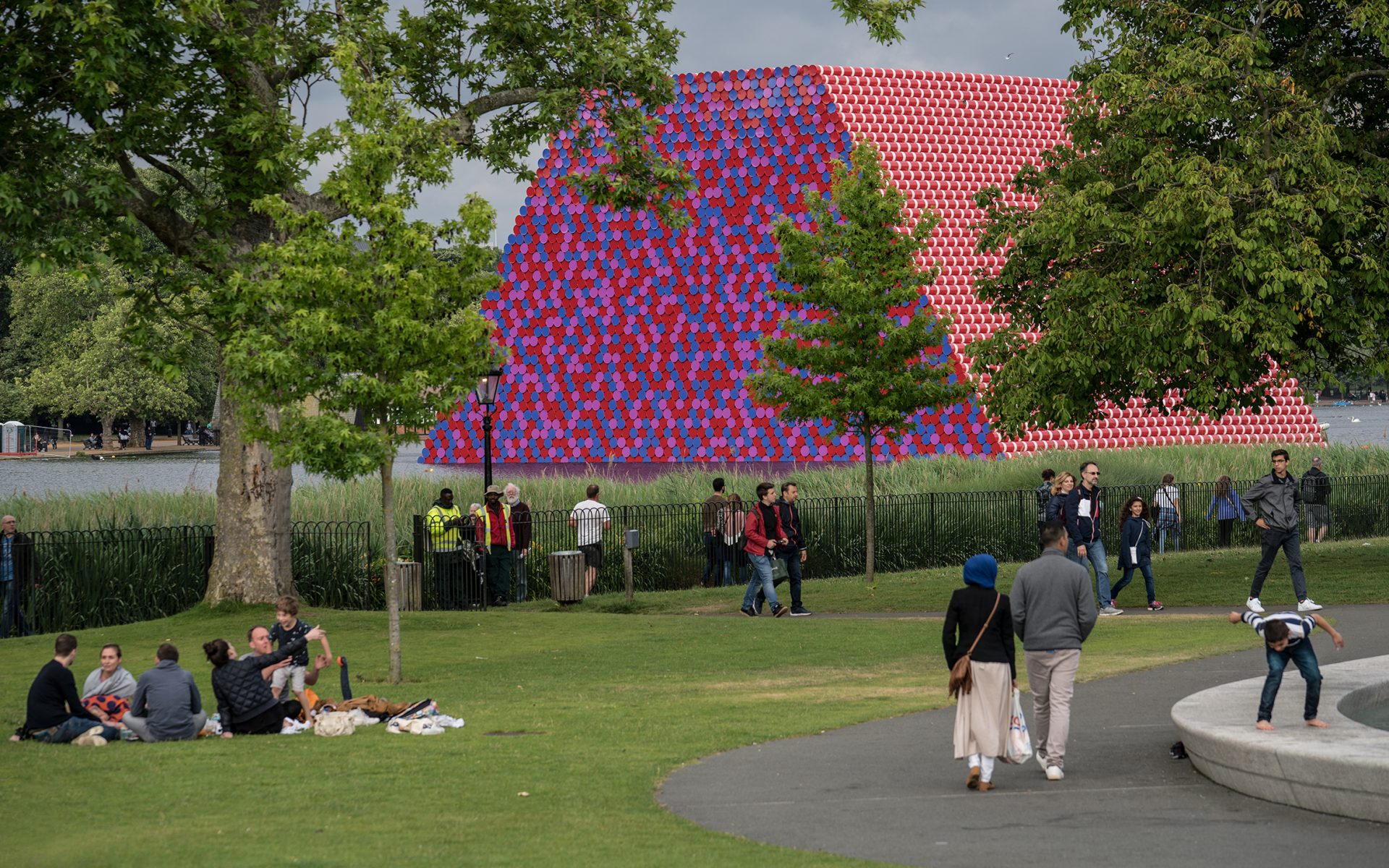 See Stunning Instagram Images of Christo's Floating Lake Sculpture
Artists, curators, and London locals came out in droves
According to the artist Christo, whose floating sculpture the London Mastaba opened to great fanfare in Hyde Park this week, the best art doesn't—and shouldn't—last forever.
"I believe that the prime-time for every work of art exists in the time in which it was done," he has said. "The unique moment cannot be canned."
That may be true. But it can be photographed. And many people in the art world as well as London locals have been making it out to take pictures of the work, a structure composed of 7,506 oil barrels set up on a floating platform on Serpentine Lake. Among the revelers are artist Sarah Meyohas, curator Roya Sachs, and Hans Ulrich Obrist, the artistic director of the Serpentine Galleries (where there is a related show on Christo's early works with barrels), and many more.
Here, we've curated a selection of the best Instagram highlights from the opening of the London Mastaba, so far. Enjoy.
Rising curator Roya Sachs made a clever quip about the number of 55-gallon oil drums used in the installation—an astonishing 7,506.
British art dealer and gallery director Michael Hue Williams likened the installation to a mosaic.
The Serpentine's artistic director, Hans-Ulrich Obrist, approached Christo following the installation of his 2016 Floating Piers on Lake Iseo in Italy. According to Obrist, the artist selected the lake as the site for the Mastaba on a walk through Hyde Park. He had been in search of a location for a floating mastaba for decades.
Recommended: The Jaw-Dropping Numbers Behind Christo's Floating Lake Sculpture
The sculpture's reflection in the Serpentine Lake is as much a work of art as the structure itself; the artist compared it to "an abstract painting."
"All of our projects," said Christo in the same interview that prompted the discussion of photographs, "because they exist so briefly, Jeanne-Claude and myself, we like to spend time with our baby."
Next Post