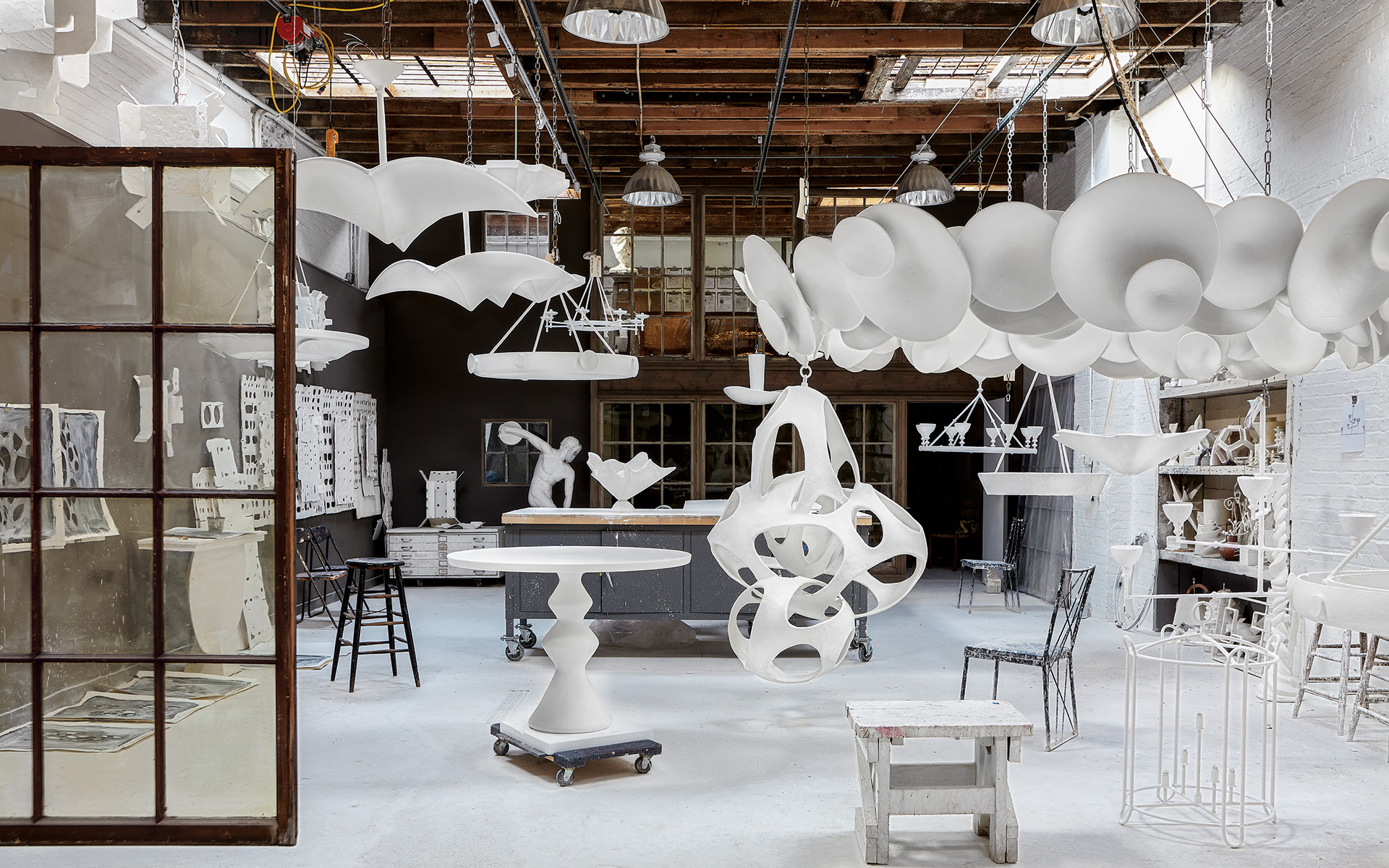 Go Inside Stephen Antonson's Cavernous Brooklyn Workshop Filled with Ethereal Creations
Reminiscent of a Parisian atelier, the plaster artist's new studio in Gowanus provides an aura of inspiration and calm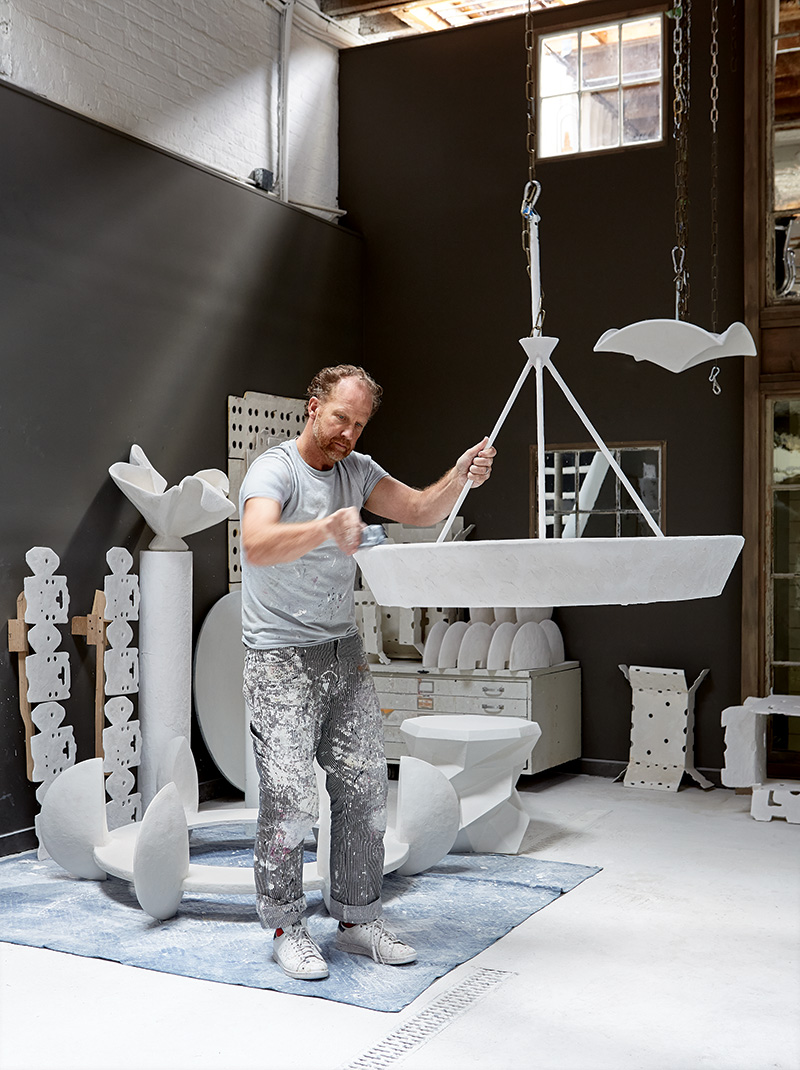 The streets of Gowanus, Brooklyn, are a dizzying mash-up of auto body repair shops, honking horns, and grease-stained sidewalks, so it's hard to imagine that just past a metal garage door awaits an oasis of pristine white plaster. Here, in his new studio, Stephen Antonson, decked out in his equally white work uniform, fashions the highly collectible sculptural lighting and furniture he's so well known for. Reminiscent of once-upon-a-time Parisian artists' studios, this expansive workshop haven is divided into two distinct parts—one where ethereal works are illuminated by sunlight streaming through skylights and another, in the rear, where a loft creates a cozy, two-story sanctuary built for dreaming about what to design next.
But the space didn't always have this aura of creativity and calm. A year ago, it was a glum box that served as a warehouse for Victoria's Secret bedding with sickly green walls, utilitarian metal shelving, and tape marked up with phrases like "pillow shams." Antonson, seeing past all that to recognize the value of the high ceilings and natural light needed to expand his practice, realized it would require a complete overhaul. For that lofty task, he called on designer Stephen Earle, a former colleague from his days at the magazine Martha Stewart Living.
"Studios don't have to be perfect. It's like a sketch versus a painting in a way"

STEPHEN EARLE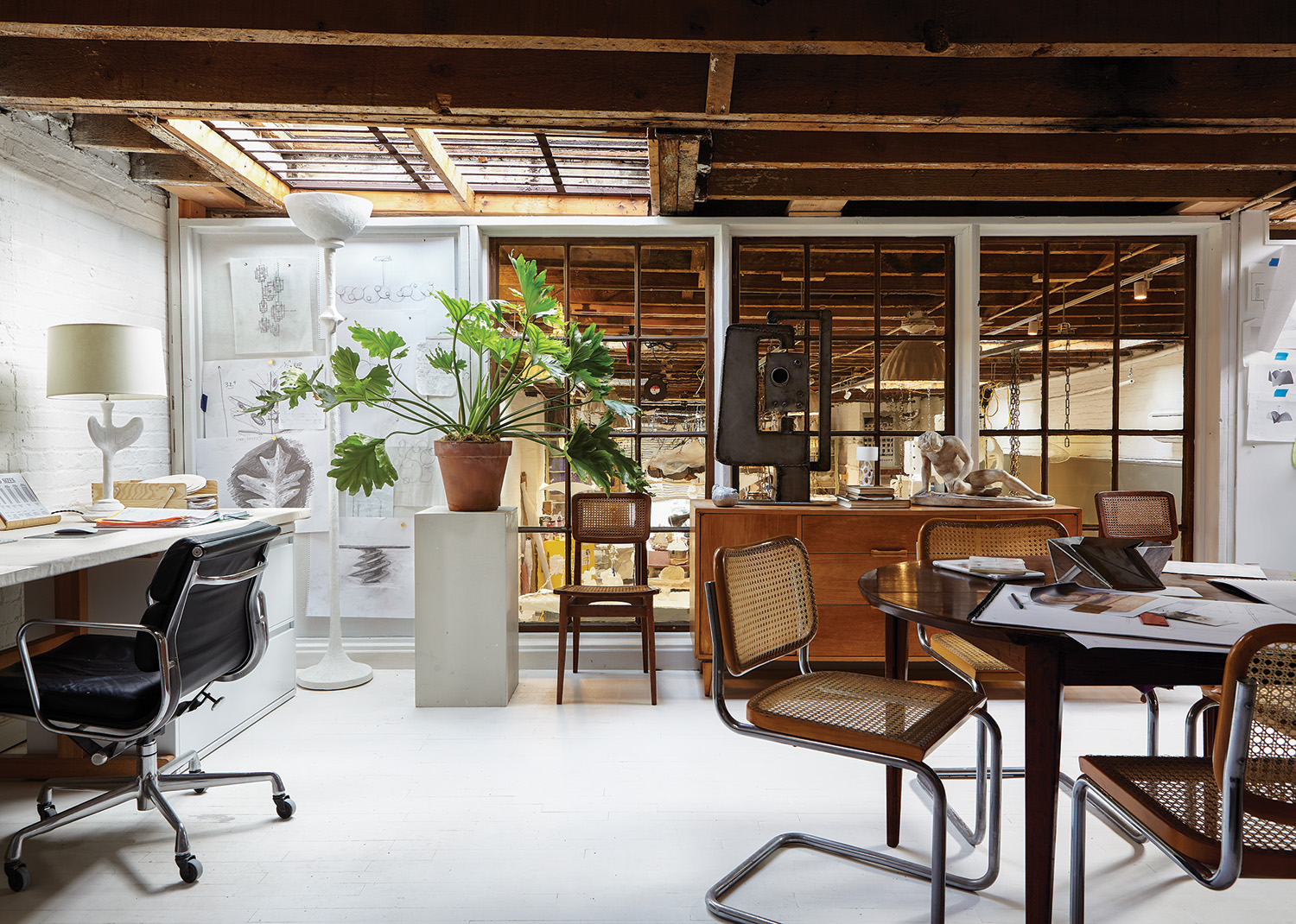 Rather than be daunted by the challenge, the duo was energized by it. "We started with ridiculous ideas and then eventually kind of reined it in," recalls Antonson of their process. "But the point was: Let's have fun." The ideas that did make it include using a variety of salvaged windows throughout the atelier—many fashioned together to form walls between the workspace and office. The result is an utterly charming effect that feels like a beloved, old seaside cottage. "Studios don't have to be perfect," explains Earle. "It's like a sketch versus a painting in a way."
There's also an ingenious picture rail made using hand-forged hinges and hooks for hanging Antonson's collection of black-and-white works, including a little Henri Matisse drawing, a pinhole portrait of Antonson, and a collaboration by Irish artist Oliver Jeffers and director Mac Premo that Antonson acquired at a benefit auction.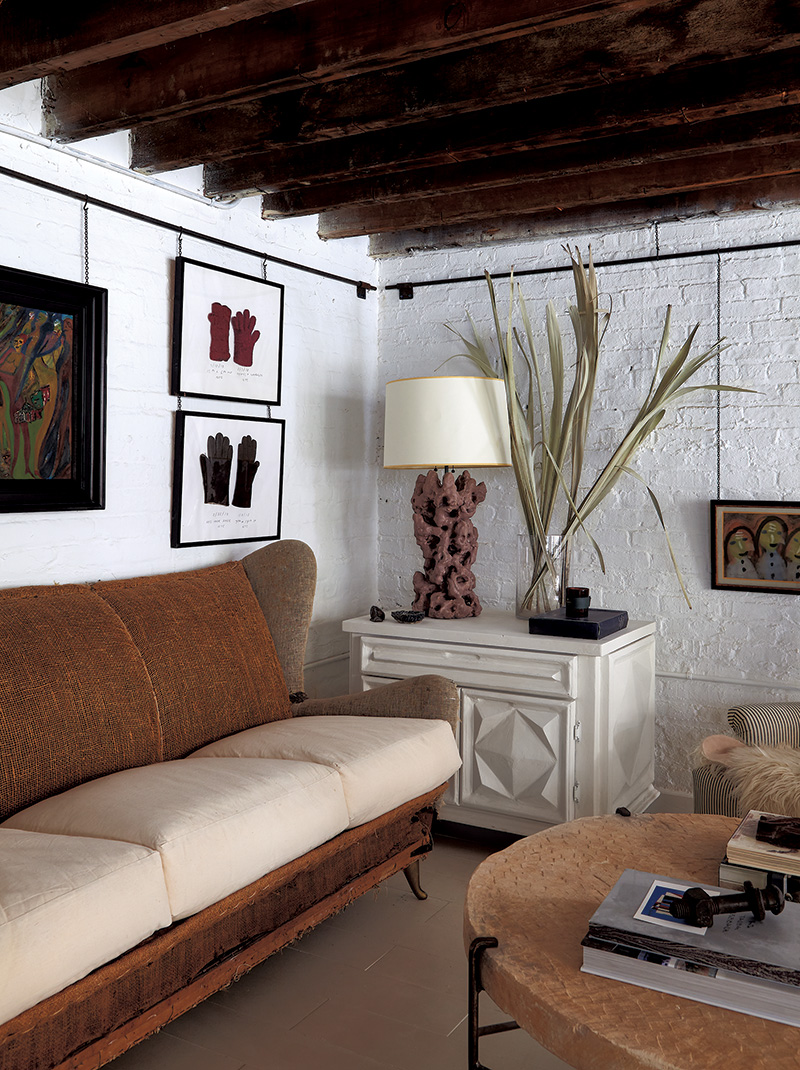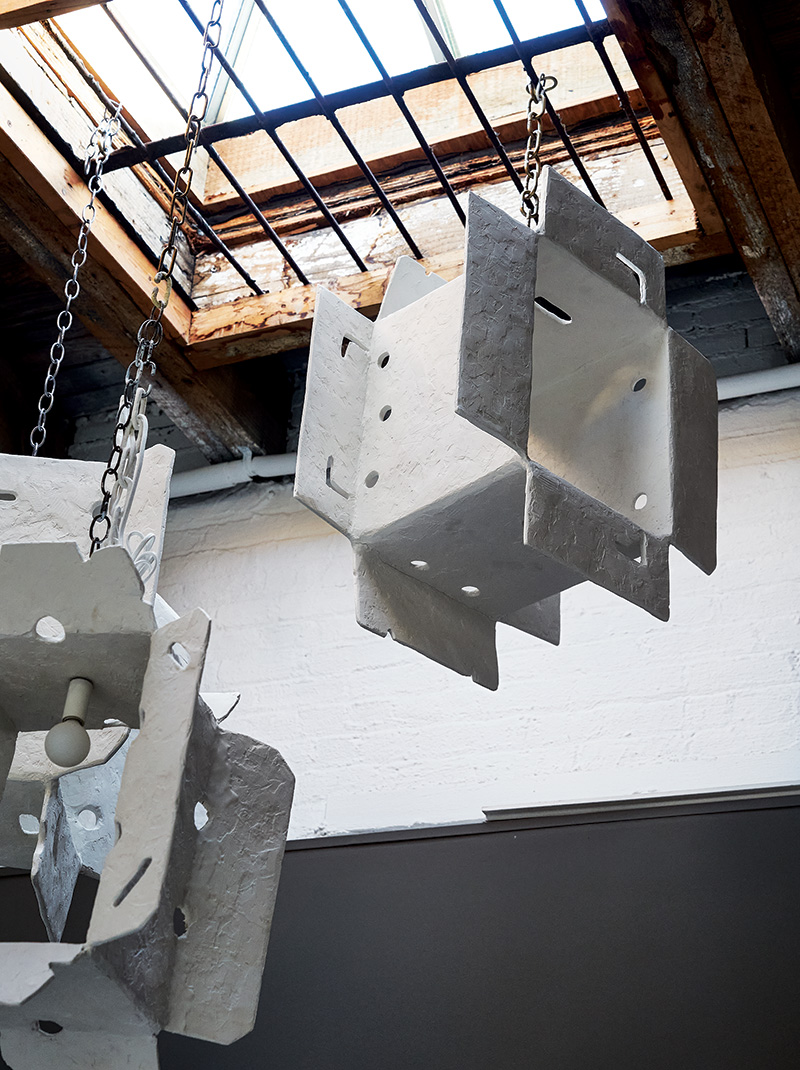 Earle and Antonson decided to build the loft not only to give the artist a perch to survey the progress of his projects from above but also to provide a place to relax, sketch, and concept his next iconic piece. Here, Earle repurposed salvaged metal shelving into a low-level display for an assortment of sculptures that Antonson collected over the years in a manner that echoes how Henry Moore once arranged things in his own living room. Above, plastic sleeves hold the details for custom pieces for designers Brian McCarthy, Jacques Grange, and Kelly Behun.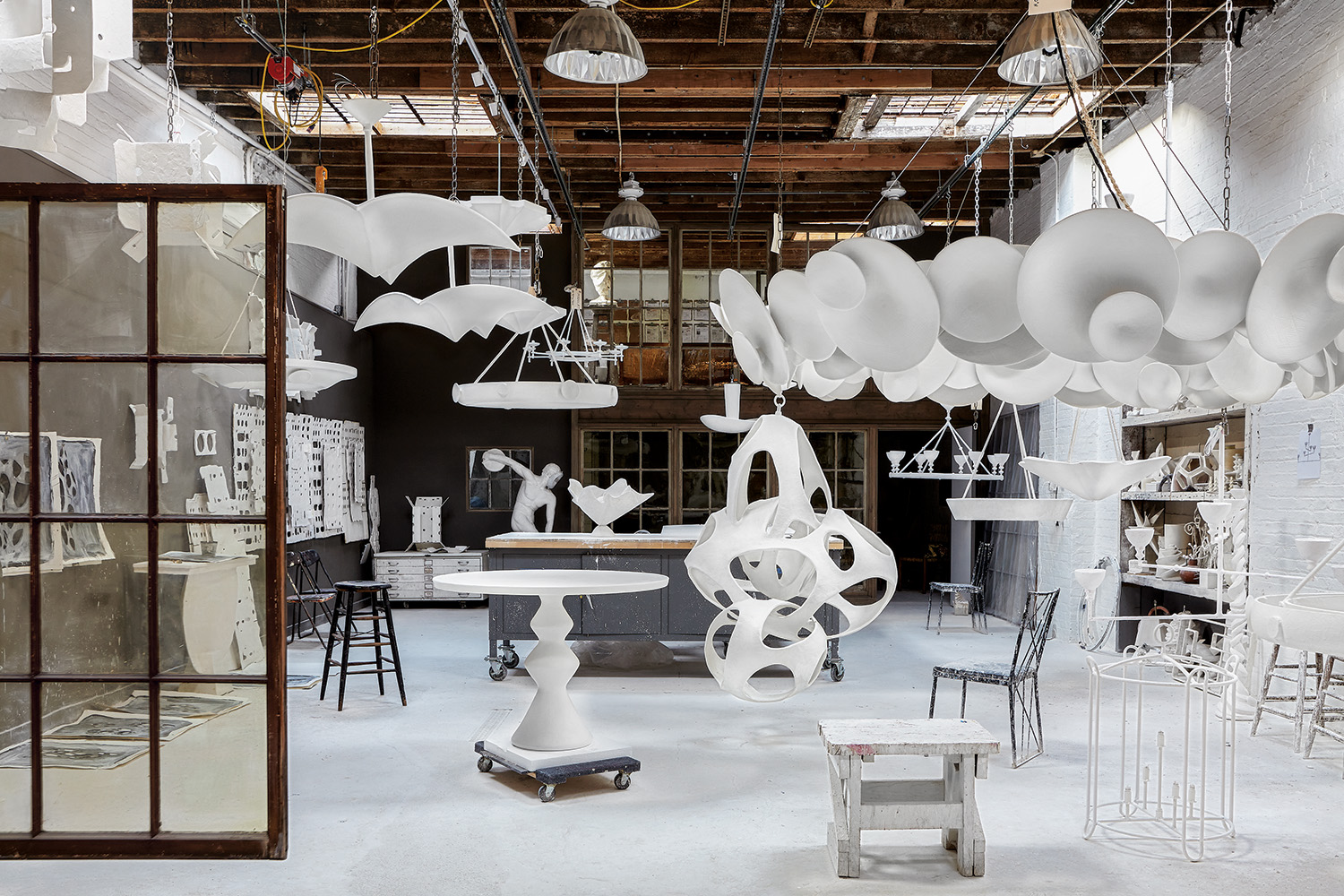 Designers make the trek out to the funky neighborhood, where more and more creatives are taking studios, to see works in progress, and they inevitably leave with ideas for their next commission. The revitalized space also gives Antonson more room to produce larger custom works and keep up with the demand for his new Drift chandelier series, Shell mirrors, and Rorschach vessels, many of which are sold through De Sousa Hughes, Liz O'Brien, and the Invisible Collection. But perhaps the person most wowed by the workshop has been Antonson's wife, design writer Kathleen Hackett, who upon seeing the finished result commented to Earle, "I think this is nicer than our house."
A version of this article first appeared in print in our 2023 Fall Issue under the headline "Calm and Collected." Subscribe to the magazine.
Next Post